Special Exhibit | Attention to Detail
---
The January hall exhibit, Attention to Detail, was curated by Columbia College graduate intern Seda Guler, as the culminating project of her time at Sager Braudis Gallery. The exhibit includes works by three artists: Becca Sullinger, Emmett Merrill, and Joel Sager, and focuses on the revealing and expressive details that engage our attention in representational works.
To look carefully at a work of art is to be drawn, step by step, into a contemplation of its details. There are hidden stories there that hold the viewer's attention when done well, and keep the gaze circulating. From the tiniest brush strokes to the most meticulously-cut print plate, these three artists bring hundreds of small notes and details to their work, each, in his or her own way, exploring the theme of a subject's relationship with their surroundings.
Emmett Merrill is a printmaker based in St. Louis, Missouri. He received his BFA in printmaking from the Kansas City Art Institute in 2015, and is currently working toward an MFA in printmaking at the University of Tennessee. Focusing on line and using his medium to tell stories, Merrill brings a series of narratives: of disgruntled lovers in farm homes, restaurant dishwashers whose hands are shaped by work but always clean, old men who revisit the concentration camps where their ancestors passed, suicidal young writers in the Louisiana Bayou, and alcoholics who spend their days watching their reflection in barroom mirrors, among others. Hands often appear from the bottom corners of the imagery, as if they are the hands of the viewer interacting with the scene before them. The silhouettes of animals also recur in his work, as cast shadows across walls, acting as a symbol of foreshadowing, perhaps something bad that is soon to come.
Becca Sullinger received her BFA from the University of Missouri in sculpture, although she focuses on several artistic media. Currently, she works as an installation artist for festivals in the Midwest, such as True/False Film Fest, Citizen Jane Film Festival, Pedaler's Jamboree, and Fringe STL. Sullinger begins a painting with her largest brush. The broad strokes are effective to block in big areas of color. She trades her large brush for a slightly smaller one to add hue changes within the larger block sections. She chooses focal areas of the painting, usually the most prominent features of the subjects such as eyes, lips, petals, wings, claws, or teeth. In order to attract the eye of the viewer she adds detail and rendering to these areas, using smaller and smaller brushes. The finest brush is reserved for tiny white highlights and any defining line work. At this point in her process the figure sits on an empty plane. Attention is then brought to the environment the subjects inhabit. Here she uses the same process, layering on detail with progressively smaller brushes until so much of the environment is added that it can seem to overwhelm the figures. Equal attention to detail for both the figures and setting creates a conflict of focus for the observer. If detail implies importance, the subject and the landscape compete equally for the empathy of the observer.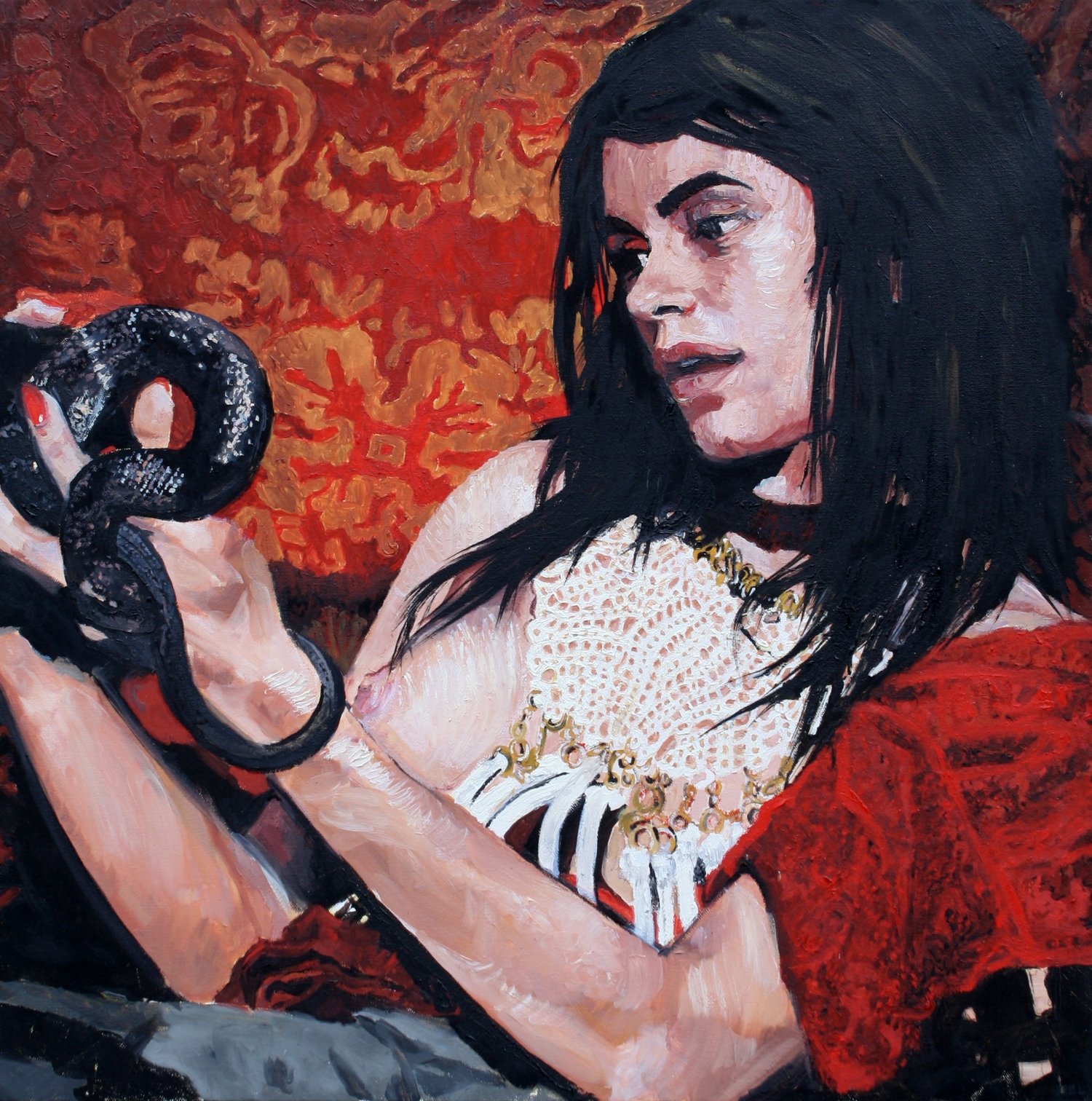 Most visitors to Sager Braudis Gallery will be familiar with the work of Joel Sager, also included in the special exhibit, Attention to Detail. In his paintings Child, Seated with Toys and Girl with Bird and Snake, Sager refers to the style of early American folk paintings, balancing warm rendering of some features with an intentional flattening and skewed perspective in other portions of the composition. Gazing out at the viewer, each subject embodies an expressive role and a connecting point to a larger story, hinted at through the inclusion of peripheral objects, animals, and accessories. "Where are the eyes?" is a question he asks himself for each painting. He states that "this can be literal, when I'm painting a portrait, because as humans we tend to connect to other humans through the eyes." In his work Woodsman (among many others) he likes to place something very flat, such as a pattern or solid color, next to something very rendered such as a skin or wood grain or metal. Realistic depiction via color and likeness are important but secondary to the composition, concept, and mood. In fact, Sager works to always add an eerie atmosphere that when placed within an otherwise inert subject matter creates a mixture of emotions he consistently enjoys.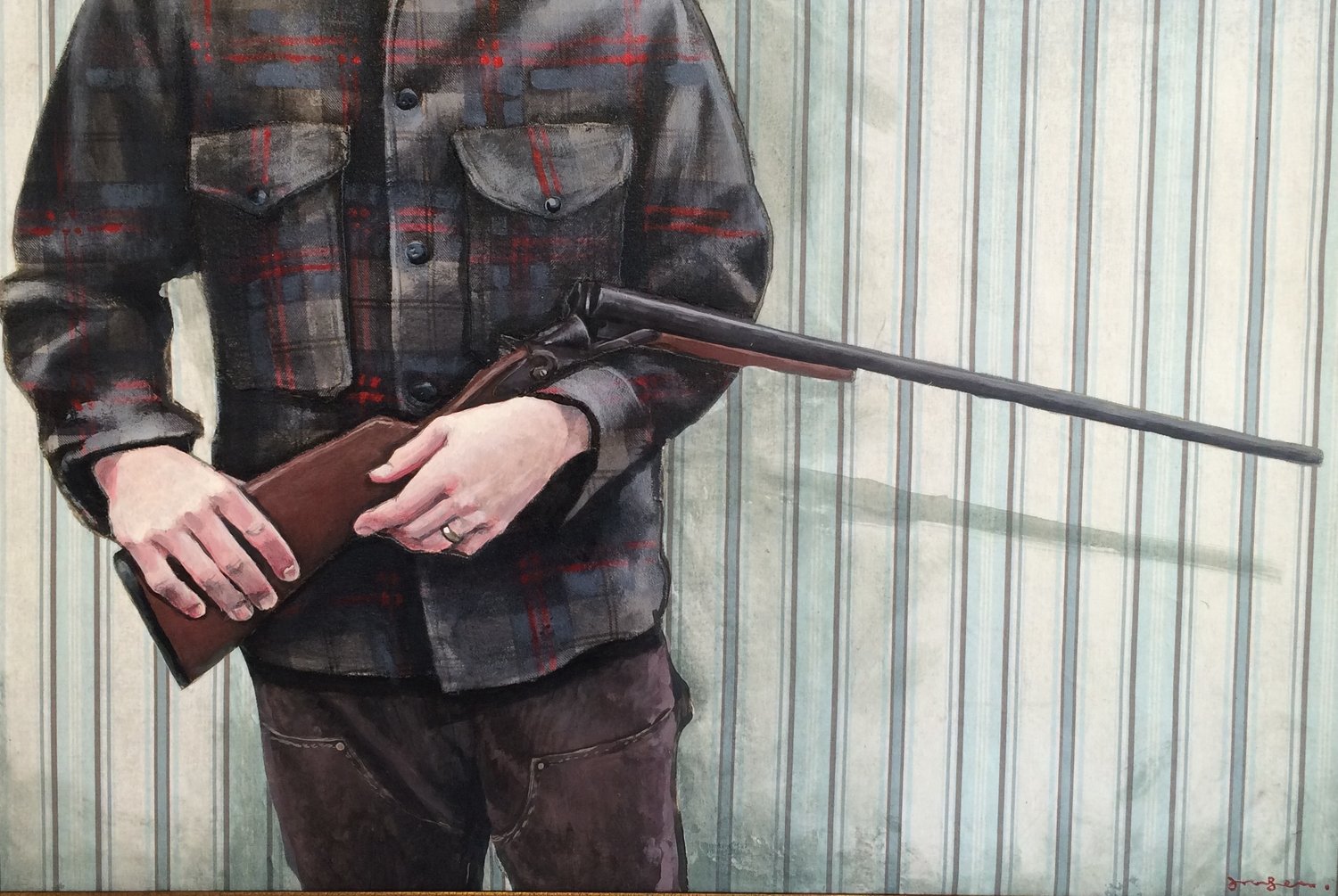 Attention to Detail asks for attentive viewers to discover the details and hidden stories that these three artists, who are obsessive in their practices, employ as their greatest assets. It is the hundreds of small choices and notes that make for the total impression of each of the works in this collection. Curator Seda Guler invites you to look closely, to take in the beauty of the cumulative effect of all these tended details.
This exhibit will be up in the hall gallery at Sager Braudis throughout January, and will be celebrated on First Friday, January 4, from 6-9 PM.
Share