Masters Preview | Rudolf Bauer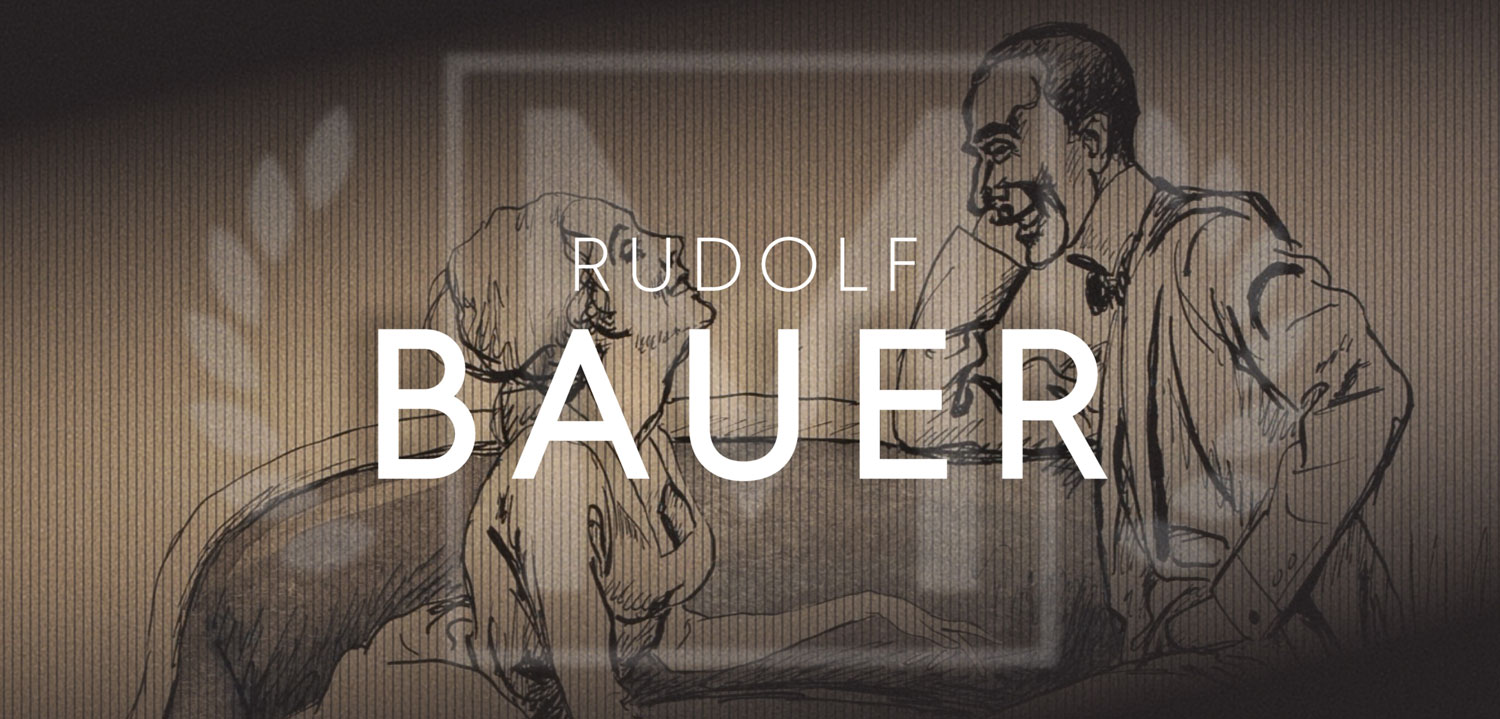 The Masters Exhibit is an annual, one-month departure from Sager Braudis Gallery's usual schedule of contemporary art exhibits, to bring to Missouri masterworks by historically influential mid-century artists. Because some background understanding can aid in the appreciation of these significant works, we'll feature each artist whose work will be on display at the 2016 Masters Exhibit in a blog post leading up to the opening of the exhibit. Check in here twice a week for the rest of this month to learn the stories of our featured masters. The Masters Exhibit will open to the public with a First Friday reception at 6 PM on December 2nd, and will run through December 31st. All works on display will be available for purchase, and we encourage both budding and established collectors to inquire about private, guided tours, which include details, auction records, valuation, and histories of works of interest.
Among the collection coming to Sager Braudis this December are over a dozen works in ink, gouache, watercolor, pastel, and pencil by German-born Rudolf Bauer, many featuring caricatured scenes of elite Berlin in the 1920s. Also among works on hand will be some of Bauer's colorful, abstract compositions that exemplify a lyrical style that he famously employed in his paintings from around 1920-33.
Bauer's abstracts were among the first non-objective paintings, paving the way for generations of nonrepresentational work to follow. Numerous artists, of course, had altered or abstracted their depictions of the world around them, but the idea budding in Berlin around 1916 was that artwork could be effective without depicting any subject matter, but rather through an arrangement of the formal elements (line, shape, color, value, and texture). Being without reference to any object in the world, this form of abstract art was termed "Non-Objective" by its early practitioners, who included Bauer, Kandinsky, Paul Klee, and Hilla Rebay, among others. After being introduced to some examples of non-objective art by Hilla Rebay as she painted his portrait in 1927, Solomon Guggenheim began to collect works by these early abstractionists. Bauer, was, in fact, Guggenheim's favorite, and was championed by Rebay, the eventual Guggenheim Foundation's first director and a one-time lover of Bauer's. With Rebay advising, Guggenheim presented the first major American exhibition of non-objective art just prior to World War II. When Bauer was imprisoned by the Third Reich as a "degenerate artist," having sold works on the so-called black market to Guggenheim, it was Rebay and Guggenheim who ultimately arranged his release and immigration to the U.S. Feeling that Bauer was indebted, Guggenheim presented him with a patronage contract that would tie and eventually bequeath all future work to the Foundation and pay Bauer from a limited trust for the rest of his life. Bauer spoke no English; Rebay translated, encouraging his signature. When Bauer realized the extent of control that he had relinquished, he quit painting and fell completely out of Guggenheim's favor. By the time the Guggenheim Foundation Museum opened in 1959, Bauer's work had been relegated to storage and omitted from the curation of the rise of non-objective painting, and Bauer had been essentially written out of art history, at least for the era.
The Guggenheim sold off many of Bauer's abstracts in the two decades that followed, and many passed into the hands of private collectors. While Kandinsky's non-objective paintings were skyrocketing in value and being reproduced in textbooks worldwide, Bauer's equally influential works were being quietly appreciated by a few collectors with local access. Sotheby's Julian Dawes tells the story of a New Yorker who bought a Bauer abstract from a private gallery window around the 1960s, when he distinctly remembered having seen it on display in his childhood, perhaps at the MoMA exhibit of 1933, or at a Museum of Non-Objective Painting exhibit, prior to Bauer's fall from Guggenheim's good graces. The purchaser was certain he recalled the exact piece from a museum experience, even when pressed that artwork usually does not move from museum collections into private sales galleries, but the other way around, and his precise recollection was due to a very memorable synesthetic association with the abstract image – a tinkling bell sound brought on by viewing the geometric forms. As auction records of Bauer originals such as the piece from that New York collector's estate began to accumulate in the early 2000s and gallerists took notice, Bauer's abstract work began to garner some of the acclaim it had deserved several decades earlier. Curatorial awareness of the historically formative abstract work led naturally to new interest in Bauer's early illustrations and caricatures, which, while less lofty in philosophy, display an early portent of Bauer's masterful use of varied contour line and compositional sense of movement.
Sources:
Steven Lowy, "Rudolf Bauer: A non-objective point of view," Weinstein Gallery, 2007. Accessed October 28, 2016. http://www.weinstein.com/artists/rudolf-bauer/
"Rudolf Bauer," Guggenheim Foundation, 2016. Accessed October 28, 2016. https://www.guggenheim.org/artwork/artist/rudolf-bauer
Julian Dawes, "Rediscovering Rudolf Bauer," Sotheby's, 2014. Accessed October 28, 2016. http://www.sothebys.com/en/news-video/blogs/all-blogs/impressions/2014/09/rediscovering-rudolf-bauer.html
Jennifer Maloney, "Comeback of an Abstract Artist – 60 Years After His Death," The Wall Street Journal, 2014. Accessed October 28, 2016. http://wsj.com/articles/comeback-of-an-artist60-years-after-his-death