Featured Master | Leonora Carrington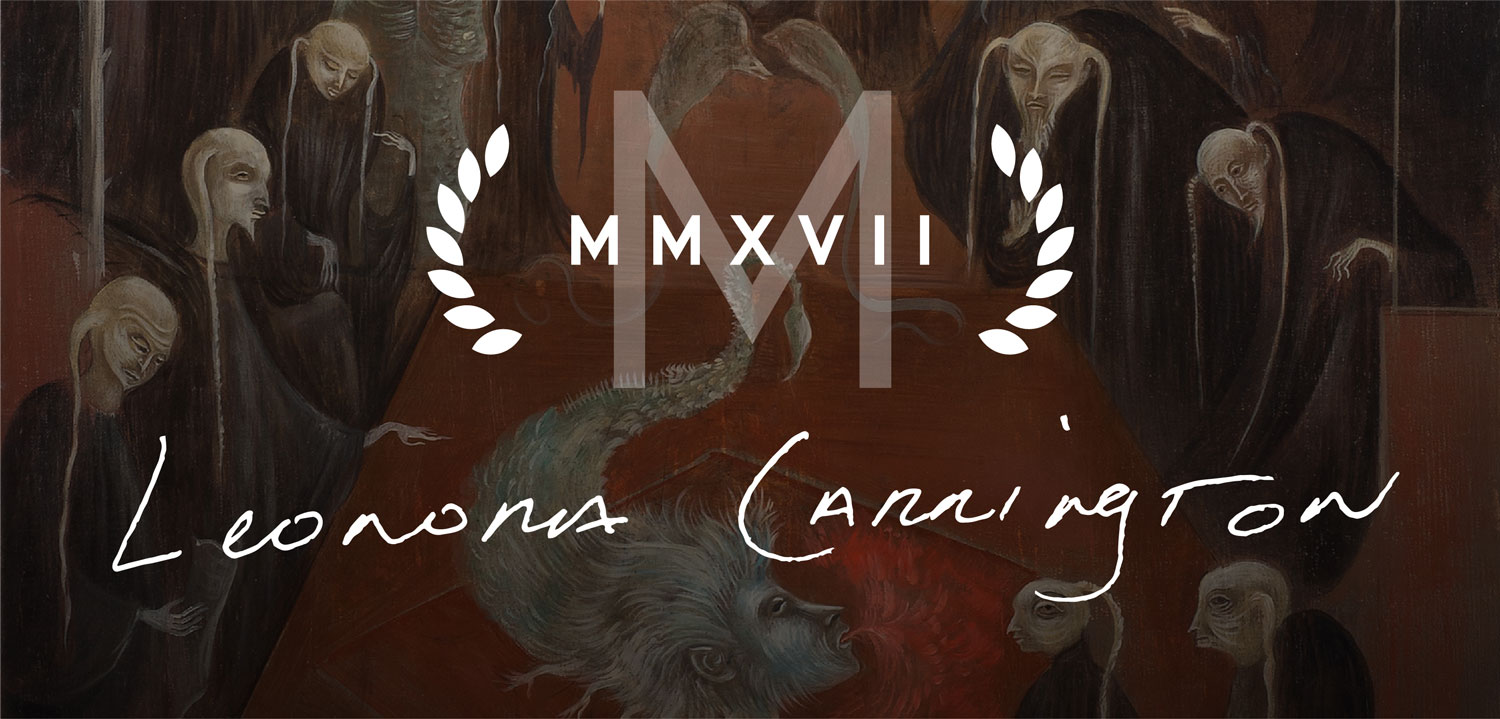 Each December, Sager Braudis Gallery brings significant 20th-century masterpieces to Columbia, Missouri for the Masters Exhibit. This year's exhibit features women of Surrealism and Abstraction, who may just be the most important names in modern art history that you've never heard. In keeping with a current trend among museums and galleries worldwide, we're shedding light on the work of these master painters for whom credit is long overdue. In the coming weeks, we'll feature each of the 6 masters of the exhibit here on our blog, as well as in a 3-minute radio spot on our NPR affiliate, KBIA. Watch for the launch of our podcast, Portrait of the Artist, which will also feature the artists of the Masters Exhibit, in early December. This week, we're talking about painter Leonora Carrington.
Leonora Carrington lived from 1917 to 2011 and painted prolifically from her art school days in the mid-1930s up until her death. She was affiliated with the early Surrealist circle in France, and fled Europe, like many artists, at the start of WWII. Unlike most of her peers who immigrated to New York around 1941, she went to Mexico, where she would spend the majority of the remainder of her career.
She has been called "the Reluctant Surrealist." She was part of the movement at its peak, and her work clearly visually converses with other Surrealist masterpieces, but her approach to fantastic subject matter was different than that of her peers. While Breton, Ernst, and Dalí revered Freud and sought to manifest the subconscious, Carrington consciously infused her work with symbolic mythology. Her Surrealism was not stream-of-consciousness or dream-state; it was magical realism. Carrington's painting is characterized by female protagonist subjects, animal-human chimeras, and allusion to magic and ritual. Her palette is dark and saturated, lending depth to elaborate, active scenes.

Women of the era who wanted to be professional, studio artists had to push against prescriptions for what kind of people they could be, and for what kind of artists they could be. Male Surrealists may have allowed women like Carrington into their circle, but not without framing them as muses, and expecting a level of subordination. Not only did Carrington create numerous, deeply symbolic masterpieces over a decades-long career – but she did so while under constant pressure to conform to the social constraints of her gender, and to male-defined, Freudian parameters of Surrealism.
You can see original works by Leonora Carrington at the 4th annual Masters Exhibit, on view December 1st – 30th, 2017.