Featured Artist | Peregrine Honig
---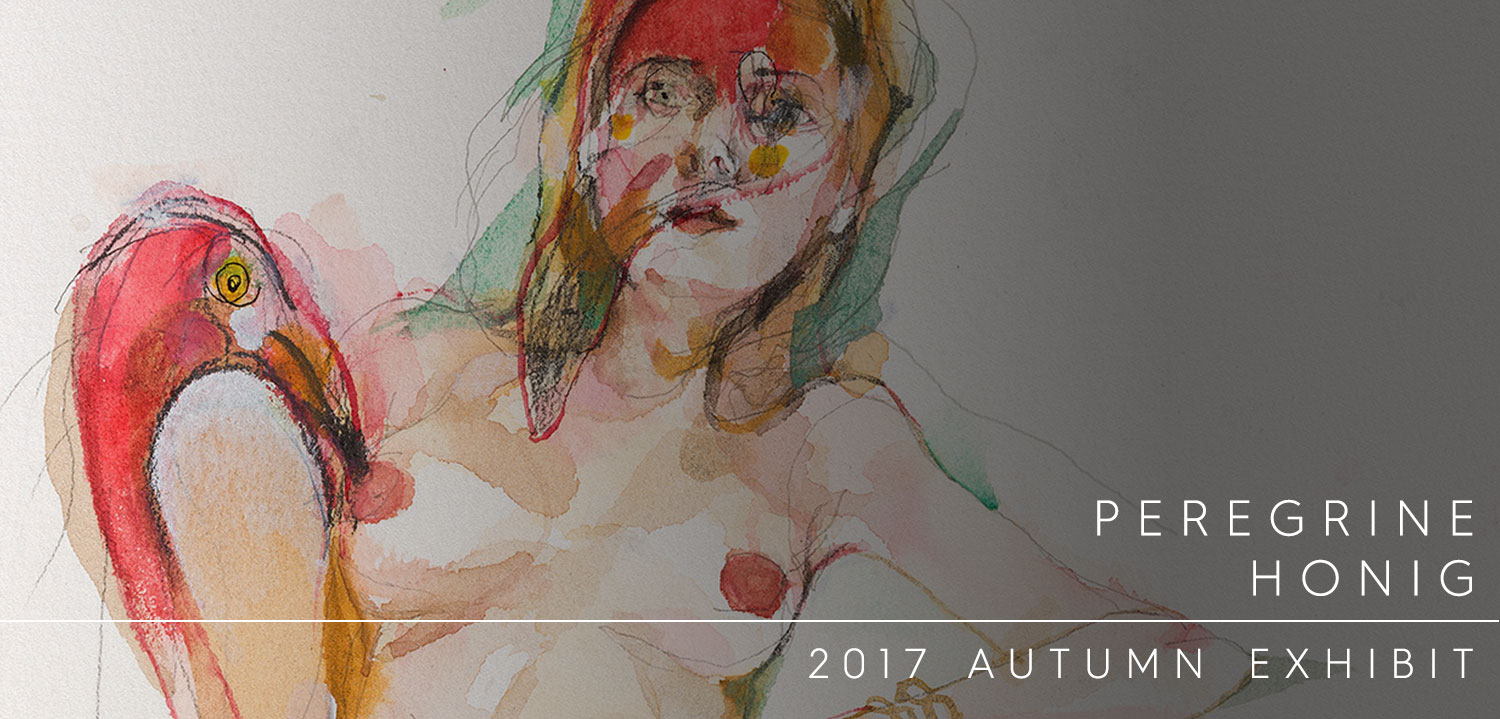 Written by Kat Cua, MU Sager Braudis Intern, Fall Semester 2017
Peregrine Honing as always been ahead of her time.
Born in San Francisco and raised in its Castro District, Peregrin Honig moved to Kansas City, Missouri, by herself at 17 to attend the Kansas City Art Institute. At 22, she became the youngest living artist to have work acquired by the Whitney Museum of American Art's permanent collection. Other public collections that collect her work include Ball State University Museum of Art, Yale University Art Gallery, the Fogg Art Museum, Milwaukee Art Museum, and the Art Institute of Chicago.
After moving to Kansas City for school, Honig expected to get in and get out. She told Alive Magazine that at the time, she had never been to the Midwest, so she expected Missouri to look like what she saw in the Wizard of Oz and Meet Me in Saint Louis. She thought there, she'd complete her "rural residency" and then move to a coast.
"I was incorrect," she says. "I fell in love with Kansas City."
Honig now lives in and works out of the old Greenwood Baptist Church in KC's Westside neighborhood. She restored the building from its decay and transformed it into both a private residence and public project space. Honig is an incredibly prolific artist. Artwork is scattered all over this space leaving no part untouched. Drawings sit stacked on the floor while other works cover the walls.
Working primarily in drawing and painting, Honig's body of work spans 17 projects. In them, Honig explores themes of beauty, sexual vulnerability, and exploitation, and her work shown in the Sager Braudis Gallery Autumn exhibit is no exception. Her intaglio suite depicts acquiescent mother-proxies unnaturally fostering infant animals, which create disquieting, exploitative images presented under the guise of innocence. Her mixed-media figural work depicts a sort of hybrid being—a cross between human and animal. These recumbent nudes clearly call upon classical aesthetic and Greek mythology's use of sexuality and maternity across species. Ultimately, these works force Honig's viewers to consider a possible link between nurture and surrender.
Honig has also been prolific in her work outside of the studio. In 1997, she created an artist-run space called Fahrenheit Gallery in KC's West Bottoms where nationally and internationally known artists are shown. In 2010, she appeared on the reality TV show "Bravo's Work of Art: The Next Great Artist" where she was a finalist. As a way to support herself financially, she runs Birdies, a lingerie and swimwear shop in the city's Crossroads District with her friend and business partner Alexis Burrgrabe.
"I co-own the business because I don't want to have to think about money when I'm in my studio," Honig told Alive. "I'm not interested in being a starving artist. That's a debilitating way to think about yourself, and I think it's unfair. It's condescending and patronizing, and I think it allows for academics to look down on people who are producing the optical seeds that might save the world on a scientific level."
Honig's work has been on view since October, in her first exhibit with Sager Braudis Gallery, and will remain available through the gallery for a short while after the show comes down, at the end of the day Saturday. Those interested in seeing more should visit Honig's Artist page on the gallery site, or contact the Gallery Director at hannah@sagerbraudisgallery.com.