Featured Artist | Norleen Nosri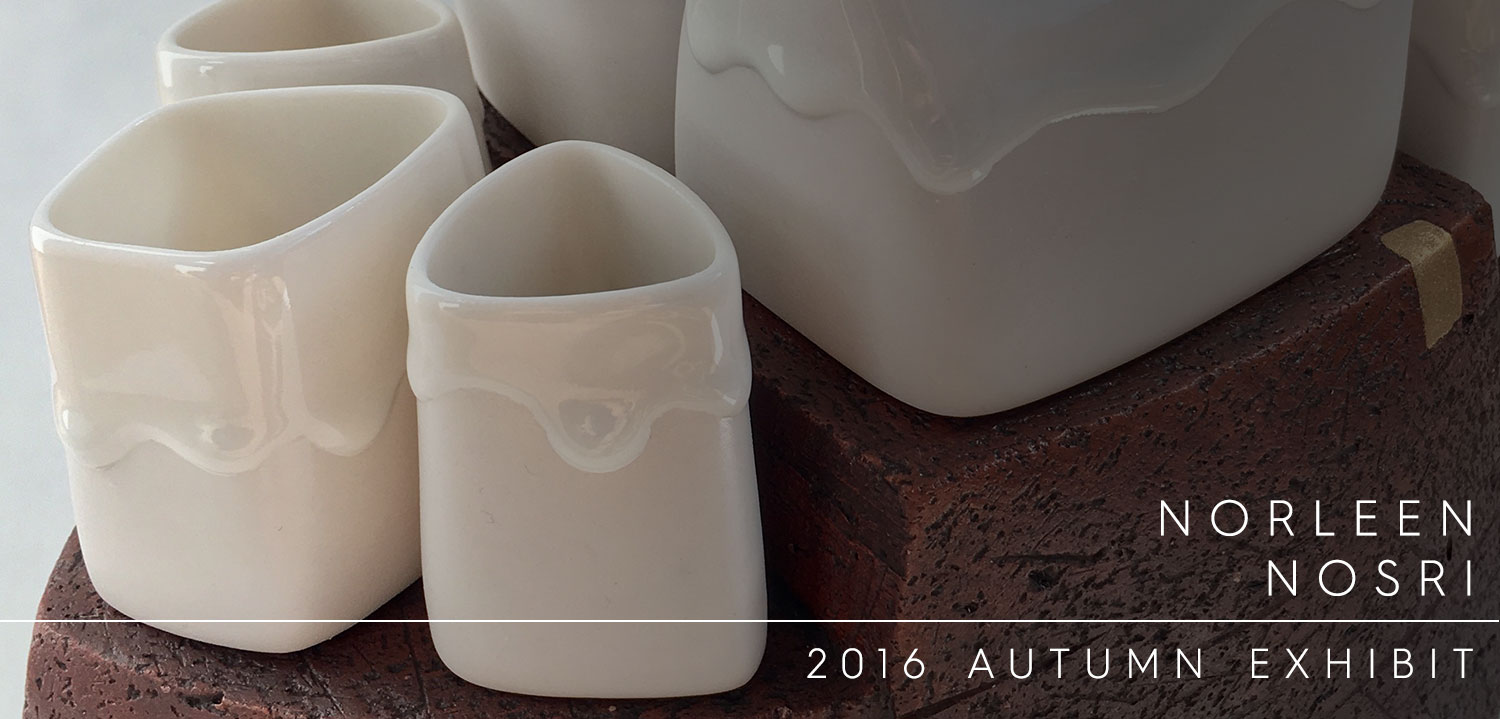 Noreen Nosri was born and raised in Malaysia, and immigrated to the U.S.as a young adult in 1996. The family, culture, and rituals of her childhood were never really left behind, but galvanized as a part of her identity even as she learned and acquired her sense of Americanism. Central to her participation in both cultures is connection to community and tradition. Her new work, aptly titled Emigrate / Immigrate, houses a system of symbols that she's created to stand for the act of migration, and the duality of identity that results from the desire to fully connect and participate in both cultures.
She discovered ceramics when already well into her study of art, after transferring from Columbia College to University of Missouri. She didn't get into ceramics courses right away; she says, "Seeing those packed courses made me want to take it more. You had to be accepted then, and I was accepted into Ceramics in 1999." From the beginning of her study of the medium, ceramics reminded Nosri of social interaction and ceremony. "My mom, she has a set, in cabinets, with doors – you look at it, and it is an attraction for the guests. You don't have to look very far to see the rituals. Look inside your daily life," she says.
Nosri's sheer skill is impossible to ignore. Over a decade of intense practice and study has resulted in an extremely refined style and craftsmanship. In her tea sets, every delicate spout, handle, lid, and vessel sits flawlessly in place, the relationships of the forms within a set preconceived and utterly intentional.
Discussion of meaning in Nosri's work can delve as deep as the interviewer desires. These sculptural sets are thoroughly symbolic and allegorical, and the artist has considered the impact of every detail. Perhaps most prominent is the presence of duality; dark and light, rough and smooth, solid and fragile, masculine and feminine qualities within one set state and restate the presence and importance of two different cultures within the artist's identity. She says, "I am both and I accept both. Strong tradition is housed in the base – masculine and protective – and a dynamic quality in the pieces that move. Groundedness in the base. Relationship in the tea set. Really, relating is seeing the other side when there are differences." The tea pieces themselves are like members of a family, living together but capable of movement and different roles. They also signify the social ceremony of serving tea – especially important in her culture of origin – which is, at its heart, about connection between individuals, and connection of its participants to their collective history through tradition and ritual. The base of each set, while providing a counterpoint to the light, fragile, dynamic qualities of the porcelain pieces atop, also bears the form of a boat, symbolizing the act of migration itself.
With characteristic humility, Nosri jokes at the conclusion of our interview, "But, if people don't want to think about all that symbolism, remember, it's okay: It's just a tea set." Indeed, these sets are fully functional and many of her collectors take pride in serving guests from such vessels. Undoubtedly, it is with a sense of ceremony befitting the work that they do so.