Featured Artist | Mark English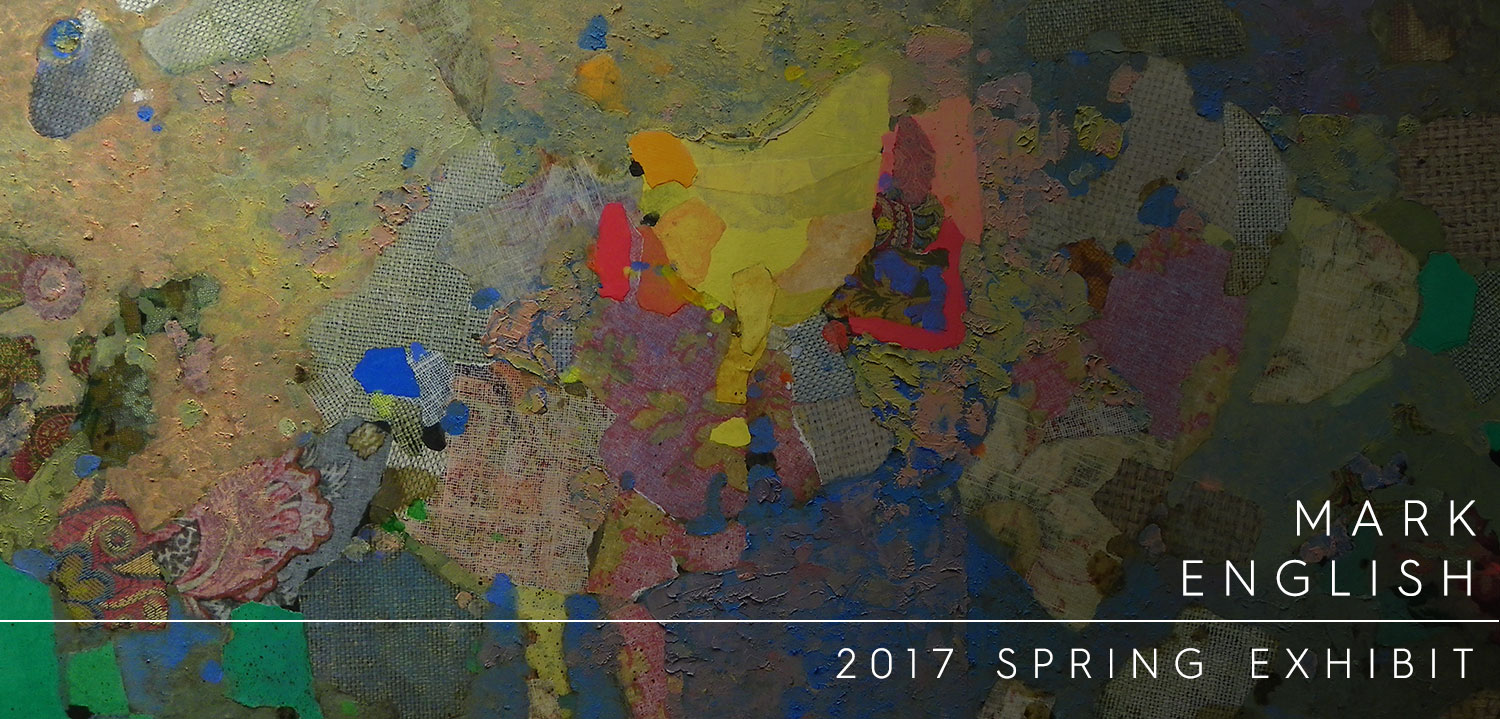 Mark English is one of the most prolific and acclaimed illustrators in the U.S, in fact bearing the distinction of being the most awarded illustrator in the history of the Society of Illustrators. After instructing for the Illustrators Workshop beginning in the 70s, English co-founded the Illustration Academy in 1995 with a similar, mentor-led, studio workshop format. Of the highly-engaged instructive model at the Academy, English has said, "The instructors at the academy approach teaching as mentors. There's no better way to do it." As a mentor, English's influence has deeply impacted a generation of artists, including every other painter in the Spring Exhibit. As a studio artist, he has developed – over a period of nearly 6 decades – a unique, recognizable amalgam of textural pattern, saturated hue, and figures abstracted down to their essence.
English's artistic career began when he took up sign painting in his small, Texas hometown, having witnessed a professional complete work on the window of his family's shop as a teenager. Traditional sign painting included illustrations (mostly of rodeo iconography, in his experience) and hand-lettering, and required precision and efficiency. He continued this work on the side when he began study at the University of Texas at 17. After dropping out of the architecture program, he found work as a billboard painter, and later painted signs in the army. He moved with his young family to California in 1957 and began formal study at the Art Center, first in lettering, then advertising design, and finally illustration. He was scouted by a prestigious ad agency right out of the Art Center, and took the advertising design job in Detroit. During those years in Michigan, his family grew, and he also began his studio practice as a painter. His magazine work began in earnest when he moved east with his family in 1964, to Redding, Connecticut.
In the years that followed, English illustrated publications including The Saturday Evening Post, Good Housekeeping, Woman's Day, Redbook, and Sports Illustrated, among many others. Society of Illustrators awards quickly followed, and English continued to garner acclaim through the 60s and 70s. As an illustrator, he expanded from magazine work to designing advertising for some of the largest companies in the country, as well as creating postage stamp designs for the U.S. Postal Service. Having built a recognizable style and a name for himself, in 1977 he took an artist-in-residence position with Hallmark, and moved to Kansas City, Missouri.
English had begun organizing and offering instruction to illustration students while in Connecticut. When his alma mater asked that he return to California to teach, he instead told them to send the students to him, and he'd assemble a world-class illustration faculty right where he was. This Illustrators Workshop would become the model for the later-formed Illustration Academy. After Hallmark, English taught drawing at the Kansas City Art Institute, and moved to full-time studio painting (with no client and no deadline) in 1987. In 1995, with 8 years of solid studio practice and a new, painterly style under his belt, he founded the Illustration Academy with his son, John.
The Illustration Academy offers intensive workshop sessions with top-of-the-field illustrators, and after 22 years of existence, has also yielded some of the best and most acclaimed illustrators in the country. It is clear that the work ethic Mark English exhibited throughout his career is instilled in his students, many of whom go on to become Academy instructors and further the legacy. English says, "Artists need to be working all the time. All the great illustrators are hardworking people." When he considers the effect of his time as an instructor and mentor on his own studio practice, English says, "I constantly try to remind myself of what I teach. In one word, the idea is 'simplicity.' New students love to render – they get very wrapped up in details before a piece is even composed. Keep it simple."
Knowing this informal mantra – and actually, English later amends "Keep it simple" to "K.I.S.S. – Keep it simple, stupid" – is quite interesting when viewing English's current work, the progression toward which has been in process for some 30 years. The artist does not fully render every component of his subjects, however detailed the presence of collaged and painterly texture may make them seem. In fact, he often removes information, by covering, obscuring, or simply omitting, until the subject is pared down to just enough essential features to be recognizable. His work with color and texture is more liberal but very precise, and informed by decades of visual composition and design.
English still maintains, at 84, both a mentorship and a studio practice. He manages to convey to his mentees an impressive work ethic and almost methodical studio habit, both through example and instruction. He remains connected to many of his students, and expresses profound – if reserved – pride in their success. Each of the other artists of the Spring Exhibit (Josh George, Edward Kinsella, Jeffrey Alan Love, and Joel Sager) was mentored and instructed by Mark English. It does not seem too big a leap to claim that the stylistic similarities (especially the masterful use of texture) and the shared, intense productivity and work ethic of these 4 of English's former students have his influence at their root. Asked about inspiration, English reflects, "It's the work itself. I've been painting a long time. I'm still excited about it."
__
Sources:
Bossert, Jill. Mark English. New York: Madison Square Press, 2002.

"The Illustration Academy." The Illustration Academy. 2017. Accessed May 19, 2017.