Featured Artist | Chris Dahlquist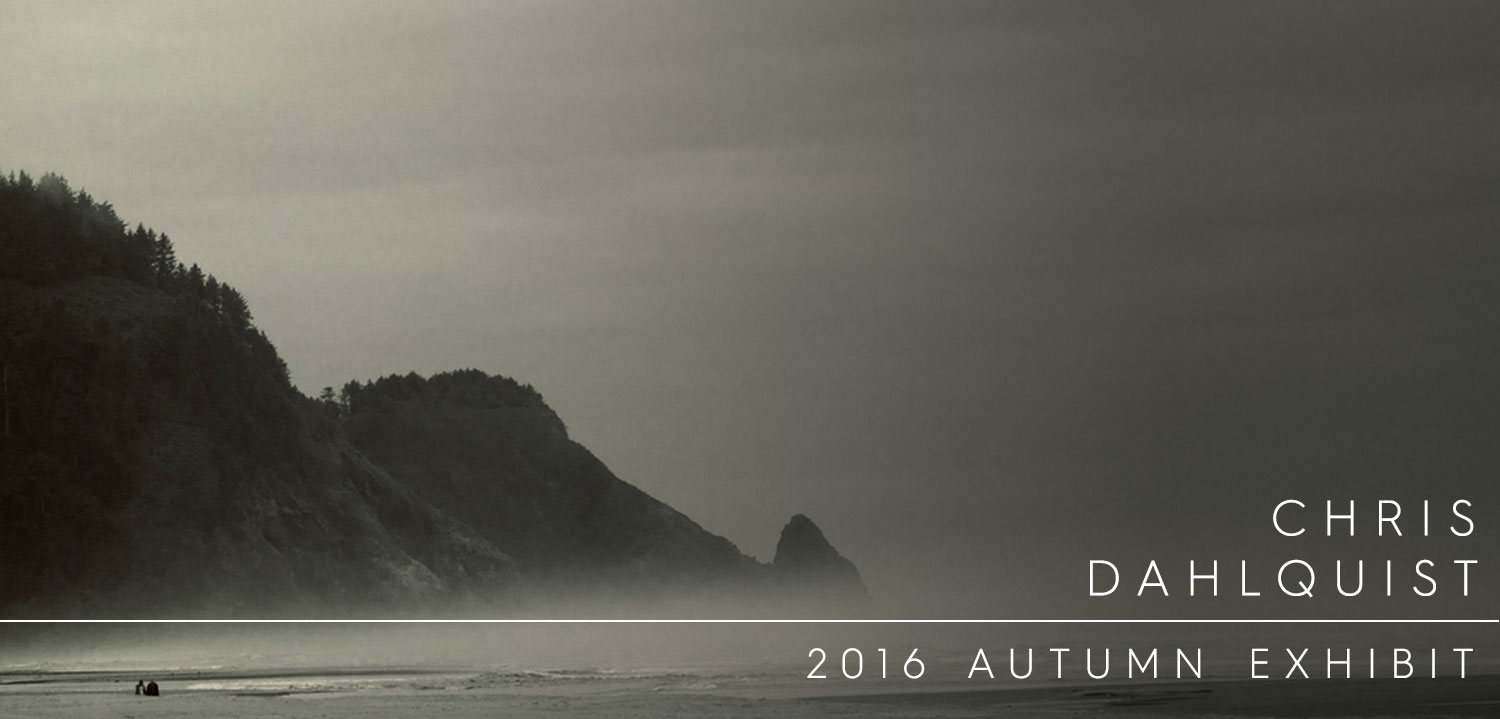 Chris Dahlquist is known for unique and painstaking preparation and presentation of her photographs, adding depth and resonance in each series by printing on specially-prepared surfaces. While at its heart her new work is landscape photography, her capture of temporary, fog- or smoke-obscured scenes, combined with physical translucency and layering of prints, speaks to mystery, stillness, and awe.
Gallery Director Hannah Reeves asks Dahlquist about her medium, method, and concept, and how viewers can approach and understand the new series currently on exhibit.
Reeves: How do you describe your medium? To list it as photography feels overly simple, given your unique process and combination of materials.
Dahlquist: I think of myself as a photographer in the most traditional sense, and only if pushed would I expand my self-identification to include "photographic mixed media artist". If the word photography alone doesn't seem to capture my work, it is because our idea of photography has become too narrow, encompassing little more than capturing an image. Originally photography was so much more than that. The early photographers were also by necessity scientists, inventors, and problem solvers, and the materiality and the mark of the photographer's hand were evident in all photographs.
Reeves: Those familiar with your work will look for a visual reference to historical, photographic processes such as daguerreotype and orotone. Is there such a reference in this new body of work? If so, could you give us a little history?
Dahlquist: The underlying visual reference that runs through all the bodies of work I have created, including Ghost Notes, is the international photography movement known as Pictorialism, which was prevalent from the late 19th to the early 20th centuries. This photographic movement aligned itself very closely with painters, aiming to "create" rather than simply "take" photographs. Visually Pictorialism had much in common with the Tonalist painters of the same time period, and this influence is very apparent in both my Ghost Notes series as well as my Mile Marker series. The mark of my hand can be found throughout all of my work making each work unique despite its photographic origins; similarly the Pictorialists used what they called "ennobling processes" to create original pieces that were sometimes mistaken for drawings or lithographs.
The title of this body is a reference to a musical term. In music, ghost notes are notes that are played but not meant to be heard, with their presence by contrast amplifying the notes around them.
Reeves: In these landscapes, the horizon line, the foliage farthest from the camera, and many of the details of even the foreground are obscured by the haze of either fog or smoke. What drew you to these settings? They're quite different from the clear, sunlit horizon most associate with the term, "landscape."
Dahlquist: It wasn't until Modernism that the sharp clear focus that is now associated with landscape photographs took hold, in no small part due to the popularity of the most well known modernist, Ansel Adams. However, prior to this movement, the Pictorialist photographers often used a soft atmospheric quality to emphasize tone and mood. By concealing detail and context through the smoke and fog, the ambiguity of the images can act as a memory or emotional trigger for the viewer, creating a deeper connection with them beyond documentation of place. While Adams' and many other Modernists would have you in awe of the natural beauty of the external world, I seek to elicit a quieter internal dialogue.
Reeves: This may seem an odd question to ask of a photographer, but can an image capture what you're accomplishing in these originals? I feel like people truly have to see them in person to perceive their depth and translucency. Is that true?
Dahlquist: This is absolutely true. Because of the materiality, depth, and translucency of the pieces, they appear very different as one's viewing angle changes. Because of this a single photograph can never capture and convey what it is to see them in person. The joke in my studio is that with each consecutive body of work I have created, I am a photographer who has managed to create objects that are harder and harder to document in a photograph.