Featured Artist | Carrie Shryock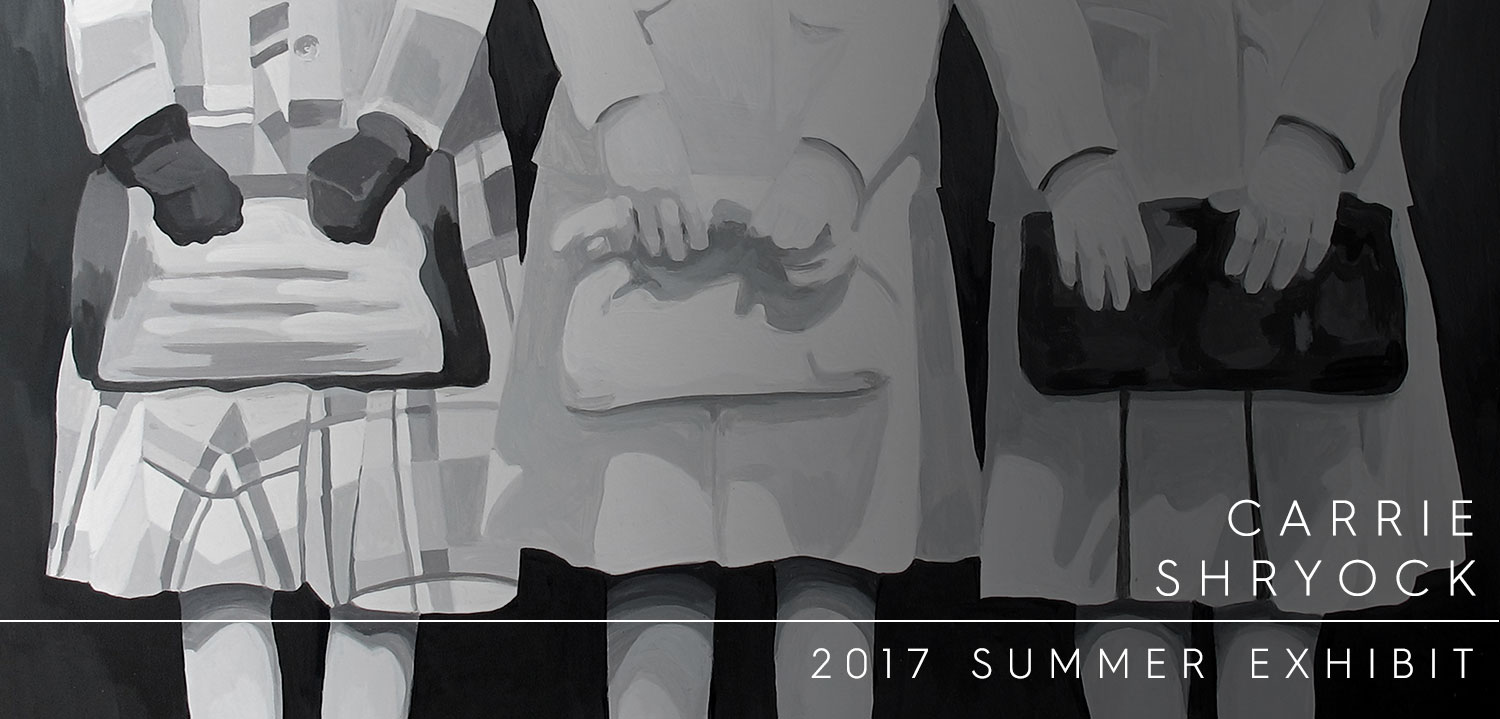 Carrie Shryock was born and raised in Missouri, and her history here – both personal memories and inherited connection to the land – is documented and celebrated in her painting. There's a vulnerability to the open-sketchbook presentation of her landscapes, just as there is in the public presentation of a candid family photo, that endears viewers who share Shryock's inclination toward preservation and rootedness. Gallery Director Hannah Reeves asks the artist about her background and process in this Featured Artist interview. Shryock's work will be on display in the Summer Exhibit through July 29th.
REEVES: Our visitors have been fascinated with your mounted, open sketchbook series, Nephology. How did you arrive at the idea to present your landscape painting in this way?
SHRYOCK: These paintings in sketchbooks started a couple of years ago. At the time I was in a job where I was doing a lot of design work. I was spending all of my time creating illustrations against deadlines, and working on product driven artwork – stuff that would be sent to the printer the following week. I enjoyed what I was doing, but I also recognized that the cyclical nature of that process was taking a toll on my creativity. I decided I needed a personal project, something that I could work on without feeling pressure from so many forces outside of myself. I began painting these landscapes, based on the views outside my backdoor, the big Missouri sky, and other scenes around the area where I live, and before long I had filled up a couple of books. It was something that I could fit in around all of my other weekly demands, and it was different enough from what I was doing during the rest of the week that it really helped to feed my mind and sustain my creativity. It's really interesting to look back through those books. I can remember what I was thinking about, and what I was looking at as I painted each one. They are a diary of sorts, documenting changes in myself, and changes in the landscape, and I guess that's exactly what a sketchbook should be.
REEVES: I understand that the images for your black-and-white paintings are from a family album. Could you tell us about choosing these antique photographs to paint?
SHRYOCK: Those paintings are all based on photographs in one of my grandma's photo albums from the 1940s. She was born and raised in the Hatton, Missouri area, which is also where I was raised, and where my family still lives and farms. During WWII, when every single young man in the community was away fighting in the war, she and her friends took it upon themselves to be the glue that helped to hold the community together. They kept in contact with all of the boys that were away, and on a weekly basis they sent a newsletter from home to each of the boys, wherever they were, with news of what was happening back in Hatton. The boys would write back with stories and news of where they were and what they were doing, and everyone looked forward to getting those letters. It's an amazing story, with so many details that are almost unbelievable. Even though I know it was a really hard time to live through, I have always loved hearing my grandma talk about it, and the photos from that time seem so enchanting. It's a family story that I love, but every family has similar stories that they hold onto, and think about fondly. So, my hope is that these paintings are relatable to everyone.
REEVES: What are the roles of nostalgia and rootedness in your work?
SHRYOCK: When I was putting together these pieces for the Summer Exhibit I don't think initially I saw any connection between the landscape paintings and the old photo based paintings. In my mind they were two separate series. But I've realized that they are more connected than I thought – they both have very strong themes of rootedness and nostalgia. I was born and raised here, in central Missouri, on a farm that has been in my family for six generations now. The roots are really deep. When you're part of a family that has been farming the land for generations and generations the landscape itself becomes just as much a part of the family history as the stories and images that are passed down.
REEVES: Could you talk about your process a bit?
SHRYOCK: The landscape paintings are gouache, which is the same thing I use for a lot of my illustration and design work. It's easy to take with me when I'm traveling and really love the versatility, but I've found that it's hard to work with on a large scale. I've often thought that maybe I should take these landscapes and paint them bigger, but so far when I have experimented with other media and sizes it just doesn't feel right to me. There's something about these big skies and landscapes, on a small scale, in a little sketchbook that has that charm that I'm looking for.
The black and white paintings have been a bit of an experiment in materials. I found that I love house paint. The consistency of the paint, it's fluidity, and drying time has seemed to work really well in achieving the look that I'm going for. I also love the idea of pairing common house paint with images from family photo albums. It seems just right.
REEVES: I always like to ask: What is your studio quirk?
SHRYOCK: I like to listen to podcasts while I'm working. Some of my favorites are Radiolab, Twice Removed, Design Matters, and A Piece of Work with Abbi Jacobson. There's a new one I've been listening to called LeVar Burton Reads, which is basically Reading Rainbow for adults, so that's pretty great. My all time favorite is Mystery Show from Gimlet Media. There's only one season so far, but I'm keeping my fingers crossed that there will be more. I won't try and describe it to you, just go listen. Episode #5 is one of the best things I have ever heard.