Cuba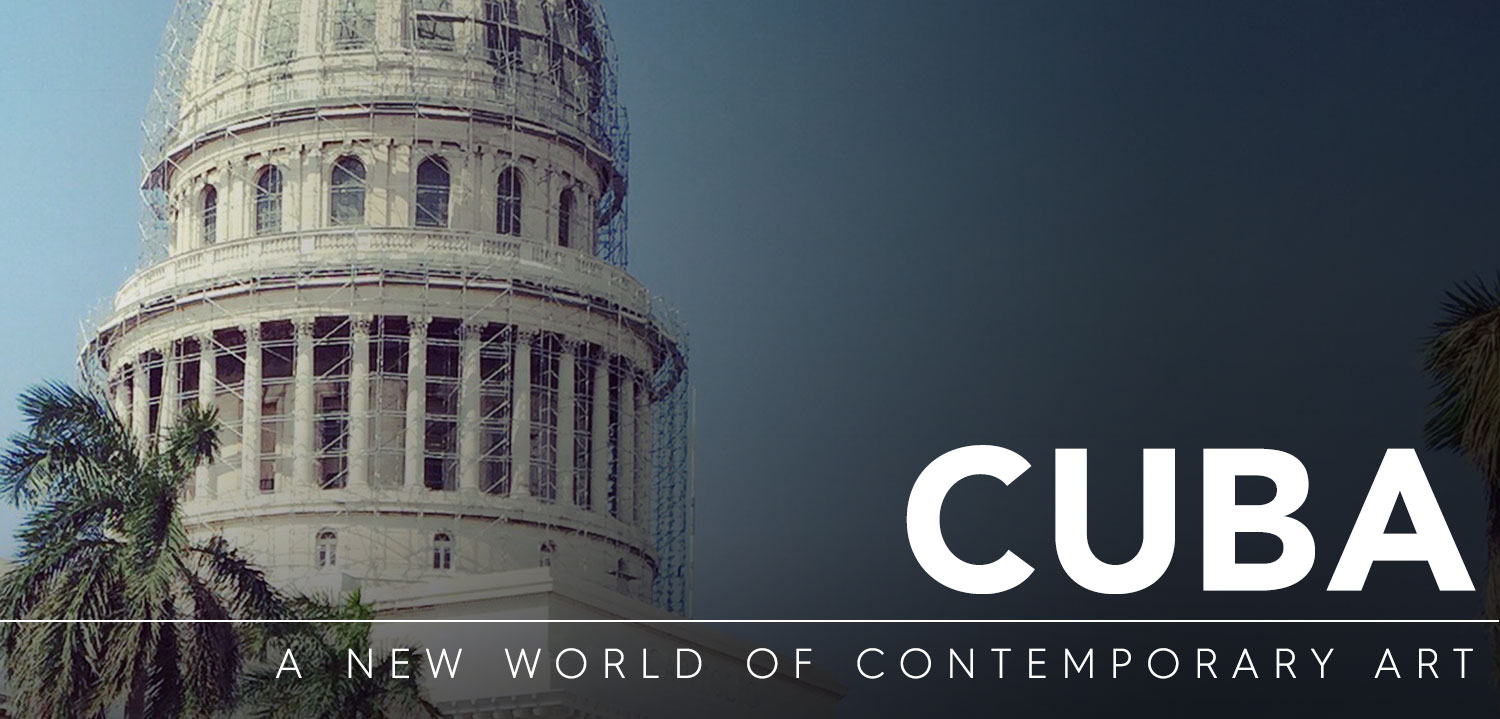 WHY CUBA?
Late February of this year, the Sager Braudis Gallery staff, along with MU Art Department Chair Jo Stealey, had the immense privilege of traveling to Havana, Cuba. We set out to explore the contemporary art of a country which, until very recently, had been developing parallel to – but isolated from – the rest of the western world. Physical proximity to the United States, and the exchange of ideas and people that accompanies that proximity, fed a mutual influence for decades preceding the Cuban Revolution in 1959. During the 55 years that followed, isolationism, as well as embargos by the United States and many other countries, halted both economic and cultural trade. Absent tourism and the need for capitalistic international promotion, cultural influence turned inward, and Cuban artists developed an industrious self-sufficiency that remains hallmark to Cuban work even now. While aged architecture and classic cars might cursorily come to mind and imply that Havana is a sort of time capsule, visual culture there has progressed alongside that of the broader art world, yielding fully contemporary artwork that houses an utterly unique voice.
From 2014-2016 the U.S. embargo on Cuban trade and travel was lifted in stages. Cuba now has, for the first time in decades, a tourist industry, and channels for conducting business between the two countries are beginning to develop. For artists and appreciators in Cuba and the U.S., this moment is pivotal and monumentally interesting. A new conversation is beginning, in which the two voices will change with exposure to one another. This change is in fact already beginning to occur.
In spite of regulations between the two countries in recent decades, there has been cultural exchange, albeit limited, primarily centered around academia. Remarkably, our own University of Missouri – Columbia has pioneered this important and somewhat rare interchange, with the formation of the first-of-its-kind Afro-Cuban Institute, international conferences on Cuban art and writing in 2012 and 2015, and formal invitations to Cuban artists and scholars that yielded some of the only Cuba-to-U.S. visas during the embargo. Because the unique connection between Columbia and Havana was already underway when the embargo was lifted, Columbia boasts connections – friendships, in fact – to Cuban cultural leaders that other U.S. cities have yet to forge.
As a facet of the art community in Columbia, Sager Braudis Gallery has had multiple connecting points to the budding exchange between the informal sister-cities, Columbia and Havana. One extraordinary friendship, in particular, shaped the planning of the gallery trip to Havana, and ultimately the acquisition of artwork there that will make up the Sager Braudis Gallery Cuban Contemporary Art Exhibit.
Santiago Olazábal, a renowned Havana painter with an exhibit history that includes some 12 countries and the likes of the Louvre and the Cuban National Gallery of Fine Art, was formally invited by the University of Missouri – Columbia in 2015 to exhibit as part of an international symposium titled Afro-Cuban Art: A Renaissance. At that time, current Sager Braudis Gallery Director, Hannah Reeves, was directing the Bingham Gallery under MU Art Department Chair Dr. Jo Stealey, both of whom also served on the planning committee of the symposium, hosting an exhibit of mixed-media paintings, drawings, and installation by Olazábal at the University. While the academic visit was allowed, bringing Santiago Olazábal and his son and studio assistant, Santiel, was challenging due to the inability to easily communicate and to directly ship artwork. Having designed them to be folded, rolled, and exhibited unframed, Olazábal transported over a dozen original artworks from Havana in suitcases. Santiago and Santiel stayed during the conference in Columbia with Jo Stealey, and spent the few unscheduled hours of the week in Jo's studio, exploring fibers and discussing art and the ideas shaping both artists' work. A deeply thoughtful artist who exudes jovial calm, Santiago, and likewise Santiel, left Columbia feeling connected to the city, and especially to Jo Stealey. Jo would later visit Havana for academic projects, and Santiel would return to Missouri in 2016 to study photojournalism, during which visits to Sager Braudis Gallery forged a friendship and placed the final building blocks for a trip to Cuba. Santiel was to become our gracious, immensely helpful guide in Havana, and Jo Stealey would travel with us as a friend, fellow artist, and translator.
NO ES FÁCIL
As we did our research in preparation for travel to Cuba, we encountered the phrase, "no es fácil," a number of times. Described by those familiar as an "informal national motto," the words, literally translating to "it's not easy," are frequently applied to situations requiring someone to jump through a lot of hoops, or make a lot of effort where one would hope to succeed with ease. Americans like to plan, and for an international trip involving the acquisition and export of original artwork, we wanted to ensure all details were in place. But, no es fácil, and logistics proved extremely challenging from behind a desk stateside. 132 hand-written forms and numerous imperfectly-understood phone calls later, we had visas, accommodations , and an itinerary for artist studio visits…but not clearance to enter the country. With all the flexibility we could muster, we flew to Miami the morning that our trip was scheduled to begin, on razor thin blind faith that we'd gain permission to enter Cuba by day's end. At the eleventh hour, having spent hours in the Miami terminal considering backup options, we received official clearance to enter Cuba and began the last leg of our flight.
Our Cuban friends had arranged local transportation (yes, it was a gigantic, blue, 1954 Chrysler) and Santiel's partner, Elisa Lopez, who manages an art gallery in Havana, had scheduled and pre-curated studio visits with artists around the city. Our hosts' attitude of complete graciousness through our touch-and-go start to the visit was indicative of the warmth and hospitality that would be shown us over and over for the entirety of the trip. Santiel and Elisa guided us through not only the literal city, but also through the complicated and nuanced culture of their beautiful country.
THE ARTWORK
Cuba's unique, formerly encapsulated art scene is rapidly changing, having been inwardly-turned for decades while themes, styles, techniques, and conventions for use of materials developed separately from those of the United States. Prepared with an extensive, diverse, pre-curated selection of artists and artwork, we set out to understand the visual language of the Cuban cultural voice, and bring that voice back to our community. As we were welcomed into studios across Havana – consisting of warehouses, sunrooms, commercial spaces, collectives, and even a 16th-century Spanish fort – we talked directly with artists about their work and ideas, and, made on-site, often difficult decisions regarding the selections that would be brought home to the Midwest. Adding to the sense of complication and urgency, we would not have time to return to an artist's space for any follow-up, so methodical consideration of work was paramount, not to mention estimation of how the work would fit together, both conceptually and visually, once back in our gallery space at 1025 East Walnut. Lastly, and most comically, the entirety of the day's spoils had to fit into our vintage Chrysler cab. It was close quarters.
Estudio Arte Contemporaneo was our first stop, and housed multiple artists' studios surrounding a central gallery. We were immediately struck by the painting of Andy Llanes Bulto, whose Lunar Series faced the entrance, and whose large-scale, tightly-cropped portraiture we would soon discover further within the studio. Llanes Bulto has a way with the texture of skin, utilizing short, visible brushstrokes in an impressionist-realist hybrid method that yields paintings nearly photo-realistic yet deeply textural and full of marks from the artist's hand.
Estudio Arte Contemporaneo's impeccable director, Aisel, shared, discussed, and explained pieces both in-process on easels and formally displayed in the gallery. With the acquisition of a body of work by Llanes Bulto, as well as the spectacularly precise charcoal and oil paintings of Daniel Rodriguez Collazo, a single, large, oil painting of a dancer in motion by Marwin Sanchez, and two beautifully representative relief paintings by the renowned Manuel Mendive, the exhibit back in the states began to take shape.
Our hostess, Elisa, had arranged introductions to both established and emerging artists all over the city, and we made back-to-back visits to individuals after our fruitful first stop at Estudio Arte Contemporaneo. Some, we left empty-handed, when favorite pieces turned out to be unavailable, or the work too closely resembled something we'd already acquired. With three of the artists we visited, we began conversations about the possibility of bringing the artwork, the artist, or both to Columbia for the 2018 exhibit. When we found work that was impactful, communicative, and perfectly crafted, we decided through democratic process to include the work in the exhibit.
Late in our third day in Havana, with most of our studio visits complete, we made plans to go to the home of Santiago Olazábal, with whom Jo Stealey was staying during our time there. As he, along Santiel and Elisa, had hosted and guided our visit, we saw this stop as a time to finally slow down and express our thanks for the enormous help of our hosts. Though Santiago's studio is in his home, we didn't exactly expect a formal studio visit (nor did he, probably). We didn't even know if the artist, with exhibits booked all over the world, would have any work available…but there was a little hope among us that we'd be able to end up with something from this person whom we so admired.
He welcomed us into his studio very first thing. He'd been completing a series of large, new canvases for a solo exhibit in Havana in late spring 2017. Most were wrapped in paper, which he gingerly removed when we expressed interest in seeing the newest work. It's difficult to describe our collective sense of immediate connection to these pieces. There's a phenomenon we sometimes witness in the gallery when a viewer experiences a wordless, deep response on encountering an impactful piece of art, when the person actually puts a hand to his or her heart, or even utters a little gasp. Explanation can strengthen this immediate understanding, but it's not essentially verbal; it's almost visceral. Such was our reaction to Santiago Olazábal's work.
Olazábal is a priest of a hyper-local order of the Afro-Cuban Santería religion, called Ifá. His spiritual beliefs connect him to his ancestors, his land, and everyone with whom he interacts, and inform all aspects of his life, from daily tasks to artmaking. His paintings are inextricable from his religion, and house both 1:1 symbols from within his faith, and more subtle representations of his beliefs, including the bodily positions of his subjects, the inclusion of 3-D objects stitched into the canvases, and the use of a limited, symbolic color palette. Perhaps most remarkable about his work is that while it expresses a very specific, very local cultural viewpoint, it transcends cultural, spiritual, and linguistic differences to wordlessly and powerfully impact even viewers like us, with virtually no knowledge of the religious practice that informed it.
We spent hours discussing Olazábal's work, took a break to share a meal with the artist and his family, and returned to deliberate for another several hours. We learned that the newest series, with collage and stitched-on objects, included materials that he had gathered in Jo Stealey's studio in Columbia, Missouri during his academic visit. He talked about his experience of Midwestern warmth when he came to the U.S., and how it resembles Cuban hospitality. This series is connected to Missouri – connected to us. The discussion was invigorating, and the deliberation concerned how and whether we could bring multiple pieces from this series for the exhibit we're planning. Having truly struggled to narrow down a number of Olazábal's pieces to acquire, we left his studio late that night, knowing that his work would be the heart of the Sager Braudis Cuban Contemporary Art Exhibit, confident our community back home would be equally awed.
THE EXHIBIT
The 53 works of art that Sager Braudis Gallery acquired in Cuba will occupy both the main and hall galleries throughout the month of April 2018. The work comprises painting, drawing, relief sculpture, and various methods of original printmaking, with many of the pieces containing an innovative combination of media and collage. 14 artists will be represented.
By way of ongoing collaboration with Jo Stealey and the University of Missouri, we plan to extend a formal invitation to the artist Santiago Olazábal, his son and assistant Santiel, and Elisa Lopez as co-curator, to visit Columbia during the exhibit. Our hope is to present translated remarks from all 3, as well as our own curators' statement, at an exhibit-preview event the first week of April, and open to the public on First Friday, April 6th, 2018, with our Cuban guests in attendance.
As we continue our research and curatorial writing on our Cuban contemporary collection and prepare the artwork (restretching the canvases that had to be rolled to transport, and framing works on paper that we carried all over Havana in a flat-portfolio), it is already becoming difficult to wait for our April 2018 events. We're incredibly excited to unveil to the Columbia, Missouri art community the impressive work of the Havana artists we had the privilege to meet. We are proud that this exhibit will be one of the first of its kind in the country, as relations expand and develop between the U.S. and Cuba. We look forward to sharing this momentous occasion with all of you.