A new First Friday is almost here, and we at Sager Braudis Gallery want to share a few updates about the new exhibits and what to expect.
The doors open to the public on new exhibits in both galleries tomorrow (Friday, August 6th) at 6 PM. As we do each month, we've reserved opening week leading up to First Friday for member previews by appointment. Our members get an early-access email on the Tuesday of every opening week with both a link to shop online before the site goes live, and a link to schedule an in-person appointment. This monthly early access, along with a standing invite to our members' happy hour 5-6 on First Friday, a swag bag, and more, is really one of the fun perks of membership, which helps support the gallery to boot. (Learn more and join at sagerbraudisgallery.com/membership.)
This month you'll find a special midcentury showing in the East Gallery featuring the work of Lawrence Kupferman (American painter, 1909-1982). Kupferman was associated with Abstract Expressionism, but even before the heyday of gestural, fully abstract work he developed his own style of expressive mark-making that evoked the expanses of the microscopic and the universal. He described one work saying, "This might be at the deepest bottom of an ocean, where light comes only from microscopic life forms, or it could be out, far beyond Venus, where things collect and begin again…Life is mysterious. I find relevance in the abstract, for in it is the womb of existence."
In the West Gallery this month, the August Exhibit features landscapes in oil by painter Craig Albright, original prints by Emily Legleitner, small-scale, abstract, bronzes by Chris Morrey, portraiture combining fibers and drawing by Hannah Reeves, and altered-photogragh compositions by Brenda Stumpf.
A bit on how we'll keep our celebration safe:
We are asking all attendees, both unvaccinated and vaccinated, to arrive masked for First Friday. We will be serving drinks, compliments of our sponsors Les Bourgeois Vineyards and N. H. Scheppers Distributing, so we'll ask that visitors lower their masks only to take a drink, and remain masked the rest of the time they're inside. As always, we hope that anyone considering attending First Friday assess their recent exposure to Covid, and sit this one out if they have any symptoms of illness or known contact with someone sick. We continue to sanitize carefully and run additional air filters. Our entire crew is fully vaccinated. For those with extra vulnerability, children too young to be vaccinated, or simply a desire to remain more cautious about crowds, we are happy to reserve private visits or offer remote viewings.
The August Exhibit runs First Friday through the 28th. Our usual hours are 11-6, Tuesday-Saturday. The entire exhibit will be viewable and shoppable online from 11 AM on August 6th. The Lawrence Kupferman exhibit will run through October 30th, and will additionally be accessible on Artsy and via an accompanying print catalog.
Contact us any time with questions, concerns, wish lists, and other inquiries at info@sagerbraudisgallery.com.
As we round another corner in the pandemic and approach a high enough vaccination rate and consistently low infection rate in our community that could make it possible soon to carefully gather, we at Sager Braudis Gallery look at the next month as a time to remain cautious but begin to feel hopeful. What a day it will be when we can bring people together over art again!
QUICK NOTES:
OPEN ONLINE FRI MAY 7TH 9 AM – SAT MAY 29TH
DOORS OPEN SAT MAY 8TH 2 PM, THEN 2-6 PM TUE-SAT THRU THE 29TH
PRIVATE APPOINTMENTS AVAILABLE 11-2 TUE-SAT
AUCTION PREVIEW ONLINE THRU MAY 31ST, IN PERSON THRU MAY 29TH
AUCTION BIDDING LIVE JUNE 1ST – 4TH
The May Exhibit and a special new East Gallery exhibit are now on the walls, and we want to touch base about how to see them this month, and what to look forward to thereafter. Our members always get early access the week leading up to First Friday, to view new exhibits both online and by private appointment. If you're not a member yet and you'd like to get in on this and other fun perks, you can check out the levels and benefits and join here. Our new exhibits open to the public online Friday the 7th at 9 AM, and by joining our Facebook event for First Friday, you can also watch your feed or check in on the "discussion" to find artist features, announcements, deals, artwork details, and more throughout the day. On Saturday (May 8th) we have private appointments available (free and easy to book through our scheduler) from 11 to 2, then open-door hours from 2-6. This mix of by-appointment and publicly open visits seems to have served our clientele over the past few months, so we are going to continue the same through May.
Speaking of May (!): The West Gallery Exhibit features the work of contemporary artists Suzy Farren, Marie Gardeski, Alix Lambert, and Kathryn Shriver. An intriguing and lovely mix of painting, drawing, fibers, and sculpture, this is an exhibit with a lot of meticulous and beautiful details that reward a close look. In the East Gallery this month, you'll find the artworks of our inaugural Silent Auction! The Sager Braudis Gallery Silent Auction is both an exhibit and event, offering a new service and expertise for clients selling and acquiring art. The auction features a broad range of periods, styles, and media from a variety of patron collections as well as the gallery's own archive. Both in person and online, with each collectible work you'll find details on the piece, an estimated range of bids, and a "reserve" noting the amount of its starting bid. The exhibit is preview-only through May 31st. Bidding will go live June 1st and will end June 4th. Participants may enter one bid per day during this time, accepted online around the clock, or during business hours of 11 to 6 in person, by email, or by phone. The reserve for each work represents a compelling asking price compared to the actual valuation and comps, and the auction makes available 30+ beautifully collectible works acquired through travels and connections all over the world. Whether you're looking to begin your own collection with a unique find at an excellent value, or simply have an eye out for artwork that fits your space and style, we encourage you to preview this month and prepare your list of favorites for when bidding opens on this exciting compilation of works.
As always, we love to share more on artists and artworks of interest, whether you plan a visit here through May 29th, or reach out by email or phone. If you don't already follow us on social media, that's another great way to stay connected. You'll find us on Facebook at Facebook.com/sagerbraudisart or @sagerbraudisart, and on Instagram as @sagerbraudisgallery.
This week, sculptor Terry Mason shared thoughts on his work in a Q&A with Gallery Director Hannah Reeves. Mason's work, a delightful hybrid of the notion of "found object" and a masterful depiction of the human figure (in parts), is featured in the June Exhibit, which runs through the 30th.
HANNAH REEVES: Tell us about becoming a sculptor. Was there a natural progression from more traditional figurative work to the type of work you make now
TERRY MASON: I don't see my work as a progression from traditional figurative work. When I first got excited about sculpture, I was learning about artists Chris Burden, Charles Ray, Vito Acconci and Cindy Sherman. There was a performative and forceful aspect that I saw in their work. Something that challenges the viewer in a very direct way. I was intrigued by the idea of work interacting in this way. My work has evolved organically with life experience and techniques that I've learned along the way. I am interested in allowing figurative work to be a part of the piece if it best expresses the ideas about which I'm thinking.
HR: The work has such a level of finish that it often appears manufactured, making the process pretty invisible to the viewer. Could you talk about this a bit? What's "behind the scenes" of the creation of your work
TM: It's about seeing the work without distractions. Direct and beautiful. I have an obsession for detail and the surface of things. I often find myself admiring the quality of finishes and lines in everything from a peanut butter jar that is sitting in front of me, lichens on an old fence post, or any kind of architecture. My background is in fabrication and prototyping, which one could say fosters a fastidious nature, others might say I'm just anal.
I really appreciate work where one can see the artist's hand and the process, allowing the making to be a part of the visual and conceptual vocabulary. But I find it funny that when I experiment with that, I can never figure out if the work is done.
I often use mold making and casting in my work, which is a big part of the manufacturing world's processes. I find mold making an antiquated operation. In order to create a casting, a remarkable amount of energy goes into making this "tool" (the mold), which never gets seen by anyone. For this reason I think this technique innately lends to this experience of a veiled process.
The main reason I use a kind of manufactured aesthetic is because I always want there to be some element of surprise. This type of finish suggests something mass produced. Products are all around us and we see them on a daily basis. These objects are loaded with visual and emotional associations and assumptions, creating an opportunity where assumptions about things can be leveraged into crafting a kind of mistaken identity or maybe a flash of the psychedelic. The experience of something familiar becoming unfamiliar.
HR: You work with a large variety of materials. Do you go into a project with mastery of the materials needed to make it happen, or do you have to develop your understanding of media specific to each piece?
TM: I explore a wide range of fabrication techniques and materials because I'm letting the idea that I'm thinking about dictate the imagery. This is the exciting part of the making, where I feel a sense of magic. With the intention of setting aside logic and practicality, I explore an idea and let it lead me where it may. This is where I really feel the art making happens…it feels like sculpting with ideas…playing in my imagination. After that, it becomes a process of resolving a different set of challenges to create the work. I'm regularly "reinventing the wheel". Instead of mastering a technique and creating from that vantage point, I'm presented with the opportunity to learn about whatever process or material is required for each project. I think there's a part of me that feels a need to earn the skills and the right to depict the thought and imagery with which I'm working. The idea sculpts me in a way.
HR: What has studio time been like for you during this pandemic? I'm hearing such diverse responses from artists, from needing distance from the studio, to having more time and energy for creative pursuits that may have been on the back burner, to everything in between. What is the situation doing for you?
TM: The pandemic has given me another reminder to recognize how precious time is for everyone everyday, which has already been a subtext within my work. It has changed the world in ways we are only beginning to recognize.
I have less time for my art practice. I'm trying to respect the shelter in place by managing more of my income work without help. I go to work in the morning, which is also my studio (conveniently) and stay until the evening. I try to fit in as much time as I can for art making. Unfortunately, because I have less help, I haven't had as much time for making. My art time is further cut into because my wife has a career and my daughter is getting home schooled due to school closures and we are trying to navigate that situation.
HR: I've been asking artists this question when I get the chance: What is the most beautiful thing you've ever seen?
TM: That's easy, a tickle fight between my daughter and wife.
Collectors and followers of the work of painter Joel Sager will recognize in each new series what the artist has developed over years of prolific studio practice. In his newest work specifically, one finds the familiar setting of the edge of a dark forest, that line between the wild and mysterious and the civilized and cultivated. Sager has long explored this border area, gracing it with the dawning or ebbing edges of daylight, the colors and textures of each season, and the structures of past-era farm life. In these newest works, solitary figures occupy the woods' edge, each with his or her own unique features and implied narrative, yet all similarly alone. Joel answered a few questions this week for Gallery Director Hannah Reeves, touching on the meaning behind this work, and more.
Hannah Reeves: Tell us about the term, waldeinsamkeit – how you found it and how you've interpreted it in this series. Which came first, the vision for the paintings or the investigation of this word?
Joel Sager: I love learning vocabulary. My all-time favorite board game is Scrabble. Words are so fascinating and can achieve so much in general but particularly in an artist's titles by injecting ideas or accentuating visuals. When I came across a list (incidentally, I love lists, too) that was posted on Buzzfeed and was called something like "25 untranslatable words" I was all in. There were a lot of good ones, but the one that grabbed me more than any other was waldiensamkeit. A perfunctory definition is "the feeling of being alone in the woods," although after taking it to some of my German-speaking friends, their reactions felt like I'd brought up an ancient cult or secret society. More than one of them explained how it encompasses a wide range of emotions one feels visiting the woods, from fear of their vastness to a sublime peace and unity with nature. Its mystery and inability to be explained other than simply experiencing it is part of its allure to me, much like art in general.
I'd say the concept for the paintings came first and in many ways has always been a part of my work. You can find these tree lines in some way, shape, or form throughout my work for the past 20 years.
HR: That relates so directly to another question I had for you. Not only in this series but in many of your paintings over the years, you focus on what seems to be a border between cultivated and wild spaces. In Waldeinsamkeit it is the edge of a dark forest. What keeps you investigating this edge-territory?
JS: Well candidly, I have a boring answer and then a probably over-complicated one. I'll give you both. I learned early in my painting practice the tree line actually serves as very good compositional structure, breaking the visual space into thirds (ground, tree line, and sky) and pushing back the middle plane with the dark value. This gives a simple sense of environment. The overcomplicated one, at the risk of saturating intent, is that the dark woods next to more cultivated land have always felt like an important symbolism in my life and equally important to include in my paintings. To me they symbolize our balance as both individuals and humankind between the wild and the civilized, the mystical and the pragmatic. Physically, it creates a sense of being on the precipice of something, somewhere we could go, but are unsure of the consequences, good or bad.
HR: Who are the figures in these paintings?
JS: I've based the figures off of old family photos, although, I'm not necessarily going for a likeness. They are simply intended to represent me, as my ancestors, while also acting as a vessel for the viewer to identify with someone within the picture plane. I'm greatly inspired by folk art and figures depicted by untrained painters, who flatten perspective and shapes, but maintain an impeccable attention to detail. This balance of naivety and intricacy has always intrigued me and repeats in method the thematic motif mentioned before: the teeter between wild and civilized.
HR: I've been interested to hear from artists recently how quarantine has affected their studio practice and their relationship to their work. I'm hearing about everything from a complete "artist's block" to an overwhelming abundance of time and ideas. How have you been affected? Do you think your work will change, or has it already, as a result of the experience of the pandemic?
JS: I'm not one to believe in "artist's block." An artist worth their salt has a running list, endless content in their mind, notebooks, and/or sketchbooks, more than could be painted in a lifetime. Quarantine definitely upended my studio practice though. Prior to, I lived a fairly regimented life. I have three sons. Pre-pandemic, their weekday morning routine was breakfast and getting off to school. Then, I'd work in the studio until 1:30 PM or so, have a late lunch, and head to the gallery to work there for the remainder of the day. So when the quarantine started, as did all people with offspring, my partner–who is also an artist–and I became full-time parents, navigating our careers while parenting three rambunctious boys with insane appetites (I feel like we also cook 5 meals a day) along with all the other lifestyle changes. I'm getting into a new pattern like much of the world, but it's taken some trial, evaluation, and recalibrating. As far as the pandemic informing my paintings, even though my work has always been in some capacity about solitude, this latest series really is in direct conversation with the pandemic's effect. Each subject is in isolation, but they are no different than every other figure, experiencing the exact same thing. They are alone together, like all of us.
HR: Do you think that art history, in a more general sense, will change course because of this pandemic?
JS: I've been reading a lot about this. Actually I just plowed through this great piece in Document Journal that my cousin sent me. It's conversation format about, amongst other things, the potential this pandemic could have to gut some of the elitism through a vacuum that's been created in some crucial areas in the art world. It could act as a great equalizer. These two artists are leading an effort to use this as a springboard, redirecting the entire information exchange in the art market toward tools such as free exposure and acquisition platforms, as well as emphasizing the need for more robust criticism and transparency. While elitism and classism definitely are a blight of the art world, and as much as I'd love to see that change, this article may be too optimistic. We'll see I suppose. Above all, what I think is an inevitable silver lining: we will come out on the other side of this with a greater appreciation for seeing works in person at galleries and museums–being able to almost breathe on their topography, detail, subtly– understanding what a privilege that is to experience and share viewing it with others in a public forum, and the gift it is for any community, both large and small, to have such a centrifuge of ideas. Additionally, the pandemic has forced the hand of many visual arts entities to become as creative as their stable of artists by coming up with new ways to engage and get art in people's hearts and minds. This, after all, is our greatest imperative as art advocates, or as I joking call us, art-addict-vocates.
HR: I've been asking every artist when I have the chance: What is the most beautiful thing you've ever seen?
JS: A blank canvas.

Beneath the Skin is the culminating internship project curated by Sager Braudis Gallery intern Linda Pepper of Missouri Valley College. The exhibit was on view for the month of December in the Hall Gallery. Beneath the Skin features the work of Andy Llanes Bultó, Jessica Keiser, Metra Mitchell, Santiago Olazábal, and Mike Sleadd.
The human body is a fascinating and beautiful machine. It's no wonder that artists have had an innate drive to study and convincingly portray the figure and its beauty throughout the history of art. While essentially universal, the form of the body is entirely unique to each person, and this diversity can be a conduit for recognizing and celebrating, not only in appearances but in views, perspectives, and walks of life. Despite our differences, the factor that unifies us as a species is that each human alive inhabits a body.
Perhaps what makes the figure fascinating to render, beyond its basic universality, is the life and energy it houses. The human condition, the spirit, the soul, the human consciousness and the search for the meaning of such: these phenomena drive us to search for what is beneath the skin. The portrayal of the figure in a non-sexualized yet authentic context is one artistic manner of approaching our existence and allows us to view the body as an allegory for the inner world. The artists included in this show each have their own approaches to exploring anatomy and to the production of their work.
Andy Llanes Bultó draws on classical knowledge and inspiration from impressionists and photorealists to paint his nude, androgynous figures. He invokes a sense of underlying emotion by emphasizing the contrast of light and dark in a muted palette.
Jessica Keiser also takes a classical but academic approach to depict the body. Her work is introspective and naturalistically rendered with smoothed out details juxtaposed next to hard lines to convey contrast and emotion.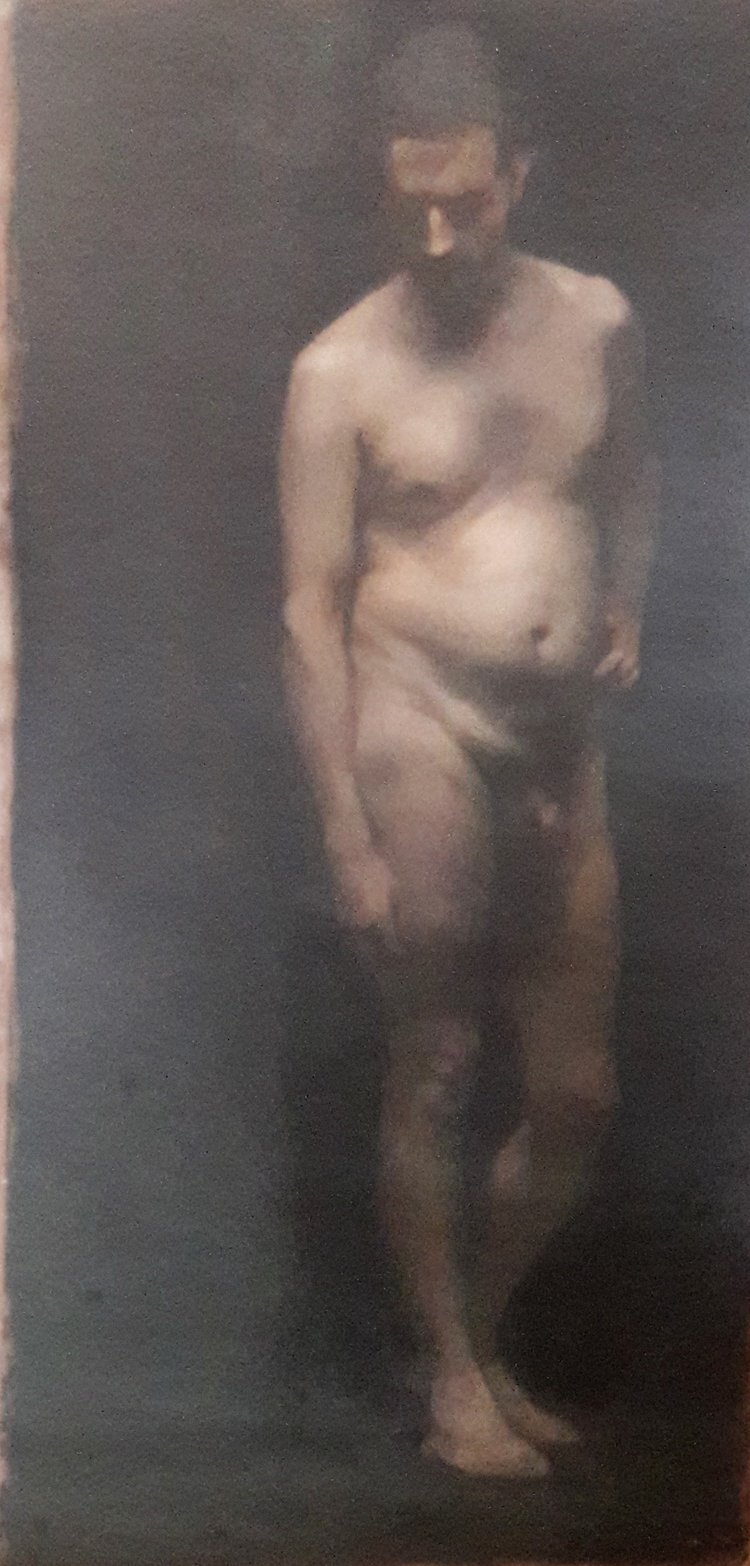 Mike Sleadd embraces a stylization of the figure with a detailed yet fluid perspective of human forms. He creates an expressive abstraction of a readable figure that speaks outwardly of his inner drive to investigate emotion, style, and flow.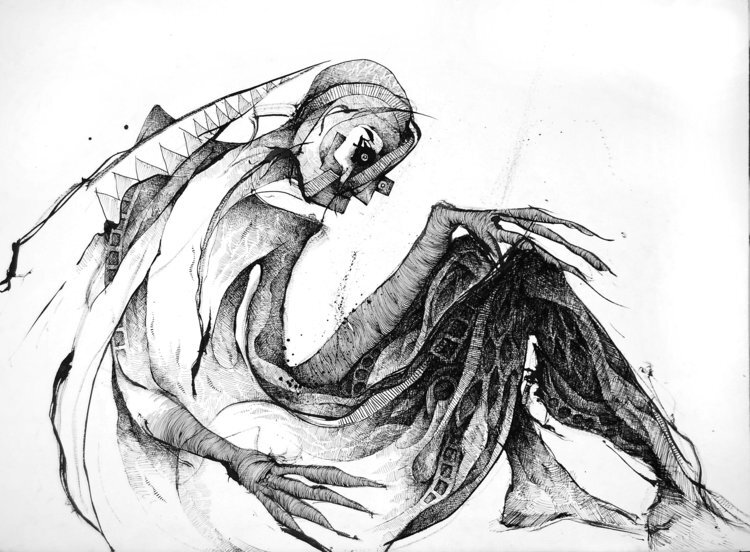 Metra Mitchell's stylization of figures in an especially painterly approach creates life in a composition by developing an inner narrative that is expressed on the canvas. She explores aspects of humanity such as psychological, social and historical. Movement is made in the figures through flowing colors and forms.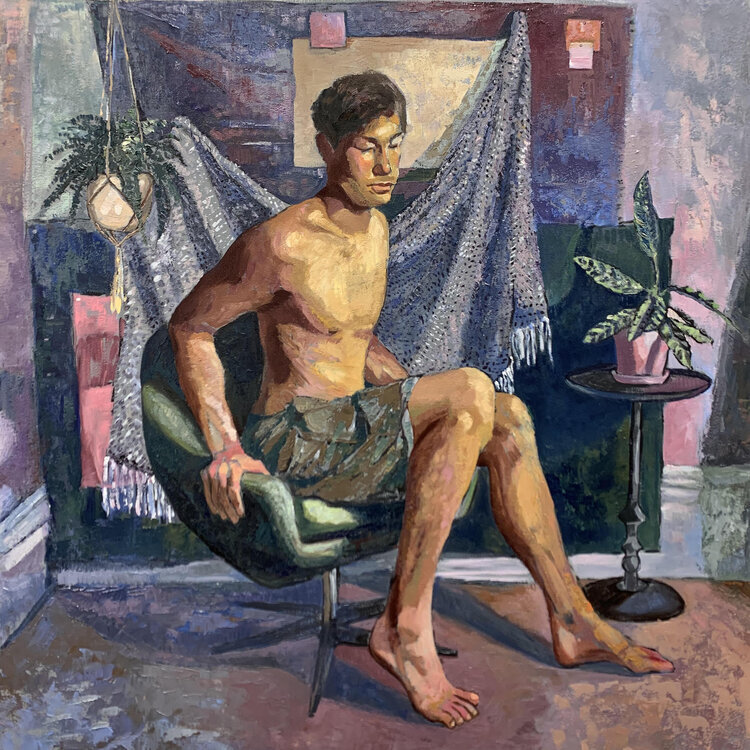 The work of Santiago Olazábal draws upon his understanding of the body, his ancestry, and spirituality as a means for capturing the feeling of a spirit or life force in his work by identifying the energy channels he sees in the form of red dots. He foreshortens and positions the figure to give the viewer a unique perspective to admire the form of the body and the life within it.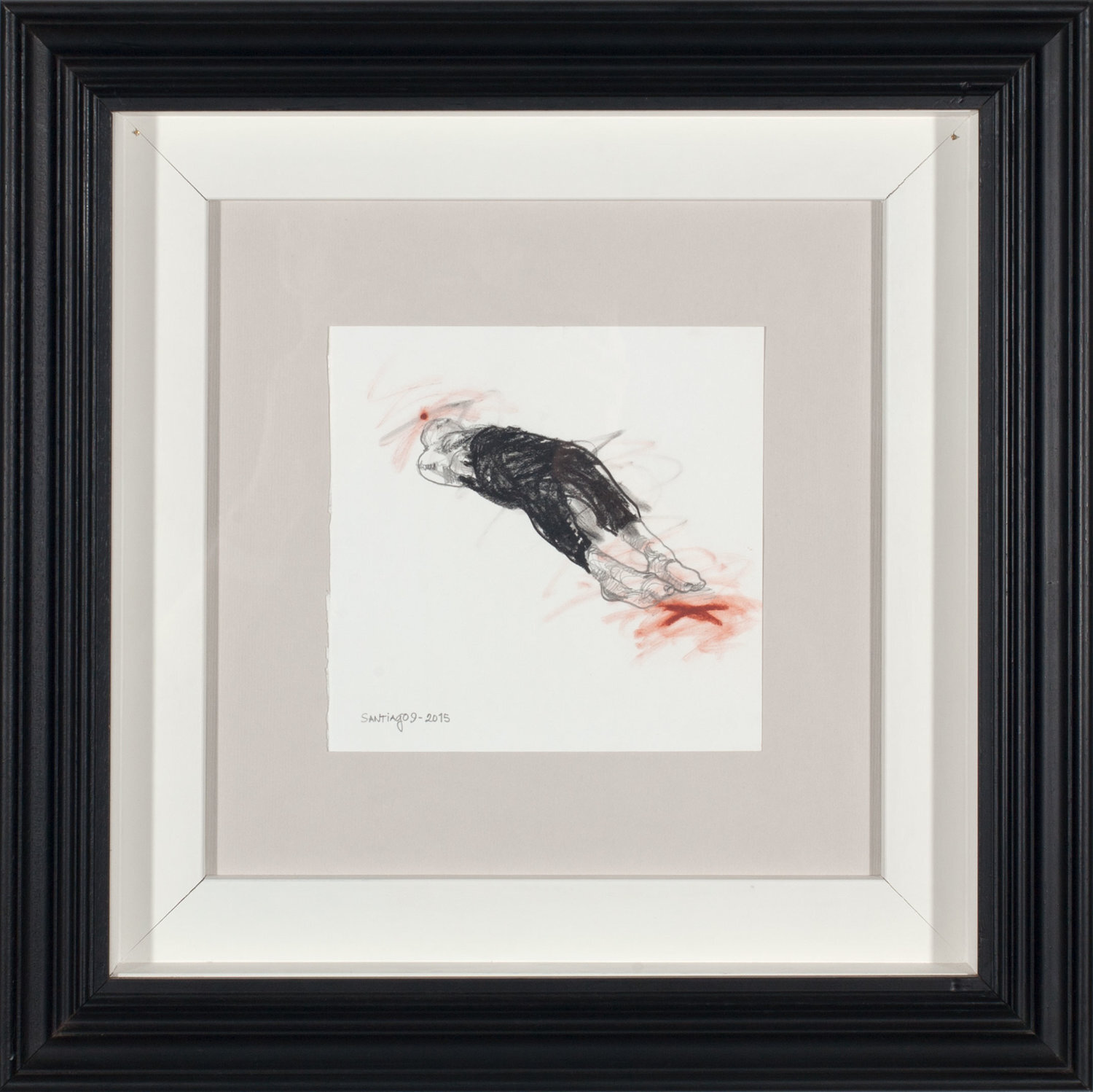 This collection of works investigates the artistic vision that looks to the body as a symbol for an inner state of being. The portrayal of the outer appearance of the human figure is able to speak magnitudes about the non-physical qualities that unite humanity. Beneath the Skin challenges the viewer to set aside the sexual connotations of viewing a nude figure to consider the body as what unites us in our humanity.
Linda Pepper
Kristen Martincic's swimsuits represent an incredible combination of printmaking, fibers, and clothing design. Conceptual insight and meticulous craftsmanship, both expressed to the utmost degree in this series, are fortes of the artist, an MFA with numerous accolades and exhibitions to her name, currently residing in Columbia, Missouri. Martincic answered a few questions for us this week, to accompany the online presentation of the May Exhibit at sagerbraudisgallery.com and Artsy.
HANNAH REEVES: Can you take us back to the beginning of your visual investigations surrounding swimming, and talk about how you got started on this line of thinking?
KRISTEN MARTINCIC: Back in 2009 I made an installation called "night swimming" that used a translucent blue nylon to create a pool space poised above water for the viewer to walk in & around. I grew up swimming and that piece was really about tapping into memories and the experience of swimming at dark. It was my first piece about water and it opened up everything for me. My first paper bathing suits actually came a couple years before that but those were closer to an older body of work about protection & exposure that used under garments as a stand in for the figure. It took me a couple years to really process the "night swimming" installation & those early bathing suits and I ended up making a lot of work that either got tossed or remade. After that I felt like I found my way with ideas & imagery of water & swimming that have continued into my recent works.

HR: Your craftsmanship and mastery over materials is remarkable, throughout your work. What leads an artist like you to such a level? Are there a lot of practice-suits out there that didn't make it to exhibit, or is there something about how you go about each piece that keeps your output perfected?
KM: I think it's a combination of temperament & A LOT of practice. Much of my work in graduate school involved sewing various Eastern papers—large scale installation, small dimensional works, paper garments, "fat" prints. I had a really immersive grad school experience and was around all these wonderful artists who were making & experimenting. We all pushed idea & material alongside each other. That time was so pivotal & laid the foundation for how I approach my work now. Each series or project offers new insights into material & ideas and in that way I am always learning. I know to stay open, to listen the materials & then respond.
All that said it comes back to temperament. I plot; I am meticulous; I have a lot of patience & sensitivity to materials. And yes, there have been lots of practice suits in the past.
When it comes to the actual making of my paper bathing suits, it takes a lot of steps but they all begin with a detailed sketch & plan. After that, I make a full-sized pattern and then use that pattern to cut the bathing suit shape out of handmade Japanese papers. Then I print several layers of color ink to the shaped paper and do the detailed linear work. There is a lot of testing along the way with color, layering, line, stitching on small pieces of paper before & while working on to the actual paper suit. At the end, I sew the front & back together, turn them right side out, and finish the edges.

HR: What is the relationship between the body -or maybe more specifically the female perception of body- and your suits?
KM: I think swimwear reflects our shifting attitudes towards our bodies while talking about various vulnerabilities. They are the "uniform" we wear when we are in or around water. So it's that context that I'm really interested in. And how this proximity to water lets us be relatively comfortable wearing nothing more substantial than our underwear in public. For me, my paper bathing suits are about that space between protection & exposure, skin & clothing. I think my suits also touch on perception. More specifically our perception of what we think of our own bodies as well as what we perceive others to think of us. I think for many women these bodily perceptions took root in during adolescence. The transition from girl into woman is so vulnerable & so visible. We are really taught to see what others see—which in turn is all being informed by media.

HR: Thinking about the wider world and the course of history currently taking a turn with this pandemic, how do you think art and artists will respond in the coming months and years?
KM: Well right now it is hard to see past the first wave of disruptions where many opportunities & paid gigs have been cancelled or postponed. There is so much uncertainty. I have turned inward, focusing more on family. My husband Joe Pintz is an artist & we have a four year old. We are really going about this day by day (and then there are days where I'm definitely freaking out about the coming months & years).
But at my core I am an artist & a maker. And I think as artists we are called to keep making, thinking, doing regardless (or because) of the circumstances. And that as artists we need to be resilient. We are problem solvers. We are adaptable.

HR: I'm interested in asking each artist I get to interview this (difficult/impossible/completely personal) question: What is the most beautiful thing you've ever seen?
KM: I stumbled upon one of James Turrell's meeting rooms at PS1 in NYC just out of undergrad. I hadn't known about the piece or the artist at the time. There's a very small window of time each day, depending on the weather, that that piece is available for viewing and I was in the right place at the right time. I sat in the room for the full hour looking up at a clear blue sky in complete wonderment & awe. It was a painting, it was solid, it was light, it was air. And then right at the end I saw two bird pass through the viewing frame. It was such an incredible, beautiful, transformative experience for me.
Amy Meyer has presented paintings in numerous exhibits at Sager Braudis Gallery over the years. Her work graces the collections of many of our clientele, and will be familiar to all who visit the gallery regularly. A remotely-experienced, online-exclusive exhibit, though – this is a new one. Meyer's beautiful new series, Meadows of Gaia, can currently be found on the gallery website, Artsy, and featured on our social media thought the month. She answered a few questions for us this week, as we all consider how to engage our culture, and our own spaces, in new ways.
Hannah Reeves: While these works are not strictly landscapes, they relate importantly to places. Can you talk about how a memory or an image of a place for you becomes this tangible new composition?
Amy Meyer: This particular body of work was created after having visited all three of my kids in three different states in the last few months. During each visit we went on hikes, in the parks in Minnesota while there was still snow on the ground, the deserts near Las Vegas, and the Rocky Mountains in Colorado. I was struck by how different each terrain was and also how beautiful they were in their own way. Colors were inspired by but not taken directly from these places.

HR: What artwork / artists have you been enjoying most lately? Does your appreciation of their work enter into this latest series visually?
AM: I've always been influenced by Richard Diebenkorn and relate to his perspective that he never considered himself a true landscape painter but his work was often inspired by the places around him. I also enjoy Helen Frankenthaler, Amy Sillman, and Jack Roth. However, most recently I was fascinated by the Arthur Osver piece that you had on exhibit at the last Master's exhibit. His use of rice paper was intriguing and that's when I began to work in that manner.

HR: Can you tell us a bit about your process? These works seem very layered. Are you working in multiple sessions and on multiple pieces at once in oder to achieve both this layered effect and the continuity of style and palette that runs throughout the series?
AM: The process for me was a bit different than previous paintings. I worked out the color palette and began painting large pieces of rice paper in those colors. Once dry, then I would cut and tear pieces into shapes for use on the canvas. I would always begin with a basic composition in paint and then work back and forth with painting and collageing the rice paper on to the canvas. The push and pull of it is similar to the way I work in cold wax, adding layers and texture and removing, back and forth etc….

HR: What has the Shelter-in-Place Order meant for your studio practice, your work, and your relationship to the idea of place?
AM: I'm pretty much a homebody so the Shelter-in-Place order hasn't impacted me greatly other than not being able to travel as I'd like. Some of my favorite places are no longer, at least currently, accessible to me. I'm grateful for the travels I have had but am very aware that will be different in the future. Travel inspires a lot of my work so my work may change. The SIP has made me appreciate my studio space at home. I'm very fortunate to have the space I need and not have to commute to work. I like that you asked about how it has affected my idea of place. I feel that has changed considerably in that the idea of place is now more of a concept, with Zoom meetings, FaceTime calls, and virtual family meals. My family is all spread apart across the states, but now knowing I can't go visit them has made me realize the luxury we had with travel previously. Ian and Lee were to be married on March 27, but ended up having a quick less-than-ten people ceremony a few weeks early before everything shut down. Canceling the formal ceremony and not being able to celebrate with friends and family was sad, but we hope to be able to gather together when it's safe to do so.

HR: What's your favorite thing you've accomplished during quarantine?
AM: Cleaning my studio! I can get pretty messy leading up to a deadline… That and cooking through the alphabet, lol!

HR: What is the most beautiful thing you've ever seen?
AM: Wow, that's a tough question. Beauty is so subjective. Oddly enough I'm not drawn to beauty in the traditional aesthetic manner. I tend to be drawn toward the odd. There is a tree that I pass by on my walk that was completely knocked over at some point years ago, but it continues to grow. It's had to explain, I may send a picture, but it is growing at at right angle with the trunk laying on the ground but the new growth reaching skyward. It is the perfect picture of resilience and I find that beautiful.
As we at the gallery round the final bend of the Cuban Contemporary Exhibit and head into a fully-online launch of the new May Exhibit, we're reflecting on what it means to engage and enjoy art in the midst of such strange circumstances. As we see others share their stories and images of favorite works, newly-created compositions and artistic experiments, and even humorous recreations of masterpieces, we find ourselves heartened daily. Art is still a part of our lives -and your lives- and perhaps we all find ourselves drawn to beauty in the midst of crisis and uncertainty. We may be adjusting where and how we engage it, but art is still here. From our end, we're also constantly adjusting how we deliver the experience of art to our community.
The Cuban Contemporary Exhibit is still live on our website and Artsy, with a number of pieces yet available. While this was our first exhibit mounted entirely online, all the usual work went into this selection, which, like all special exhibits, was about a year in the making. This exhibit is a collection of works chosen for their variety of subjects, ideas, and materials, handled especially skillfully by five artists. Dorian Agüero Anaya, Andy Llanes Bultó, Osmeivy Ortega, Maikel Sotomayor, and Frank David Valdés represent an emerging generation of powerhouse artists, educated in Cuban art schools, open to manifold influences from both inside and outside the island, and producing extensive bodies of work marked by a distinctive aesthetic and maturity of voice. Building on the work and research of the first Cuban Contemporary Exhibit two years ago, this iteration brings entirely new work from an impressive young cohort.
The May Exhibit will begin online on Tuesday, and there you'll find beautiful, contemporary examples of abstraction, neo-surrealism, the conceptual marriage of fibers and printmaking, narrative-oriented representations of the figure, and more. We'll use First Friday as an opportunity to share more on each of our May Artists and their work, and to throw out a few special deals and hopefully have some great art chats. In short, we're proud to represent the work of these artists, and we want to make sure you get to see it.
We deeply appreciate that those who are able are still shopping for artwork. We've been asked about other ways to show support for the gallery right now, and there are a few:
You can become a member. We love our members and show our love through perks. Members help sustain the gallery's function as an educational and art-viewing institution within our community (and now online).
You can purchase merch. We curate our online merch shop to include beautiful, functional items that we all personally love and use. Buying merch during the pandemic will help the gallery and bring something nice into your everyday life.
You can share your feedback, letting us know what you'd like to see and how you'd like to engage. We pride ourselves on constant learning, and adaptation is incredibly important during this time.
Mainly, know that if you're reading this, we appreciate you. You're why we get to keep doing what we do. Keep looking for beautiful things. Keep looking at art. We're here during and after this worldwide paradigm shift, and art is, too.
For someone whom I think of often, I would like to dedicate this exhibition to my grandmother Mary-Ann Jackson.
I curated the Uprise exhibit, The Passage of Time, as the culminating project of my time at Sager-Braudis Gallery. This exhibit seeks to examine how the grouping of artwork from the voices of seven artists can elicit ideas and emotions about the effects of time. I am selecting these specific pieces based on how they move me personally. They channel to me haunting emotions and feelings of absence, stagnancy, and loneliness based on my experience of time. I hope that the bustling setting of The Passage of Time, contrasted with the visual stillness within the work, will require the viewer to slow down and derive ideas of how time can feel like tangled, hazy moments.
With this opportunity, I selected works of art mostly knowing little to nothing about the artists or their statements and focused solely on similar aesthetics, tonality, and subject matter. Each work communicates with each other in more ways than one; similarities can be found between the works, and even after the fact of selecting pieces for this exhibition it was evident to me that the works could send a greater message when grouped together in a specific setting.
Each work chosen for this exhibition has a singular focal point. This is intentional; I noticed this as I was selecting the works. For nearly all of the pieces, the focal point is surrounded by emptiness: either darkness, haziness, or even the symbolic emptiness of isolated chaos. When viewing this exhibition, one might experience feelings of ephemerality, transience, or even a haunting wave of emotion based on the visual and conceptual weight on the individual artworks.
Sali Swalla and Eryn Trudell are both working in ideas expressing longing, loss, and searching for a form of wholeness. By using color, line, and texture, Trudell is defining her personal experience with non-objectivity instead of using the figure to express her idea. The same goes for Swalla; not only is she dealing with similar imagery, she is also using process-heavy elements to mimic the search for wholeness. With this search, both artists are also using the layering materials as a metaphor for personal growth.
Chris Dahlquist is using the aesthetic of nineteenth century photography along with contemporary technology within her work. The intention of soft focus and a cool tonal range brings us to believe that this could be a historic print. In fact, the idea I had behind choosing her works was to give off the illusion that they could very well could have been made around the turn of the twentieth century. I interpret the heavy process of material and specific subject matter as alluding to how memories can become vague and difficult to retrieve from our minds.
Scott McMahon and Brenda Stumpf have similar approaches to their work and how they utilize the concept of time. The use of metaphorical removal of the present to the past is what we are viewing in their works. Stumpf is using found photographs and altering the composition through scratching. Because Stumpf's works are small, this forces the viewer to move inward and look deeply into the works which are surrounded by contrasting, larger scale works. Drawing inward physically is similar to how I view the work as a refection of looking inward and attempting to retrieve a past memory that is not so clear. I apply this idea to McMahon as well with his photos. McMahon uses a process of sampling ideas of the past and remixing, reconstructing, and reimagining these ideas to evoke a new, conceptual meaning to a moment in time. I see the visual weight of process and manipulation in these works and associate that to the physical and metaphorical layering of time.
Catherine Armbrust is touching on grief and absence in her work. She is using her body to apply pigment to the canvas to create shapes and forms representing an abstracted body that appears ephemeral. The way that I see this is that our bodies themselves are momentary, just like the memories we have throughout time. Eventually our physical vessels will fade away just like our memories once we have deceased. Armbrust is calling attention to the idea that instances in time can affect us profoundly, even to the point where we are changed by these events in time. The work enforces how we must deal with the weight of what time has created, learn to move forward from it.
This exhibition is based heavily on the idea that over time our memory layers one on top of another, making it difficult for us to always retrieve them. It is a cycle that happens constantly in our lives and there is no way to avoid this from happening. With so many layers of memories, I find that when trying to recall the past, I see hazy/unclear images. This process becomes even more apparent for undesirable memories. The use of abstracted imagery, heavy processes, references to history, and obscuring techniques throughout this exhibition is my way of referencing this idea of layered obscurities that time creates. To me, the passage of time is feels heavy; physically, I feel these elements of grief, abandonment, and nostalgia weigh down on me as I grow older, and I see this in my elders as well. No one can escape the passage of time and the various ways it affects us throughout our life.
The Passage of Time will be exhibited at Uprise until December 14th, and will be celebrated through a radio conversation with KBIA (93.1), the National Public Radio-member station in Columbia, MO.
Will Engle, December 2019
As I come upon graduation, I struggle with what to do after, like many people in my situation. I am unsure of where to spend my time in the future; the busy and chaotic life of the city offers more opportunities, but rural settings represent an idea of calm and restoration. Each place has significance for me personally, and this exhibition acts as a study of these two opposing relationships to society.
The human interactions that take place in the city versus the country differ drastically and are impacted by personal experience. Many of the pieces chosen for the show depict city life to be bright and colorful, but also busy. Some of the pieces can be visually overwhelming, making an attempt to capture the essence of urban bustle. On the other hand, many of the pieces depicting life in the country utilize vibrant blues and greens, alluding to the openness and freedom that can be found there. Each of the selected works, when contextualized by each other, forces you to consider how the sense of place in the work makes you feel. The combination of the two settings appeals to most anyone, bringing up unlimited potential for interaction. In mid-Missouri many people have experienced both environments, and my intention with the exhibition is to create an opportunity for self-reflection.
Another less prominent objective of the show is to look into the way that humans impact nature and wildlife. Humans are innately connected to nature, and we behave in ways that displace it. We create our own confusion and chaos and we deflect that upon our environments, regardless of where we live. Nature is impacted in each setting differently as well; pieces that depict city life have an absence of greenery while the opposite is true of the rural pieces. However, many of the pieces that directly connect humans to animals emphasize the significance of a harmonious relationship. Figures in pieces featuring both animals and humans seem to be the most peaceful, an important underlying theme of the exhibition.
The comparison of opposing environments acts as a way for me to process my thoughts and my feelings about where to live. It is also important to understand the differences between the two settings. They offer very different lives for the people that inhabit both places, which impacts the overall take-away from the exhibition. In addition, the show highlights the incompatibilities that are apparent between humans and nature. It is an underlying subject that ties the show together. The show in its entirety aims to encourage the audience to question their opinions of their surroundings and to consider the positives and the negatives of another type of living situation.
The show is located in Suite B, a short distance from the Sager Braudis Gallery. It is in the alley behind and underneath the Orr Street Lofts, across from the Orr Street Studios. The exhibition will be open on the following dates between November 13th – 27th;
Wednesday, November 13th from 3 pm – 6 pm
Friday, November 15th & 22nd from 4 pm – 6 pm
Saturday, November 16th & 23rd from 11 am – 2 pm
Wednesday, November 27th from 11 am – 1 pm
Mark English has died. His contribution to both the illustration and art world in general is profound and likely unquantifiable in its enormity, having influenced and educated so many artists over his long career. Mark left a catalog of artwork one hundred miles deep, being one of the most prolific and diligent painters I knew. He brought a strange beauty to the world, an aesthetic that is just now on-trend, one that dismissed "prettiness" for the peculiar, but consistently functioned harmoniously, with subtlety and brilliance in its color relation and composition. He pioneered a school of image-making, which seeks to convey his and other career-artists' methodology, called the Illustration Academy, founded with his son, John English. Mark loved his family most of all, and was quick to tell a story about a child or grand-child and always introduced Wendy as his beautiful wife. He was a friend and a gentleman to all.
I met Mark English Fall of 2001. The chair of my undergraduate art department, Nano Nore, an intense Norwegian who lovingly took me under her wing, could see I was foundering in the limited program and facilities offered at my small, liberal arts college in north Kansas City. I was fascinated with representational realism at a time when abstraction was still pervasive at most higher ed institutions, including my own. Nano knew I was a fan of Mark's work and hoped his counsel might help. She set a coffee date for the three of us, and I was nervous as hell. I went out and bought a black leather portfolio and, back at the college's painting studio, gathered 12-15 of what I thought were my best pieces. After a quick perusal of these selections, Nano swiftly edited the presentation. Looking back, it would have been a Sophie's choice situation: all of my work was terrible. (I'm fairly certain an anatomical rendering of the skeleton was included.) A couple days later, one crisp Autumn morning, the three of us convened at a coffee shop on the square. I remember my first impression of Mark was that he couldn't get his coffee strong enough. He asked for some instant coffee to add to it and told me he liked "cowboy coffee." It looked like motor oil. Years later I'd make a painting called "Cowboy Coffee on Moving Day," about Mark helping me move after a tornado had destroyed my apartment. At the coffee shop, we talked for a bit and I showed him my work. While I was oblivious to its shortcomings, Mark engaged me as he did everyone: with honesty and politeness. Seeing my ambition and need for direction, he offered to tutor me. He was also kind enough to employ me and allowed me to apprentice him in his studio. There I did odd jobs, which included everything from priming his painting surfaces to packing his work for shipment to one of his many representing galleries. As I worked, he was also constantly working at the easel, often for hours on end. I'd look on, occasionally pausing in my duties, as he would magically lay down colors next to one another that just absolutely seemed to vibrate off the surface. He could see my curiosity, and would call me over each and every time to patiently talk through his decisions and philosophy of image-making specific to that piece. Thereafter, he'd send me home with an assignment to apply what we'd discussed. We'd end many days with a game of chess, and occasionally Wendy would invite me to stay for dinner. Being two hours away from my mama's cooking, it was a welcome and wonderful invitation. This went on through my final semesters of college, and thereafter Mark was then kind enough to sponsor my attendance of the 2003 Illustration Academy, held the year I attended at VCU in Richmond, VA. It was in these small lessons and their application, these acts of kindness, these critical reviews about about both life and painting, that informed who I am today. Mark equipped me, as he did so many students, with the tools and vocabulary to approach an image with a plan, while still allowing for the magic of the unknown to occur. What was the intimidatingly white void of the painting surface became, through his teaching, a blank canvas of endless possibilities and therefore made life feel full of the same. There's not a day goes by that I don't approach the easel without Mark on my shoulder. I, and so many other artists, owe our careers to him. I will miss him dearly.
-Joel Sager
As the culminating project of her time at Sager Braudis Gallery, University of Missouri student and gallery intern Erin McFarland has curated the Uprise Bakery exhibit, Here Lie Lilacs. As a double major in English and Art, Erin finds illustrating artistic connections to formative thinking and culturally collective ideologies vital. Here Lie Lilacs is an exploration of surrender in both the physical and the spiritual realm. Speaking to the philosophies concerned with consenting release and nonnegotiable surrender, which in conjunction communicate the beautiful limitations of humanity but also a path towards death acceptance, Here Lie Lilacs aims to provoke subconscious thinking about our own mortality. Bearing in mind her desire to incorporate literary symbolism, the title of the exhibition stems from a Walt Whitman poem entitled "When Lilacs Last in the Dooryard Bloom'd", a romantic elegy to Abraham Lincoln. As an elegy, the poem not only laments death, but also conveys three stages of loss: expressions of grief and sorrow, praising of the idealized dead, and finally, consolation or solace. Whitman marries each phase with a botanical motif—rendering death an integral part of life, as flowers begin budding in the spring and die come winter. Choosing lilacs specifically though, the speaker ensures continued life for the dead as he lays a lilac sprig onto Lincoln's coffin, symbolizing rebirth or regeneration of the dead. Given these literary conventions, the title Here Lie Lilacs elicits the sorrowful memory of elegy in tandem with surrender to the natural world. The four visual artists included in this show masterfully convey similar concerns as Whitman over a century later.
Inducing ideas of remorse, grieving, and memory, Hannah Reeves combines notions of remembrance and vanity through the sumptuous symbolism of the Victorian era. Her work often focuses on memorialization of the dead, so like Whitman she notes the innate human desire to continue life after death, if only through the collective memory of the living. In this exhibit, she showcases portraiture accompanied by either birds or flora, intentionally alluding to postmortem imagery and allowing the audience moments of uncertainty. These mysterious symbols flirt with death acceptance, begging contemporary society to rediscover release and acceptance.
Mike Sleadd's aggressive pen and ink works invoke dark energies reminiscent of horror through both the depicted subject matter and contrasting line weight. Executing precise detail alongside the natural chaos of fluid ink, Sleadd demonstrates a defining balance between control and release. His intricate line work consumes central areas only to be surrounded by madness. In this way, Sleadd's work extrapolates the significance of consensual surrender while also suggesting themes of fear and death through medium, application, and subject.
Santiago Olazábal, a Cuban artist and Santeria priest, depicts figures with violent paint strokes and a limited palette of black, red, and yellow. The Santerían religion developed out of Yoruba and their colonization by Roman Catholics, melding rituals of communion with their ancestors and deities with the Catholic appreciation of sainthood. Santeria inspires the entirety of Santiago's work, which is evident in choosing to surround each figure with red dots, indicating activated pressure points key to the religion. As communicating with the dead is a role solely practiced by priests during rituals, Santiago's work in this exhibit deals largely with trances and possession, or surrender to the dead themselves.
Shanlin Ye too surrenders control to her medium, but also determines central facial features with the utmost precision. Displaying select pieces from her Mask series illustrates human features as crucial to physical and emotional identity, for only the lower face is allowed full rendering while the eyes are either closed or missing, which arguably is the most telling feature of one's identity. The lack of eyes also provides a possessed or sleep-like quality to the mask, which inevitably excites ideologies surrounding spirits, death, and dying. Her use of watercolor only amplifies this effect, for the juxtaposition between medium and the depicted form hint at an honest relationship with surrender. Ye demonstrates surrender to her medium through the chance edges of each mask, but in doing so also a clear understanding and acceptance of release from the tangible.
Death is inevitable, and each of these artists renders this fact differently; however, whether it be funerary practices, religious beliefs, a lesson in surrender, or the horror of nightmares, the four artists refuse modern ideology of death as innately bad. Humans have struggled with the brevity of our life since the dawn of time and often idealize memorialization—40,000 years ago cavemen first left handprints on the inside of a cave wall, long before pictorial cave painting and witch hunts for immortality and eternal youth began with ancient civilization. Yet, death and dying remain prevalent, only our tolerance and coping mechanisms have begun to fade. Here Lie Lilacs desires the elimination of death from the realm of taboo, and realignment of our end within the balanced arms of control and surrender.
Here Lie Lilacs will be showing at Uprise Bakery May 5th through June 2nd.
Share
What's in a name? Is it a title, or a description, or a slur? A lighthearted alias? A branded pseudonym? A name, applied perfectly, expresses the true nature of the being. So, real and thorough understanding is necessary in order to aptly name someone or something. Determining one's own true name comes only after exploration and development of honest self-knowledge. In history and folklore, this morsel of information can even grant someone power over another. We also see iterations of this in our current wider culture.
In the context of this exhibit, name represents every word or phrase ever assigned to a person to describe their existence. Name represents every attribute that became a classification from someone else mouth. Name represents every ugly thing you have been called and every kind word that shaped your personality.
Go placidly amid the noise an the haste,
and remember what pace there may be in silence.
As far as possible without surrender
be on good terms with all persons
Speak your truth quietly and clearly;
and listen to others
even the dull and the ignorant;
they too have their story

Take ownership of this power and determine your name for yourself. Be bold in your identity and trust your intuition. Know yourself truly and listen to others names earnestly. Name your friends. Name your enemies. Name your weakness. Name your strength. Make your name, so no one else needs to.
University of Missouri student Danniele Liles has curated an exhibit in Suite B to further examine this concept. By Any Other Name is the culminating project of her time as an intern with Sager Braudis Gallery, and is on display through the month of May, Saturdays 11-6 and by appointment. This exhibit showcases work by six different artists, each approaching self awareness in a unique way.
Argentinian artist Sofia Bonati illustrates strong female subjects suggestive of her own personal sense of narrative. Her work features soft but confident figure rendering combined with whimsically patterned backgrounds. Utilizing graphite, ink, gouache and other two-dimensional media, she combines assured portraiture and surrealist elements to create stunning pieces with incredible detail.
Emily Burns shares a similar subtle realism captured with graphite. She draws on nostalgia and pop culture as metaphors for the predisposition of civilization to repress and ignore difficult emotions. Her pieces blur reality and fantasy, mirroring the the way our cultural belief systems encourage us to mask unrest and imperfection in our lives.
Regarding this representation of society and self, American printmaker/painter/metalsmith Amanda Outcalt uses her intaglio process to explore the interplay between identity and community. Her prints embody personal struggle and growth, combining the everyday and out of the ordinary. Her unique use of plate shape in the intaglio process allows her to reconsider the environment around the etching after printing, affording an opportunity to mix media and create extraordinarily singular works.
Terrance Purdy uses a strong perspective and subtle photography to discuss identity through the lens of inherent adversity. His images explore the archetypes and influences integral in shaping the identity of African Americans, juxtaposing disconnect and struggle with careful art direction and symbolic imagery. Purdy's work discusses the unyeilding will of Black Americans to create and maintain culture in the face of constant erasure and inequality.
Utah-based artist Stephanie Clark uses embroidery techniques with drawing and fabric to create her compositions. Skylar, included in this exhibit, is a unique brand of mixed media for the painter, featuring not only embroidery but an ethereal graphite portrait. Clark uses embroidery to elicit nostalgia and domesticity in telling the story of her life.
Tobi C's piece, as the biggest work in the exhibit, acts as a sort of focal point. As the only gender non-conforming artist in the exhibit, they offer a different but important variant on the depiction of the figure. The artist continues the fantastical element seen in Bonati and Burns with the snakes and the rendering of the skin, but they add a unique, dysmorphic element into the figure that isn't seen in any of the other pieces. The artist uses oil and ink on paper to combine figure and snake, civilian and barbarian, commenting on human nature and its relative closeness to the brutality of the animal kingdom.
While diverse, the works in his exhibit all convey the control and care of the artist over their message, with each one of the artists boldly claiming (or reclaiming) a certain territory. By Any Other Name brings these works together to show the power of that sense of ownership.
Sager Braudis Gallery intern and University of Missouri student Alicia Jacobs curated Don't Wait For Me in the gallery's expansion as the culminating project of her internship. In addition to being involved in the full range of gallery operations including research, writing, and marketing, Jacobs has, during her internship, been able to apply a unique perspective to the gallery and develop her own curatorial voice, reflecting on what she has found most important, communicative, and effective in a collection of artwork. In the exhibit and in her blog post, Jacobs shares her thoughts and connecting thread between a diverse group of works by five artists: Alejandrina Herrera, Alexandra Levasseur, Andrea Wan, Sali Swalla, and Sofia Bonati.
Alejandrina Herrera blends expression and illustration in her work, focusing on bringing memory to the forefront as she asks her viewers to connect with the work and their experience of it. Alexandra Levasseur, too, brings a reflective psychology to her work, but takes a different route by exploring ideas of Surrealism. Levasseur melds the classical and statuesque with more naturalistic and active forms, creating multidimensional figures who embrace and interact with their environment. Rather than focusing on the natural environment and how that relates to experience, Andrea Wan uses her work as an expression of her personal experiences by tapping into her own subconscious and drawing inspiration from individuals around her seeming to tell stories that originate in her imagination. Finally, abstractionist Sali Swalla, unlike the previous artists who arrange their work in a more cerebral manner, expresses her inner thoughts and experiences with pure composition, color, and form. Swalla's technique of layering and scraping away paint serves as a metaphor for personal growth and expresses a sense of longing and loss. The work of Sofia Bonati can be seen as a foil to Sali Swalla's artwork as the themes of Bonati's work are much more confident and confrontational. Her artwork uses a variety of media to create lively and decorative backgrounds that accentuate strong, complex characters.
Don't Wait For Me is a collection of work that unites the concepts of assurance and uncertainty resulting in the acceptance and celebration of the personal journey. Drawing from personal experiences, Jacobs believes that surrounding oneself with individuals that exude confidence, assurance, and power can be great for motivational and positive influence. However, it is important to note that those individuals may not have started in that position. What may seem like a blissful and effortless course may have been a tumultuous and draining journey that led them to where they are now. Often times, one person's success is seen as superior to another person's journey that is still in progress. It is important to showcase all varieties and stages of growth and achievement because one's process and approach can be just as important as ultimate success. If things do not go your way, that does not define you, it helps create you. Realize that wherever you fall, that placement is admissible. The artists in this exhibit vary in media, technique, and concept, yet when juxtaposed with equal standing, they dismantle the hierarchy between the celebration of the successful and the pitying of those still making progress, resulting in an environment that embraces all parts of the journey. This exhibit intends to celebrate the various perceptions of the personal journey by creating a space where each viewer can reflect on and accept their individual path and confidently say Don't Wait For Me.
This exhibit will be on view in the expansion of Sager Braudis throughout May, and will be celebrated on First Friday, May 3rd, from 6-9pm, and Slow Art Saturday, May 4th, from 11-2pm.
Amy Putansu first encountered fibers work as a child growing up in coastal Maine, which led to her exploration of nautical themes in a series of weavings currently on view in the 2019 March Exhibit at Sager Braudis Gallery. Gallery Director Hannah Reeves asks the artist about the ideas and processes behind the work in this month's blog feature.
HANNAH REEVES: What does it mean to be a conceptual weaver? Do you ever find that the prescriptive nature of a traditional craft and your desire to communicate a deeper idea through your manipulation of the medium are at odds at all?
AMY PUTANSU: I find that my craft is entirely in alignment with the concepts and moods I want to express in my artwork. Weaving fabric by hand is so sensual and I am intimately involved with every single thread. I can manipulate these threads into softly undulating waves with the specific weaving technique I use. The common backdrop of my recent work relates to the sea, both reflective of my heritage and as metaphor for aspects of our existence. My pieces are all multi-process, once the "canvas" is carefully constructed, I use my knowledge of materials (fiber) and colorants (dyes) to further develop a piece to its conclusion. It is not unlike painting, just with a different set of tools and materials to achieve color, composition and line.
REEVES: Could you talk about your preparation of the works in this series? In particular, the mounting and framing seem to help people to engage these pieces as compositions better than some fiber art examples I've seen.
PUTANSU: From the beginning I approach the works as singular compositions and I think the framing makes the work accessible. However, this solution came about because I was finding that the fabric stretched taught on the loom, while in the weaving process is actually the best expression of the material. This is what inspired me to stretch and mount the pieces in the beginning. The most recent four works (Amplitude, Resonance, Threshold and Potential) allow the fabric edges to show, floating in the frame. This is possible because of the stiff nature of the raw silk woven cloth. The appearance of tiny knots and raw selvages does bring the work even further into the fiber art realm while still presenting as a singular composition or picture. I think it is the best of both worlds.

REEVES: Is there something about the time-consuming nature of your medium that draws you to it? I wonder to what extent that time investment plays into the meaning of the work.
PUTANSU: Hand weaving, especially with such fine and uncommon materials that I use, requires extreme precision and order. I feel so intensely involved with the making of my work, from the actual construction of the substrate, to the line work that may be achieved by stitching or net-making, to the addition of color through the dyeing of cloth. The repetitive nature of making cloth allows a lengthy meditation on my subjects. I am able to handle each and every aspect of the work multiple times and with great care. The time intensive nature is also due to the multiple processes that each piece may go through. For example, yarns may be dyed before the cloth is woven, painting on threads may occur during the weaving process and/or after. Further dyeing or color extraction may occur on the finished fabric as well as hand stitching and knotting.
REEVES: Who or what are your artistic influences?
PUTANSU: I look at a lot of painting and printmaking, like Agnes Martin and Helen Frankenthaler, and Mark Rothko. I respect the courage of the minimalist approach. The lack of excess, the refinement and distillation holds so much. I think it's daring and I envision myself someday being that daring in my work.
REEVES: I always like to ask: What is your studio quirk?
PUTANSU: I can't have extraneous clutter in my work area. I find that the more tidy and organized I can be in my space, the fewer mistakes or technical problems arise. The whole process is rather exacting. I also have to have excellent lighting.
Catherine Armbrust is an MFA fiber and mixed media artist in Columbia, Missouri, and her series, Touched Icons, is featured as part of the 2019 February Exhibit. While Armbrust's current work gives an immediate sense of depth and value, viewers will find that insight into its origins enhances experience of the work. Gallery Director Hannah Reeves asks the artist about the ideas and processes behind this series in this month's blog feature.
HANNAH REEVES: Can you explain your process a little, especially for those not familiar with cyanotype?
CATHERINE ARMBRUST: Much, but not all, of the work in this series incorporates the cyanotype technique—a very early photographic process that I'm using to capture light and pattern. A two part chemical mixture is brushed on paper in a very dim room. After the mixture has dried, the surface can be layered with varying degrees of translucent materials & exposed to light to register the patterns and shapes. When the timed exposure is complete, the paper must be soaked and rinsed in a water bath in order to stop the exposure. What's left is a gorgeous cyan blue and white composition. I then layer the compositions with watercolor, ink, and acrylic paint. The presence of "light" is significant in this work, especially when connected to a history of grief and movement towards healing.
REEVES: What is the significance of the heavy layering in this work? It seems like there is a "covering/burying" aspect, and maybe a "building forward" aspect as well?
ARMBRUST: This series feels like a new way for me to create. In the past, I've most often work with collaged planes or assemblage forms, creating more dimensional surfaces. These flat, yet visually heavy layers are a way to metaphorically mask the past (through masking the layers below). But as I continue to build out, (especially with the smaller framed works), using metallic papers that draw in and then reflect out the light, it feels more and more like renewal.
REEVES: Can you talk about vulnerability in your work, and how that connects to the use/exposure of your own body?
ARMBRUST: I have a larger umbrella project called "Visible Mending" that speaks directly to grief and healing (from the sudden loss of my husband in 2015) using a variety of mediums and platforms. "Touched Icons" is directly tied to "life after death". While I produced a large body of work about my husband a few years ago, this series is more about me, about where I am currently. For me, that place is loved and supported, but not always emotionally pretty. Light and darkness are constantly shifting for me. Some days the loss feels as fresh as it did 3 years ago. That grief is often specifically felt in regards to the loss of physical touch and affection in my life. My body has also physically changed since his death, leading me to sometimes consider myself in relation to desirability and attraction. In a personal way, using my own body as a printing plate is a kind of way to prove my existence to myself. In the grander scheme of things, these types of exposures and compositional arrangements become both generally iconographic and deeply intimate.
REEVES: Who/what are some of your most important artistic influences?
ARMBRUST: I've looked to religious icons and cultural artifacts to inform my work for a very long time. The love of those texture-rich & often gleaming objects come from my background in Cultural Anthropology. My research also includes an obsession with 18th century French Rococo decorative arts. Though I often look to Nick Cave, Jeff Koons, and Kiki Smith as inspirations, this body of work was directly affected by the Belkis Ayon exhibition hosted at the Kemper Museum in Spring 2018. Her large-scale collagraphs and monochromatic grey-scale color palette, caused me to race home and shift my work dramatically.
REEVES: What is your "studio quirk"?
ARMBRUST: I'm a very undisciplined artist…and after losing my husband, I didn't physically make anything for over a year. Whenever I tried to go back into the studio I just didn't care, it was too hard. But I moved through that moment in time. Now I go through large stretches of being away from the studio, focusing instead on teaching, research, fundraising for the Eric Sweet Memorial Fund, or tackling other "Visible Mending" projects. Then when I'm ready again, I clear off a space on the table and make another huge mess. And I am a mess in the studio. I want to be tidy, but there's always glitter or paper scraps or fake hair or bits of hot glue floating around. The sink is covered in paint
The January hall exhibit, Attention to Detail, was curated by Columbia College graduate intern Seda Guler, as the culminating project of her time at Sager Braudis Gallery. The exhibit includes works by three artists: Becca Sullinger, Emmett Merrill, and Joel Sager, and focuses on the revealing and expressive details that engage our attention in representational works.
To look carefully at a work of art is to be drawn, step by step, into a contemplation of its details. There are hidden stories there that hold the viewer's attention when done well, and keep the gaze circulating. From the tiniest brush strokes to the most meticulously-cut print plate, these three artists bring hundreds of small notes and details to their work, each, in his or her own way, exploring the theme of a subject's relationship with their surroundings.
Emmett Merrill is a printmaker based in St. Louis, Missouri. He received his BFA in printmaking from the Kansas City Art Institute in 2015, and is currently working toward an MFA in printmaking at the University of Tennessee. Focusing on line and using his medium to tell stories, Merrill brings a series of narratives: of disgruntled lovers in farm homes, restaurant dishwashers whose hands are shaped by work but always clean, old men who revisit the concentration camps where their ancestors passed, suicidal young writers in the Louisiana Bayou, and alcoholics who spend their days watching their reflection in barroom mirrors, among others. Hands often appear from the bottom corners of the imagery, as if they are the hands of the viewer interacting with the scene before them. The silhouettes of animals also recur in his work, as cast shadows across walls, acting as a symbol of foreshadowing, perhaps something bad that is soon to come.
Becca Sullinger received her BFA from the University of Missouri in sculpture, although she focuses on several artistic media. Currently, she works as an installation artist for festivals in the Midwest, such as True/False Film Fest, Citizen Jane Film Festival, Pedaler's Jamboree, and Fringe STL. Sullinger begins a painting with her largest brush. The broad strokes are effective to block in big areas of color. She trades her large brush for a slightly smaller one to add hue changes within the larger block sections. She chooses focal areas of the painting, usually the most prominent features of the subjects such as eyes, lips, petals, wings, claws, or teeth. In order to attract the eye of the viewer she adds detail and rendering to these areas, using smaller and smaller brushes. The finest brush is reserved for tiny white highlights and any defining line work. At this point in her process the figure sits on an empty plane. Attention is then brought to the environment the subjects inhabit. Here she uses the same process, layering on detail with progressively smaller brushes until so much of the environment is added that it can seem to overwhelm the figures. Equal attention to detail for both the figures and setting creates a conflict of focus for the observer. If detail implies importance, the subject and the landscape compete equally for the empathy of the observer.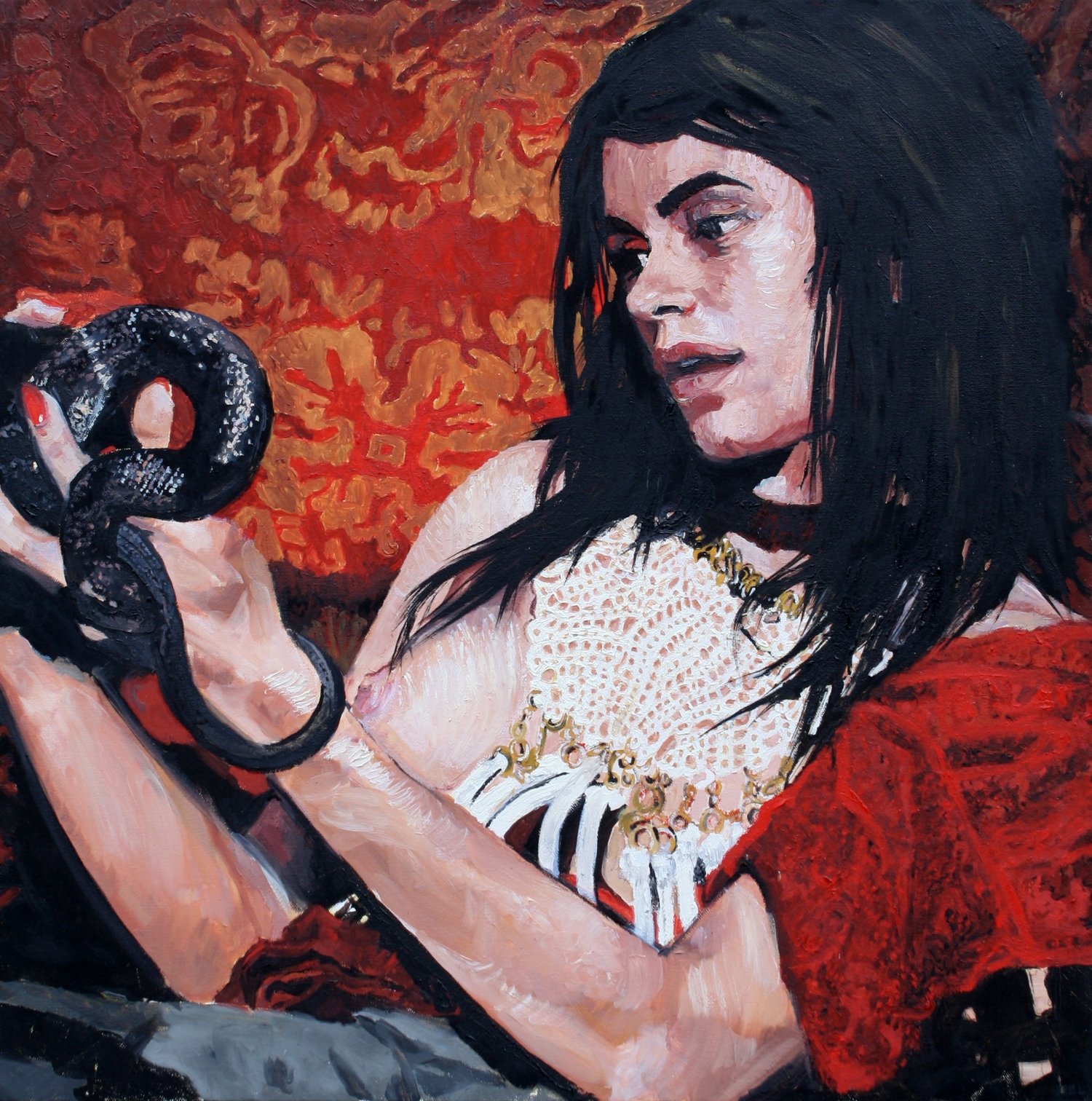 Most visitors to Sager Braudis Gallery will be familiar with the work of Joel Sager, also included in the special exhibit, Attention to Detail. In his paintings Child, Seated with Toys and Girl with Bird and Snake, Sager refers to the style of early American folk paintings, balancing warm rendering of some features with an intentional flattening and skewed perspective in other portions of the composition. Gazing out at the viewer, each subject embodies an expressive role and a connecting point to a larger story, hinted at through the inclusion of peripheral objects, animals, and accessories. "Where are the eyes?" is a question he asks himself for each painting. He states that "this can be literal, when I'm painting a portrait, because as humans we tend to connect to other humans through the eyes." In his work Woodsman (among many others) he likes to place something very flat, such as a pattern or solid color, next to something very rendered such as a skin or wood grain or metal. Realistic depiction via color and likeness are important but secondary to the composition, concept, and mood. In fact, Sager works to always add an eerie atmosphere that when placed within an otherwise inert subject matter creates a mixture of emotions he consistently enjoys.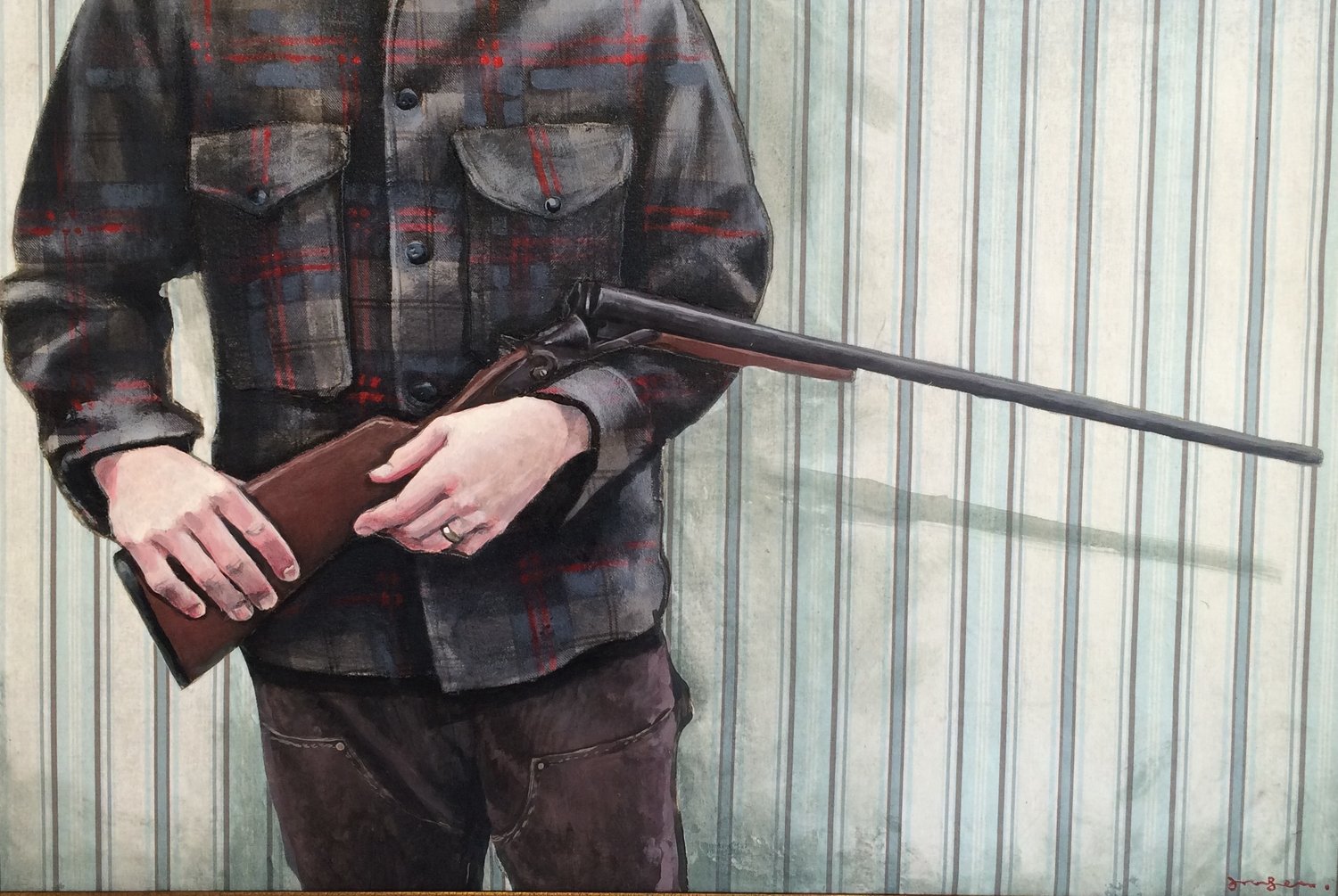 Attention to Detail asks for attentive viewers to discover the details and hidden stories that these three artists, who are obsessive in their practices, employ as their greatest assets. It is the hundreds of small choices and notes that make for the total impression of each of the works in this collection. Curator Seda Guler invites you to look closely, to take in the beauty of the cumulative effect of all these tended details.
This exhibit will be up in the hall gallery at Sager Braudis throughout January, and will be celebrated on First Friday, January 4, from 6-9 PM.
Share
Sager Braudis Gallery intern and University of Missouri student Kimberly Ring curated the Suite B exhibit, Mother, May I? as the culminating project of her internship. In addition to learning the ropes of gallery operations, each intern brings and applies a unique perspective and develops his or her own curatorial voice, reflecting on what they find most important, communicative, and effective in a collection of artwork. In the exhibit and in this week's blog post, Kimberly shares her thoughts on the connecting thread between a seemingly diverse group of works by four artists. The exhibit may be visited by appointment through January 5th, and will be celebrated with a closing reception on First Friday, January 4th and a Slow Art Saturday open house on January 5th.
__
Mother, May I? is a collection of works expressing what it means to be a woman and to be charged with a maternal nature. Like any aspect of the natural world, this essence has no standardized form and realizes itself for each individual as she is involved in others' growth. To be maternal, put simply, is to be wholly involved in the maturation of another individual by way of protection, guidance, and unconditional love. This collection of representational works examines what it means to pass down traditions learned and inspired by our mothers, and how there are times when we must learn to be the mother we need in order to teach ourselves and others.
Having developed a traditional craft into an elaborately sculptural medium, even inventing a technique for sewing glass in the process, Susan Taylor Glasgow employs the teachings handed down to her, interwoven with that which she taught herself. Carina Jimenez uses her experience as fuel to depict the darkness that can be overwhelming along the journey to find the light in oneself. Jimenez's role in this collection is that of the self-nurturer, applying maternal wisdom inward in an act of self-reflection and awareness. Elaine Bezold highlights the universality of motherhood and the destruction of the old, to be born into the new. She depicts broken bonds of new life in images that connect to her viewer's tendency to protect and nurture. Alejandrina Herrera creates intimacy and tenderness through her pencil work, inviting viewers to stay and engage. Her work could be considered the culmination of the collection as she uses her own daughter to engage the memories of the past and a reproduce a treasure of feminine essence, childhood.
This exhibit examines how we teach our girls, who then become women, to redefine feminine roles in the modern context. Despite the radically different manifestations of domestic activity, as compared to that of our ancestors, the power of the maternal is not lost. To be a teacher, a caretaker, and a guide is to connect to that part of the feminine essence inviting us to join in the growth of an individual, even when that individual is ourselves. As women, it can become tedious attempting to distinguish between the roles we take on ourselves and those imposed on us by our society. The artists in this series redefine what it means to fulfill the maternal in passing on the teachings of domesticity and nurturing and the constant journey for self-identification; to break the bonds of insecurity and inadequacy, regardless of the roles we choose to take on. In doing so, these women validate and celebrate what it means to be blessed with the feminine essence. This body of work intends to emphasize the important role maternal figures play in our lives and what it means to say Mother, May I?
Kimberly Ring
December 2018
I was recently asked by Aarik Danielson, our local arts reporter for the Columbia Tribune (after a series of other thought-provoking prompts), "What surprised you about the process of curating the 5th annual Master Exhibit?" Aarik is always patient when I don't immediately dive into a sound-bite response; I considered. My answer is one that recurs each Masters Exhibit, so it probably should no longer constitute a surprise, yet: I am struck repeatedly during this project with the thought, "HOW had I never heard of this artist?" Fame, or lack thereof, can often seem like a fluke of history. Studying the artists at the forefront of Abstract Expressionism, it becomes very clear that popularity and quality are not always perfectly correlated. In this movement, which was itself so groundbreaking, some of the most important artists and most impactful works are such because they dare to take abstraction in a new direction for the first time, with no guiding precedent and absolutely no guarantee that the work would be widely understood, or that it would sell. Not all of the artists of the American Vanguard have made it into our art history textbooks. There are a number of potential reasons why, many of which boil down to lack of promotion in their era.
You may remember the story of Rudolf Bauer – the great underdog of 20th century art history – from past Masters Exhibits. His lack of fame, despite having conceived of absolutely revolutionary notions of the purpose of art and abstraction, was due to a spectacular feud with his would-be patron, Solomon Guggenheim, that may have involved a love triangle and most definitely involved some very dramatic bridge-burning. By the time the famous 5th Avenue museum opened, Bauer's history-shifting work was relegated to the basement, and largely did not re-emerge until about 4 years ago. No matter how important to the course of art history, if the work is not shown, it can't be seen, and if it's not seen, it can't be sold or collected and will have virtually no auction history to back up its value.
Some artists are like a walking self-promotion (the rare case, in my experience – think Leonor Fini), and some gain the favor of an influential patron at just the right moment (a la Kandinksy or Pollock), but many prefer to devote their time and energy to painting above all else, and some of the greatest modern masters filled warehouses with thousands upon thousands of paintings made over decades of persistent, devoted practice. Jack Roth's underdog story doesn't have the romance or drama of Bauer's, but is beautiful in its own, relatable way, and, as with other undervalued artists, comes down to the fact that Roth preferred practicality to promotion at every turn.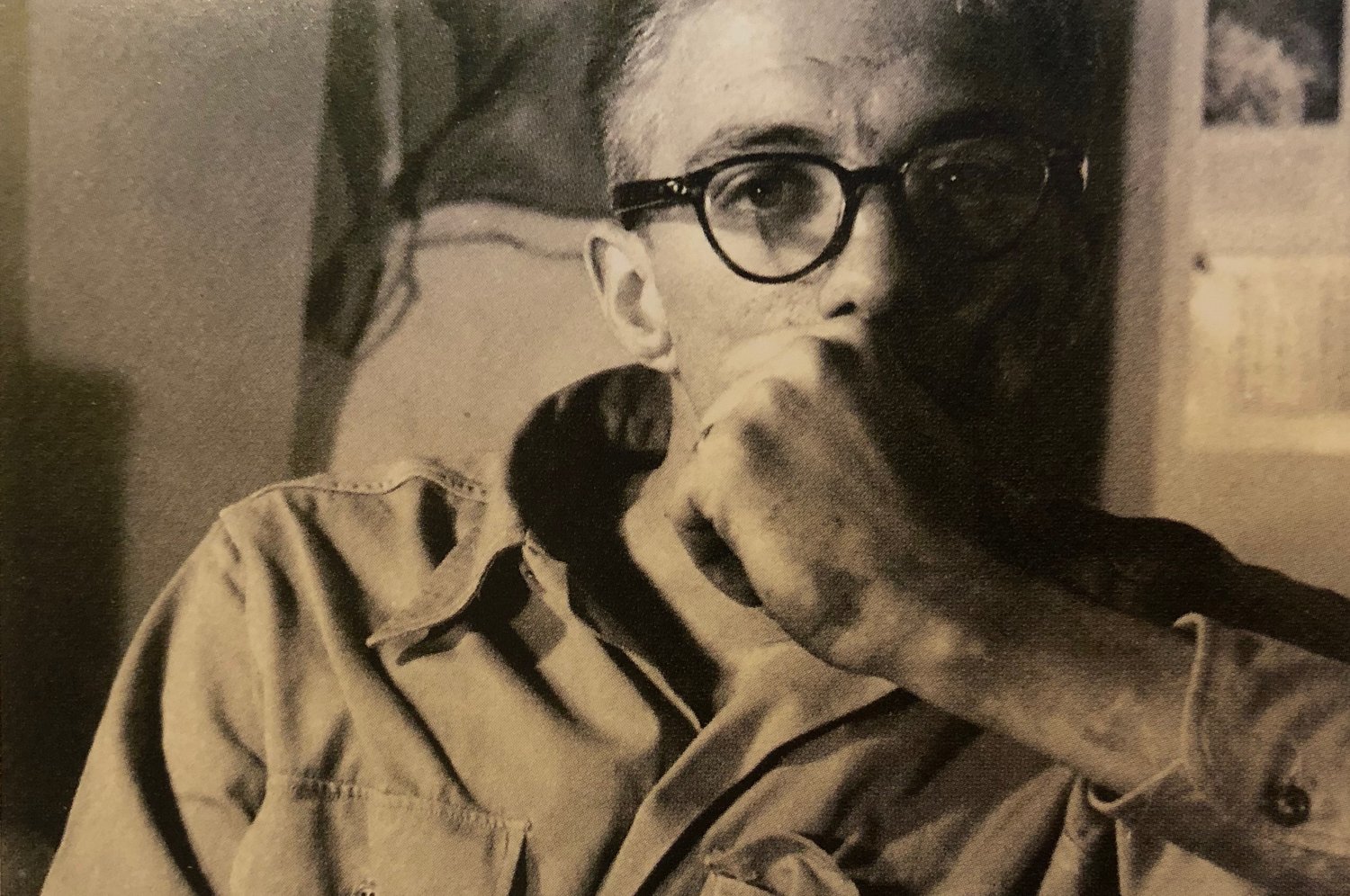 Jack Roth was born in Brockway, Pennsylvania in 1927. At 16, he enrolled at Pennsylvania State University where he began studies in chemistry, art, and art history, but his education was interrupted by his service in World War II. The social norm of military service for young men at the start of the war was a call felt by many of Roth's contemporaries and in fact nearly half of the New York School of Abstract Expressionist painters, and it is the first of many times throughout Roth's biography that we see a humble sense of duty and practicality win out over any desire for artistic celebrity. On returning, Roth moved to California, where he would eventually revisit his studies in art at the California School of Fine Arts. While there, he studied painting under Mark Rothko, Clyfford Still, and Richard Diebenkorn, and was introduced in earnest to the newest notions of abstraction at work in the art world at the time. Again at this point Roth veered off what seemed a direct path to artistic recognition and, with the same sense of duty with which he had left, he returned to the University of Pennsylvania to complete his degree in chemistry. He went directly on to a Master of Fine Arts program at the University of Iowa, and, as one biographer put it, "in need of a way to support his family, Roth decided to teach art." By this time (1953), Roth was considered an artistic peer of Jackson Pollock, Robert Motherwell, Richard Diebenkorn, and Mark Rothko, among other first and second generation Abstract Expressionists, and was exhibiting alongside them. In 1954 his work was shown in the Younger American Painters exhibit at the Guggenheim Museum of Art, which was one of the first major museum debuts of the Abstract Expressionist movement, and also included Pollock, de Kooning, and Motherwell. Again in service of a reliable living over fame, Roth then moved to North Carolina, where at Duke University he could teach art and simultaneously pursue his Doctorate in Mathematics. He would always make a living thereafter teaching mathematics, even as Art in America named him the "new talent" of 1963, and as MoMA purchased a number of his paintings for their permanent collection, and as he gained representation by the prestigious gallery that carried Alexander Calder, Franz Kline, and Frank Stella. While he taught his classes and raised his family and made his living in such an intentionally stable and ordinary manner, Roth spent every spare moment painting, over the decades working through manifestations of action painting, negative line, color field, and finally a totally unique combination of color work with expressive line in layered compositions that were truly before their time.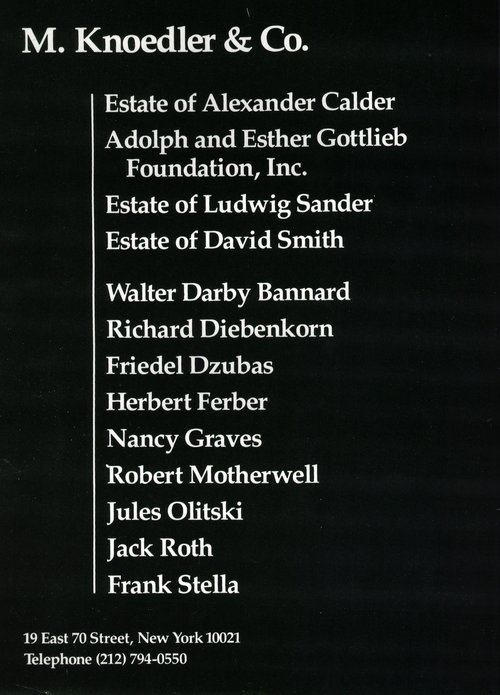 Jack Roth may be the best AbEx painter you'd never heard of. His estate passed, largely intact, to two of the dealers with whom we work for the Masters Exhibit. Among the thousands of works we viewed and considered for Mid-Century Abstraction: The American Vanguard were canvases ranging from 7×9 inches to 10×12 feet, and hundreds of signed, original paintings on paper. Many of the pieces we've chosen are being shown to the public for the first time. Over the course of numerous series and more than five decades, Roth developed a distinctive visual voice with both line-based and color field works (and combinations thereof) that exemplify the eras in which he worked. His success lies in his constant pursuit of learning, whereby a half-century of practice, persistence, and innovation led to an enormous portfolio worthy of our attention, now that we are aware.
Columbia College intern Renée Brochu curated the Suite B exhibit, Structural Presence, as the culminating project of her time at Sager Braudis Gallery. Works by artists Daniel Rodríguez Collazo, Josh George, Kyle Hendrix, Felicia Leach, and Joseph Murphy present a survey of architectural subject matter -both monumental and familiar- in drawing, painting, and ceramics. Through the use of varied media and techniques, these artists imply a sense of permanence and enduring grandeur in our built surroundings.
Architecture demonstrates, on a sizable scale, the complexity of human ambition and intellect. Inevitably we are situated within these spaces, which convey style and character through line, mass, form, and the use of light. Moving around and through an architectural space, we are physically gathered and divided by its structure and design based on the architect's intent. Swelling domes and soaring arches lend an atmosphere of unity, stability, and proportion that passively relates an impression of movement through time and space.
Structural Presence emphasizes the artists' interpretation beyond the practical uses of architecture and reveals the social, cultural, and cerebral functions of our built environments. These bodies of work comprise an eclectic mix of modern, neoclassical, and gothic spaces. However, when juxtaposed, the works seem to go hand in hand, creating a visual conversation on our shared past. These artists indicate though layering of color and texture the value and experience of architecture, each sharing an individual perspective on their subject's presence.
In this month's blog feature, Gallery Director Hannah Reeves asks mixed media artist and October Exhibitor Brandan Styles about the ideas and process behind his intriguing series, Weirdo Spiritualism.

HANNAH REEVES: I'd love to know more about why you've chosen the term, "Spiritualism" for your series title, Weirdo Spiritualism. It's clear that your personal philosophy enters into imagery throughout the body of work, but I'm wondering whether "Spiritualism," by connecting to a Victorian-era mindset and a certain notion of occultism, captures more than "philosophy" or "spirituality."
BRANDAN STYLES: My art and my outlook/ philosophy I call Weirdo Spirit. Simply put, It is a way in which a Weirdo expresses themselves Spiritually. It is seeing beyond the world of illusions, looking deeper into the surreality of life, its undercurrents, synchronicities, archetypes, and how everything is connected. It relates more to the writings of Carl Jung and Joseph Campbell, than a Victorian mindset per-say. Though the Victorians were certainly on to bringing age old knowledge and wisdom of Occultism to the forefront. Occultism is knowledge of the hidden, and mainly the relation of the cosmos to your own self. And a Weirdo is someone who is innately in tune with the Universal Spirit, and is walking their path to self awakening/ discovery.
REEVES: Could you talk about the presence of found objects and found/repurposed wood in your work? How do you decide when to incorporate these materials, and what do you hope they communicate?
STYLES: All of the wood in the pieces is literally one of a kind. It has gone through the alchemical process of being found, and then aged in the sun/ elements until an idea is ready for that particular piece. Sometimes a piece of wood really speaks to me and synchronizes almost "magically" with a drawing or idea from my sketchbook. I hope that it communicates that each piece is wholly unique because that piece of wood, through its journey, reached me and I was able to give it life with some idea that captures and unites the two into a whole.


REEVES: As the Weirdos seem to be a cast of characters, it's pretty natural to think of them as sharing a narrative. Do you have a story in mind, in which they are all participants? Or are they more separate than that, like patron saints, each with his own purview?
STYLES: I have dubbed myself the Patron Saint of Weirdos, and each character has a little bit of me in some form. So, each character is a patron saint/ icon, and they all share a narrative based in my world of the Scorched Earth. The overall story is about these weirdos living in a dystopic paradise, where survival is important, but more important is the spiritual journey through it and to yourself.
REEVES: Who or what are your artistic influences?
STYLES: I have many artistic influences, as all artists should! From Heironymous Bosch to the Teenage Mutant Ninja Turtles. Robert Crumb to Alejandro Jodorowsky. Religious Icons to Cartoons. Dadaists, surrealists, symbolists, expressionists; anyone with passion for what they do. I've always been drawn to works/ artists who reveal truth and light through a sort of darkness. Music and Books are also prime influencers.
REEVES: I always like to ask: What is your studio quirk?
STYLES: My studio quirk is to select the right music for the day, light some incense, say a few thank yous, and get down and to it!
As the September Exhibit nears its end, featured artist Michele Ledoux reflects on a few questions from Gallery Director Hannah Reeves.
REEVES: The interaction between your process and finished product is interesting, because it seems that your technique is very layered and involved, but that you aim, ultimately, for some manner of serenity, or simplicity, maybe. Could you talk about that interaction?
LEDOUX: I really feel like my statement speaks directly to this question… "Conceptualize, formulate a plan and then, ditch it. Build it up. Tear it down. Take the most complex concept and strip it to plain and simple. And, when you do keep something—make it important."
REEVES: How did you arrive at the medium and technique you employ? Were there earlier iterations to work through?
LEDOUX: I first learned about encaustic on a trip to Santa Fe. I believe it was the universe leading me to it… On my way out of town, my truck suddenly had this horrible "thumping" sound. And, of course, it was a Sunday. So, I drove around and around looking for someone to take a look. When I finally found someone, now too late to head back home, the thumping was gone. While looking for a hotel, I came across one of the old art festivals in the dirt parking lot (which no longer exists) and there was an artist there who worked with encaustic on paper. Immediately drawn to the medium, the next morning I headed to Boulder and bought my first encaustic book. I remember not being able to put the book down. Being a self-taught encaustic artist, the iterations are many… with a multitude of life learnings along the way.
REEVES: Because you sometimes represent your own work at art fairs, you must have some direct interchange with your audience that artists don't always get. Is that right? Is there anything particularly important that you've taken away from any of those interactions, if so?
LEDOUX: Absolutely…interactions with my audience are significant to the purpose of my work. The work itself is just one part. It's the conversation and the sharing and the connection. It brings a smile to my face and warmth to my heart when someone sees my work and shares that they feel a sense of calm, a sense of peace, a sense of ease. My work is about spiritual growth and expansion. It's a commitment to authenticity and presence. It's about showing up.
REEVES: Who / what are some of your influences?
LEDOUX: While I am constantly expanding and further refining my own creative voice, my work is currently primarily influenced by Abstract Expressionism, Minimalism, Color Field Painting, The Zero Art Movement, Arte Povera and Hard-edge Painting. And, I have particular interest in and am inspired by artists such as Picasso, Barnett Newman, Sean Scully, Mark Rothko, Cy Twombly, Agnes Martin, Gunther Uecker, Joan Mitchell, Robert Motherwell, Andy Goldsworthy, Richard Serra and Louise Bourgeois to name a few.
REEVES: I always like to ask: What is your studio quirk?
LEDOUX: I am, and always have been affected by my environment. As such, my studio has two vintage afghan rugs (with paint on them), incense burning and often times the om chant playing in the background. Everything has its place. And, although I live/work in a 1929 hunters cabin in the midst of the beautiful Rocky Mountains of Colorado, my studio is neat as a pin. : )
Share
Kansas City painter Seth Smith brings "paintings of places" to Sager Braudis Gallery this August – a series of works that manage to transcend the simple experience of viewing and tap into the other senses, hitting small but universal notes of memory: the warmth of a dry, sunny day on the skin; the low resonance of air conditioners and pool pumps; the salt-scent of sea mist; the glow of people awake at night. In this quick Q&A with Gallery Director Hannah Reeves, Smith tells us a bit more about himself, and how he does what he does so beautifully.
REEVES: Could you talk about what connects you to the scenes you depict in the series at Sager Braudis? Are these places from your memory?
SMITH: I grew up in the 80's on 30 acres outside of Wichita, KS. I thought, like many, that the California skateboard scene was epitome of cool. But my gravel driveway and obvious lack of sidewalks gave me no opportunity to connect with the scene by skating myself. The best I could do was imagine getting in a van and heading west. That was the first time I used my imagination to escape a constraint. My work has always been a selfish way for me to escape to places that are beautiful or haunting, sublime and rapturous. It's been a blessing and a curse to dangle that power in front of my reality sometimes, but it always gives me something to look forward to. I believe we all need hope, need to look forward to tomorrow. My paintings are bits and pieces, photos and fiction stitched together to make my perfect escape. Or at least the one I need that day.
REEVES: You have the opportunity to interact with many of your viewers and collectors when you present your own work at art fairs. What kinds of feedback or insights do you gain from that direct experience with your audience?
SMITH: What I never anticipated was the intense connection that people of a generation (or two) before mine associate with the era they see in my work. Most of my visual interest right now is drawn from 50' and 60's travel culture, motels and dives. People that actually lived in that era have an incredible sense of fondness and connection that they cannot hide when they approach me. The stories I have been able to hear have been one of the great honors of my life to be honest. My work has definitely been affected by years of strangers sharing personal stories and pivotal memories with me. It's helped me get a more well-rounded understanding of the visual world I am trying to portray.
REEVES: How do you know when a piece is complete? Successful? Do you watch for it to cause some feeling or response for you?
SMITH: I usually try not to hold on too close and be too critical of my process. I try to make the variables the same every time and work until the playlist, gin, or energy are gone! If there are little moments in a painting that happen that I was unaware in the moment but now make me smile I usually call it a day. I try to work quickly and closely to that initial emotion or idea. If I don't nail something in a few studio sessions I feel like it's not meant to be and I move on! I try to remind myself why I am doing what I am doing and what I like about paintings in general…and the answers are to "escape" and gestural energetic unique marks and colors.
REEVES: Who and/or what are your influences?
SMITH: This question changes daily, like I'm sure it does for most artists. But right now I can say, David Byrne, Lake Superior, old travel brochures, The Graduate, making homemade biscuits, Michael Krueger, Nick Drake, and the anticipation of Autumn smells.
REEVES: I always like to ask: What is your studio quirk?
SMITH: Hmm. If I am stuck on a piece I turn on my huge heavy ass vintage hotel sign from the 20's. It's bright red neon and I paint in that light a while. It makes me smile and usually I get out of whatever funk I'm in!
Painter Zoe Hawk has lived and exhibited all over the world, and has now returned to Columbia, Missouri with an extraordinary body of work for the Sager Braudis Gallery 2018 July Exhibit. Gallery Director Hannah Reeves asks Hawk about some of the ideas and process behind her work in this month's Q&A.
HANNAH REEVES: The somewhat mysterious, underlying narrative in your work is intriguing, and I wonder about both the origin and the connecting thread of the stories. Could you talk about how you conceive of your scenes and characters?
ZOE HAWK: I collect images from vintage schoolbooks, historical photography, mid-century magazines, and other sources, which I piece together to create my own imagined scenes. I also incorporate my own memories, as well as stories from other women in my life, although the paintings are meant to be more allegorical than illustrative. I like each action and pose, if possible, to have more than one meaning: one innocent and straightforward, and another more dark and complex. With each girl I paint, I try to think about what she is feeling, how she fits into the social order, and what her actions represent about adolescence, girlhood, and socialization. While there isn't one distinct overarching narrative that links all of the work (I tend not to repeat characters), I do like to think that they all inhabit the same little fictional world.
HR: What does your process look like?
ZH: I keep a library of source material that I peruse for inspiration. It includes both a physical collection of books and vintage ephemera, as well as digital images that I keep categorized in folders on my computer. Sometimes I construct a model out of painted cardboard as a visual reference to place my characters in, kind of like a miniature stage set. Once I have an idea in mind, I make a small study in gouache to figure out composition and color, before starting the larger painting on panel. Everything is pretty pre-planned, however things do tend to change a bit during the painting process. As I'm working I might decide to add another figure, switch the color of a dress, change a pose, etc.
HR: Is there a sentiment or a reaction that you hope your viewers will experience when taking in your work? If so, how do you think about steering them toward it?
ZH: I like my paintings to appear sweet and playful at first glance, then reveal upon closer inspection that things are not quite what they seem. My work is about the curiosity and freedom of girlhood, as well as the darker aspects of adolescence. So in my imagery, I often reference vintage children's book illustrations—which feel familiar to many people—but in a way that is somewhat off. One girl might not fit in with the group, or is acting out. Some kind of mysterious activity might be taking place. Maybe the clothing doesn't make sense for the environment, or the expressions on the girls' faces seem nervous or unhappy. In this way, I want the viewer to become unsettled. That said, I also enjoy when people find beauty in the work, or when it elicits a memory from their own childhood. Ultimately I want the work to be layered enough that it can do both.
HR: Who/what are your artistic influences?
ZH: Dorothea Tanning's painting Eine Kleine Nachtmusik is an all-time favorite of mine and a huge influence, as well as Balthus's The Mountain. I also love Leonora Carrington and Edward Hopper, and one of my favorite contemporary artists is Kerry James Marshall. The narrative aspect of my paintings is influenced by writers like Shirley Jackson, Margaret Atwood, and Charlotte Brontë. And when I go to an art museum I pretty much make a beeline for the Northern Renaissance section.
HR: What is your studio quirk?
ZH: The gouache studies I make before starting a painting are pretty small, about 2 or 3 inches tall. Instead of leaving them on the page, I like to cut them out so they become tiny, individual objects. I've been compiling them over the years, and like to think of them as my little library of ideas. I keep them in a satisfying stack; it's like collecting baseball cards or something. I've had quite a few people ask if they are for sale, but I just can't part with them!
HANNAH REEVES: Could you tell our readers a bit about yourself and your background? How did you come to be an artist?
ALEJANDRINA HERRERA: I'm a 31 year old artist from the north east Mexico. I was born in Monterrey Nuevo Leon, and as is very common here, I grew up surrounded by my family and my extensive amount of cousins. Running at my grandparents' ranch trying to chase hens from the barn. I've always loved drawing as an exercise or even a hobby, something I use to let my mind go, but it wasn't until I choose my BA in Arts that I really think of drawing in a professional way.
HR: Your drawing is done with such extreme technical skill, and you seem to use that proficiency to a conceptual end. How do you think about the combination of imaginary, meaning-driven subject matter and technical, classical execution?
AH: I like to take the pencil's possibilities as far as I can, so the audience may doubt about the media in which the piece is made. In most of the cases, I even use the skill itself as part of the conceptual idea of every piece, because I think the "perfection", or even exageration, of the technique I tend to present, is a very important part of my work's statement.

HR: What does your creative process look like?
AH: I'm an image hoarder, always looking thru old pictures (familiar or not). I tend to keep them in files under keywords that will remember me of that particular idea I had in that moment. I need to do this since I work very slow with every piece sometimes it takes me more than a month to finish one depending on the size and complexity of the image.
HR: What other artists do you admire?
AH: Recently I've been looking thru Felicia Forte's work, I think it is amazing, Cayce Zavaglia, Ramiro Martinez Plasencia, Henrique de Franca.
HR: Do you have a studio quirk – something particular to you and your space that spurs your creative flow?
AH: Sure I do. I have a (not so big) vintage toys collection which is my pride and joy. That kind of nostalgia keeps me going day by day.

HANNAH REEVES: What do you hope viewers notice most about your work?
KYLE BADER: I hope my work is both entertaining and informal. Although I don't think I'm a great comedian, I try to insert humor into the work in order to comply with the history of collage and also grab the attention of the viewer in order for them to better understand what I'm addressing.
HR: I know that you're interested in the history of collage as it relates to political commentary and resistance. Could you talk a bit about that, and how that interest plays into your current work?
KB: While I was developing my thesis for graduate school, it occurred to me that I had an affinity for making work dealing with issues of power, class, and influence. It eventually dawned on me that the history of Dada and collage were the cornerstones of dealing with such subjects. The graduate school works were really a play on the aesthetic side of things, and I knew that I wanted to make work that dealt with more serious, contemporary issues. After doing a lot of research and having found a new love with the process of the new work, a new series began.

HR: What does your process look like?
KB: My process consists of me taking my own photos, essentially anywhere, and whichever ones I can't find I'll look up online. Everything is then converted to black and white, resized, cut, etc. Then the images are printed typically through Xerox/laserjet printers. From there, I use X-Acto blades and cut from the printed images, assemble a physical collage, and once it is at a place I feel good about, I transfer the collage on paper using solvents and a burnisher.
HR: What other artists influence you?
KB: Sigmar Polke, Robert Rauschenberg, John Baldessari, Banksy, Duchamp, Hannah Höch…

HR: Do you have a studio quirk – something particular to you and your space that spurs your creative flow?
KB: I hate to say it, but coffee is almost always necessary. I will say that I've discovered putting away my laptop and phone and working in the silence is a great way to be productive as well. Just minimizing distractions.
Gallery Director Hannah Reeves discusses with photographer Elaine Bezold the ideas and inspiration behind her work in the 2018 May Exhibit.
HANNAH REEVES: How are documentary projects and conceptual work different, and do those bodies of work ever overlap or intersect?
ELAINE BEZOLD: I tend to be a little more hands-off when working on a documentary project. I still compose, but I let action unfold in a less controlled way when I'm working on a documentary project. I have a theme in mind, but I let whatever is happening keep happening and I move myself around it.
In the work that's more conceptual, I can be a bit of a control freak. I like the pictures to look slightly incidental sometimes, but I'm pretty particular about how the pictures will connect to one another visually, and so I'm often thinking about existing images I've made while I'm making new ones.
And yes, they definitely intersect. The questions I have when I make pictures are often the same, but the approach is different. I consider it important for me to move between both categories of pictures to keep me thinking with "fresh" eyes for whichever is the other body I'm working on. I'm suspicious I'll get in a visual rut if I'm only shooting one way.
HR: I like noting your presence – your hand – in many of the images in The Narrow Abyss, and it makes me think of John James Audubon, arranging specimens to paint them. Do you relate this work to Audubon? And is arranging non-living objects differently meaningful than composing an image of a living subject?
EB: Yes, I love that you bring up Audubon, he's certainly in the back of my mind every time I make a photograph of a bird. I relate to his bird-zeal, and his willingness to study them with both a scientific and artistic eye. The tactics of early naturalists are consistently in my thoughts right now because so many of them were hobbyists, scientists, and artists in their own ways.

Composing non-living objects is completely different- especially when it comes to birds. I know it can maybe seem macabre at first, but I love photographing both living and non-living creatures because viewers can have a different relationship with the image and the animals. Obviously, there's a lot more control available when composing with an animal that has died, but there are challenges in both ways. I never want to be disrespectful in representing an animal, but nor do I want it to look like something it isn't. We (viewers) bring a lot of baggage to viewing images, especially those relating to death, so it's delicate territory.
As far as composing live animals, the hardest part is getting them to be still, so there's way less control, and I'm still trying to be vigilant that I make images that can separate themselves from "straight" nature photography images of animals. With birds that can be tricky.
HR: Could you talk about the series title, The Narrow Abyss?
EB: It comes from an expression John Berger uses in his chapter about animals in About Looking. His description of our (humans') relationship to animals resonated deeply with me when I first read it. He describes our separation from animals as "a narrow abyss," because we are animals ourselves, but because of the way we communicate we will always be looking across a sort of unbridgeable chasm at other animals. The expression was important to me, because it so perfectly described the way I feel when I find a bird that's fallen, or been killed by hitting a window. First, because animals are an everyday reminder that we are mortal, but also that we remember we're not the only living, breathing beings out there.
HR: Why is photography your medium of choice?
EB: I choose photography to work with this content because I think it needs to be seen in as realistic a form as possible. I say this because for us to grasp our physical relationship to another animal, having some kind of bodily reaction in a viewer is my way of deepening my point.
HR: What's your studio quirk?
EB: My studio quick is that I'm a "mouth person" while thinking seriously, and thus, the Queen of Beverages! That is to say, I have to be drinking something almost constantly while editing or printing, and I typically have three different beverages going on at once (no ADHD here). I think it's because otherwise I'd have to be chewing on something: my nails, my pens, etc. So, multiple beverages are a both my luxury and ritual now. In the morning it's usually: coffee, a can of sparkling water, and a cup of spearmint tea. It's usually some variety of those three elements- in the evening an alcoholic beverage occasionally enters the mix. Point being, if my brain is working, i'll probably have cups everywhere.
The spring hall exhibit, Their Bodies, was curated by MU intern Janae McGee as the culminating project of her time at the Sager Braudis Gallery. The show includes the work of five artists and examines and confronts traditional depictions of the figure, specifically through the lens of gender and the power dynamics associated with them.
Art that traditionally represented the figure, and mostly the female nude figure, did so in a way that was usually sexually objectifying: they generally depicted unrealistic proportions and were rendered without any autonomy to the women in the frame. The figure was at the will of the artist until it was looked upon, and then it was at the will of the viewer. While men could pleasurably view women in this manner, other people who might identify with the subjects but feel understandably uncomfortable. And this isn't something we only see happening during the Renaissance; it continues well into modernity in film, comic books, video games, fashion, and photography, as well as in the art world.
How do we combat this? What does it mean to create art, and to create art depicting the figure, without the male gaze? The term 'male gaze' was coined by Laura Mulvey in her essay "Visual Pleasure and Narrative Cinema" to talk about the way the female figure is objectified by the men creating movies but also by the inevitably voyeuristic practice of watching movies. Why would it be any different with art that has the same dynamic of a creator making something for the purpose of being interacted with visually?
The work of these five artists, then, gives us a chance to examine the figure in a different way. The way Sofia Bonati depicts the figure, as a woman from Argentina, shows women to be beautiful, complicated, and confrontational. Beautiful, in the extremely detailed way her models are rendered with graphite, complicated, with her repeated motif of mazes and optical illusions, and at all times confrontational in the way the women she renders look directly at the viewer.
Bonati's work carries the same fantastical element that Emily Burns's work does, although Burns's work feels much more intimate and relatable despite the figures having deer heads. Both use graphite to render the figure but Burns's pieces allow open space around her subjects. This, added to the fact that they're wearing jeans and bras, conjures up feelings of loneliness combined with playfulness.
Claire Stigliani's work Dreaming is a textured self-portrait that reads like a selfie. The inclusion of self-portraiture as an important and valid way of representing the figure draws attention to the control granted to the subject (also the creator).
The inclusion of Kelsey Hammond's pieces is important as a means to connect depiction, ownership, and representation. Hammond's ability to show a real body -as well as a nude one- shows vulnerability as well as power.
Tobi C.'s pieces, as the biggest works in the exhibit, act as a sort of focal point. As the only gender non-conforming artist in the exhibit, they offer a different but important variant on the depiction of the figure. The artist continues the fantastical element seen in Bonati and Burns with the snakes and the way the skin is rendered, but they add a dysmorphic element into the figure that isn't seen in any of the other pieces.
The figure is an important form of representation in art as people can literally see themselves in paintings. What happens when this view of themselves is objectified or they cannot find themselves represented at all?
This exhibit is important at this moment in time because while people may be able to recognize a declining but present deficit in female and gender non-conforming artists and artwork in conversation, gallery and museum settings, art history, and Instagram, they may not realize the consequences unless confronted explicitly and asked to consider this deficit. That is, they may not realize what that power imbalance of representation does to the way art looks. This exhibit asks that viewers consider: "Why is that?" Are no marginalized artists creating art worthy of acclaim?
Marginalized voices' absence from mainstream media has much to do with systemic power structures that have been in place for a very long time that were set up to keep certain people in power and certain people disenfranchised. How many Picassos have been born at the 'wrong' time, born with a gender other than male, a skin color other than white, a sexuality other than straight? How many more are we willing to let slip through our fingertips?
This exhibit will be up in the hall gallery at Sager Braudis throughout May 14th, and will be celebrated on First Friday, May 4, from 6 – 9 PM
University of Missouri intern Julie Hilboldt curated the Uprise exhibit, Elemental, as the culminating project of her time at Sager Braudis Gallery. The show includes work by two artists, Rebecca Crowell and Mark Grundy, whose drastically different media complement each other indirectly. Grundy creates watercolor landscapes that contain colorful, even playful scenery, while Rebecca Crowell uses cold wax, powdered pigments, oil paint, and other materials and methods to compose abstract work that can be read as cropped images of ancient, geological surfaces. When verbally described, the two bodies of work seem to be a clashing pair. However, when near each other the works go hand in hand, creating a visual conversation perhaps due to an earth-related, natural appearance to the pieces.

Mark Grundy received his Bachelor of Art from the University of Missouri and after his graduation spent many months in Santiago, Chili. There he learned from teacher and artist, Frank Stack how to use watercolor to capture the Chilean scenery. From that time on, Grundy has drawn on his experiences of travel and the sights around him to create work that conveys his admiration for the earth, whether emphasizing the soft foliage, wide and expansive bluff views, or the reflection of a sunset mirrored on the surface of the Missouri River.

Rebecca Crowell received an MFA in painting from Arizona State University and like Grundy, she is also an avid traveler, teaching workshops in Sweden, Ireland, and Spain. Crowell uses layered media as she scratches and scrapes to create a natural energy; her process reflects the natural world revealing cracks and illuminating lights from within each piece. Although Crowell does not use direct representation or symbolism, she still creates work reflecting the ideals we associate with nature.

Elemental emphasizes the way artists view the world and how they choose to depict it within their work. Whether through color or texture, scenery or layers, these pieces grab the essence of the elements in drastically different and unique ways. The artists use their experiences within nature and through their travels to alter their views of nature and landscapes for themselves and those experiencing the artwork.
This exhibit will be up at Uprise Bakery at 10 Hitt Street in Downtown Columbia from March 25th through April 29th. All work displayed is available for purchase through Sager Braudis Gallery.
The March Exhibit at Sager Braudis Gallery includes work by painter Greta Myers from her series titled Misplaced Places. An alluring palette and intriguing variety of abstract mark-making reward the viewer who spends some time in front of each piece. Gallery Director Hannah Reeves asks Greta Myers about the inspiration and thought behind this series in this Featured Artist entry. See Myers's work in person through March 31st.
REEVES: I know that you draw on imagery from social media for your work, or at least that you're thinking about the highly-filtered, highly-curated sets of images people put forth. Could you talk about how that leads you to make the paintings that you make? Are you actually recreating some found images?
MYERS: I scan social media (Instagram) looking for images of vacation or travel photos from accounts that typically don't involve travel. It's important to me that I find people that travel isn't a profession for. I seem to relate to what they see. I look at previous posts to see recurring patterns. I read the text that goes with the images. I am often drawn to people looking for an escape. Once I begin painting, I will reference color, and line within the image. From there I begin thinking about the family/individual on the travel. I sorta put myself in their spot. How do they see what they see? How do I see what they see? I go from there.
REEVES: Do these works relate more to non-objective abstraction, or to landscape (or to neither or both?)
MYERS: I don't think about non-objective abstraction at all. I am just recording the basics of what I see and feel when I look at their accounts. Not every reference is a landscape. I've used concerts, births, interior spaces as reference. Anything that comes up in their travel.
REEVES: What do you hope strikes viewers about your work? That is to say, what do you hope people think about when they view it?
MYERS: I want them to look at it and hope they don't think I'm hiding dick pics.
It's nice when they like it.
REEVES: Who are your art-world influences?
MYERS: Contemporary: Alex Kanevsky. (He recently started following me on Instagram. I can die happy). Mara Hoffman. Clothing designer. Joseph Shelter, painter
REEVES: I always like to ask: What is your studio quirk?
MYERS: Drink three cups of coffee before I begin. I listen to hip hop and old school rap. Don't talk to me when I am painting. That makes me yell at you. Your fault, not mine. Asshole?
Amy Firestone Rosen, of St. Louis, MO, combines the physical texture of the layered surfaces on which she prints with the visual texture of the fabrics and whole garments she uses to apply ink to surface. The result is complex and elegant, equally in representational and abstract works. See Firestone Rosen's work in person through January 27th, and learn a little more about this artist.
HANNAH REEVES: I know that you've worked for most of your career as a graphic designer. What drew you to printmaking? How have you shifted your attention from one visual medium to another?

AMY FIRESTONE ROSEN: As a Graphic Designer all of my designs were based on my clients' criteria. I wanted to explore my own creative medium. It started when my husband and I were renovating our basement with the leftover ceiling tiles. I used the original tiles as the canvas and created a series of paintings.
I sold a series to an art collector and she suggested that I pursue printmaking. Printmaking allowed me to explore my own creativity and I found this empowering to let me create my own vocabulary.
HR: Could you share the story of how you arrived at the idea to print directly with cloth and garments?

AFR: The idea of using clothing goes back to when I was a child. I loved cutting out paper dolls and with my mother's encouragement, I created my own paper doll clothing. As I was exploring printmaking I thought I could use repurposed clothing items as my plate. I loved how the press captured the image of the clothing. For the slip series, I found that I was drawn to the patterns and layers that I could not duplicate with other mediums. The power of the press creates images from clothing that captures every detail. The slips have human figurative quality.
HR: How does it serve the message or effect of your work to print with cloth? Is there something that you're able to show your viewers, or something that you hope it'll bring to mind for them?

AFR: As I search for clothing garments at used clothing stores, I wonder about the original owner and why he or she made their purchase. Was it for a special occasion or everyday use? I hope the viewer can draw an emotional message. It may be sensual or sadness, but wish for the viewer to be intrigued.
HR: Not all artists can successfully work with both representational imagery and abstraction. Your work is split between these approaches and yet seems very cohesive as a set; it all clearly embodies your aesthetic. Do you approach abstract and representational pieces differently? Does one method bring something to the work that the other doesn't?

AFR: I do not believe I approach abstract and representational pieces differently. I feel I approach each piece as a composition and design. The concept may change based on the type of medium I choose to use, but the process of composing the work is the same.


HR: I always like to ask: What's your studio quirk?

AFR: I like creating my own rules!
The vibrant, abstract work of Matt Ballou will be unmistakable when you enter the January Exhibit. While the artist is new to the Sager Braudis docket this year, he's been a staple of the Columbia art community for some time, reaching many people not only through his painting, but as an instructor and mentor as well. Gallery Director Hannah Reeves asks Ballou about the ideas and techniques behind his work in this week's blog post. Make sure to see Ballou's work in person during the January Exhibit, through the 27th.
REEVES: In a way, it seems people might need less explanation–fewer words–to connect with non-objective abstract work, and yet the absence of a describable referent can sometimes be intimidating. How do you recommend people approach and think about your work?
BALLOU: My main advice is for viewers to trust their eyes. How are you being led to move through the piece? What stops you? What causes you to move faster or more slowly in your movements? The reality is that all compositions–whether representational or not–are the result of the visual dynamics of mass shapes and linear structures. My own representational work is deeply connected to the history of formal arrangements of shapes and colors. In this current work I'm also thinking a lot about the feeling of seeing–my own perception of it. So my awareness of how I experience space, light, color, and interaction of forms–obviously in terms of the actual things I see every day–is informing the choices I make in the artworks. No one needs special knowledge to appreciate color or the relationship of pictorial information.
REEVES: I know that in addition to a variety of painting, drawing, and printing techniques, this body of work includes some found wood. The fact that you describe its origin makes me feel that it must be a meaningful material for you. Could you talk about that?
BALLOU: I'm very interested in having framing or presentation materials have a life of their own, a life that does more than hold or delineate the artwork. In my recent works–say, over the last 8 years–formatting and framing have been huge to me. I have disrupted or restructured framing and surfaces to varying degrees a lot, and right now that's resolving into a kind of "shaped surface" approach. My main concern is that these images do not read as windows or doors. I always want a different zone of incident, a membrane we are obviously meant to see and to "pass through" but also one that is held in an active, rather than a passive mode. Traditional framing feels passive and institutional. I want to serve that history while simultaneously pushing it. So in this body of work I am using old dense oak in many cases. This is wood that was used to create sites of quiet study and attention–church pews and drawing desks–that were used for nearly 70 years in central Missouri. All artwork is about attention and inviting others to join me in paying attention. Re-purposing this kind of material into the frames of my work is a subtle way of asking viewers to bring that kind of devotional attention to the work. And it requires that I do that as well.
REEVES: Color is prominently noticeable in this work. Are you applying a particular color theory, or employing a certain technique that draws attention to your color choice? Do you restrict your palette in any decided way or to some end?
BALLOU: I do not employ any particular system. The colors that appear in the final state of the work are an amalgamation of those that I have used throughout the process of making the piece–sometimes over the course of several years. I tend to think of color as indicative of space, light, and position. I'm always looking for a way to make color hold a position in the field of view. I'm seeking density of surface, the accrual of information and strategies over time. I view the final work as an artifact left over after a series of interrogations. Sometimes this does create a chromatic restriction or a specifically-defined goal. Other time I discover what must remain over the course of the making.
REEVES: I hear that your kids are allowed in your studio. As a parent of similarly-aged children…I don't know how that works out! How do you approach home-studio space and painting alongside little ones?
BALLOU: They offer great influences. Basically, it comes down to the fact that they do not know the history of art, art techniques, or art theory. This means they make and respond to their making in a free way that allows for influences and assumptions that are very different from the ones with which I operate. Their lack of knowledge results in marks, surfaces, and accumulations of materials that are more connected to their kinesthetic experience of play than to any history or conceit of meaning. I need that in my life.
REEVES: I always like to ask: What is your studio quirk?
BALLOU: I love to come to the studio and sneak looks at my works out of the corner of my eye. I want to be surprised by that glance. I want to experience it like catching a glimpse of a lover across a room. I'm always looking to be astonished in some way. You can often find me making a run past the studio door to take a furtive look.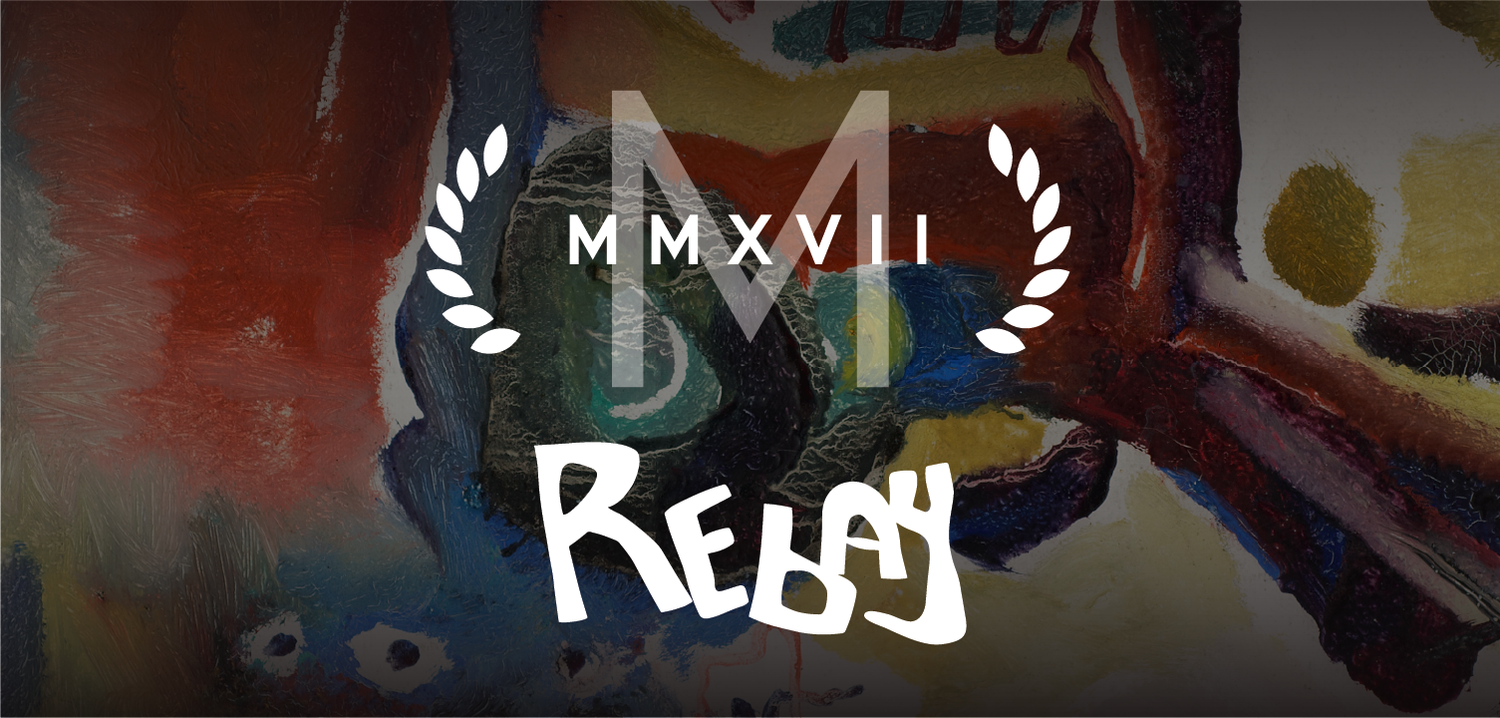 Just prior to 1920 in Berlin, a group of young artists began to coalesce around the notion that a painting need not depict a subject – that perhaps a work of art could more directly and earnestly address a viewer through the arrangement of its formal elements. Among this group, which centered at the gallery Der Sturm, was a young baroness, studio-educated in Paris and mentored by Jean Arp, named Hildegard Rebay von Ehrenweisen, or as she was less formally known, Hilla Rebay. Rebay was the first among her contemporaries to move to the U.S., in 1927. In New York, she met Solomon Guggenheim, who commissioned her to paint his portrait in 1928. As he sat for the painting in her studio, Guggenheim learned Rebay's thoughts on what had come to be known as Non-Objective Art – the new, lyrical, subjectless brand of abstraction that had not yet made it to American collections and museums. Guggenheim was fascinated, and with Rebay as an intermediary, he began to acquire all he could from the Berlin and Moscow non-objective abstractionists, and thus began the collection that would become the Museum of Non-Objective Art, the first iteration of the Guggenheim Foundation.
Hilla Rebay created large-scale, non-objective works in the decades that followed her immigration to the United States, and her style, gently colored with undulating lines and sparse, organic forms, is exemplary of the movement she championed.
While a skilled, educated, and prolific painter in her own right, Rebay is best known to history as the first director and curator of the Guggenheim Foundation, and the facilitator of enormous acquisitions by Solomon Guggenheim of works by her peers.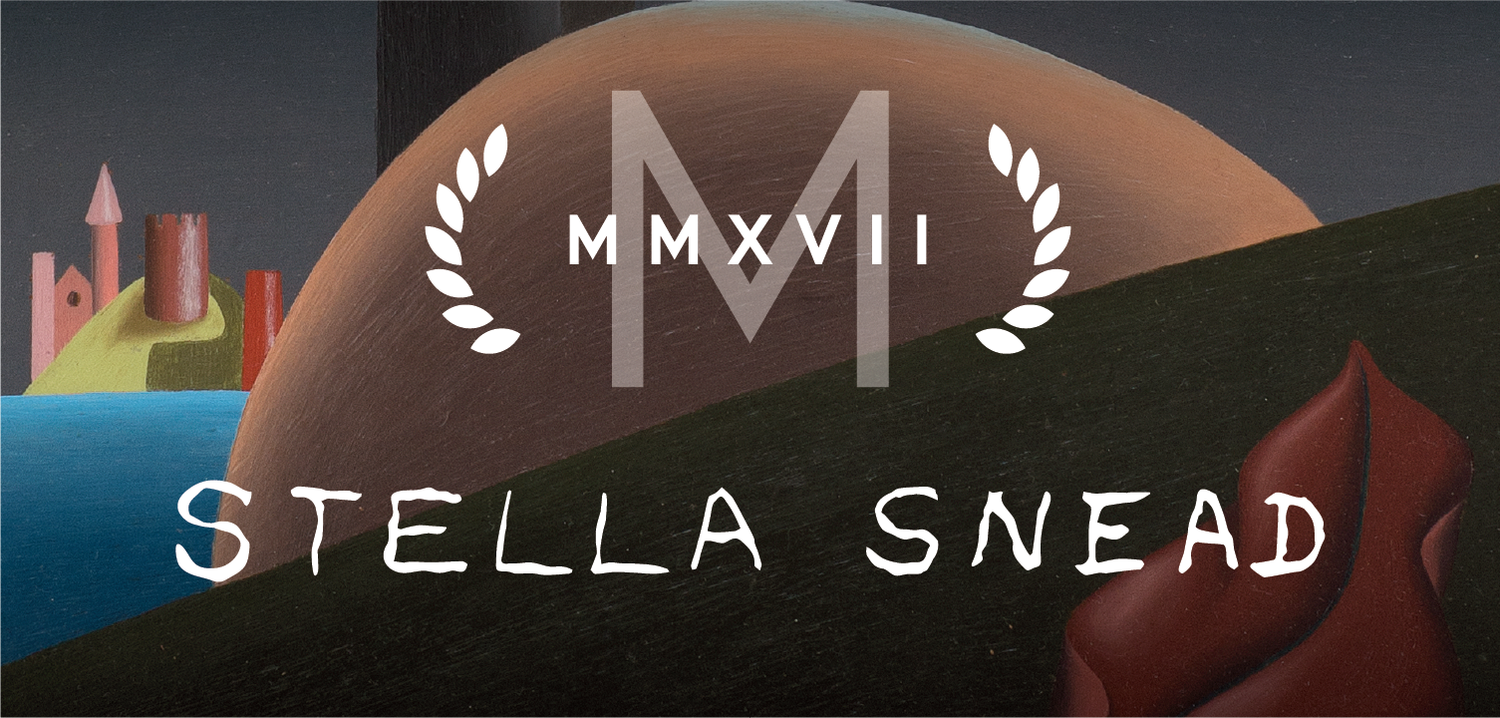 Stella Snead was born in London in 1910. She was still a young child when she and her mother fled from her father, whose struggle with mental illness had made him volatile and sometimes dangerous. Though her own early memories of her father may have been limited, the retelling of his story seemed to impact her well into adult life, and she would explore her own psychology through her artwork. This exploration led to a natural affinity for Surrealism, and she admired the Freudian approach and the resulting, representational yet fantastic scenes of her peers within the movement.
Like most artists of her generation in Europe, she moved to New York during Hitler's rise, at the start of World War II. She said, "At this time, refugees from all over Europe were flooding into America; in particular, many of the Paris Surrealists came to New York. Even though I was not part of this group and had not done anything consciously surrealist, they were among the artists that interested me most." She studied art and exhibited while in New York, but did not stay long. Travels over the following decade took her all over the U.S., Mexico, and the Caribbean, and finally to India, where she lived for years before returning to New York.
Snead's Surrealist paintings of the 1940s feature nocturnal landscapes with the not-quite-natural arrangement of things that gives dreams their bizarre quality. In the midst of her travels, in the early 50s, Snead became depressed to the extent that she stopped painting. Photography remained an accessible medium even in her darkest state, and she eventually established herself as a conceptual photographer. She returned to painting in her mid-70s, creating expertly composed works that combine notes of Surrealism and Abstraction.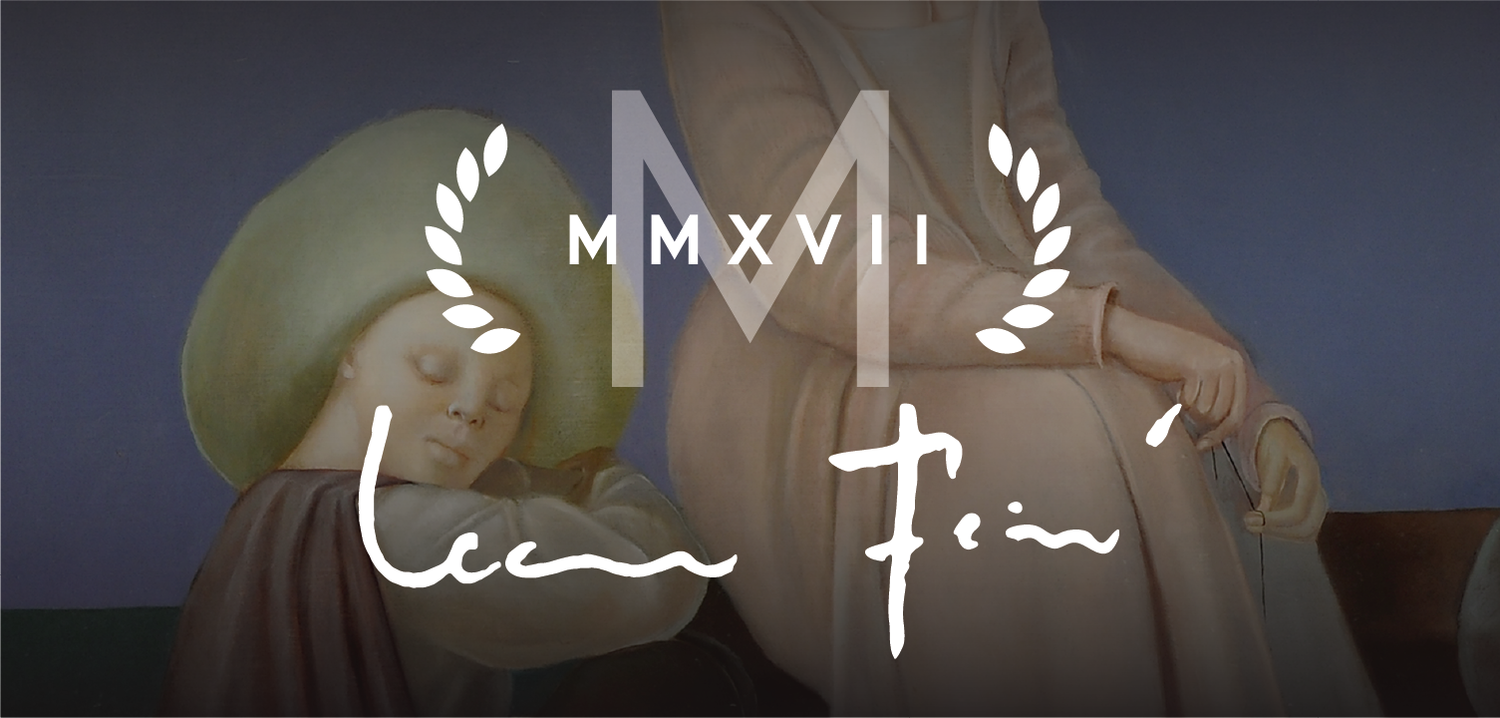 Each December, Sager Braudis Gallery brings significant 20th-century masterpieces to Columbia, Missouri for the Masters Exhibit. This year's exhibit features women of Surrealism and Abstraction, who may just be the most important names in modern art history that you've never heard. In keeping with a current trend among museums and galleries worldwide, we're shedding light on the work of these master painters for whom credit is long overdue. In the coming weeks, we'll feature each of the 6 masters of the exhibit here on our blog, as well as in a 3-minute radio spot on our NPR affiliate, KBIA. Watch for the launch of our podcast, Portrait of the Artist, in which we'll also discuss the artists of the Masters Exhibit, later this month. This week, we're featuring the rising queen of Surrealism, Leonor Fini.
Leonor Fini was born in Argentina in 1909 but travelled and lived in Europe with her mother from a young age. By 1931, she was in Paris, in the full swing of the Surrealist movement. Her work, like that of the other Surrealists, dealt in imagery of the subconscious. It is interesting to consider, with Fini, the difference between what one sees and what one envisions. Her initial, surreal works came about after an eye infection that kept her bandaged – essentially blindfolded – for nearly a year in her adolescence. Shortly after, she began to paint the waking dreams and visions she had experienced while without her sight.
While Fini was a full participant in Surrealism, living, painting, and exhibiting with those of its inner circle in Paris, her treatment of her subjects – the female figure, in particular – was distinct. The fantasy of her Surrealism was one in which women were central, powerful, and even magical, with the ability to transform and rule.
Portraiture was a way for Fini to exhibit her skill and make a living, alongside her work on larger, Surrealist scenes. She was such an undisputed master of portraiture that her talent was sought out by elite figures all over Europe, even before she was 20 years old, and despite being a woman working in a field of men.
When the other artists of her circle migrated, predominantly to the United States, to flee World War II, Fini stayed in Europe, travelling the continent to avoid conflict for nearly six years before settling for good in Paris in 1946.
Fini's artistic career spanned 70 years, and included costume and set design in addition to painting. Throughout her life, she shirked societal expectations and held her own in a notoriously misogynistic professional circle. In full command of her media, she conveyed her personal attitudes toward power, sex, and politics, yielding a vast portfolio rich in dreamlike scenes and reimaginations of social roles.
This exhibit, Filtered Forms, was curated by Columbia College intern Brianna Bogucki as the culminating project of her time at Sager Braudis Gallery. This show, on display at the Uprise Bakery, features work by Greta Myers, Rebecca Crowell, and Emily Burns. Each artist and piece was selected with a particular attention to subject matter, inspiration, and color palette to create a visually unified yet independently effective exhibition that examines an artist's careful decision of how to appropriate and abstract their inspiration and subject matter in order to create work that speaks not only to them but also to the viewer.
Greta Myers, who received her MFA from the University of Missouri in 2014, describes her paintings as compulsive and necessary acts. Working in a mixture of oil, acrylic, and graphite, Myers displays a rare ability to surrender all recognizable forms and still maintain control over the mood her work stimulates. In this body of work, Myers was inspired to take filtered photos from social media and abstract them. Her quick application of the paint yields an impression of how the inspirational image struck her, forcing Myers to become a filter. The soft color palette, irregular contours, and rigid strokes of graphite act as communicators between artist and viewer, displaying an embodiment of the passions conjured by a found image via a highly abstracted landscape.
Rebecca Crowell, with a MFA in painting from Arizona State University (1985), is an avid traveler who has taught several workshops in places as far as Ireland, Spain, and Sweden. When she is not migrant, she is constantly creating in her Wisconsin studio. Her masterful application of cold wax and oil work fluently with the subject matter of landscapes familiar to Crowell to allow a peek into the artist's mind. The bold palette and method of adding and scraping away layers create depth and energy in her works, as well as a reflection of the powerful influence that these locations have on Crowell.
Emily Burns received her MFA from the Pennsylvania State University, and is the acting designer and editor of Maake Magazine a contemporary art magazine. With these works, Burns is investigating the history and development of society's idealized female and what effect this concept has on the psyches of women. Her gentle graphite drawings utilize negative space and a centralized composition to induce a tranquil sentiment in the viewer. These mythical pin-up women contrasted with trophy animal heads can only exist on paper or in the imagination, giving the work another layer of intimacy between Burns and the viewers.
Filtered Forms examines the dichotomy between the inspiration that strikes an artist and what they choose to create following that stimulus. The artist's power to select the imagery that will resonate with viewers is demonstrated in each of these bodies of work. Each artist is experimenting with the idea of using their hands as a filter, taking conversant spaces or figures and using their distinct media to mold them into work with room for interpretation and an individual emotional connection from with each viewer.
This exhibit will be up at Uprise Bakery at 10 Hitt Street in Downtown Columbia from November 12th through December 10th. All work displayed is available for purchase through the Sager Braudis Gallery.
Each December, Sager Braudis Gallery brings significant 20th-century masterpieces to Columbia, Missouri for the Masters Exhibit. This year's exhibit features women of Surrealism and Abstraction, who may just be the most important names in modern art history that you've never heard. In keeping with a current trend among museums and galleries worldwide, we're shedding light on the work of these master painters for whom credit is long overdue. In the coming weeks, we'll feature each of the 6 masters of the exhibit here on our blog, as well as in a 3-minute radio spot on our NPR affiliate, KBIA. Watch for the launch of our podcast, Portrait of the Artist, in which we'll also discuss the artists of the Masters Exhibit, in early December. This week, we're featuring American painter Juanita Guccione.
Juanita Guccione was born Anita Rice in 1904 outside of Boston. Her family relocated to New York when she was a teenager, and she went on to study at at the Pratt Institute and the Art Students League. After a stint of fashion modeling and design to earn money for travel, she left for Europe in her mid-twenties. Within the same year, 1931, she settled in an artists' colony in Algeria. While there, she worked constantly, producing hundreds of paintings and drawings over three years. She had a son in 1934, and left the country with him when her relationship with his father ended shortly after his birth, eventually settling back in New York. The boy's father was named Mabrouk, a name the artist took on after also changing her first name from Anita to Nita and then Juanita. Back in the US, she anglicized Mabrouk to Marbrook, and finally became Juanita Guccione when she married in 1943. It's thought that her multiple name changes may be the reason that recognition alluded her, even though her work was very highly acclaimed during her lifetime
Guccione is usually referred to as a Surrealist, but her artistic career spanned more than six decades and her work ranged from very representational, if dreamlike, to fully abstract. The strong association with Surrealism probably doesn't come so much from an affiliation with the Surrealist circle of artists as from her propensity to depict a fantasy realm.
The French writer and poet, Anais Nin, whose portrait Guccione painted several times, said, "Our dreams are often diffuse and fragmented. Juanita makes them cohesive and clear – as clear as the daily world. Few people can paint the world of our dreams with as much magic, precision, and clarity. It makes the myths by which we live as vivid and dramatic as our diurnal life."
After her death in 1999, the artist's son and his wife worked to place and preserve her enormous body of work. Algeria acquired a large number of pieces for its National Gallery of Art in 2004, further legitimizing work that had been highly appreciated but perhaps undervalued during Guccione's lifetime.
Each December, Sager Braudis Gallery brings significant 20th-century masterpieces to Columbia, Missouri for the Masters Exhibit. This year's exhibit features women of Surrealism and Abstraction, who may just be the most important names in modern art history that you've never heard. In keeping with a current trend among museums and galleries worldwide, we're shedding light on the work of these master painters for whom credit is long overdue. In the coming weeks, we'll feature each of the 6 masters of the exhibit here on our blog, as well as in a 3-minute radio spot on our NPR affiliate, KBIA. Watch for the launch of our podcast, Portrait of the Artist, in which we'll also discuss the artists of the Masters Exhibit, in early December. This week, we're featuring painter Dorothea Tanning.
Dorothea Tanning was born in 1910. She lived to be 101, and painted for a solid 8 decades. Tanning was one of the only American-born Surrealists. In fact, she was Midwestern, born and raised in small-town Illinois and educated in Chicago. Tanning was already making a living through a combination of freelance commercial painting, fashion illustration, and fine artwork when she first encountered Surrealist works in 1936, at the MoMA. In 1943, curator and arts patron Peggy Guggenheim included Tanning in the groundbreaking exhibit entitled "31 Women." This was alongside other greats of the era such as Frida Kahlo, Leonor Fini, Leonora Carrington, and Meret Oppenheim. Tanning met the Surrealist painter Max Ernst around this time, and married him in 1946. Tanning and Ernst lived and worked together in Arizona and then in France until his death in 1976, after which she moved back to New York.
Tanning had a very smooth, almost straightforward way of depicting surreal scenes. Her paintings are often like dreams that are so realistic that you almost cannot tell they're dreams but for an oddness of perspective or slight stylization. Even her highly abstract, later works seem like photographs of colorful, nebulous forms.
Including Dorothea Tanning in an exhibit of all women masters of the 20th century, while appropriate, is also complicated. Though Tanning herself disliked discussion of her gender, and was resistant to the very term, "woman artist," we think it matters that she created numerous masterpieces right alongside some of the biggest names in art history and yet was not granted the same recognition as these men. There is still work to be done, when Max Ernst is a household name but Dorothea Tanning is not. The art critic Soo Kang has said, " Tanning never intended to make a feminist statement through these images. Yet, as she genuinely focuses on on her own dream images and discloses the unconscious mind, she inevitably expresses the voice of a woman. To do otherwise would be a fallacy in representing her inner world." She used a Surrealist method, but dreamlike, female forms are different when coming from a woman painter, because instead of mere objects of gaze, her female subjects were protagonists, representing the fertile mind of the painter, rather than mindless muses.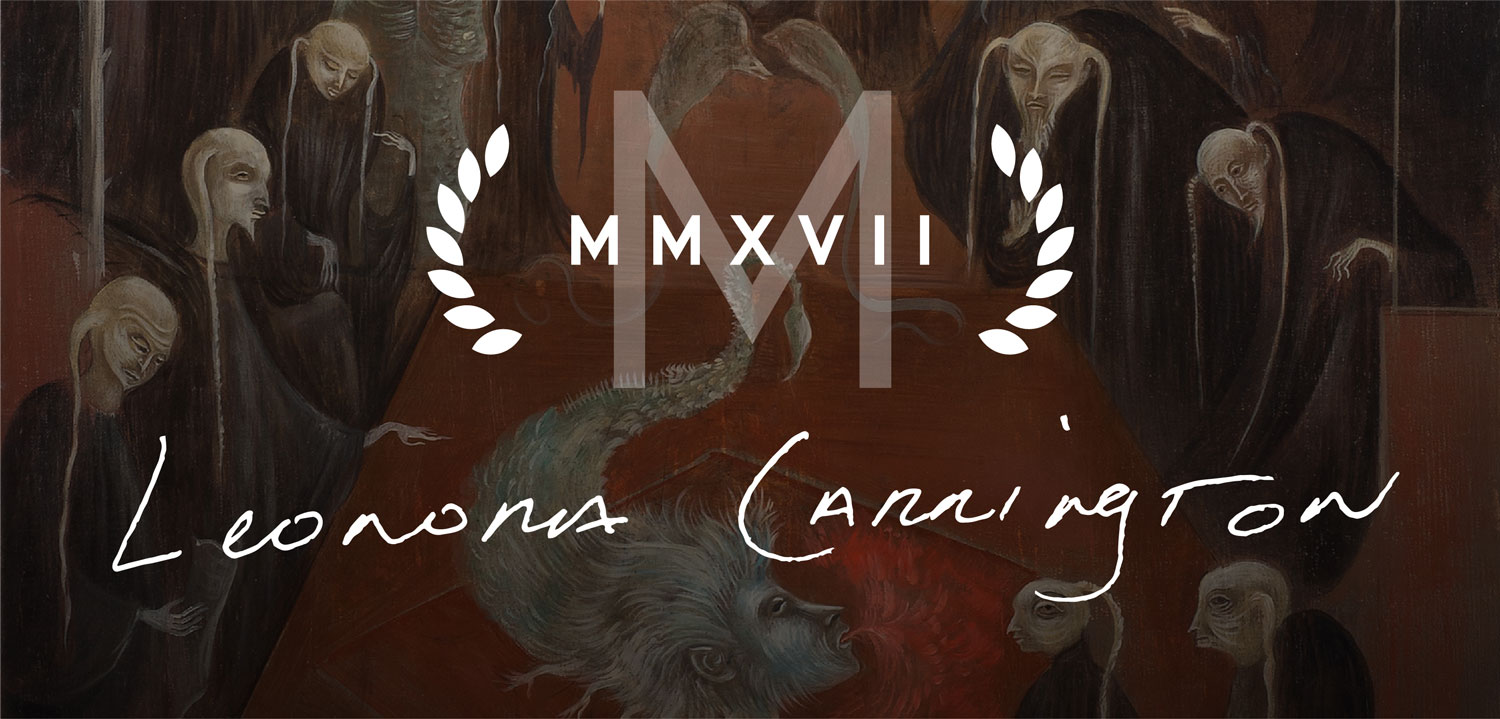 Each December, Sager Braudis Gallery brings significant 20th-century masterpieces to Columbia, Missouri for the Masters Exhibit. This year's exhibit features women of Surrealism and Abstraction, who may just be the most important names in modern art history that you've never heard. In keeping with a current trend among museums and galleries worldwide, we're shedding light on the work of these master painters for whom credit is long overdue. In the coming weeks, we'll feature each of the 6 masters of the exhibit here on our blog, as well as in a 3-minute radio spot on our NPR affiliate, KBIA. Watch for the launch of our podcast, Portrait of the Artist, which will also feature the artists of the Masters Exhibit, in early December. This week, we're talking about painter Leonora Carrington.
Leonora Carrington lived from 1917 to 2011 and painted prolifically from her art school days in the mid-1930s up until her death. She was affiliated with the early Surrealist circle in France, and fled Europe, like many artists, at the start of WWII. Unlike most of her peers who immigrated to New York around 1941, she went to Mexico, where she would spend the majority of the remainder of her career.
She has been called "the Reluctant Surrealist." She was part of the movement at its peak, and her work clearly visually converses with other Surrealist masterpieces, but her approach to fantastic subject matter was different than that of her peers. While Breton, Ernst, and Dalí revered Freud and sought to manifest the subconscious, Carrington consciously infused her work with symbolic mythology. Her Surrealism was not stream-of-consciousness or dream-state; it was magical realism. Carrington's painting is characterized by female protagonist subjects, animal-human chimeras, and allusion to magic and ritual. Her palette is dark and saturated, lending depth to elaborate, active scenes.

Women of the era who wanted to be professional, studio artists had to push against prescriptions for what kind of people they could be, and for what kind of artists they could be. Male Surrealists may have allowed women like Carrington into their circle, but not without framing them as muses, and expecting a level of subordination. Not only did Carrington create numerous, deeply symbolic masterpieces over a decades-long career – but she did so while under constant pressure to conform to the social constraints of her gender, and to male-defined, Freudian parameters of Surrealism.
You can see original works by Leonora Carrington at the 4th annual Masters Exhibit, on view December 1st – 30th, 2017.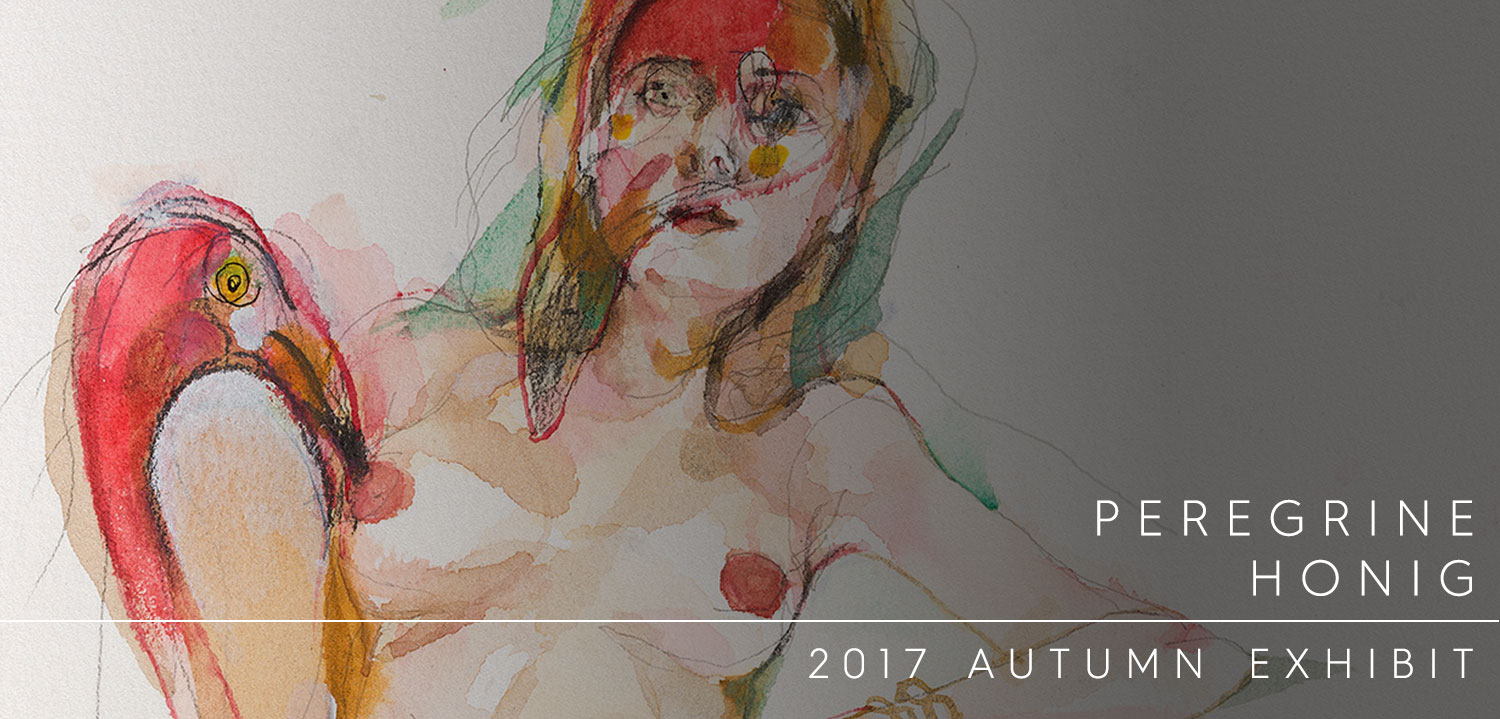 Written by Kat Cua, MU Sager Braudis Intern, Fall Semester 2017
Peregrine Honing as always been ahead of her time.
Born in San Francisco and raised in its Castro District, Peregrin Honig moved to Kansas City, Missouri, by herself at 17 to attend the Kansas City Art Institute. At 22, she became the youngest living artist to have work acquired by the Whitney Museum of American Art's permanent collection. Other public collections that collect her work include Ball State University Museum of Art, Yale University Art Gallery, the Fogg Art Museum, Milwaukee Art Museum, and the Art Institute of Chicago.
After moving to Kansas City for school, Honig expected to get in and get out. She told Alive Magazine that at the time, she had never been to the Midwest, so she expected Missouri to look like what she saw in the Wizard of Oz and Meet Me in Saint Louis. She thought there, she'd complete her "rural residency" and then move to a coast.
"I was incorrect," she says. "I fell in love with Kansas City."
Honig now lives in and works out of the old Greenwood Baptist Church in KC's Westside neighborhood. She restored the building from its decay and transformed it into both a private residence and public project space. Honig is an incredibly prolific artist. Artwork is scattered all over this space leaving no part untouched. Drawings sit stacked on the floor while other works cover the walls.
Working primarily in drawing and painting, Honig's body of work spans 17 projects. In them, Honig explores themes of beauty, sexual vulnerability, and exploitation, and her work shown in the Sager Braudis Gallery Autumn exhibit is no exception. Her intaglio suite depicts acquiescent mother-proxies unnaturally fostering infant animals, which create disquieting, exploitative images presented under the guise of innocence. Her mixed-media figural work depicts a sort of hybrid being—a cross between human and animal. These recumbent nudes clearly call upon classical aesthetic and Greek mythology's use of sexuality and maternity across species. Ultimately, these works force Honig's viewers to consider a possible link between nurture and surrender.
Honig has also been prolific in her work outside of the studio. In 1997, she created an artist-run space called Fahrenheit Gallery in KC's West Bottoms where nationally and internationally known artists are shown. In 2010, she appeared on the reality TV show "Bravo's Work of Art: The Next Great Artist" where she was a finalist. As a way to support herself financially, she runs Birdies, a lingerie and swimwear shop in the city's Crossroads District with her friend and business partner Alexis Burrgrabe.
"I co-own the business because I don't want to have to think about money when I'm in my studio," Honig told Alive. "I'm not interested in being a starving artist. That's a debilitating way to think about yourself, and I think it's unfair. It's condescending and patronizing, and I think it allows for academics to look down on people who are producing the optical seeds that might save the world on a scientific level."
Honig's work has been on view since October, in her first exhibit with Sager Braudis Gallery, and will remain available through the gallery for a short while after the show comes down, at the end of the day Saturday. Those interested in seeing more should visit Honig's Artist page on the gallery site, or contact the Gallery Director at hannah@sagerbraudisgallery.com.
MU intern Kat Cua curated the hall exhibit titled As I Am, the culminating project of her time at Sager Braudis. The exhibit features work by artists Laura Baran, Jarvis Boyland, Helen Hawley, and Simon Tatum, each of whom created portraits that document real-life individuals, most of whom the artist knows personally. Kat sought to use this exhibit as a way to combat the toxicity of the all-too-prevalent cultural norm of exceptionalism, reacting to the way it affects marginalized communities in particular. Exceptionalism deems people worthy and grants them visibility only when they are the most exceptional at whatever service they are able to provide, stripping individuals of the luxury to make mistakes and the comfort to be unremarkable. Exceptionalism only accounts for those who are the absolute best, failing to recognize that every human is worthy and valuable simply because they exist. Kat chose each of these portraits for its documentation of real people and its elevation of the everyday and celebration of the ordinary as opposed to the spectacular.
Helen Hawley, born in Missouri, now lives and works in Madison, Wisconsin, where she teaches drawing at Beloit College. She graduated from the Rhode Island School of Design and the University of Wisconsin-Madison where she received a graduate fellowship. Hawley's multidisciplinary projects include sculpture, painting, artists' books, prints, performance, and video. In this exhibit, Hawley is showing a monotype and oil paintings on paper that date back to 2009 and 2010 respectively. These quiet images depict candid portraits in domestic interiors, their soft and indistinct edges suggesting that little separates the interior body from the space it inhabits.
Laura Baran, born in New Jersey, now lives and works in the Hell's Kitchen area of New York City. She graduated from the Fashion Institute of Technology in New York with a BFA in illustration. Baran is a figurative painter of portraiture and landscapes, drawing on her emotional responses to her surroundings to create her work. In addition to her painting, Baran also creates illustration work for national clients. In Baran's paintings for this exhibit, she celebrates the functionality and beauty of everyday people, revealing a narrative of inspiration in the ordinary.
Jarvis Boyland is a painter who lives and works in Chicago, Illinois. He was born and raised in Memphis, Tennessee, where he also attended the University of Memphis and earned his BFA in painting. In his studio practice, Jarvis navigates the intersectional tropes of blackness in his paintings, drawing on his experience as a southern black gay male as well as his rejection of his conservative upbringing. Girl with the Hoop Earrings works to situate, centralize, and celebrate the black femme within the long history of portraiture, one that is largely white.
Simon Tatum is a multidisciplinary artist from the Cayman Islands who's concerned with the local-global negotiation of visual culture and historical dialogue and questioning how local populations absorb global influences through visual media and inherited objects. In his work, Tatum challenges the appeal for marketable subjects and interrogates, analyzes and traces the global lineage of visual devices that are significant to the Cayman Islands such as religious symbols, post-mortem mementoes, documentary photographs, and tourist advertisements. Tatum's work Miss contains two portrait drawings on paper. These drawings were made by rendering an original screen print transfer that was taken from an image in the Cayman National Archives called "Unidentifiable Caymanian Woman."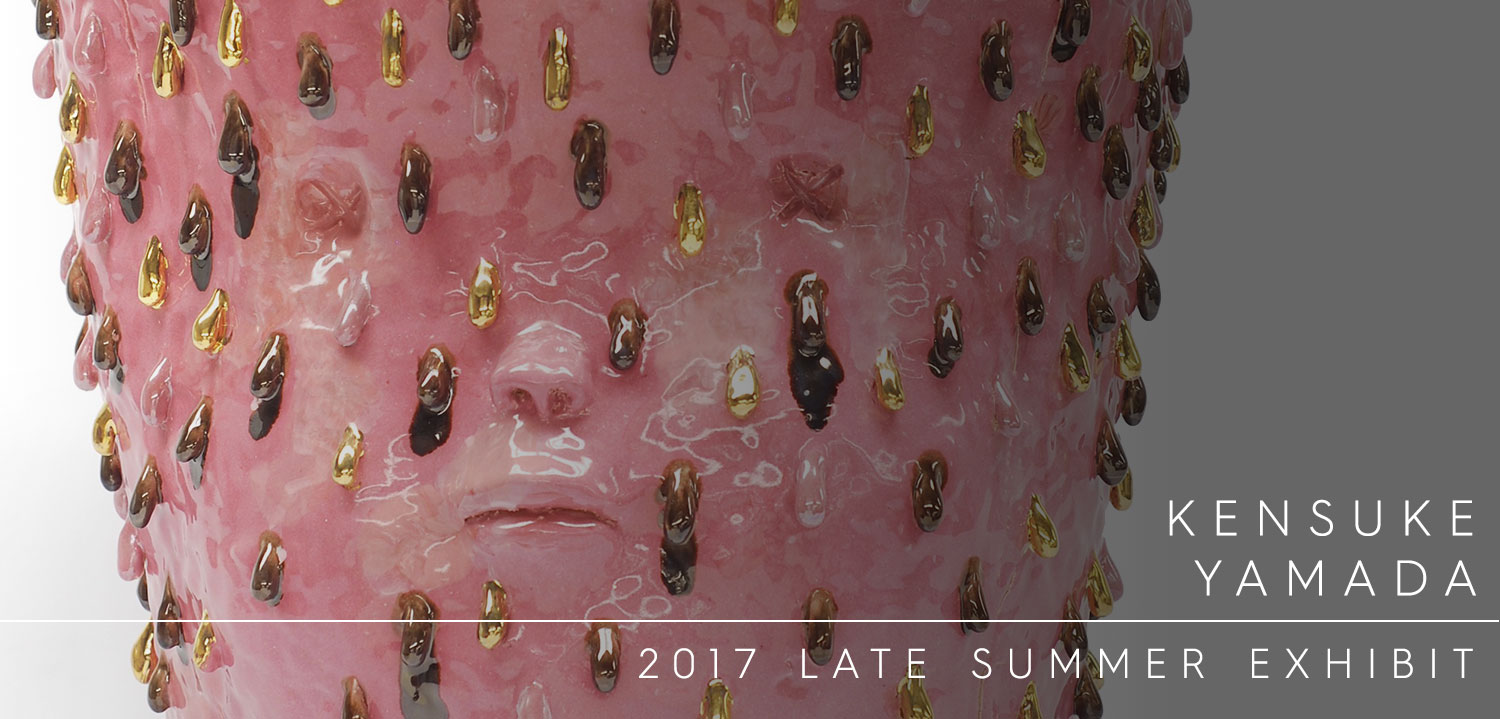 REEVES: Could you help those of us without a ceramics background to understand your processes, such as how your construction, glazing, and firing work?
YAMADA: I make sculptural ceramic pieces using a coil-building method. I fire my pieces multiple times using slip, glaze, stain, and oxide to create depth on the surface of the sculpture.
The way I see clay sculpture is, I am building a three-dimensional canvas that I will paint. Each layer of coils and touch is very important to me, to have a strong canvas to paint.
REEVES: Much of your work implies a narrative; it seems like many of your figures are characters, captured mid-story. Is there a narrative, in your mind, that surrounds the Heads in this series?
YAMADA: I always seek for the universal language to engage with people. People play sports, sing songs, dance, read and write to express themselves. I happened to meet art and ceramics, and those became my language to express myself.
Using ceramics and child-like figures as my platform, I express common feelings and emotional stages in everyday life.
REEVES: Your rendering of figures and heads with exaggerated proportions but dainty features makes me think of dolls, and there seem to be some other references to childhood iconography in this work as well. Could you talk about that a bit?
YAMADA: When I came to the states, my English was limited and I had to find different ways to communicate with people. Art was one of the ways I used to communicate with people.
I look for common things that I and you can share. Use of child-like figures and heads are the main objects I use to set common ground with everybody to share feelings and thoughts.
REEVES: Your methods are time-intensive, and yet you are very productive, often showing new work multiple times a year. What are your studio practices or habits that affect such productivity?
YAMADA: Working with clay or making art, I re-think who I am through the process. It is like the way we can identify our own handwriting. I practice the process of making art to learn about the way I process and organize materials; to see who I am.
Material "clay" is a living thing. It will die once when it dries, and I revive it using fire. I am working with clay, not using clay. I go to my studio pretty much everyday.
The more I spend time in my studio, I learn more about who I am through the way I work.
REEVES: I always like to ask: What is your studio quirk?
YAMADA: I have multiple pieces going on in my studio.
I always have pieces be ready for an upcoming deadline. At the same time, I always have an experimental piece I am pushing, to make a change from the current work, on the side.
The studio is very private space to me. For example, people can invite others to their living room to hang out, but we do not invite everybody to hang out in our bedroom. I like my studio to be very private.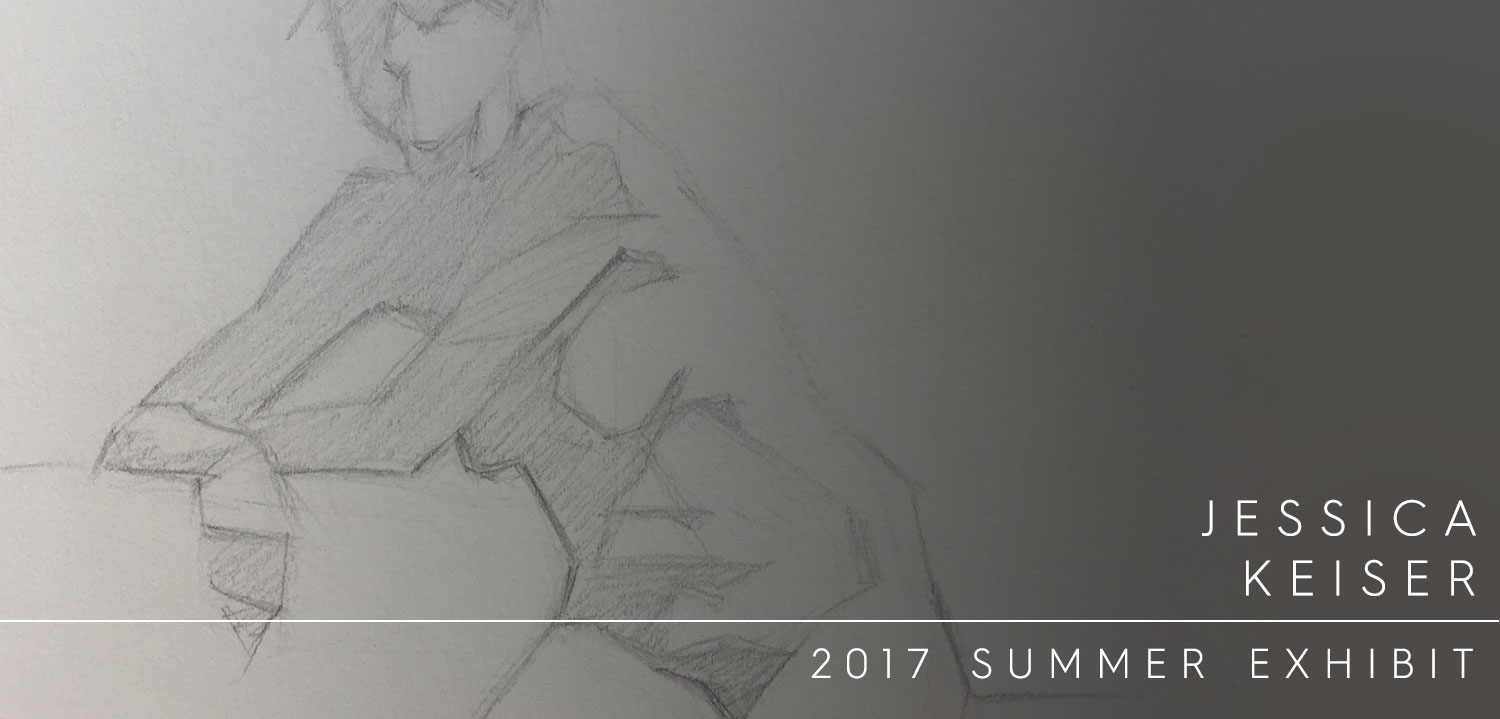 An educated painter and recent PhD in Philosophy, Jessica Keiser is a returning exhibitor at Sager Braudis Gallery this summer. Whether in dry media on paper or oil on canvas, Keiser draws on traditional technique and an intuitive understanding of anatomy to convey the human form with stunning accuracy. Keiser discusses her life and work in this interview with Gallery Director Hannah Reeves. Her work will be on view in the Summer Exhibit through July 29th.
REEVES: First of all, you're finishing your PhD, and the admirers of your work who learn this almost always ask, "How does she have time to make art?" So, I know that's a common question, but what does your studio schedule look like? How do drawing and painting fit into your life right now?
KEISER: The honest answer is that the lack of time and space is a huge problem, and I only manage to fit drawing and painting into my life with a lot of violent pushing and shoving. My studio schedule has been very erratic for the past few years; I work in panicky fits and starts, doing as much as I can before I feel that I need to focus exclusively on my writing again in order to briefly gain control of my life. And then I start it up again until I get stressed out, then take another breather, etc. I can't simultaneously give them both the attention needed to produce my best work, and that causes me a lot of guilt and anxiety.
Also, my "studio" is currently the living space/bedroom of a small studio apartment which I share with my partner. When I am working on a project, it degenerates into an unmanageable state, with a layer of charcoal dust on the furniture, gummy erasers squashed into the carpet, easels, drawing boards and other large obstacles blocking the doorway, etc. It's one reason why I have been doing more drawings than paintings lately.
REEVES: For you, what is it about the human figure that keeps you returning to it as subject matter?
KEISER: That's a good question, and I'm not sure I have an answer that won't sound trite. I guess there is a subtle pathos in an image of a solitary figure that I find irresistible. I think there's also an indirectness in the process which fascinates me: I feel like I am trying to capture something I see on the surface—both physically and emotionally—which is caused by something underneath that I don't understand or have access to. For instance, I'll want to capture a look on someone's face that has a certain emotional tenor, but I don't know precisely what it is or what caused it or when it will change. Or I'll want to capture the interaction of warm and cool colors on the surface of the skin, which is an effect of the blood in their veins, the quality of the afternoon light, and other things that I don't see directly. Or the landscape of the skin which is produced by the underlying structure of sharp bones, soft tissue, and whatever else goes on under there. (I was a bad anatomy student.)
REEVES: Is your artwork related to your writing? Does one medium influence the other?
KEISER: My artwork is related to my writing in that it keeps me from doing it, hehe. I work in philosophy of language, and I wouldn't say that it has changed the way I paint and draw, but it has helped me to understand what I am doing a little bit better. I think and write a lot about communication broadly speaking, and that has helped me tease apart differences between the mechanics and goals I use in ordinary linguistic communication vs. the audience-directed intentions I have when making a painting.
My artwork hasn't seriously impacted my writing yet, but I think that will change after my dissertation is over and I have more freedom to pursue other projects. I have a good friend who studies the way biases and beliefs influence perceptual experience, and we are toying around with writing a paper together about how this relates to the experience of making and viewing artwork. So I can see doing more work at the interface of philosophy of art/language or philosophy of art/mind, and my experience as an artist would definitely be relevant there.
REEVES: Do you have an art-world hero?
KEISER: It's funny, I think I have more literature-world heroes than art-world heroes. Maybe it's because I approach art differently as a practitioner than I otherwise would. I cast a broader net; what I learn from, what moves me, comes from such a scattered range of sources, without one being particularly encompassing.
But I guess I have a lot of heroes here and there. They tend to be people whose work exhibits skill that is borne from struggle. Work that seems to be driven more by an unrelenting internal drive than an external one. By that I definitely don't mean that they aren't deeply influenced by others, but that ultimately their work is a manifestation of chasing their own demons, rather than a struggle to earn social capital. Two heroes that come to mind are my former schoolmates Jordan Sokol and Roald Sivertsen.
REEVES: I always like to ask: What is your studio quirk?
KEISER: I'm not sure if this qualifies as a quirk, but I visually take in information far away from my easel, and so the process of drawing tends to involve a lot of walking backward and bumping into or tripping over things. I also look at my subject through a hand-held mirror (in order to change the way I perceive it by making it less familiar), and this probably seems a little bizarre to the outside observer.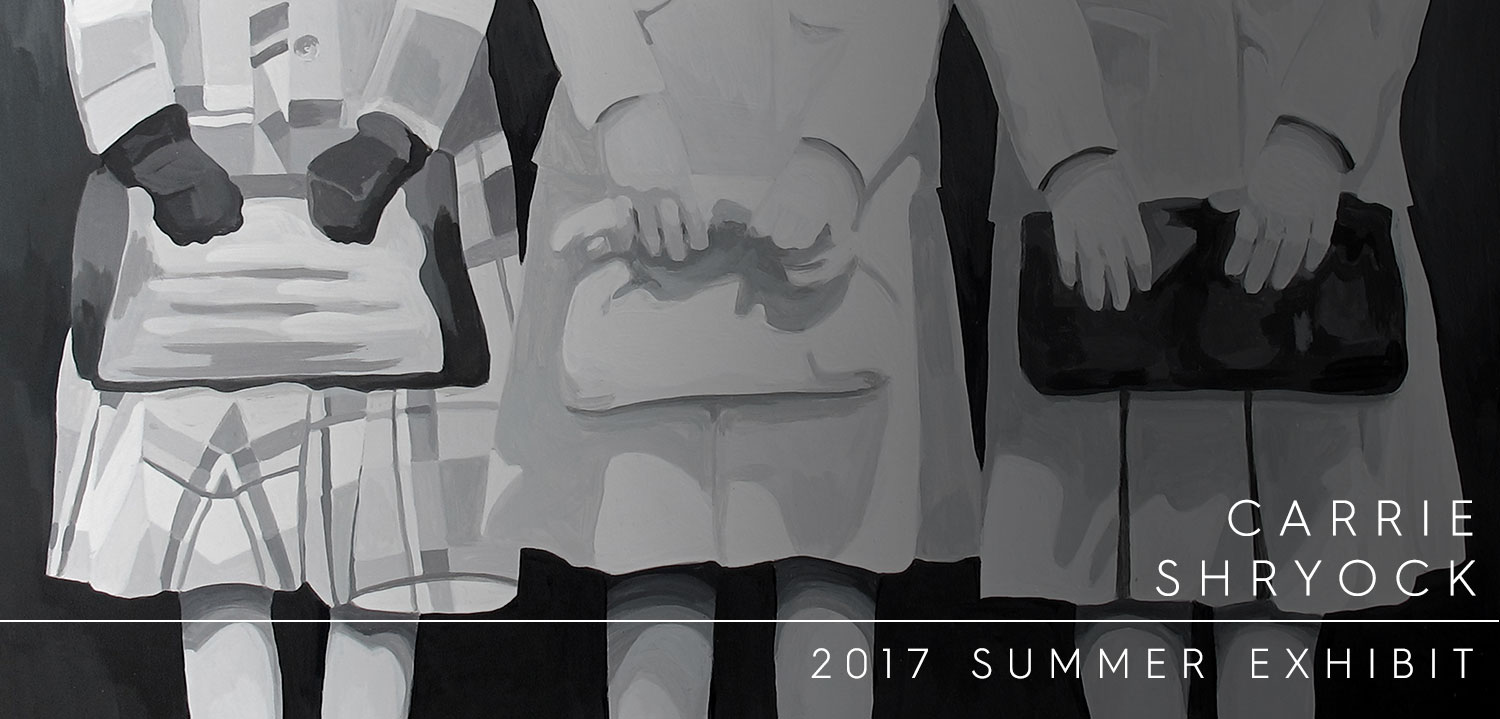 Carrie Shryock was born and raised in Missouri, and her history here – both personal memories and inherited connection to the land – is documented and celebrated in her painting. There's a vulnerability to the open-sketchbook presentation of her landscapes, just as there is in the public presentation of a candid family photo, that endears viewers who share Shryock's inclination toward preservation and rootedness. Gallery Director Hannah Reeves asks the artist about her background and process in this Featured Artist interview. Shryock's work will be on display in the Summer Exhibit through July 29th.
REEVES: Our visitors have been fascinated with your mounted, open sketchbook series, Nephology. How did you arrive at the idea to present your landscape painting in this way?
SHRYOCK: These paintings in sketchbooks started a couple of years ago. At the time I was in a job where I was doing a lot of design work. I was spending all of my time creating illustrations against deadlines, and working on product driven artwork – stuff that would be sent to the printer the following week. I enjoyed what I was doing, but I also recognized that the cyclical nature of that process was taking a toll on my creativity. I decided I needed a personal project, something that I could work on without feeling pressure from so many forces outside of myself. I began painting these landscapes, based on the views outside my backdoor, the big Missouri sky, and other scenes around the area where I live, and before long I had filled up a couple of books. It was something that I could fit in around all of my other weekly demands, and it was different enough from what I was doing during the rest of the week that it really helped to feed my mind and sustain my creativity. It's really interesting to look back through those books. I can remember what I was thinking about, and what I was looking at as I painted each one. They are a diary of sorts, documenting changes in myself, and changes in the landscape, and I guess that's exactly what a sketchbook should be.
REEVES: I understand that the images for your black-and-white paintings are from a family album. Could you tell us about choosing these antique photographs to paint?
SHRYOCK: Those paintings are all based on photographs in one of my grandma's photo albums from the 1940s. She was born and raised in the Hatton, Missouri area, which is also where I was raised, and where my family still lives and farms. During WWII, when every single young man in the community was away fighting in the war, she and her friends took it upon themselves to be the glue that helped to hold the community together. They kept in contact with all of the boys that were away, and on a weekly basis they sent a newsletter from home to each of the boys, wherever they were, with news of what was happening back in Hatton. The boys would write back with stories and news of where they were and what they were doing, and everyone looked forward to getting those letters. It's an amazing story, with so many details that are almost unbelievable. Even though I know it was a really hard time to live through, I have always loved hearing my grandma talk about it, and the photos from that time seem so enchanting. It's a family story that I love, but every family has similar stories that they hold onto, and think about fondly. So, my hope is that these paintings are relatable to everyone.
REEVES: What are the roles of nostalgia and rootedness in your work?
SHRYOCK: When I was putting together these pieces for the Summer Exhibit I don't think initially I saw any connection between the landscape paintings and the old photo based paintings. In my mind they were two separate series. But I've realized that they are more connected than I thought – they both have very strong themes of rootedness and nostalgia. I was born and raised here, in central Missouri, on a farm that has been in my family for six generations now. The roots are really deep. When you're part of a family that has been farming the land for generations and generations the landscape itself becomes just as much a part of the family history as the stories and images that are passed down.
REEVES: Could you talk about your process a bit?
SHRYOCK: The landscape paintings are gouache, which is the same thing I use for a lot of my illustration and design work. It's easy to take with me when I'm traveling and really love the versatility, but I've found that it's hard to work with on a large scale. I've often thought that maybe I should take these landscapes and paint them bigger, but so far when I have experimented with other media and sizes it just doesn't feel right to me. There's something about these big skies and landscapes, on a small scale, in a little sketchbook that has that charm that I'm looking for.
The black and white paintings have been a bit of an experiment in materials. I found that I love house paint. The consistency of the paint, it's fluidity, and drying time has seemed to work really well in achieving the look that I'm going for. I also love the idea of pairing common house paint with images from family photo albums. It seems just right.
REEVES: I always like to ask: What is your studio quirk?
SHRYOCK: I like to listen to podcasts while I'm working. Some of my favorites are Radiolab, Twice Removed, Design Matters, and A Piece of Work with Abbi Jacobson. There's a new one I've been listening to called LeVar Burton Reads, which is basically Reading Rainbow for adults, so that's pretty great. My all time favorite is Mystery Show from Gimlet Media. There's only one season so far, but I'm keeping my fingers crossed that there will be more. I won't try and describe it to you, just go listen. Episode #5 is one of the best things I have ever heard.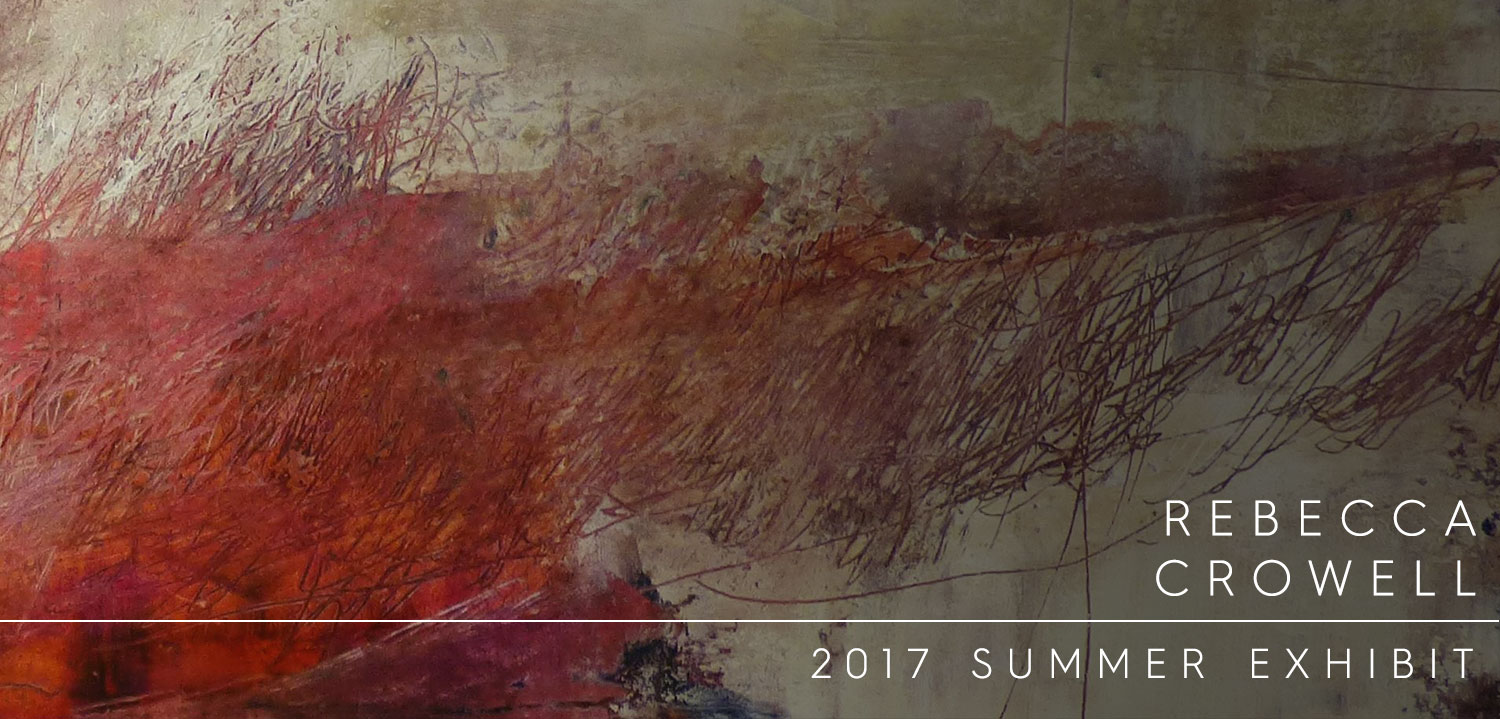 Rebecca Crowell is known for her innovative use of cold wax, in which she layers, scratches, and dissolves the pigmented medium to create textural variety and a sense of depth. While not straightforwardly representational, her works read as cropped portions of mineral surfaces, with fault lines, veins, and calcification, calling up a sense of geological time for her viewers. Crowell is a returning exhibitor with Sager Braudis Gallery, and was kind enough to answer a few questions posed by Gallery Director, Hannah Reeves, about her current work, which will be on view in the Summer Exhibit through July 29th.
REEVES: You've been an authority on the cold wax medium for years, teaching workshops and writing about your techniques. How did you learn about it?
CROWELL: Someone at an art supply store asked me in offhand way if I had ever tried it, and it turned out to be the right thing at the right time for me–I was trying to get richer textures into my oil paintings and the medium lent itself to layering, taking imprints and being scraped back. Gradually I discovered lots of ways to use it, sometimes turning to my printmaking background for tools and techniques. It was all about experimenting and trying things out. It took about nine years before I started teaching and putting information online.
REEVES: Are there caveats or tips that you share with emerging artists who think they might want to explore cold wax?
CROWELL: Yes, I encourage beginners to recognize the need for patience—it takes time to understand what the medium is capable of and how to work with its unique qualities. That goes along with the truth that good painting in any medium takes a lot of practice and experience. The qualities of cold wax—its translucency, quick set up time, and ability to hold texture—are unique and beautiful. But I often say the medium itself is not magic. Many beginners are seduced by the interesting effects that can happen right away, but to really progress you need technical skill, a basic understanding of design principles, and clear intentions. That said, the best approach starting out is to play, experiment, explore, and enjoy the process. Just remember that it takes a while to develop a strong and unique voice.
REEVES: How is your creative process related to the ultimate meaning that you want to convey to your viewers through your work?
CROWELL: I would say the creative process goes beyond technique or particular materials, and is really inseparable from our experiences in the world and how we process them. My work comes out of time spent in wild, rugged and sometimes remote parts of the world, and is an attempt to reflect their intricate beauty and raw power. It is about my emotional response to these places, my memories, and a feeling of connection to nature that I feel when I'm there. I think that the layering, texture, and complexity of my work is the result of these responses.
REEVES: Are there movements or artists in art history that influence you, or that you enjoy especially?
CROWELL: I can point to a wide range of art that has drawn me in over the years—from medieval illuminated manuscripts with their delicate detail, to 19th century romantic landscapes, to abstract expressionism, to austere minimalism. One of the most interesting time periods for me was the rise of pure abstraction in Western art, around 1910-1915. I'm fascinated that many of these artists had spiritual ideas at their center, and that the idea of non-referential abstraction arose in different parts of the world at about the same time.
REEVES: It's always fun to ask: What is your studio quirk?
CROWELL: Well, I am really really messy in the studio. I get teased about it all the time. At the end of the day it usually looks like a tornado came through.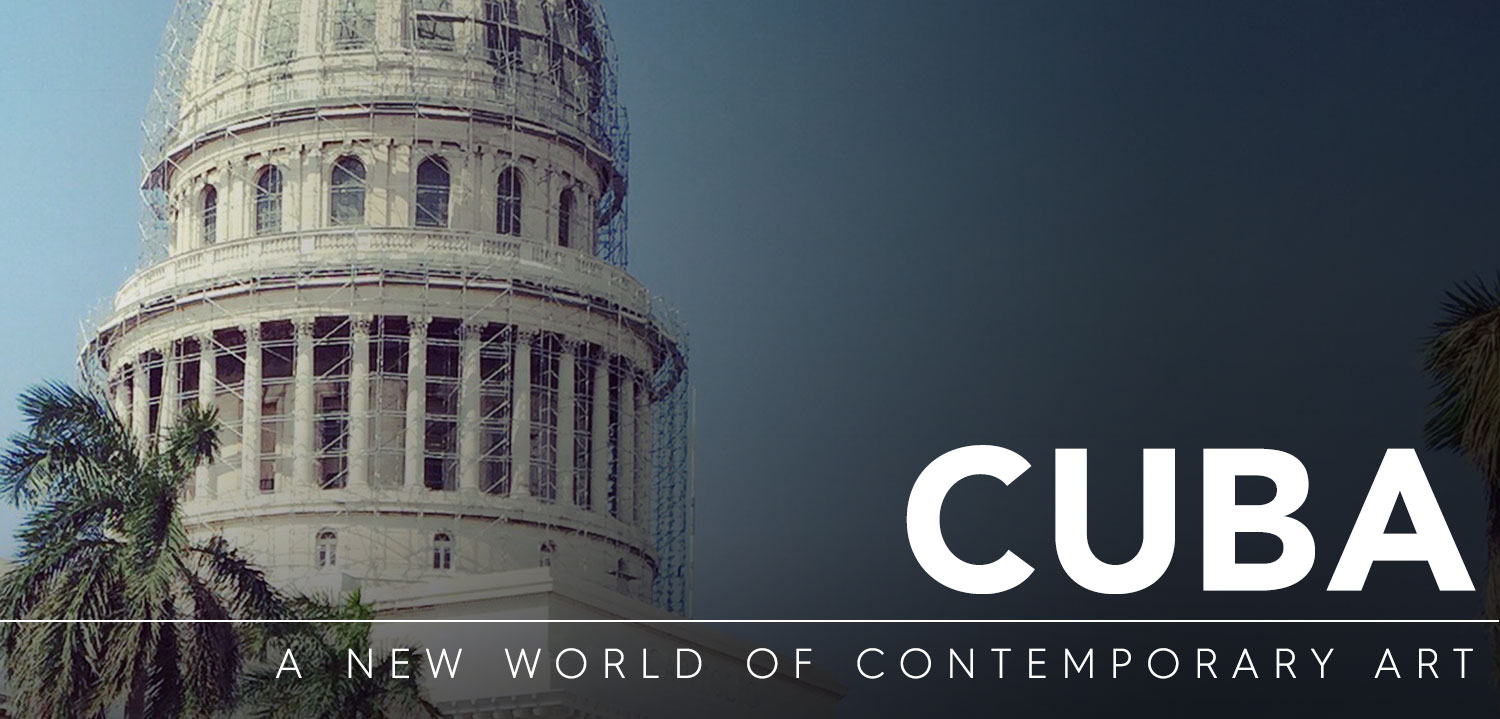 WHY CUBA?
Late February of this year, the Sager Braudis Gallery staff, along with MU Art Department Chair Jo Stealey, had the immense privilege of traveling to Havana, Cuba. We set out to explore the contemporary art of a country which, until very recently, had been developing parallel to – but isolated from – the rest of the western world. Physical proximity to the United States, and the exchange of ideas and people that accompanies that proximity, fed a mutual influence for decades preceding the Cuban Revolution in 1959. During the 55 years that followed, isolationism, as well as embargos by the United States and many other countries, halted both economic and cultural trade. Absent tourism and the need for capitalistic international promotion, cultural influence turned inward, and Cuban artists developed an industrious self-sufficiency that remains hallmark to Cuban work even now. While aged architecture and classic cars might cursorily come to mind and imply that Havana is a sort of time capsule, visual culture there has progressed alongside that of the broader art world, yielding fully contemporary artwork that houses an utterly unique voice.
From 2014-2016 the U.S. embargo on Cuban trade and travel was lifted in stages. Cuba now has, for the first time in decades, a tourist industry, and channels for conducting business between the two countries are beginning to develop. For artists and appreciators in Cuba and the U.S., this moment is pivotal and monumentally interesting. A new conversation is beginning, in which the two voices will change with exposure to one another. This change is in fact already beginning to occur.
In spite of regulations between the two countries in recent decades, there has been cultural exchange, albeit limited, primarily centered around academia. Remarkably, our own University of Missouri – Columbia has pioneered this important and somewhat rare interchange, with the formation of the first-of-its-kind Afro-Cuban Institute, international conferences on Cuban art and writing in 2012 and 2015, and formal invitations to Cuban artists and scholars that yielded some of the only Cuba-to-U.S. visas during the embargo. Because the unique connection between Columbia and Havana was already underway when the embargo was lifted, Columbia boasts connections – friendships, in fact – to Cuban cultural leaders that other U.S. cities have yet to forge.
As a facet of the art community in Columbia, Sager Braudis Gallery has had multiple connecting points to the budding exchange between the informal sister-cities, Columbia and Havana. One extraordinary friendship, in particular, shaped the planning of the gallery trip to Havana, and ultimately the acquisition of artwork there that will make up the Sager Braudis Gallery Cuban Contemporary Art Exhibit.
Santiago Olazábal, a renowned Havana painter with an exhibit history that includes some 12 countries and the likes of the Louvre and the Cuban National Gallery of Fine Art, was formally invited by the University of Missouri – Columbia in 2015 to exhibit as part of an international symposium titled Afro-Cuban Art: A Renaissance. At that time, current Sager Braudis Gallery Director, Hannah Reeves, was directing the Bingham Gallery under MU Art Department Chair Dr. Jo Stealey, both of whom also served on the planning committee of the symposium, hosting an exhibit of mixed-media paintings, drawings, and installation by Olazábal at the University. While the academic visit was allowed, bringing Santiago Olazábal and his son and studio assistant, Santiel, was challenging due to the inability to easily communicate and to directly ship artwork. Having designed them to be folded, rolled, and exhibited unframed, Olazábal transported over a dozen original artworks from Havana in suitcases. Santiago and Santiel stayed during the conference in Columbia with Jo Stealey, and spent the few unscheduled hours of the week in Jo's studio, exploring fibers and discussing art and the ideas shaping both artists' work. A deeply thoughtful artist who exudes jovial calm, Santiago, and likewise Santiel, left Columbia feeling connected to the city, and especially to Jo Stealey. Jo would later visit Havana for academic projects, and Santiel would return to Missouri in 2016 to study photojournalism, during which visits to Sager Braudis Gallery forged a friendship and placed the final building blocks for a trip to Cuba. Santiel was to become our gracious, immensely helpful guide in Havana, and Jo Stealey would travel with us as a friend, fellow artist, and translator.
NO ES FÁCIL
As we did our research in preparation for travel to Cuba, we encountered the phrase, "no es fácil," a number of times. Described by those familiar as an "informal national motto," the words, literally translating to "it's not easy," are frequently applied to situations requiring someone to jump through a lot of hoops, or make a lot of effort where one would hope to succeed with ease. Americans like to plan, and for an international trip involving the acquisition and export of original artwork, we wanted to ensure all details were in place. But, no es fácil, and logistics proved extremely challenging from behind a desk stateside. 132 hand-written forms and numerous imperfectly-understood phone calls later, we had visas, accommodations , and an itinerary for artist studio visits…but not clearance to enter the country. With all the flexibility we could muster, we flew to Miami the morning that our trip was scheduled to begin, on razor thin blind faith that we'd gain permission to enter Cuba by day's end. At the eleventh hour, having spent hours in the Miami terminal considering backup options, we received official clearance to enter Cuba and began the last leg of our flight.
Our Cuban friends had arranged local transportation (yes, it was a gigantic, blue, 1954 Chrysler) and Santiel's partner, Elisa Lopez, who manages an art gallery in Havana, had scheduled and pre-curated studio visits with artists around the city. Our hosts' attitude of complete graciousness through our touch-and-go start to the visit was indicative of the warmth and hospitality that would be shown us over and over for the entirety of the trip. Santiel and Elisa guided us through not only the literal city, but also through the complicated and nuanced culture of their beautiful country.
THE ARTWORK
Cuba's unique, formerly encapsulated art scene is rapidly changing, having been inwardly-turned for decades while themes, styles, techniques, and conventions for use of materials developed separately from those of the United States. Prepared with an extensive, diverse, pre-curated selection of artists and artwork, we set out to understand the visual language of the Cuban cultural voice, and bring that voice back to our community. As we were welcomed into studios across Havana – consisting of warehouses, sunrooms, commercial spaces, collectives, and even a 16th-century Spanish fort – we talked directly with artists about their work and ideas, and, made on-site, often difficult decisions regarding the selections that would be brought home to the Midwest. Adding to the sense of complication and urgency, we would not have time to return to an artist's space for any follow-up, so methodical consideration of work was paramount, not to mention estimation of how the work would fit together, both conceptually and visually, once back in our gallery space at 1025 East Walnut. Lastly, and most comically, the entirety of the day's spoils had to fit into our vintage Chrysler cab. It was close quarters.
Estudio Arte Contemporaneo was our first stop, and housed multiple artists' studios surrounding a central gallery. We were immediately struck by the painting of Andy Llanes Bulto, whose Lunar Series faced the entrance, and whose large-scale, tightly-cropped portraiture we would soon discover further within the studio. Llanes Bulto has a way with the texture of skin, utilizing short, visible brushstrokes in an impressionist-realist hybrid method that yields paintings nearly photo-realistic yet deeply textural and full of marks from the artist's hand.
Estudio Arte Contemporaneo's impeccable director, Aisel, shared, discussed, and explained pieces both in-process on easels and formally displayed in the gallery. With the acquisition of a body of work by Llanes Bulto, as well as the spectacularly precise charcoal and oil paintings of Daniel Rodriguez Collazo, a single, large, oil painting of a dancer in motion by Marwin Sanchez, and two beautifully representative relief paintings by the renowned Manuel Mendive, the exhibit back in the states began to take shape.
Our hostess, Elisa, had arranged introductions to both established and emerging artists all over the city, and we made back-to-back visits to individuals after our fruitful first stop at Estudio Arte Contemporaneo. Some, we left empty-handed, when favorite pieces turned out to be unavailable, or the work too closely resembled something we'd already acquired. With three of the artists we visited, we began conversations about the possibility of bringing the artwork, the artist, or both to Columbia for the 2018 exhibit. When we found work that was impactful, communicative, and perfectly crafted, we decided through democratic process to include the work in the exhibit.
Late in our third day in Havana, with most of our studio visits complete, we made plans to go to the home of Santiago Olazábal, with whom Jo Stealey was staying during our time there. As he, along Santiel and Elisa, had hosted and guided our visit, we saw this stop as a time to finally slow down and express our thanks for the enormous help of our hosts. Though Santiago's studio is in his home, we didn't exactly expect a formal studio visit (nor did he, probably). We didn't even know if the artist, with exhibits booked all over the world, would have any work available…but there was a little hope among us that we'd be able to end up with something from this person whom we so admired.
He welcomed us into his studio very first thing. He'd been completing a series of large, new canvases for a solo exhibit in Havana in late spring 2017. Most were wrapped in paper, which he gingerly removed when we expressed interest in seeing the newest work. It's difficult to describe our collective sense of immediate connection to these pieces. There's a phenomenon we sometimes witness in the gallery when a viewer experiences a wordless, deep response on encountering an impactful piece of art, when the person actually puts a hand to his or her heart, or even utters a little gasp. Explanation can strengthen this immediate understanding, but it's not essentially verbal; it's almost visceral. Such was our reaction to Santiago Olazábal's work.
Olazábal is a priest of a hyper-local order of the Afro-Cuban Santería religion, called Ifá. His spiritual beliefs connect him to his ancestors, his land, and everyone with whom he interacts, and inform all aspects of his life, from daily tasks to artmaking. His paintings are inextricable from his religion, and house both 1:1 symbols from within his faith, and more subtle representations of his beliefs, including the bodily positions of his subjects, the inclusion of 3-D objects stitched into the canvases, and the use of a limited, symbolic color palette. Perhaps most remarkable about his work is that while it expresses a very specific, very local cultural viewpoint, it transcends cultural, spiritual, and linguistic differences to wordlessly and powerfully impact even viewers like us, with virtually no knowledge of the religious practice that informed it.
We spent hours discussing Olazábal's work, took a break to share a meal with the artist and his family, and returned to deliberate for another several hours. We learned that the newest series, with collage and stitched-on objects, included materials that he had gathered in Jo Stealey's studio in Columbia, Missouri during his academic visit. He talked about his experience of Midwestern warmth when he came to the U.S., and how it resembles Cuban hospitality. This series is connected to Missouri – connected to us. The discussion was invigorating, and the deliberation concerned how and whether we could bring multiple pieces from this series for the exhibit we're planning. Having truly struggled to narrow down a number of Olazábal's pieces to acquire, we left his studio late that night, knowing that his work would be the heart of the Sager Braudis Cuban Contemporary Art Exhibit, confident our community back home would be equally awed.
THE EXHIBIT
The 53 works of art that Sager Braudis Gallery acquired in Cuba will occupy both the main and hall galleries throughout the month of April 2018. The work comprises painting, drawing, relief sculpture, and various methods of original printmaking, with many of the pieces containing an innovative combination of media and collage. 14 artists will be represented.
By way of ongoing collaboration with Jo Stealey and the University of Missouri, we plan to extend a formal invitation to the artist Santiago Olazábal, his son and assistant Santiel, and Elisa Lopez as co-curator, to visit Columbia during the exhibit. Our hope is to present translated remarks from all 3, as well as our own curators' statement, at an exhibit-preview event the first week of April, and open to the public on First Friday, April 6th, 2018, with our Cuban guests in attendance.
As we continue our research and curatorial writing on our Cuban contemporary collection and prepare the artwork (restretching the canvases that had to be rolled to transport, and framing works on paper that we carried all over Havana in a flat-portfolio), it is already becoming difficult to wait for our April 2018 events. We're incredibly excited to unveil to the Columbia, Missouri art community the impressive work of the Havana artists we had the privilege to meet. We are proud that this exhibit will be one of the first of its kind in the country, as relations expand and develop between the U.S. and Cuba. We look forward to sharing this momentous occasion with all of you.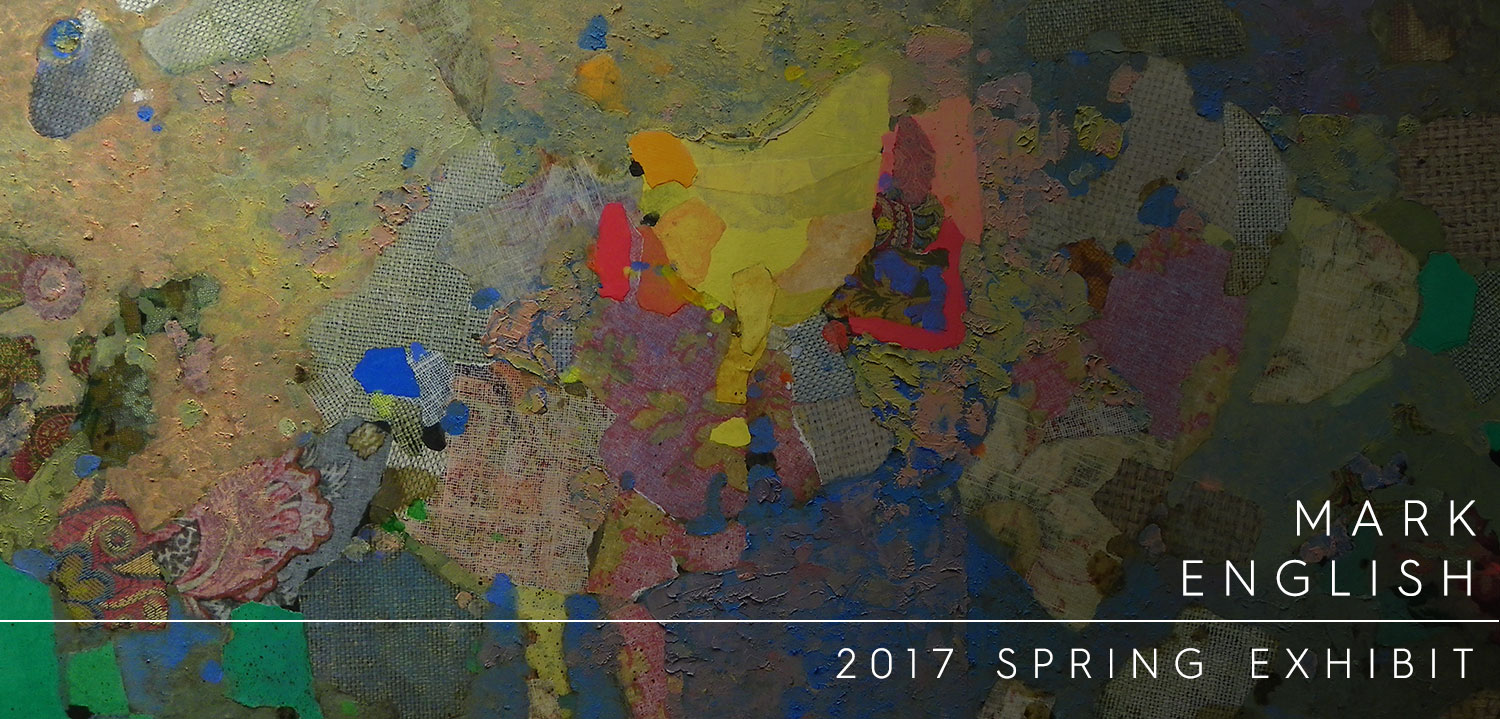 Mark English is one of the most prolific and acclaimed illustrators in the U.S, in fact bearing the distinction of being the most awarded illustrator in the history of the Society of Illustrators. After instructing for the Illustrators Workshop beginning in the 70s, English co-founded the Illustration Academy in 1995 with a similar, mentor-led, studio workshop format. Of the highly-engaged instructive model at the Academy, English has said, "The instructors at the academy approach teaching as mentors. There's no better way to do it." As a mentor, English's influence has deeply impacted a generation of artists, including every other painter in the Spring Exhibit. As a studio artist, he has developed – over a period of nearly 6 decades – a unique, recognizable amalgam of textural pattern, saturated hue, and figures abstracted down to their essence.
English's artistic career began when he took up sign painting in his small, Texas hometown, having witnessed a professional complete work on the window of his family's shop as a teenager. Traditional sign painting included illustrations (mostly of rodeo iconography, in his experience) and hand-lettering, and required precision and efficiency. He continued this work on the side when he began study at the University of Texas at 17. After dropping out of the architecture program, he found work as a billboard painter, and later painted signs in the army. He moved with his young family to California in 1957 and began formal study at the Art Center, first in lettering, then advertising design, and finally illustration. He was scouted by a prestigious ad agency right out of the Art Center, and took the advertising design job in Detroit. During those years in Michigan, his family grew, and he also began his studio practice as a painter. His magazine work began in earnest when he moved east with his family in 1964, to Redding, Connecticut.
In the years that followed, English illustrated publications including The Saturday Evening Post, Good Housekeeping, Woman's Day, Redbook, and Sports Illustrated, among many others. Society of Illustrators awards quickly followed, and English continued to garner acclaim through the 60s and 70s. As an illustrator, he expanded from magazine work to designing advertising for some of the largest companies in the country, as well as creating postage stamp designs for the U.S. Postal Service. Having built a recognizable style and a name for himself, in 1977 he took an artist-in-residence position with Hallmark, and moved to Kansas City, Missouri.
English had begun organizing and offering instruction to illustration students while in Connecticut. When his alma mater asked that he return to California to teach, he instead told them to send the students to him, and he'd assemble a world-class illustration faculty right where he was. This Illustrators Workshop would become the model for the later-formed Illustration Academy. After Hallmark, English taught drawing at the Kansas City Art Institute, and moved to full-time studio painting (with no client and no deadline) in 1987. In 1995, with 8 years of solid studio practice and a new, painterly style under his belt, he founded the Illustration Academy with his son, John.
The Illustration Academy offers intensive workshop sessions with top-of-the-field illustrators, and after 22 years of existence, has also yielded some of the best and most acclaimed illustrators in the country. It is clear that the work ethic Mark English exhibited throughout his career is instilled in his students, many of whom go on to become Academy instructors and further the legacy. English says, "Artists need to be working all the time. All the great illustrators are hardworking people." When he considers the effect of his time as an instructor and mentor on his own studio practice, English says, "I constantly try to remind myself of what I teach. In one word, the idea is 'simplicity.' New students love to render – they get very wrapped up in details before a piece is even composed. Keep it simple."
Knowing this informal mantra – and actually, English later amends "Keep it simple" to "K.I.S.S. – Keep it simple, stupid" – is quite interesting when viewing English's current work, the progression toward which has been in process for some 30 years. The artist does not fully render every component of his subjects, however detailed the presence of collaged and painterly texture may make them seem. In fact, he often removes information, by covering, obscuring, or simply omitting, until the subject is pared down to just enough essential features to be recognizable. His work with color and texture is more liberal but very precise, and informed by decades of visual composition and design.
English still maintains, at 84, both a mentorship and a studio practice. He manages to convey to his mentees an impressive work ethic and almost methodical studio habit, both through example and instruction. He remains connected to many of his students, and expresses profound – if reserved – pride in their success. Each of the other artists of the Spring Exhibit (Josh George, Edward Kinsella, Jeffrey Alan Love, and Joel Sager) was mentored and instructed by Mark English. It does not seem too big a leap to claim that the stylistic similarities (especially the masterful use of texture) and the shared, intense productivity and work ethic of these 4 of English's former students have his influence at their root. Asked about inspiration, English reflects, "It's the work itself. I've been painting a long time. I'm still excited about it."
__
Sources:
Bossert, Jill. Mark English. New York: Madison Square Press, 2002.

"The Illustration Academy." The Illustration Academy. 2017. Accessed May 19, 2017.
The late spring hall exhibit, Preserve / Subvert, was curated by MU intern Rachel Trout as the culminating project of her time at Sager Braudis. The show can be seen as an all-female complement to the main gallery exhibit, and features work by Marie Gardeski, Gin O'Keefe, Hannah Reeves, and Mia Weiner. Each of the artists was included with consideration of her suggestive use of contour line, color palette, and negative space. While visually cohesive on a formal basis, it is important to consider how each artist utilizes these formal elements to participate in conversation distinct to her research.
Hannah Reeves, Sager Braudis Gallery Director and featured artist, received her MFA from MU in 2008. Reeves explores nostalgia with "two minds" on the matter; she arrives at the work from a nostalgic position, but remains critical of the tendency to preserve throughout her process. She utilizes the history associated with the works' materiality to guide the viewer to a conversation they are familiar with, but creates another dimension to the work with unexpected tension. We can recognize this intentional perspectival shift in her Tess of the d'Urbervilles series, wherein each beautifully rendered decorative painting is interrupted with a central figure that the artist appropriated from a Victorian death portrait.
Mia Weiner received her MFA from MICA in 2013. Weiner uses embroidery to have conversations regarding intimacy, memory, and the body. Like Reeves, Weiner's work investigates memory and nostalgia with a critical counterpoint. While the subject matter in Weiner's work is typically sentimental and figural, the portraits take on an unsettling but evocative presence. Weiner's lace and embroidered works acknowledge the weight of the history these materials are related to. As Weiner distinguishes in her artist statement, the embroidered image establishes a specific degree of intention. Both Reeves and Weiner are distinctly highlighting how the use of – and history of – materials relates to the content of the work.
Tradition, in basketry, has a long affiliation with the gender roles of women. Gin O'Keefe's academic training began in an institution where she learned classical basket making craft, and she then completed her MFA at MU in 2015. Her practice has evolved into one that undermines the process' long-established feminine tradition with her brutalist ceramic sculpture. Her use of clay adjusts the context of her basket-like forms away from the gender politics of traditional basketry, allowing her forms to embody more nuance.
Marie Gardeski completed her MFA at Cranbrook Academy of Art. Through traditional methods of drawing and painting, Gardeski achieves a visual language that transcends her subjects' initial sweetness. She utilizes her skills to create sentimental scenes in order to engage viewer, but eventually, the subject matter deviates from their commencing charm and introduces a space that Gardeski describes as an "unmistakable sadness."
Usually working from ideas regarding memory or tradition, these artists all establish a counterpoint to their subject matter to create a place of tension. The role of the artist in each of these works is to interrupt these sweet scenes to challenge the language historically associated with women's work.
This exhibit will be up in the hall gallery at Sager Braudis throughout May, and will be celebrated on First Friday, May 5, from 6 – 9 PM, with some of the artists attending.
Scott McMahon received his MFA from Massachusetts College of Art in Boston and his BFA from The University of the Arts in Philadelphia, and teaches photography at Columbia College. He was a Artist-in-Residence at iPark Artists' Enclave in East Haddam, Connecticut in 2012 and the 2010-2011 Artist-in-Residence at Border Art Residency in La Union, New Mexico. Recent exhibitions span the globe and include Galeria Pusta in Katowice, Poland, Three Columns Gallery at Harvard University, and The Lightroom Gallery in Philadelphia, among many others. He has been a represented artist at Sager Braudis Gallery since 2014. Over the past few years, Gallery Intern Matthew Hall has had the privilege of learning and working with McMahon, as Hall worked toward a BFA in Photography. As a part of Hall's gallery internship, he was assigned a curatorial project, for which he would choose a satellite exhibition space and an artist or artists, and prepare an exhibit from start to finish. McMahon's work and mentorship had heavily influenced Hall, and had shown him the potential of the photographic image. As a result, Hall chose to work with McMahon to choose a recent body of work and prepare its display at Uprise Bakery.
McMahon works with a combination of historic photo processes as well as, in other bodies of work, video installation and sculpture.
Observing veiled and cloudy projections through a portable camera obscura, McMahon started this series as daily visual exercises. He found a connection to these otherwise disparate subjects through their quiet and ephemeral qualities; they appeared to be concurrently absent and present and yearning to tell some kind of story.
As McMahon began photographing the projections, he gained interest in the photograph's ability to distill many images within a single frame, long exposures, movement, and subtle traces of objects passing before the camera or interrupting the projection. Certain details and elements may point to the periphery for the viewer to pause and connect with a potential narrative, while various shapes, forms and shifts in perspective provide a level of ambiguity. He sees these fleeting forms as one might see the last dissipating images received on the retina, an image that cannot be retrieved, but only partially reconstructed by memory.
The temporary exhibit of this lovely, haunting series by Scott McMahon also represents the culminating project of soon-to-be Columbia College graduate Matt Hall, and both have done beautiful work. We hope you'll make a point of seeing it in person if you can, at Uprise Bakery at 10 Hitt Street in downtown Columbia, through April 29th. All 8 of the framed, 20×20″ photographs in the exhibit are available for purchase; simply note the title of your favorite and contact the gallery at 573-442-4831 or by emailing the Gallery Director at hannah@sagerbraudisgallery.com to purchase.
In the final week of the 2017 Late Winter Exhibit, our blog feature is photographer Sarah Stone. Sarah's work is both beautiful on first look and engaging with longer investigation, and has been incredibly well-received by Sager Braudis visitors. Many of her photographs have already gone home to new collections! Give her remaining pieces a last viewing before April 1st, and learn a little more about her ideas this week as Gallery Director Hannah Reeves asks her to explicate.
REEVES: Your statement explains that the connecting factor of all of the objects depicted in this series is that they are manufactured using inmate labor. How did you find out about this phenomenon? It must have really struck you, to have inspired this whole photographic project.
STONE: Watching Ava DuVernay's documentary, 13TH, was the impetus for the "Except As" series. After being exposed to the many facts on how the prison system specifically affects black and brown bodies, I continued to do research by way of Angela Davis and others. Existing in this specific moment in history, is to exist in a time where conversations about race, identity and class are increasing a climate of polarity. I wanted to use my platform as an artist to challenge racial and social inequalities by specifically calling into question the operation of the systemic American prison structure.
REEVES: Could you talk a bit about how you set up your shots, and tell us about your process?
STONE: Initially, I planned on purchasing the specific items produced by inmate labor, but scale became an issue. I wanted the items to have a similar size and repetitiveness, which would be challenging if Iwere to use, for example, a wooden chair and then a head of cabbage. so, to give myself more flexibility, I selected items that represent their respective industries.
I think deciding on the background took me the most time! Visually, I knew I wanted the background space to suggest an institutional interior, hinting at an underlying component of the series, but without being overt. I ended up finding a faux marble shelf liner and affixed it to foamcore.
In terms of technical process, this series was produced digitally with a DSLR, in studio, using two strobes on either side.
REEVES: What response do you hope to elicit from your viewers? Are you mainly hoping to heighten awareness of a current issue, or do you also want to spur action of some kind?
STONE: Both. I hope this series promotes conversation, brings up questions and challenges the viewers to further examine both the prison system and other existing social structures.
REEVES: What is the role of beauty in this work? You have a way of lending elegance to an assortment of everyday objects often overlooked. Are these graceful compositions at odds with the story of the objects' origins?
STONE: Visually, I didn't want the statement or intention of the work to be immediately apparent. I enjoy allowing for the viewer to engage with the work on their own and then engage with it in a different way after reading the artist statement. I think there can be a complexity in simplicity and that has always interested me; trying to find that complexity is what beauty is for me.
This series is a comment on racial injustice. As a white artist, I wanted to be careful about the way in which I was commenting, so as to not speak for voices other than my own. this resulted in the decision to use objects, as I felt most comfortable communicating through them. I don't see the compositions at odds with their inanimate subjects, but rather an attempt at constructing a tension between the two.
REEVES: What's down the pipeline for your work? Will you explore other social issues, or is there still more to be visually discussed on this theme?
STONE: At the moment, I don't see this as a reoccurring series, but you never know. I think that contemporary issues are reflected in artists' work, whether they intend it or not, simply by creating during a particular time. I will continue to incorporate social issues, while still working within past themes of sexuality, gender, identity, and class.
REEVES: I always like to ask: What is your studio quirk?
STONE: Recently? Solange, on repeat.
Share
Simon Tatum is a special exhibitor this winter; he was the 2016 recipient of the first annual Sager Braudis Exhibition Award at the MU Visual Art & Design Showcase. Simon is an absolutely exemplary student in the Department of Art at MU, and exhibits this February and March alongside other professional artists, having been chosen for this opportunity by the gallery's curators last year. Simon gave a wonderful lecture here at the gallery on the history of his native Cayman Islands and the relationship there with the history of photography. In case you missed the presentation, we've covered much of the history feeding his work and the ideas behind it in this week's interview between Gallery Director Hannah Reeves and Simon Tatum.
Reeves: I see reference to photography in some of this work. Because I've had the privilege of reading a previous artist's statement of yours, I have a hint that you're drawing on historical photo journalism for your paintings. For those with no familiarity with your imagery, can you describe its origin?
Tatum: Yes, there is a strong influence of photography in my work. I believe that most people who have seen my work may consider me a draftsmen, painter or printmaker because of the type of imagery I exhibit. However, photography as a media construct has always played an important role in way that I create my imagery. The works on acetate that are currently hanging in the Sager Braudis Gallery are drawings and paintings that reference photographs that I have collected from the Cayman National Archives on my home island, Grand Cayman. These archival photographs that I have been collected are usually coming from American or British scholars that have visited the Cayman Islands between 1910 and 1970. Some of these scholars include British commissioner and historian George SS Hirst, Oxford student C Bernard Lewis and American journalist Aarona Kolman.
Reeves: What do you look for in the subject of each painting? Is there a particular character, scene, or feeling that you want to come through?
Tatum: The subject of each painting in the gallery is directly related to archival photograph that it references. Moreover, choosing the subject of the painting has to do with me analyzing and choosing images from the Cayman Archive's collection. In the last two years, I have gravitate towards images taken by Lewis C Bernard and Aarona Kolman. I believe it is because of how these two scholars chose to photograph the Caymanians they encountered during their time in the Cayman Islands. I realized that these scholars were attracted to the way that Caymanians spent their time either working or engaging in quiet activities such as fishing, thatching and playing string instruments. These two scholars also seemed to be attracted to the fact that Caymanians were conservative and clean in the way they dressed and presented themselves. These aspects of Caymanian identity all seem to evoke a sense of well-mannered behavior that was not usually identified with Caribbean people during the 1920s and 30s when their photographs were taken. In a way, I believe that these scholars took these photographs because they wanted to showcase these people they met and illustrate their humble characters to a broader viewership. Moreover, the photographs they took of these characters have an interesting function as being objects that illustrate how people from Britain and America were viewing Caymanians. These photographs also seem to demonstrate how Caymanians become more consciously aware of their own identity and the way they are observed by foreigners through the act of being photographed. These are the functions that I wish to represent in my acetate imagery. I wish to show humble, Caymanian characters that are aware of how their representations are being perceived by the viewer.
Reeves: Talk about your process a bit. What does the acetate do that paper would not?
Tatum: Creating images on acetate can be quite challenging. The acetate is a plastic film so it is very different to paint and draw on this surface in comparison to a paper surface. Paper has fibers that allow media such as ink to adhere and be absorbed. The acetate, on the contrary, repels the ink and the water that carries the ink pigment across the surface. I found this act of the surface repelling my ink media to be very difficult, and it forced me to learn a new vocabulary of mark making in order to create my ink on acetate images. I had to learn to trust the extension of pigment through water. I also had to learn to be less precious with my imagery and allow myself to work reductively into my mark making by removing my marks with wet clothes and surface cleaners.
Another very different quality of an acetate surface is the fact that the surface is transparent. While making my images on acetate, I had to be conscious of what was coming through the transparent plastic and how those elements were affecting my choices in rendering my imagery. This negotiation with the transparent plastic eventually encouraged me to work on the back sides of the plastic. The majority of my acetate imagery is a negotiation of me rendering imagery from both the front and back side of the plastic and allowing the transparent quality of the plastic to help me accumulate my mark making.
Reeves: What is next in your artistic career?
Tatum: I am currently producing new print installations and mixed media sculptures that are going to be in a solo showcase at the National Gallery in Cayman. This showcase will be set up on May 17th, shortly after I graduate from the University of Missouri with my bachelor's degree. This showcase will be a part of Tilting Axis, which is a regional art and curators conference that take place in the Caribbean each year. This year it is being held at the National Gallery in Cayman.
Once the conference is complete I will remain in Cayman and continue working within the field of visual arts. I am still in the process of completing applications for art organizations, but my ideal place of work would be with the National Gallery in Cayman.
I will also be attending an artist residency program from November 2017-January 2018. I will be attending the Leipzig International Arts program in Leipzig, Germany. My residency will be focused around me expanding on my printmaking installations. I will also spend this time engaging in dialogue with other international artists and exploring the archives of the German National library.
Reeves: I always like to ask: What is your studio quirk?
Tatum: I have a two studio habits that can be seen as unusual. The first habit is studio napping. Since my days are rather long in between my university classes and my studio work, I try to take short naps in the studio during the evenings. These naps are very helpful in getting me refreshed before I put in some focused time on my studio projects. The second habit I have is that I often designate a certain music soundtrack to projects I am working on in the studio. For example, when I was working on the images "Women Walking into Town" and "Caymanian Musicians", I was listening to the album "Good Kid, MAAD City" by Kendrick Lamar. That was my designated soundtrack for those images. So every time I returned to those images to work on them in the studio I had to be listening to that soundtrack. I believe the atmosphere that certain soundtracks create in the studio helps me refocus myself to a mental state I would like to maintain for the entirety of a project.
While artists Mollie and Zoe Hosmer-Dillard are new to Sager Braudis Gallery, they are veterans of the True/False Film Festival's Visual Arts program. Fest-goers might remember their intriguing 2016 wall installation at that year's T/F box office. For the 2017 box office space at Sager Braudis, they collaborated again, this time drawing on the festival theme, "Out of the ether," to create a grouping of small, layered, mixed-media pieces based on visualizations of the 5 alchemical elements. This week, Gallery Director Hannah Reeves asks the sisters about their cooperative artistic process.
Reeves: How did the two of you come to be collaborators?
Hosmer-Dillards: We're sisters, so collaborating has been a natural thing since day one! We'd collaborate on drawings as kids, putting on plays, taking photos, making presents, exploring the woods, and cooking.
Reeves: What did your process look like, creating this series while living in different states?
Hosmer-Dillards: First we looked at a bunch of alchemical drawings to have some images in our minds' eye. We didn't copy any of those drawings, but just let them filter through our own imaginations. One of us would start a drawing and work on it till we didn't know what to do anymore. Then we'd pass it to the other sister, who would work on it for a while, and we'd continue that way till we felt it was finished. It was a fun way to work since we never felt stuck! We used ink, acrylic paint, and an oil monotype printing method.
Reeves: In your statement and when we've gotten to talk about this work, you've connected your imagery to alchemical elements. Could you explicate that symbolism a bit?
Hosmer-Dillards: We understand alchemy as a way of finding explanations for things in the world before Western science, and we find many of the images and explanations really intriguing, like poems or myths.
Reeves: Who / what influences you as artists?
Hosmer-Dillards: Landscapes, being outside, animals, Paul Klee, William Blake, Marilyn Frasca, dead leaves in river beds, luscious fields, Marilynne Robinson, Emily Dickinson.
Reeves: I always like to ask artists about their "studio quirks." Do you have one?
Hosmer-Dillards: When we work together, we take breaks for dance parties.
Share
Our final artist feature of the 2017 Winter Exhibit is an interview with Kansas City ceramicist Cathy Broski. Broski's work will be on display through Saturday, and you may have already admired it if you've passed by the gallery windows or visited this month.
Reeves: Your process – creating form, texture, and variegation of color – seems essential to the impact of your pieces. Could you describe your method and how you developed it?

Broski: My surfaces reflect the love I have for found objects. I find them attractive because of the wear and the marks of their journeys. This is the feel I strive to achieve on my surfaces. To accomplish this, I use a layering technique. I carve or texture the surface and let it dry. The base colors are applied and fired. Once the first firing is complete, I apply and wipe off a combination of terra sigliattas, slips, stains and glazes, then fire again. This process is repeated until I achieve the desired effect. I developed this over time through trial and error, as well as some happy mistakes.

Reeves: I see a recurring reference to protection and guidance in your work. I'm wondering about your personal connection to these ideas. Are you a protector, and do you have a protector?

Broski: As we go through life there are certain people who become mentors or guardians. My work focuses on the inner strengths we gain over time to become those things for ourselves as well as those we love. I also believe, without being religious, in a higher power.

Reeves: The dog can be such a layered symbol. What are some of the qualities or ideas to which you allude with your dogs?

Broski: I use the dog as a metaphor for the qualities of unconditional love and loyalty. These are things I look for in the people I surround myself with. Not to mention how it can lift one's spirit to see how much fun a dog can have at any given moment.

Reeves: What influences and inspires you as an artist?

Broski: As I have said, found object play a big role in this, but also nature. I enjoy the patterns, textures and colors found in nature. As far as artists who inspire me, well I could list a whole tribe of people. But people who achieve the unachievable, and those who do truly selfless acts inspire me the most.

Reeves: What is your "studio quirk"?

Broski: I meditate first thing each day. Is that a quirk?
Mike Sleadd returns to Sager Braudis this winter with new works in ink on paper. In this week's featured artist interview, Gallery Director Hannah Reeves asks Sleadd about his well-established, distinct drawing style, and a bit about what's behind it.
Reeves: In what ways are your medium and method connected to your subject matter?
Sleadd: I began drawing in ink when I worked as a designer in the mid-1970s. We used Koh-I-Noor Rapidograph pens that you had to coerce into working each morning, and about once a week you had to take them apart very carefully and stick them in the ultrasonic pen cleaner. I didn't even have my own pen until my wife bought me a pen for Christmas one year. They weren't very expensive, but we were pretty poor at the time. I continued to draw with that style pen until Frank Stack told me in the late 1980's that I should switch to a "dip pen" in order to get a line with more personality. He was right. I currently use a variety of dip pens. Well… all of this is a bit dry I guess. After a while I thought that the line I was getting with the dip pen (usually a C6 Speedball pen) didn't have enough expression either, so I tried other ways of making lines…sticks, bamboo pens, etc. I was drawing one night in my studio apartment on University Avenue. There was a feather on my drawing table that I had found on the MKT Trail earlier that day. I picked it up and stuck the plume in my bottle of Higgins Eternal India Ink (at the time it was a good drawing ink with a rich black… now it sucks) and drew the trail as I remembered it. The line drawn with the plume of the feather was expressive and somewhat "out of control." I liked that… I liked it a lot. The bold expressive line is symbolic of most of life. We try to control our lives, but it all has a way of being somewhat out of our control. It is that blend of control and serendipity that give life character. Although I have loved the expressive feather line, I have felt the need/desire/compulsion to add hours and hours of minutia to my drawings. Generally the subject matter is very simple—a person or two, a bird, a fish, a few trees, etc. The details are there, but they are non-objective—supporting cast of characters. Here at my desk I am surrounded by objects—sticky notes, phone, stapler, pens, pencils, books, papers, beautiful ceramic cup, plastic bottle, pictures of my sons, drawing by a friend, US stamps by Leonard Baskin (I love his work!), a small drawing that I had planned on including in the current exhibit at Sager Braudis, but forgot, a book of photos of my father in WWII, files of student records, a beer and wine hydrometer…etc. There is one show in this exhibit that only has the feather lines, "Waiting much longer than he had expected." This is the first time I have exhibited a drawing that was done this way…no details…only the "framework." One more thing: I love ink! I love drawing with ink and knowing that if I put something down on paper I've got to live with it. It is part of the drawing. I can't paint over it or erase it. I can try to make it into something else, like you would with a tattoo of a whisky bottle you got in high school and you turn into a penguin… because you like penguins. But every mark is a moment in my life. If a mark is wrong I've got to live with it and keep on drawing… make it work.


Reeves: You often write prosaic titles, but I know that you don't like traditional artist's statements. What is the relationship between your words and your drawings?
Sleadd: Good question that is difficult to answer. Several years ago one of my students, Greg Hardwick, came by my office/studio while I was trying to come up with titles for some drawings. I was giving them simple titles, but Greg said I should never overlook the power of a creative title. He was correct of course. A title can give someone another cognitive experience—make one think of associations he/she might not have had otherwise. Some of my titles are just whimsical, and others may describe an event, a state of mind, etc. Writing in a drawing also keeps the viewer attached to the piece just a little longer. On average a viewer only stays with a drawing less than one minute.

I don't like traditional artist statements either. They don't tell me anything. They don't help me enjoy the art on any level other than "this must be art and must be good, because this person uses all the right words." There is a site on the internet that will randomly create an artist statement. Here's one:

"My work explores the relationship between multiculturalism and humanity.
With influences as diverse as Camus and John Lennon, new variations are generated from both opaque and transparent structures.
Ever since I was a student I have been fascinated by the essential unreality of meaning. What starts out as triumph soon becomes corrupted into a tragedy of temptation, leaving only a sense of failing and the dawn of a new order.
As subtle phenomena become distorted through diligent and repetitive practice, the viewer is left with an insight into the inaccuracies of our existence."


Reeves: Is there a theme that binds this latest series together?
Sleadd: There are various themes as with all of my exhibition works. One theme for a few of these drawings, unfortunately, deals with terrorist attacks and the election. I didn't come right out and say that in the titles, but it isn't hard to find if you look.

Reeves: What is your "studio quirk"?
Sleadd: My music while I work is usually blues or Tom Waits… sometimes 60's rock. When things are going great and the drawing is looking good I'll start dancing. (I pull the curtains first.) I won't use a piece of paper that has a flaw… any flaw…smudge, wrinkle…anything. I want all marks on a piece to be done by me in the course of creating the piece. I can't work with anyone around either.
Australian painter Sandra Eterovic is a new represented artist at Sager Braudis Gallery. Her small, illustrative works in acrylic on custom-shaped panels and found objects are already a favorite of gallery staff and clientele, and they'e on display now through January 28. This week, Gallery Director Hannah Reeves asks Eterovic about her subjects and ideas.
Reeves: So many of the characters you depict have a really specific, funny combination of traits. Are they based on people you've met? Are there stories surrounding your depictions?

Eterovic: Some of my characters are based directly on people I have observed, found in the newspaper, or on the internet. Others come largely from my imagination. The babushka set is based on people I have observed in Melbourne, where I live. A homeless man wearing a Chanel t-shirt, teens in animal onesies, bohemian ladies at with cardigans full of brooches. Tony, the surf lifesaver in his Speedos, was based on a photo of a man in the local newspaper. Others, like Rory (the red haired girl on the wooden paddle), come mostly from my head. I do enjoy finishing a painting and seeing a new little being staring back at me.

Reeves: I imagine you discovering an item at a thrift shop and envisioning the painting it could house, when I look at your works on found objects. How do you choose those objects on which you paint?

Eterovic: I am very lucky in that most of the time, those objects find me. In fact, painting on paddles wasn't even my idea, but my friend Pene Durston's, who first collected them from thrift shops in Tasmania. I am grateful to her for encouraging an interesting branch to my work!

Reeves: Have you always been a painter? Could you talk about how you developed your distinctive style?

Eterovic: I worked for fifteen years as a graphic/ textile designer and illustrator in the fashion industry. I got to paint occasionally, but most of the time I sat behind a computer. I started painting in earnest in 2009. I have no idea where my style comes from. I suspect that my aesthetic stems from a childhood obsessing over illustrations in traditional children's books. My mother didn't encourage painting, however, as she was worried about mess. Instead, I drew with biros and coloured pencils. Until relatively recently, I considered myself more a drawer than a painter. I appreciate the relative immediacy and intensity of paint, and being able to work on various materials and objects.

Reeves: What inlfuences and inspires you as an artist?

Eterovic: I am inspired by 'anything and everything', as the cliche goes. I love to sit on a tram and watch the world go by, and observing the people who get on and off. I am influenced by the internet on many levels — from the baffling communication styles of social media to the endless visual stimulation of Pinterest and Instagram. Perhaps as an antidote to all of that 'surfing', I am also increasingly interested in gardening and botany. I love the strange colours and shapes that plants come in. However that is only starting to manifest in my work.

Reeves: What's your "studio quirk"?
Eterovic: A sconce which holds a pair of candles that drooped to point downwards instead of up, after a particularly hot weekend. Several summers ago the temperature in Melbourne reached over 47 degrees Celsius (around 120 degrees Fahrenheit). On that day, 173 people died in bushfires, so I guess that my downward facing candles serve as a small memorial to what we now know as "Black Saturday".
Share
The 2017 Winter Exhibit includes 6 masterful acrylic paintings by Regionalist Missouri artist Bryan Haynes. In this week's blog post, Gallery Director Hannah Reeves asks Haynes about his background and connection to the Midwestern landscape and history.
Reeves: Were you born and raised in the Midwest? To what extent are you drawing on your personal history and sense of place when you paint?
Haynes: Born and raised in Kirkwood, Missouri, I left to attend the University of New Mexico and then completed my education at Art Center College of Design in Pasadena CA in 1983. Having built my career in Los Angeles as a commercial artist I returned home, back to the canvas, and to the rediscovery of the Midwestern landscape. Everything seemed to come together. There was the convergence of a narrative and painting. Living in a rural area now, I feel a sense of community with people who have direct links to the land.
Reeves: Many of your paintings seem to refer to a specific character and setting. Could you talk about the role of narrative in your work, and how you choose or develop your stories?
Haynes: We knew a man, not far from here, who cleared his land with mules. Neighbors knew to call on him to doctor their animals with his concoctions in glass mason jars. Many of those neighbors still live on the land their ancestors settled over a hundred and fifty years ago. Not far from here is the place where Osage braves killed a German immigrant for his big white horse. And, if you were to continue down along the railroad tracks, you would come upon Tavern Cave, a cave visited by Lewis and Clark on their way west and used for millennia as a shelter for travelers on the Missouri River. It is not uncommon to find arrowheads or spear points, on the banks of the river and its creeks, from people that were here thousands of years ago. Seemingly, the river attracts a migratory path of stories from the people passing through. Stories such as these can't help but find their way into my sketchbook and into my paintings.
Reeves: The physical terrain of the Midwest has changed so drastically over the past several decades. Will your work follow suit, or does modern development make it even more important for you to remind us of our bygone landscape?
Haynes: Living again among these hills my sketchbook began to fill with small postcard-sized sketches of possible landscape compositions. I drew bumps and hollows, lengthened shadows, or bent a tree to frame a scene – the organic shapes conforming to my underlying framework of expression. Using the tools of the commercial art trade learned over decades to create emotion and convey feeling, I began to realize that in order to capture the beauty and character of this region most accurately, my compositions required altering and exaggerating objects to convey specific emotions rather than copying a photographic reality.
Reeves: What does your New Regionalism do today that may be differently effective than early 20th century Regionalist work?
Haynes: I see my work fitting into a larger movement of "Regionalism" in the culture at large today. Meaning, the popularity of farmer's markets, maker's movements, loca-vore food movements, DIY, and "back to the land" movements are all part of a balancing in opposition to our "digital" lives. My interpretation of scenes from an earlier time can't help but be seen through the lens of current design, as it is an inherent part of how I create my paintings. I hope the viewer sees the narratives in a new way when seen on my canvases.
Reeves: What is your "studio quirk"?
Haynes: I really think a brain scan of my head would reveal that it is basically empty except for a softball sized visual cortex that leaves no space for memory of car keys laid, or why I just came into this room. As a kid, people called me an artist, but I think we artisans know we simply are compelled to draw and paint, and by sheer practice a strong cord fastens between eye, brain, and hand. A "studio quirk" might be the fact that I am the cheapest and most available model I have for painting figure reference!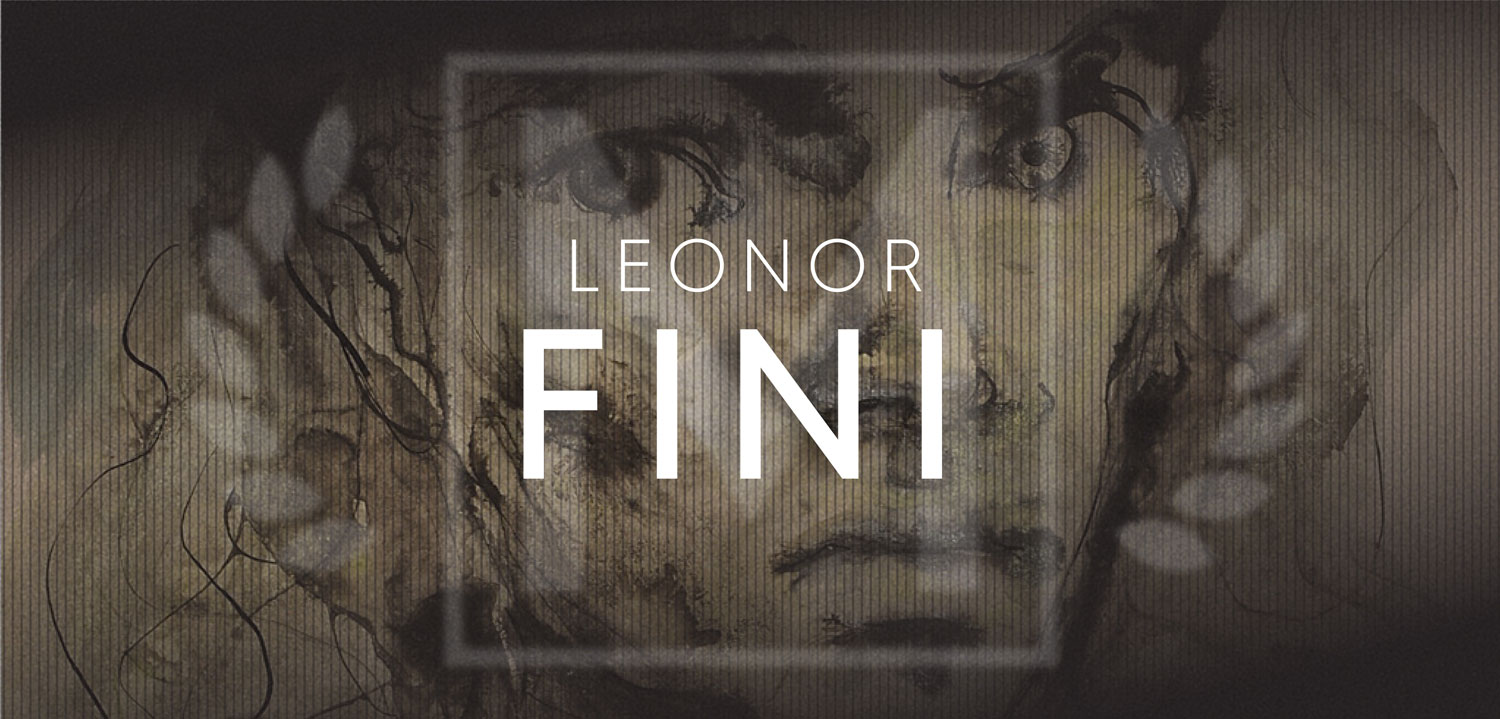 The 2016 Masters Exhibit opens to the public tonight, December 2, at 6 PM with a First Friday reception. For the past month, we've utilized this blog to share the stories of our 6 featured masters. These artists' lives and work influenced the course of art history in the 20th century, and we are honored to bring their original masterpieces to Columbia, Missouri for the month of December. All artwork on display for the Masters Exhibit is available for purchase, and we encourage those impacted by this significant work – whether new to collecting or regular patron – to inquire about private viewing and personalized tours of the exhibit. Our final Masters Preview post is a look at the life and work of Surrealist painter Leonor Fini.
Leonor Fini was the only woman fully inducted into the original circle of Paris Surrealists, led by Andre Breton and including Dali, Max Ernst, and the writer André Pieyre de Mandiargues, among others. Fini's work, like that of the other Surrealists, dealt in imagery of the subconscious rather than depicting the world as seen by the eye. It is interesting to consider, with Fini, the difference between what one sees and what one envisions. Her initial, surreal works came about after an eye infection that kept her bandaged – essentially blindfolded – for nearly a year in her young adulthood. Shortly after, she began to paint the waking dreams and visions she had experienced while without her sight. One significant, distinguishing characteristic of Fini's Surrealism is the role of the female character, which, unexpectedly for her time, was unabashedly depicted as powerful, dominant, and even subjugating.
Fini was such an undisputed master of portraiture that her talent was sought out by elite figures all over Europe, even before she was 20 years old, and despite that she was a woman working in a field of men. Her portraits are meticulously rendered and often slightly alter her subjects to a softer, more feminine, even more feline visage. For Fini, the powerful, regal quality of a portrait need not be equated with masculinity, and indeed one of the intriguing qualities of her work is the confident melding of the feminine and the powerful.
Fini's fame through the 1930s, 40s and 50s regarded her public persona as much as her painting. She dressed theatrically, appeared at every party of note in Paris, and generally failed to fit the mold of the proper, polite woman. She openly shirked the prescription of marriage, and engaged multiple, very public affairs before settling – if it can be called such – with her two favorite lovers in a Paris apartment in 1946, where she lived and worked for the subsequent 5 decades.
Fini's individualism and disregard for societal norms allowed extreme productivity throughout a decades-long artistic career, well beyond the lifespan of the formal movement of Surrealism. She manipulated and distorted her subject matter to convey her attitudes about power, sex, relationship, and the political world at large, yielding a vast portfolio rich in dreamlike scenarios and re-imaginations of social roles.
Sources:
"Leonor Fini," Weinstein Gallery, 2016. Accessed November 29, 2016. http://www.weinstein.com/artists/leonor-fini/
Peter Webb, Sphinx: The life and art of Leonor Fini (New York: Vendome, 2009).
"Biography," Leonor Fini, 2016. Accessed November 29, 2016. http://www.leonor-fini.com/en/biography/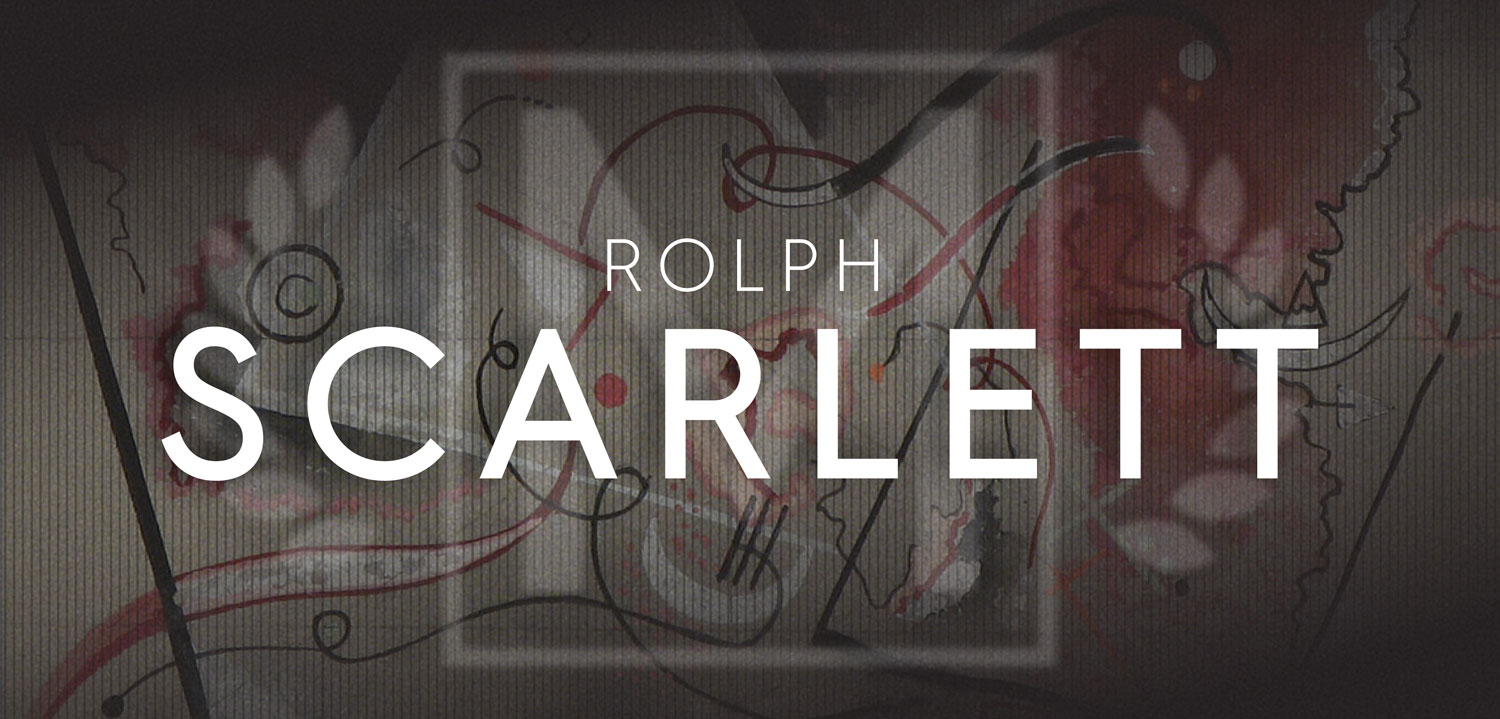 The Masters Exhibit is an annual, one-month departure from Sager Braudis Gallery's usual schedule of contemporary art exhibits, to bring to Missouri masterworks by historically influential mid-century artists. Because some background understanding can aid in the appreciation of these significant works, we'll feature a blog post on each artist whose work will be on display at the 2016 Masters Exhibit, to share with you the stories of our featured masters. The Masters Exhibit will open to the public with a First Friday reception at 6 PM on December 2nd, and will run through December 31st. All works on display will be available for purchase, and we encourage both budding and established collectors to inquire about private, guided tours, which include details, valuation, and histories of works of interest.
Rolph Scarlett, a Canadian-born painter and designer, was a contemporary of Rudolf Bauer, Vassily Kandinsky, and Hilla Rebay, and contributed to the rise of non-objective art in the U.S. both an extensive portfolio of vibrant abstract paintings, and a series of lectures and teachings at the Museum of Non-Objective Art, the precursor to the Guggenheim Foundation Museum.
After travelling to New York as a young man in 1908 and meeting Paul Klee, Scarlett embraced abstraction and was among the first of his peers to move to full non-objectivity, making paintings that did not refer to any recognizable subject matter, but relied on emotionally charged arrangement of pure color, shape, and line. This appealed immensely to Hilla Rebay, the abstract painter and curator of Solomon Guggenheim's non-objective collection, when she met Scarlett in 1933, and she is said to have referred to him as "Rolph Scarlett, my great find." When Rudolf Bauer immigrated to the U.S. in 1939, Scarlett was teaching and lecturing at the Museum of Non-Objective Art under Rebay's direction, and Bauer became a friend and mentor.
Scarlett's work ranges from balanced, static, outlined abstract forms early on, to fully Abstract Expressionist dripping and pouring of paint in gestural, thick lines from around the 1950s. The constants throughout his creative career are rich, vibrant hues and a reliance on composition rather than recognizable subject matter to convey feeling and energy.
Though the Guggenheim collection changed shape after the death of Solomon Guggenheim in 1949 and the forced resignation of Hilla Rebay in 1952, the Museum still retains a large collection of Scarlett's abstracts. His long career yielded exemplary works in early abstraction, Non-Objectivity, and Abstract Expressionism.
Sources:
"Rolph Scarlett," Weinstein Gallery. Accessed November 29, 2016. http://www.weinstein.com/artists/rolph-scarlett/
"Rolph Scarlett," FL Fine Art. Accessed November 29, 2016. http://www.rolphscarlettpaintings.com/html/artist_biography.html
Vivian Barnett, Jo-Anne Birnie Danzker, Robert Rosenblum, Brigitte Salmon, Karole Vail, and Roland von Rebay, Art of Tomorrow. (New York: Guggenheim Museum, 2005).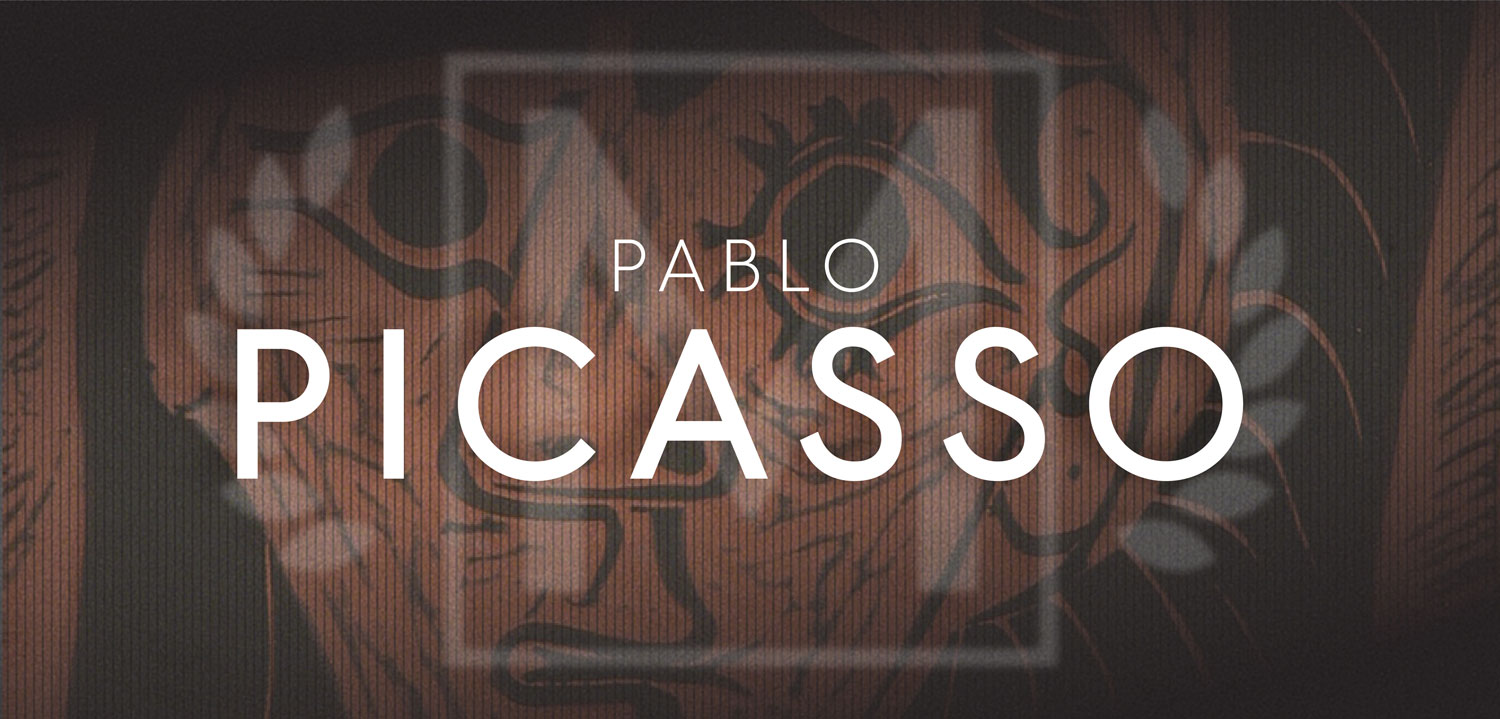 The Masters Exhibit is an annual, one-month departure from Sager Braudis Gallery's usual schedule of contemporary art exhibits, to display masterworks by historically influential mid-century artists. Because some background can aid in the appreciation of these significant works, we'll feature each artist whose work will be on display at the 2016 Masters Exhibit in a blog post leading up to the opening of the exhibit. The Masters Exhibit will open to the public with a First Friday reception at 6 PM on December 2nd, and will run through December 31st. All works on display will be available for purchase, and we encourage both budding and established collectors to inquire about private, guided tours, which include details, valuation, and histories of works of interest.
Pablo Picasso is one of the best known, most prolific artists in history, and had a heavy hand in shaping the movement of art through the 20th century. So vast is his portfolio that it is traditionally discussed in periods of its own, though even within a tight time period his subject matter and media were remarkably diverse. The son of an art professor, he began making art as a child, and showed such promise that he was admitted to the prestigious Barcelona School of Fine Arts at age 14, 3 years earlier than typical. He continued study in Madrid, and then moved in 1900 to Paris, where he met other artists, writers, and composers and was extremely productive in the studio he set up for himself.
His early Paris work is largely figural, with some slight, expressive distortion of realistic forms and, famously, an intense adjustment of his color palette to relate his mood. The Blue Period, spanning 1901 – 1904, was brought on by the suicide of Picasso's best friend, Carlos Casagemas, and the depressive episode that followed. The start of a new love affair and growing patronage for his work led to Rose Period works from 1904 – 1906.
Picasso's first masterpiece, the proto-Cubist painting, Les Demoiselles d'Avignon, was completed in 1907, depicting a group of prostitute-models with fragmented forms and faces abstracted to mask-like simplicity. The shattered, reduced-to-parts figures and allusion to African masks would become staples of Picasso's Cubism. He was utilizing subject matter to a communicative end, abstracting and distorting to suit his message, rather than attempting realism. This extreme abstraction of still-recognizable form may have been a necessary step between realistic depiction of the world and the Non-Objective Abstraction that came a few decades later.
While Picasso is best known for his development of Cubism and its effect on abstraction thereafter, he worked, through his long and prolific career, in a variety of media and subject matter. He carved into clay tablets and plates and sculpted both in relief and in the round in clay, metal, wood, and found materials, in addition to painting, drawing, and printing. Throughout his work, distortion and fragmentation of form affect a wordless, emotional message; he uses his materials and subject matter as a means to that end.
Sources:
Laura Payne, Essential Picasso (Bath, UK: Parragon, 2002).
Arianna Huffington, "Picasso: Creator and Destroyer," The Atlantic, June 1988.
"Pablo Picasso," Biography, 2015. Accessed November 21, 2016. http://www.biography.com/people/pablo-picasso-9440021
"Pablo Picasso," Guggenheim Foundation. Accessed November 21, 2016. https://www.guggenheim.org/artwork/artist/Pablo-Picasso
"Pablo Picasso and His Paintings," Pablo Picasso, 2016. Accessed November 21, 2016. http://www.pablopicasso.org/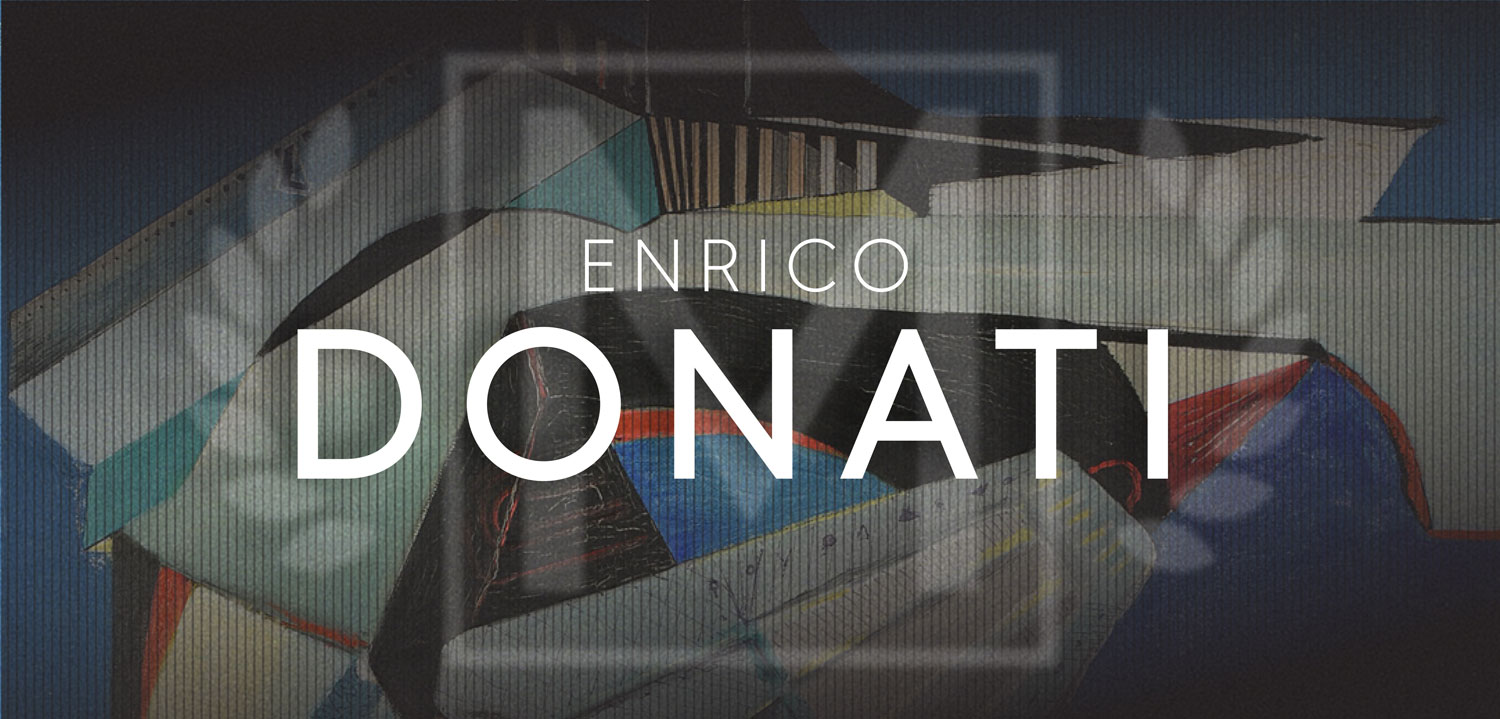 The Masters Exhibit is an annual, one-month departure from Sager Braudis Gallery's usual schedule of contemporary art exhibits, to bring to Missouri masterworks by historically influential mid-century artists. Because some background understanding can aid in the appreciation of these significant works, we'll feature each artist whose work will be on display at the 2016 Masters Exhibit in a blog post leading up to the opening of the exhibit. The Masters Exhibit will open to the public with a First Friday reception at 6 PM on December 2nd, and will run through December 31st. All works on display will be available for purchase, and we encourage both budding and established collectors to inquire about private, guided tours, which include details, auction records, valuation, and histories of works of interest.
Enrico Donati is an example of the relatively rare artist whose career spans multiple eras and art historical movements. It is not only longevity (of both the artist himself and his working life) that yields this variously prolific work, but a commitment to, on the one hand, adaptation to time and place, and on the other, a strong personal aesthetic that does not waver with trends. When Donati passed away in 2008, he was called the last of the Surrealists, but really he and his work had developed far beyond the 1940s movement, through many phases of abstraction and expression, until he could also have been legitimately named a contemporary expressionist painter.
1930s Italian Fascism was unkind to all but the most propagandist of artists, and Surrealists were especially targeted for their dissenting message. By 1940, nearly all major names in Modern Art had emigrated from Europe, and the Surrealists re-centered in New York. Enrico Donati, an individualist even among the Surrealists, had come 6 years earlier, exploring and scouring the American southwest and Canada for available indigenous artifacts before settling in New York with his contemporaries. Like others of the movement, he depicted a distortion of reality that was more in keeping with the subconscious reaction to war and fascism than with the actual appearance of the world around him. His Surrealist period endured roughly eight years, and in the meantime he began to explore texture as a tool of expression.
Through the 1950s, Donati transitioned from distinct, distorted geometric and organic forms to an abstract subject matter that was more monumental and balanced, with a hint of something ancient, or even timeless. By the 1960s, he was mixing sand, dirt, and, notoriously, the collections of his vacuum cleaner, into his paint to create deep, stone-like texture into which he could scrape and carve to add expressive marks and variation of surface. His palette of bold, rich hues was an unwavering, expressive characteristic of his work that held from Surrealism to the most contemporary examples.
Donati's expressive abstracts are exemplary among that brand of non-verbal art that can affect viewers in a visceral impact with a sense of the emotion embedded by the artist. As with color-field paintings of the 1960s, these works are best – maybe only fully – experienced in person, where a deep-brain sense of textural space is activated, and the hand of the artist feels physically present.
Sources:
"Enrico Donati," Museum of Modern Art New York, https://www.moma.org/collection/works/78684?locale=en. Accessed November 15, 2016
Forest Selvig, "Interview with Enrico Donati," Archives of American Art, 1968. http://www.aaa.si.edu/collections/interviews/oral-history-interview-enrico-donati-12035. Accessed November 15, 2016
Theodore Wolff, Enrico Donati: Surrealism and Beyond (Manchester, Vermont, Hudson Hills, 1996).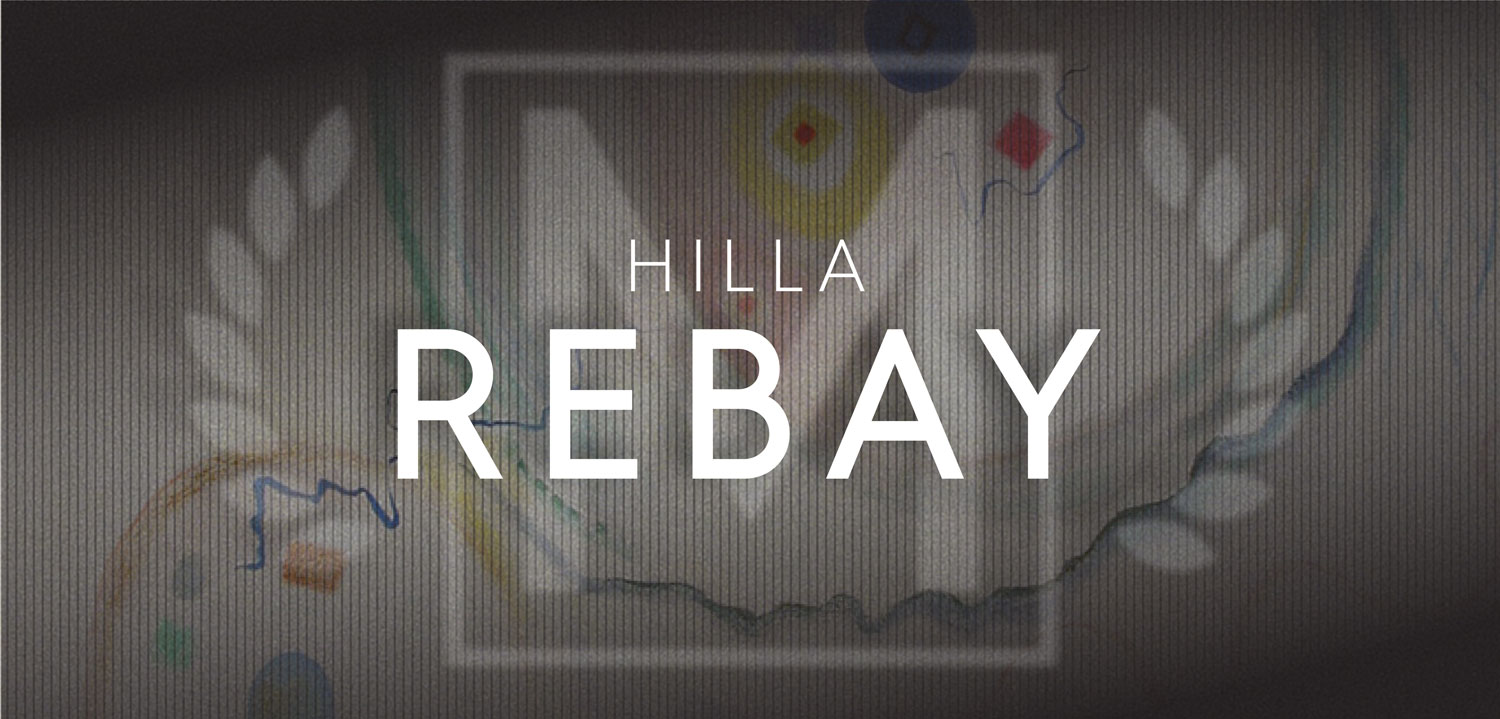 The Masters Exhibit is an annual, one-month departure from Sager Braudis Gallery's usual schedule of contemporary art exhibits, to bring to Missouri masterworks by historically influential mid-century artists. Because some background understanding can aid in the appreciation of these significant works, we'll feature each artist whose work will be on display at the 2016 Masters Exhibit in a blog post leading up to the opening of the exhibit. Check in here twice a week for the rest of this month to learn the stories of our featured masters. The Masters Exhibit will open to the public with a First Friday reception at 6 PM on December 2nd, and will run through December 31st. All works on display will be available for purchase, and we encourage both budding and established collectors to inquire about private, guided tours, which include details, auction records, valuation, and histories of works of interest.
Just prior to 1920 in Berlin, a group of young artists began to coalesce around the notion that a painting need not depict a subject – that perhaps a work of art could more directly and earnestly address a viewer through the arrangement of its formal elements. Among this group, which centered at the gallery Der Sturm, was a young baroness, studio-educated in Paris and mentored by Jean Arp, Hildegard Rebay von Ehrenweisen, or as she was less formally known, Hilla Rebay. It was at Der Sturm that Rebay met Rudolf Bauer, with whom she would later share a studio and a love affair. Rebay was the first among her contemporaries to move to the U.S., in 1927. In New York, she met Solomon Guggenheim, who commissioned her to paint his portrait in 1928. As he sat for the painting in her studio, Guggenheim learned Rebay's thoughts on what had come to be known as Non-Objective Art – the new, lyrical, subject-less brand of abstraction that had not yet made it to American collections and museums. Guggenheim was fascinated, especially by a piece by Rudolf Bauer that hung on Rebay's studio wall. With Rebay as an intermediary, Guggenheim began to acquire all he could from the Berlin and Moscow non-objective abstractionists, and thus began the collection that would become the Museum of Non-Objective Art, the first iteration of the Guggenheim Foundation.
Hilla Rebay created numerous, large-scale, non-objective works in the decades that followed her immigration to the U.S., and her style, gently colored with undulating lines and sparse, organic forms, is exemplary of the movement she championed. While a skilled, educated, and prolific painter in her own right, Rebay is best known to history as the first director and curator of the Guggenheim Foundation, and the facilitator of enormous acquisitions by Solomon Guggenheim of works by her peers, especially Rudolf Bauer and Vassily Kandinsky, of whose work Guggenheim amassed a combined total of over 300 pieces prior to 1939.
With Rudolf Bauer, Hilla Rebay's professional and personal history is elaborately intertwined. They met around 1916, were romantically involved for a time (though his social standing was inadequate for the possibility of their being married), and shared a studio while they both produced work for exhibition at Der Sturm. Bauer owed Rebay entirely for the patronage he later received from Solomon Guggenheim, which made it possible for him to open his own gallery in Berlin. Unfortunately, both that gallery (Das Geistreich) and Bauer's business relationship with Guggenheim drew the Nazis' attention by 1938, and he was imprisoned for most of that year by the Third Reich. From the haven of New York and with the resources of Guggenheim largely at her disposal, Rebay helped to negotiate Bauer's release and (reluctant) immigration to the U.S. in 1939. As Bauer spoke almost no English on his arrival to the U.S., Hilla Rebay translated for him, and made his living arrangements (with Guggenheim as benefactor). She also translated and encouraged Bauer's signature of the now-notorious patronage contract that, once he became fully aware of its contents, so incensed Bauer that he stopped painting altogether in 1940. Between 1940 and Bauer's death in 1953, he engaged several feuds with Rebay, at one point even initiating a lawsuit against her.
Rebay had envisioned Rudolf Bauer as the anchor of the "temple to Non-Objective Art" that she was developing through the 1930s and 40s, but Bauer's falling out with Guggenheim and ongoing refusal to produce works for the collection once in the U.S. resulted in his absence from her curated exhibitions of non-objective abstract work. She shifted focus to other leaders in the movement, Kandinsky and Moholy-Nagy, especially, as she arranged numerous U.S. exhibitions of the growing collection and eventually commissioned Frank Lloyd Wright to design the museum to house it. While the 5th Avenue building was still in design phase, Solomon Guggenheim passed away, leaving the Foundation to heirs with a different vision for the collection that would be housed in the new building. In 1952, 3 years after Solomon Guggenheim's death, Hilla Rebay was asked to step down as director and curator. She had sparked the interest that started the entire non-objective collection (1928), connected Guggenheim to the artists shaping the movement (1929 – 1933), brought formative artists to the U.S. (1933 – 1939), planned and curated numerous exhibitions (1933 – 1952), conceived of the physical museum for abstraction (1939), and commissioned the most important architect of her time to design it (1943). The Guggenheim Foundation, nor its 5th Avenue museum, nor, truly, the mid-century American understanding of abstract art, could have existed without the work of Hilla Rebay.
Sources:
Steven Lowy, "Rudolf Bauer: A non-objective point of view," Weinstein Gallery, 2007. Accessed October 28, 2016. http://www.weinstein.com/artists/rudolf-bauer/
"Hilla Rebay," Guggenheim Foundation, 2016. Accessed November 1, 2016. https://www.guggenheim.org/artwork/artist/rudolf-bauer
Thomas Krens, editor, Art of Tomorrow (New York: Guggenheim Foundation, 2005).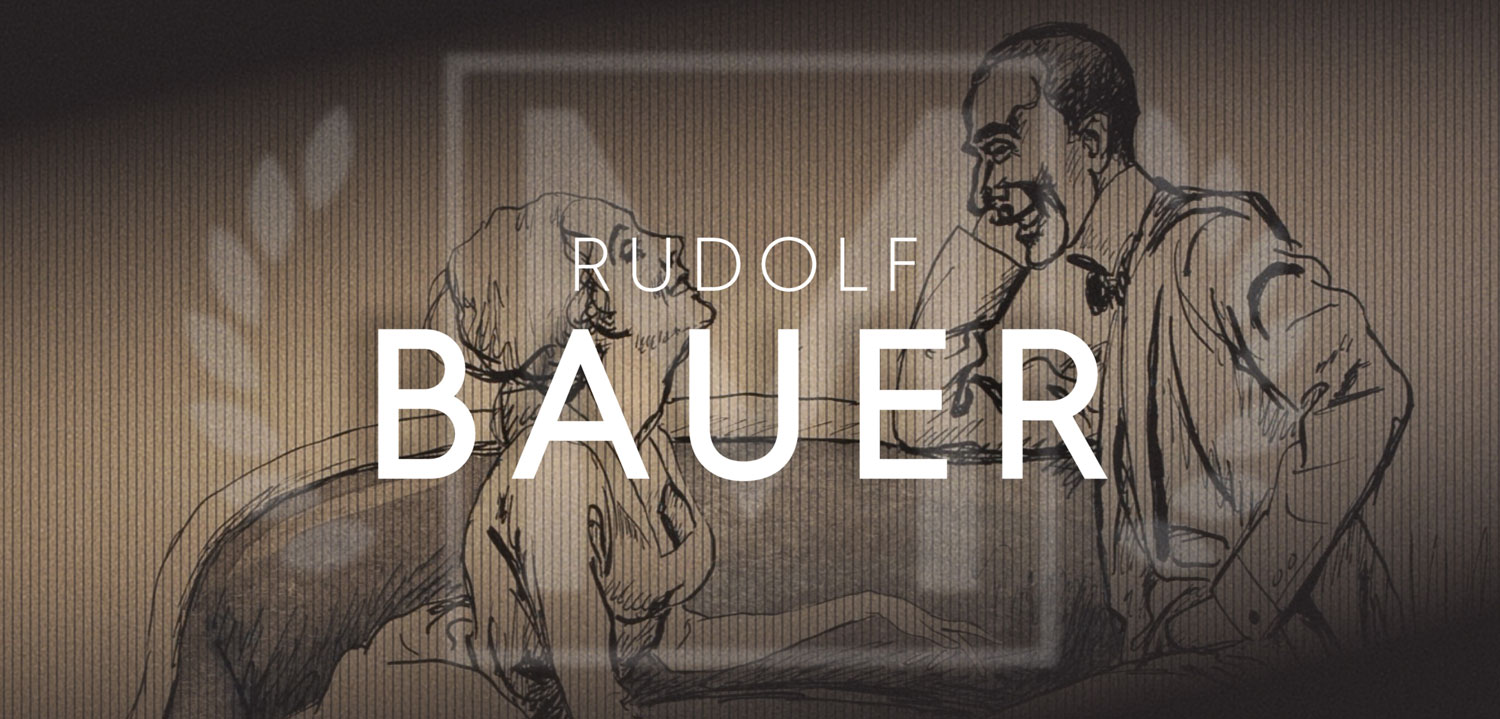 The Masters Exhibit is an annual, one-month departure from Sager Braudis Gallery's usual schedule of contemporary art exhibits, to bring to Missouri masterworks by historically influential mid-century artists. Because some background understanding can aid in the appreciation of these significant works, we'll feature each artist whose work will be on display at the 2016 Masters Exhibit in a blog post leading up to the opening of the exhibit. Check in here twice a week for the rest of this month to learn the stories of our featured masters. The Masters Exhibit will open to the public with a First Friday reception at 6 PM on December 2nd, and will run through December 31st. All works on display will be available for purchase, and we encourage both budding and established collectors to inquire about private, guided tours, which include details, auction records, valuation, and histories of works of interest.
Among the collection coming to Sager Braudis this December are over a dozen works in ink, gouache, watercolor, pastel, and pencil by German-born Rudolf Bauer, many featuring caricatured scenes of elite Berlin in the 1920s. Also among works on hand will be some of Bauer's colorful, abstract compositions that exemplify a lyrical style that he famously employed in his paintings from around 1920-33.
Bauer's abstracts were among the first non-objective paintings, paving the way for generations of nonrepresentational work to follow. Numerous artists, of course, had altered or abstracted their depictions of the world around them, but the idea budding in Berlin around 1916 was that artwork could be effective without depicting any subject matter, but rather through an arrangement of the formal elements (line, shape, color, value, and texture). Being without reference to any object in the world, this form of abstract art was termed "Non-Objective" by its early practitioners, who included Bauer, Kandinsky, Paul Klee, and Hilla Rebay, among others. After being introduced to some examples of non-objective art by Hilla Rebay as she painted his portrait in 1927, Solomon Guggenheim began to collect works by these early abstractionists. Bauer, was, in fact, Guggenheim's favorite, and was championed by Rebay, the eventual Guggenheim Foundation's first director and a one-time lover of Bauer's. With Rebay advising, Guggenheim presented the first major American exhibition of non-objective art just prior to World War II. When Bauer was imprisoned by the Third Reich as a "degenerate artist," having sold works on the so-called black market to Guggenheim, it was Rebay and Guggenheim who ultimately arranged his release and immigration to the U.S. Feeling that Bauer was indebted, Guggenheim presented him with a patronage contract that would tie and eventually bequeath all future work to the Foundation and pay Bauer from a limited trust for the rest of his life. Bauer spoke no English; Rebay translated, encouraging his signature. When Bauer realized the extent of control that he had relinquished, he quit painting and fell completely out of Guggenheim's favor. By the time the Guggenheim Foundation Museum opened in 1959, Bauer's work had been relegated to storage and omitted from the curation of the rise of non-objective painting, and Bauer had been essentially written out of art history, at least for the era.
The Guggenheim sold off many of Bauer's abstracts in the two decades that followed, and many passed into the hands of private collectors. While Kandinsky's non-objective paintings were skyrocketing in value and being reproduced in textbooks worldwide, Bauer's equally influential works were being quietly appreciated by a few collectors with local access. Sotheby's Julian Dawes tells the story of a New Yorker who bought a Bauer abstract from a private gallery window around the 1960s, when he distinctly remembered having seen it on display in his childhood, perhaps at the MoMA exhibit of 1933, or at a Museum of Non-Objective Painting exhibit, prior to Bauer's fall from Guggenheim's good graces. The purchaser was certain he recalled the exact piece from a museum experience, even when pressed that artwork usually does not move from museum collections into private sales galleries, but the other way around, and his precise recollection was due to a very memorable synesthetic association with the abstract image – a tinkling bell sound brought on by viewing the geometric forms. As auction records of Bauer originals such as the piece from that New York collector's estate began to accumulate in the early 2000s and gallerists took notice, Bauer's abstract work began to garner some of the acclaim it had deserved several decades earlier. Curatorial awareness of the historically formative abstract work led naturally to new interest in Bauer's early illustrations and caricatures, which, while less lofty in philosophy, display an early portent of Bauer's masterful use of varied contour line and compositional sense of movement.
Sources:
Steven Lowy, "Rudolf Bauer: A non-objective point of view," Weinstein Gallery, 2007. Accessed October 28, 2016. http://www.weinstein.com/artists/rudolf-bauer/
"Rudolf Bauer," Guggenheim Foundation, 2016. Accessed October 28, 2016. https://www.guggenheim.org/artwork/artist/rudolf-bauer
Julian Dawes, "Rediscovering Rudolf Bauer," Sotheby's, 2014. Accessed October 28, 2016. http://www.sothebys.com/en/news-video/blogs/all-blogs/impressions/2014/09/rediscovering-rudolf-bauer.html
Jennifer Maloney, "Comeback of an Abstract Artist – 60 Years After His Death," The Wall Street Journal, 2014. Accessed October 28, 2016. http://wsj.com/articles/comeback-of-an-artist60-years-after-his-death
Reeves: I understand that you've been thinking for some time about how to depict the human body in motion. Have your subjects always inhabited beach scenes, or have you evolved through other settings?
Katz: The subjects in my paintings have not always inhabited beach scenes. After years of painting models in the studio, I began the movement theme with a series about dancers. I moved on to runners, and then crowds. When I started working on people at the beach I got excited about the idea that it was not only the figures that move but the environment itself that is in motion. The paintings became more about the interaction of the figure and the space.
My current work is no longer set specifically at the beach but has evolved directly from the beach paintings. The environment I currently paint for the figures is abstracted from nature but is not as defined as these beach paintings are and have a deeper metaphorical meaning for me. My work has swung back and forth between representation and abstraction and it has been a process of trying to make them work together and find a balance and meaning in it.
Reeves: It seems that the texture of your brushstrokes is a major vehicle for indicating movement on a static surface. Could you talk about this, or other, methods that make this work substantially more dynamic than a photo snapshot of the same scene?
Katz: Yes, the brushstroke texture and direction indicate the subject's motion as well as the movement of environmental forces. Similarly, the brushstrokes record the vigor of my own life and movement as I paint. Color and texture help to move the viewer's eye around the painting, making the viewer an integral participant in the layers of action.
Reeves: I've noticed that visitors who are drawn to your work tend to associate it quickly with a nostalgic memory of their own. I find it interesting that viewers don't seem to need to know which beach in particular you're depicting – they connect with a more universal beach scene situated in memory. Why do you think that is? Do you intend to elicit nostalgia?
Katz: I have chosen figures on the beach as subject matter because the beach is a vast natural space where people are engaged with nature and are moving freely. The depiction of the scene may be universal in that it is more about a state of mind than the representation of a certain place. I do not explicitly intend to elicit nostalgia, but I do choose the subjects because of an emotional connection that I feel.
Reeves: What inspires or influences you as an artist?
Katz: On a macro level: The idea of a vital energy that flows through all things in the universe infuses all of my work. I am trying to find my way toward paintings that encompass a sense of that energy. I am interested in human nature and how we live in a world that seems to be beyond comprehension.
On a micro level: I am influenced by my practice of qigong and yoga and try to bring some of what I experience there to my painting practice. I am inspired every day by the clouds moving through the sky.
Additionally, I am excited about getting back to my figure painting roots in November when I will be taking a weekend master workshop with Alex Kanevsky in Philadelphia at the Pennsylvania Academy of Fine Art.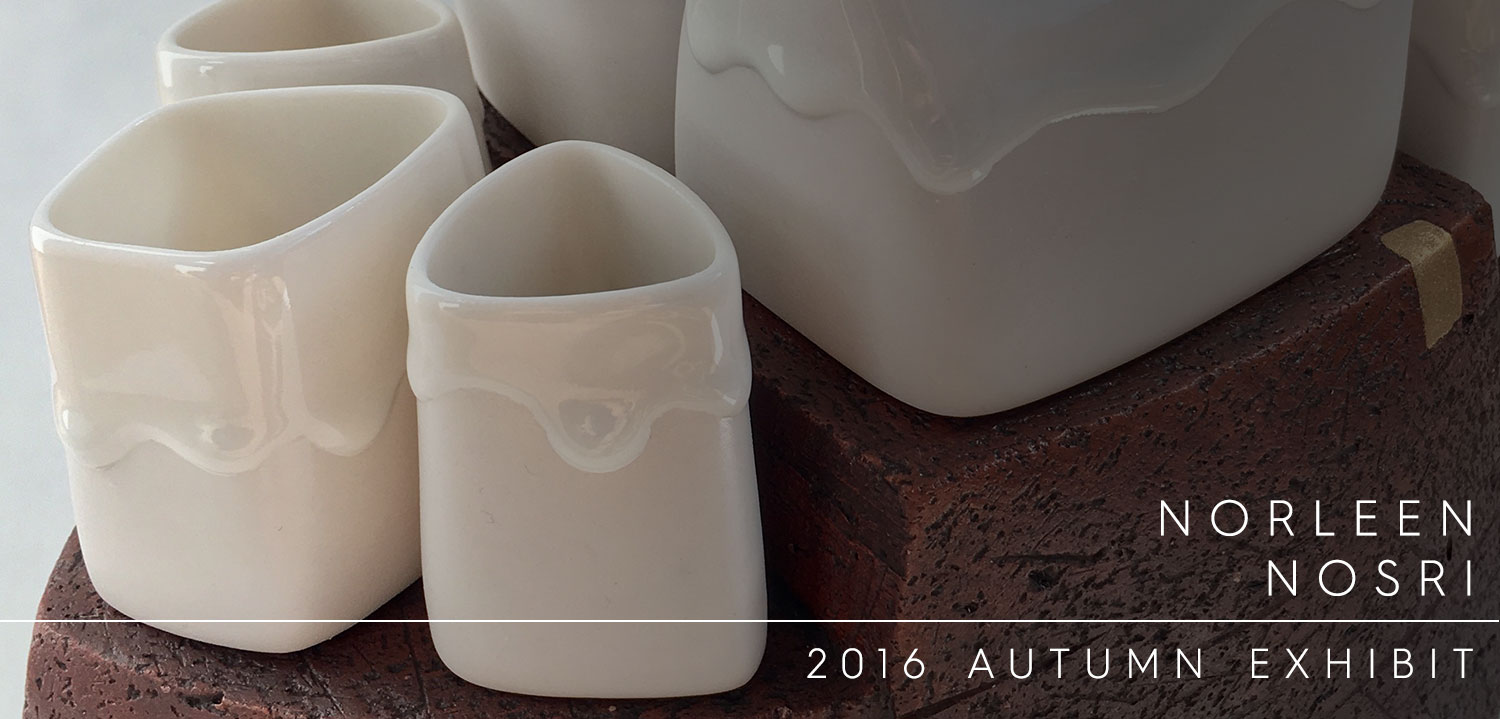 Noreen Nosri was born and raised in Malaysia, and immigrated to the U.S.as a young adult in 1996. The family, culture, and rituals of her childhood were never really left behind, but galvanized as a part of her identity even as she learned and acquired her sense of Americanism. Central to her participation in both cultures is connection to community and tradition. Her new work, aptly titled Emigrate / Immigrate, houses a system of symbols that she's created to stand for the act of migration, and the duality of identity that results from the desire to fully connect and participate in both cultures.
She discovered ceramics when already well into her study of art, after transferring from Columbia College to University of Missouri. She didn't get into ceramics courses right away; she says, "Seeing those packed courses made me want to take it more. You had to be accepted then, and I was accepted into Ceramics in 1999." From the beginning of her study of the medium, ceramics reminded Nosri of social interaction and ceremony. "My mom, she has a set, in cabinets, with doors – you look at it, and it is an attraction for the guests. You don't have to look very far to see the rituals. Look inside your daily life," she says.
Nosri's sheer skill is impossible to ignore. Over a decade of intense practice and study has resulted in an extremely refined style and craftsmanship. In her tea sets, every delicate spout, handle, lid, and vessel sits flawlessly in place, the relationships of the forms within a set preconceived and utterly intentional.
Discussion of meaning in Nosri's work can delve as deep as the interviewer desires. These sculptural sets are thoroughly symbolic and allegorical, and the artist has considered the impact of every detail. Perhaps most prominent is the presence of duality; dark and light, rough and smooth, solid and fragile, masculine and feminine qualities within one set state and restate the presence and importance of two different cultures within the artist's identity. She says, "I am both and I accept both. Strong tradition is housed in the base – masculine and protective – and a dynamic quality in the pieces that move. Groundedness in the base. Relationship in the tea set. Really, relating is seeing the other side when there are differences." The tea pieces themselves are like members of a family, living together but capable of movement and different roles. They also signify the social ceremony of serving tea – especially important in her culture of origin – which is, at its heart, about connection between individuals, and connection of its participants to their collective history through tradition and ritual. The base of each set, while providing a counterpoint to the light, fragile, dynamic qualities of the porcelain pieces atop, also bears the form of a boat, symbolizing the act of migration itself.
With characteristic humility, Nosri jokes at the conclusion of our interview, "But, if people don't want to think about all that symbolism, remember, it's okay: It's just a tea set." Indeed, these sets are fully functional and many of her collectors take pride in serving guests from such vessels. Undoubtedly, it is with a sense of ceremony befitting the work that they do so.
Bill Dawson began carving as a hobby a decade ago. His work, since that time, has transitioned from small to larger, more complex pieces, yet has retained a gentle reverence for the animal forms it depicts, deeply rooted in craft and expertly sculpted. Gallery Director Hannah Reeves asks Dawson about his relationship to his craft in this week's Featured Artist interview.
Reeves: What was the very first thing you carved from wood? Could you describe the progression of your sculpting since then?
Dawson: I first carved a mourning dove, just because I've always loved them. After that I began to turn to larger birds: an avocet, a pileated woodpecker, an ibis, a kingfisher. I still did smaller birds as well. At some time I began doing humorous animals (these not life size): dancing ballet pigs, a pelican in tidy whities (The Pelican Briefs). Later I finally turned to an antelope head (impala) for myself, still just because I like them, and then I made a couple more for [my daughter] Lily's and my son Joe's new apartment. That's about the time Lily began to plant the seeds of making other heads and making them public.
Reeves: Could you describe your method of carving? What is the most challenging part of your process?
Dawson: I learned simply by trial and error. I use craft saws for most of the larger cuts, turning to knives for the details. The two most challenging things are working from a two-dimensional image and turning it into three dimensions. At the beginning that's a very slow process of cutting away a little, looking it over, then cutting a little more if needed. The second is piecing together the various prongs of a set of antlers (basswood only comes in limited sizes, so it would be impossible to carve an entire head and rack from one piece).
Reeves: Why have you chosen mostly Basswood? How much difference does your choice of wood make in the ultimate product?
Dawson: Basswood's the standard for carvers. Doesn't split, easy to work with, yet strong enough to support weight (such as in the kudu on the gallery wall). I have worked with tupelo, a lighter-weight wood, but it's awfully soft and easily nicked–the dancing pigs stand on one trotter, so they're awfully top-heavy, so I used tupelo for them.
Reeves: Is there a feeling, thought, or impression you'd like for your work to elicit in its viewers?
Dawson: I'd just like to represent the beauty that's in nature.
Reeves: What has influenced you as you've progressed as a sculptor?
Dawson: Carving animals is an old tradition (especially wading birds), so there are lots of models out there for me to have seen and studied.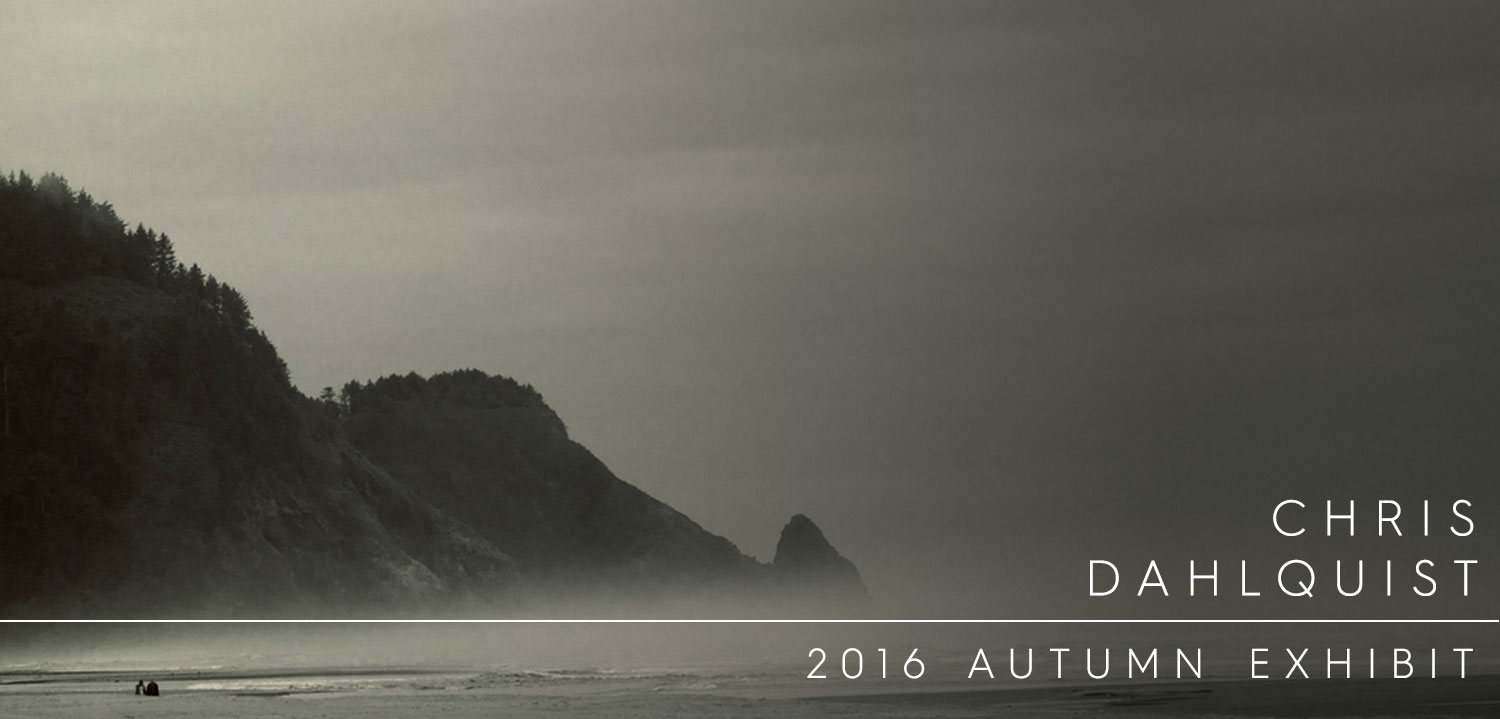 Chris Dahlquist is known for unique and painstaking preparation and presentation of her photographs, adding depth and resonance in each series by printing on specially-prepared surfaces. While at its heart her new work is landscape photography, her capture of temporary, fog- or smoke-obscured scenes, combined with physical translucency and layering of prints, speaks to mystery, stillness, and awe.
Gallery Director Hannah Reeves asks Dahlquist about her medium, method, and concept, and how viewers can approach and understand the new series currently on exhibit.
Reeves: How do you describe your medium? To list it as photography feels overly simple, given your unique process and combination of materials.
Dahlquist: I think of myself as a photographer in the most traditional sense, and only if pushed would I expand my self-identification to include "photographic mixed media artist". If the word photography alone doesn't seem to capture my work, it is because our idea of photography has become too narrow, encompassing little more than capturing an image. Originally photography was so much more than that. The early photographers were also by necessity scientists, inventors, and problem solvers, and the materiality and the mark of the photographer's hand were evident in all photographs.
Reeves: Those familiar with your work will look for a visual reference to historical, photographic processes such as daguerreotype and orotone. Is there such a reference in this new body of work? If so, could you give us a little history?
Dahlquist: The underlying visual reference that runs through all the bodies of work I have created, including Ghost Notes, is the international photography movement known as Pictorialism, which was prevalent from the late 19th to the early 20th centuries. This photographic movement aligned itself very closely with painters, aiming to "create" rather than simply "take" photographs. Visually Pictorialism had much in common with the Tonalist painters of the same time period, and this influence is very apparent in both my Ghost Notes series as well as my Mile Marker series. The mark of my hand can be found throughout all of my work making each work unique despite its photographic origins; similarly the Pictorialists used what they called "ennobling processes" to create original pieces that were sometimes mistaken for drawings or lithographs.
The title of this body is a reference to a musical term. In music, ghost notes are notes that are played but not meant to be heard, with their presence by contrast amplifying the notes around them.
Reeves: In these landscapes, the horizon line, the foliage farthest from the camera, and many of the details of even the foreground are obscured by the haze of either fog or smoke. What drew you to these settings? They're quite different from the clear, sunlit horizon most associate with the term, "landscape."
Dahlquist: It wasn't until Modernism that the sharp clear focus that is now associated with landscape photographs took hold, in no small part due to the popularity of the most well known modernist, Ansel Adams. However, prior to this movement, the Pictorialist photographers often used a soft atmospheric quality to emphasize tone and mood. By concealing detail and context through the smoke and fog, the ambiguity of the images can act as a memory or emotional trigger for the viewer, creating a deeper connection with them beyond documentation of place. While Adams' and many other Modernists would have you in awe of the natural beauty of the external world, I seek to elicit a quieter internal dialogue.
Reeves: This may seem an odd question to ask of a photographer, but can an image capture what you're accomplishing in these originals? I feel like people truly have to see them in person to perceive their depth and translucency. Is that true?
Dahlquist: This is absolutely true. Because of the materiality, depth, and translucency of the pieces, they appear very different as one's viewing angle changes. Because of this a single photograph can never capture and convey what it is to see them in person. The joke in my studio is that with each consecutive body of work I have created, I am a photographer who has managed to create objects that are harder and harder to document in a photograph.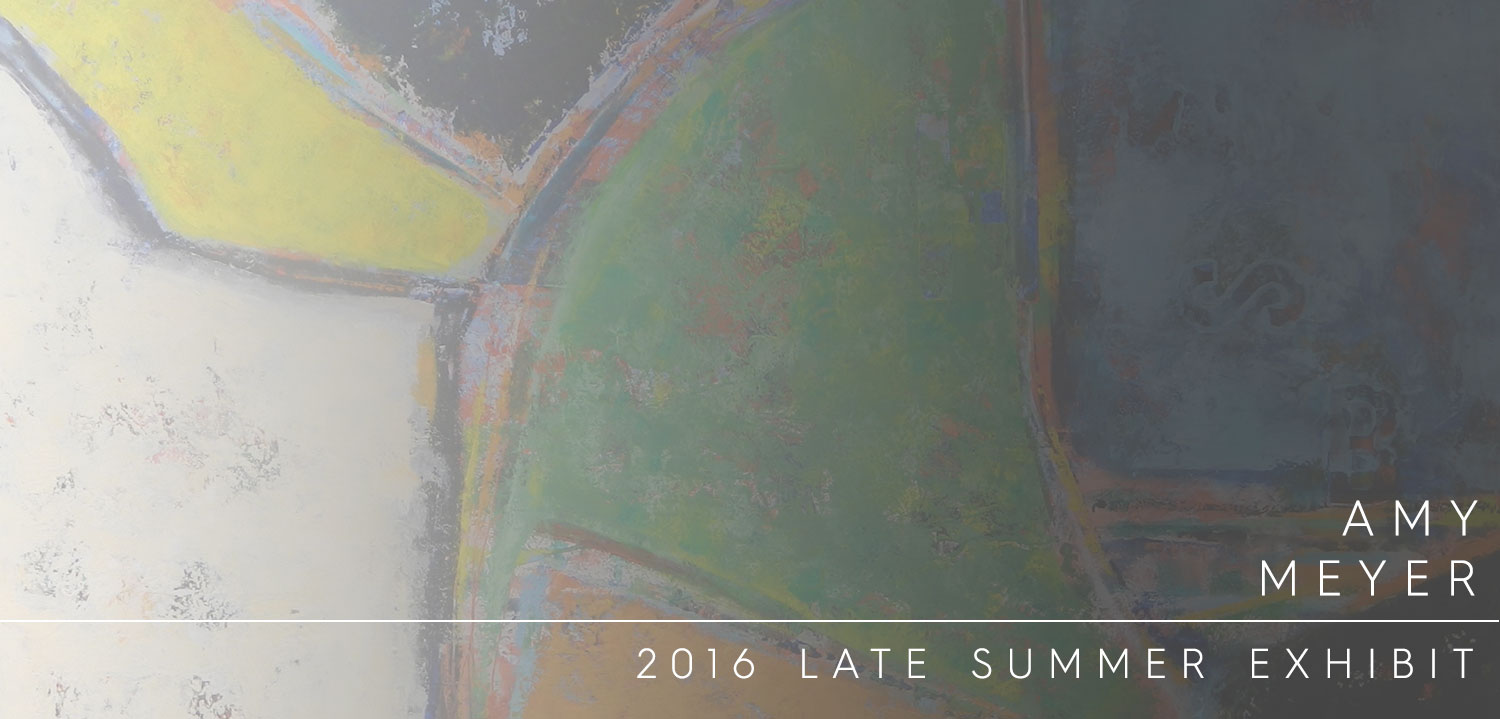 Featured Artist Amy Meyer, Columbia, MO
Amy Meyer's work is on display through October 1st, 2016 for the Late Summer Exhibit at Sager Braudis Gallery, and is also currently featured at Uprise in downtown Columbia. Meyer's years as an art educator, and the experimental attitude required of a studio instructor, surely inform her unique process. Deep and textured layers, saturated hues, and balanced, serene arrangement of color fields are all characteristic of Meyer's current work, and are features made possible through the medium of paste-consistency cold wax, combined with oil pigments and built onto wood panels in multiple stages. If you were able to attend the First Friday reception on September 2nd, you may have enjoyed the artist's demonstration of her technique, and even gotten to chat with her about her work.
Gallery Director Hannah Reeves asks Meyer about her intriguing process, and how viewers can think about and engage this work.
Reeves: How did you develop and arrive at your cold wax and oil pigment process?
Meyer: I was at a point in my journey where I needed to break away from the representational work I had been steeped in. I began taking note of non-objective and abstract work and artists that caught my eye. Rebecca Crowell was an artist that we were exhibiting at the time and she worked in oil and cold wax. I found out through researching her work that she is the definitive authority on this process and teaches it all over the world. I enrolled in a seminar she was teaching over the summer and studied with her to learn the process.
Reeves: What does your choice of medium allow or achieve in your work that other 2-dimensional media might not?
Meyer: The medium allows for a great amount of texture, but also requires you to let go of the same kind of control you would normally have when painting traditionally with oil paints. Details are possible, but in a very different way. I rarely use brushes, for instance.
Reeves: Do you begin each painting with a composition in mind? To what extent does your process shape the final outcome?
Meyer: Part of the reason I love this process is that the beginning can be so different from the end result. With representational painting, those decisions are made before the painting begins. If I were to paint a portrait, I know what it should look like at the end. With this process the first layers can be very loose and used to primarily build up a foundation of texture. At some point I start to consider composition and make choices accordingly with an end result in mind, however it can still continue to change up until the very end!
Reeves: Could you talk a bit about meaning? Without a representational referent, some viewers may wonder how to begin understanding what you set out to convey. How should we be thinking about your artwork?
Meyer: At first, I was attracted to idea that this style lent itself to certain ambiguity of meaning. I didn't want to think too hard about what my work meant. However, as you know, that's not very realistic. Memories, emotions, and events seep into my thoughts as I work and therefore into my paintings. I don't have a universal meaning to convey to the viewer, per se, but would invite them to consider what 'layers' both revealed and buried, smooth and rough, colorful and subdued, may mean or represent to them. On a personal level it reflects a depth of the personalities of those with which I interact. We are all so complex; sometimes we see just the surface layer, and other times deeper parts of us are revealed. The use of stencils buried within the work represents how difficult communication can be, even with and sometimes especially with those who know you best. Language can be such a limited method of conveying feeling and meaning that sometimes our intent gets lost and misconstrued.
Reeves: What inspires and influences you as an artist?
Meyer: Other artists. I've been fortunate to have had the chance to travel a bit. When I travel, I seek out art museums and as a result have been able to stand in front of many wonderful pieces that have moved me beyond words. Some of the artists have had the privilege to see that have stuck with me would be Richard Diebenkorn, Alice Neel, Hans Hoffman, Egon Schiele, Wayne Thiebaud, and Gerhardt Richter. Those are just a few well known names. I'm also constantly inspired by the artists around me that I have been lucky to get to know.
Convergence #1 – 48 x 24 – $1,350
Convergence #3 – 48 x 24 – $1,350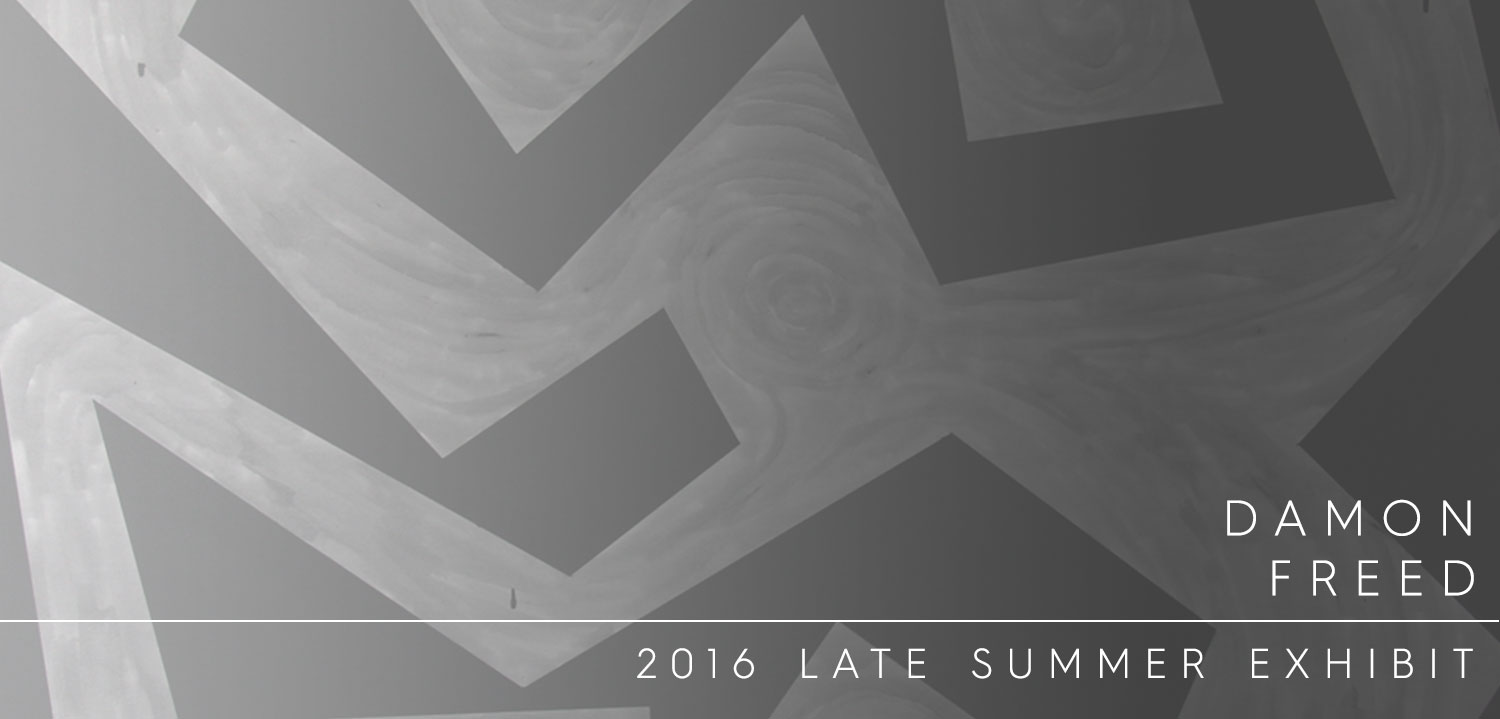 Explore the monolithic canvases of Damon Freed in the Late Summe Exhibit at Sager Braudis Gallery.
Inner Chapter 1: Unchanging
Inner Chapter X: Art Moves in Circles
Purged of color, each painting is fundamentally an expression of shape in grayscale. The compositions are formal, yet playful, deftly conveyed by Freed that the two are not mutually exclusive.
Cody McLouth
Cody Mclouth's collection of photorealism spotlights small-town carnivals. The artist's depictions of traveling amusement parks of the Midwest in the dead of night each carry a strong sense of nostalgia though they are intentionally purged of figures, eliciting in the viewer a feeling of both levity and solitude.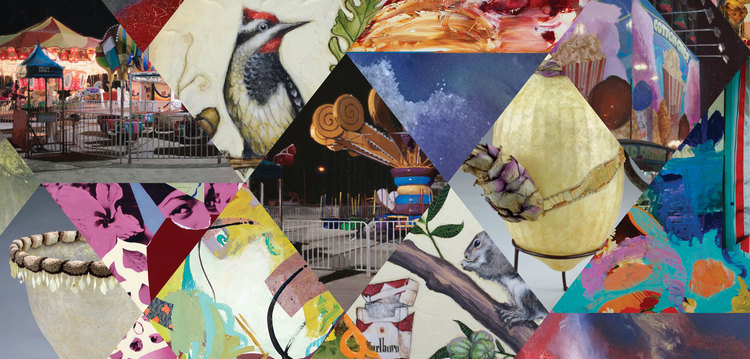 Summertime in Columbia means plenty of time for downtown leisure, well-spent exploring the arts and culture of the North Village Arts District.
Sager | Braudis Gallery's Summer Exhibit, sponsored by Landmark Bank, and boasting the work of five great artists, wraps up this weekend. Be sure to pop in before it's over. The show features a well-rounded survey of abstract canvases, mixed media, traditional oil paintings, and sculpture.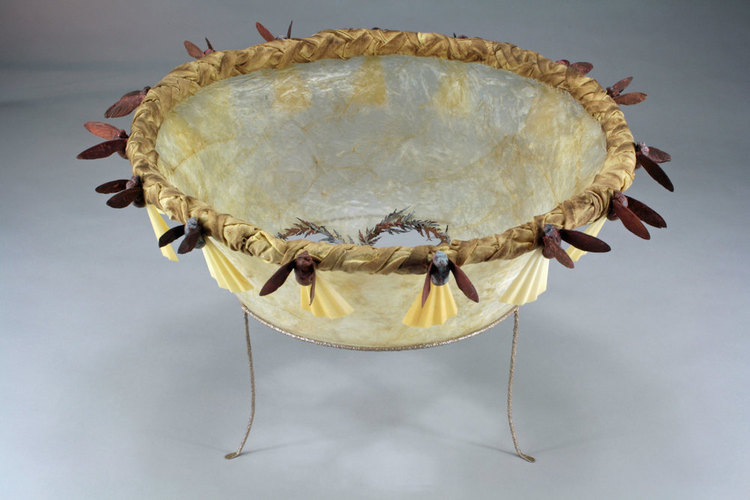 Vicki Weaver
Vicki Weaver's collection is created with animal and plant elements which give each piece a unique, naturalistic feel. Borrowing from Arctic waterproofing techniques, Weaver's vessels are translucent and conceptually intriguing, simultaneously classic and contemporary.
Ken Nichols
Ken Nichols work consists of large non-objective canvases saturated with hue and nebulous forms undulating across each composition. Colorful and voluminous, the paintings are an exploration of technique with the paint allowed to bloom and blend by chemical and physical reaction.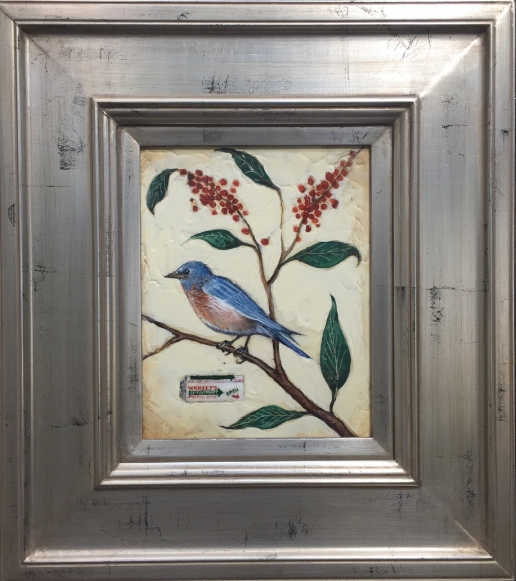 Joel Sager
Joel Sager's 2016 collection, in an ode to flora and fauna prints of old, features oil paintings of plants and wildlife on parchment placed in sardonic proximity to discarded objects. The images invoke in the viewer contemplation on environment, but maintain a playful mood with their wry sense of humor.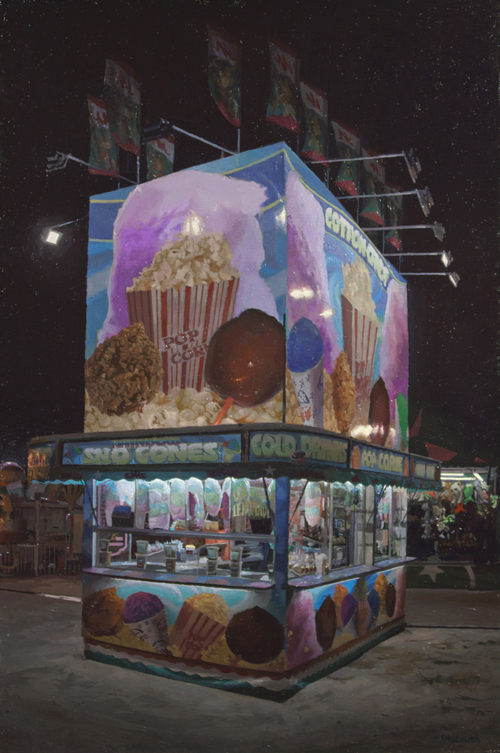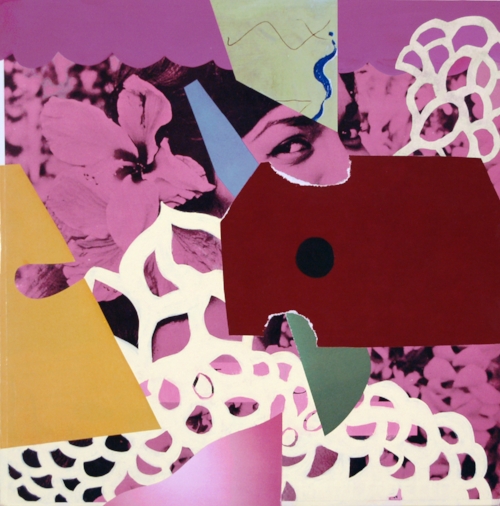 Elise Rugolo
Elise Rugolo's Summer collection features mixed media collage with bold, colorful shapes composed onto vintage vinyl covers. A modern series comprised of 20 LPs riddled with figures and masked by acrylic paint and more collage, Rugolo's paintings are a refreshing Summer splash of reappropriated relics.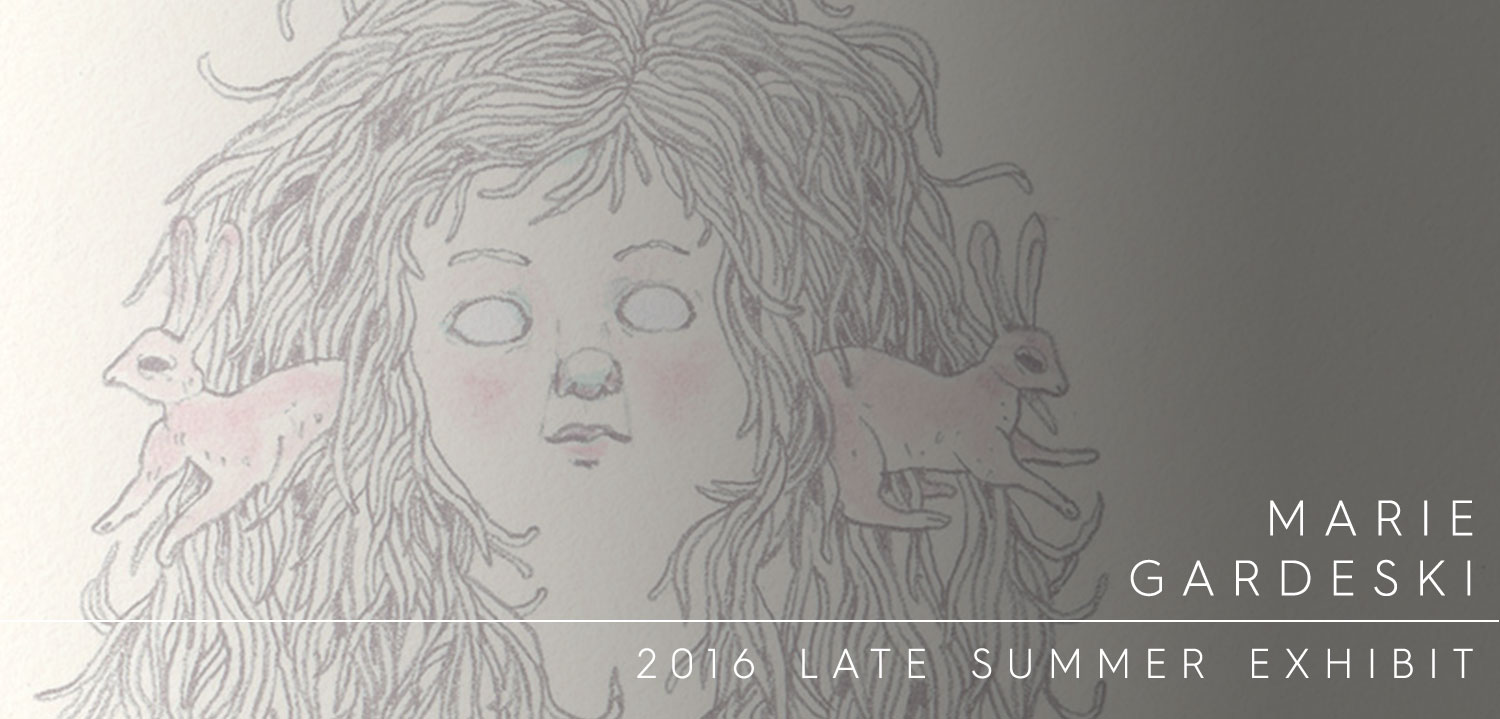 Explore Marie Gardeski's delicate illustrations of sweet subjects confined to sinister surroundings.
Life Cycle – 14 x 14 $310
Little Girl, Big Collar – 10 x 10 $210
Gardeski's technique with line work and loose watercolor combined with a heavy dose of pathos in their conceptual elements, give the paintings a sense of having been lifted from a book of post-modern fairytales.
With a rotating cast of characters and mind-bending situational narratives, Gardeski's works are conveyed in a soft palette and diminutive size, creating a sense of preciousness quickly turned on its head by their content.
---
Marie Gardeski is on display until October 1 in the Late Summer Exhibit. More information about Gardeski's collection is available on the artist page.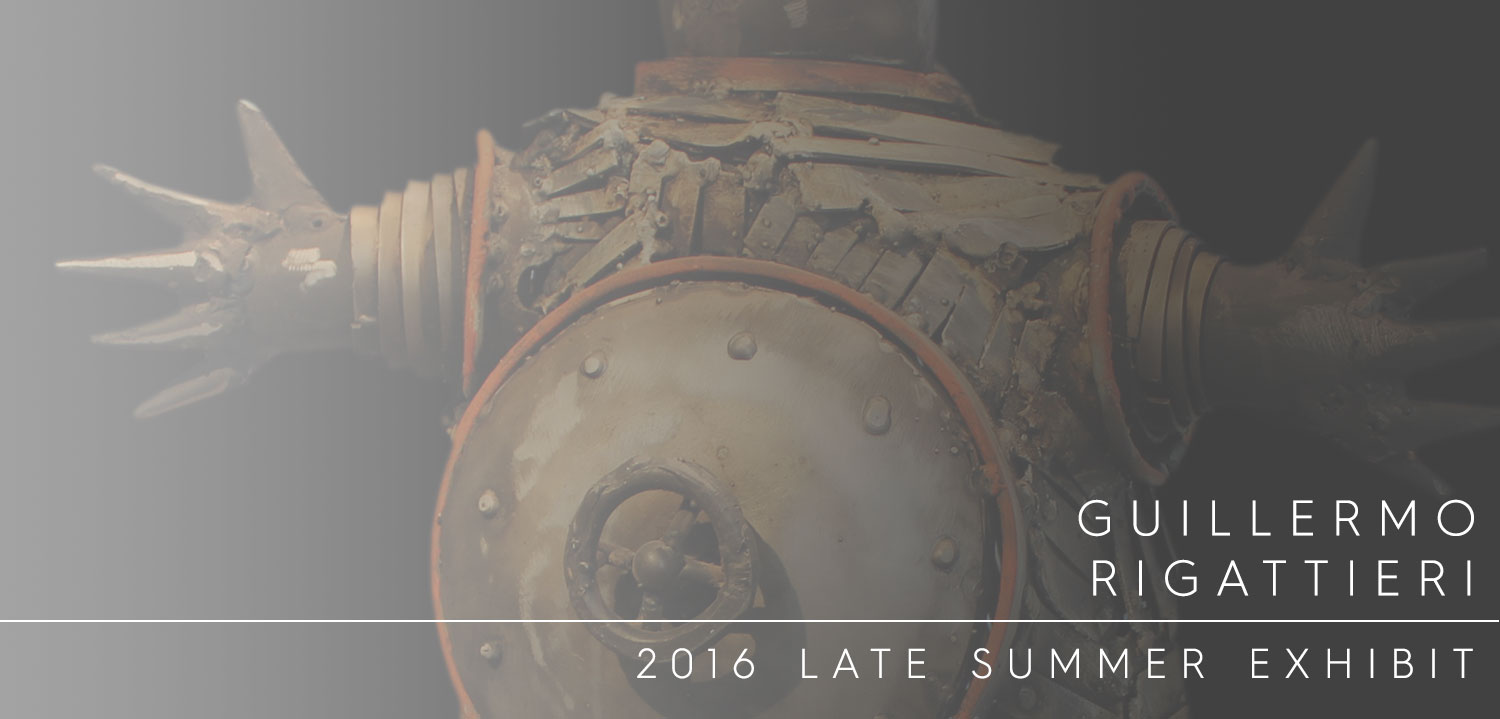 Explore Guillermo Rigattieri's sequence of welded and wrought metal sculptures in the 2016 Late Summer Exhibit at Sager Reeves Gallery.
Esquimal – 16 x 18 x 18 $3,600
Ultraliviano – 17 x 18 – 9 $1,600
Like bronzed baby Shoes, Rigatierri's work tangibly captures something sentimental, though his assemblages elaborate on his motif by exploiting the moment, or that which is fleeting.
In spite of the sculptures' fictionalized mechanisms and highly stylized animals and lead characterm, the exchange within each piece is instantly recognizable, tapping something younger within each of us.
---
Guillermo Rigatierri is on display until October 1 in the Late Summer Exhibit. More information about Rigatierri's collection is available on the artist page.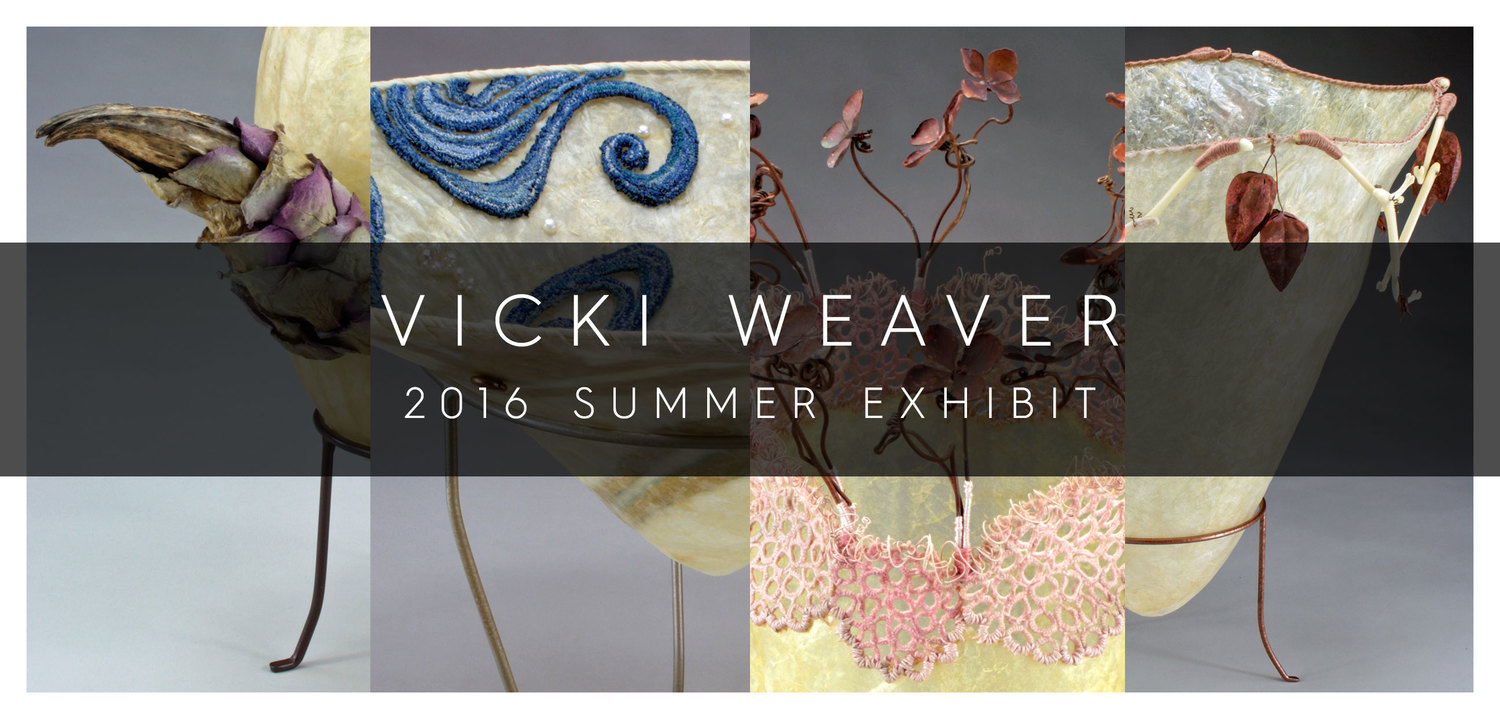 Vicki Weaver's Summer collection features pieces crafted with waterproofing techniques borrowed from ancient Inuit, Artic natives. Be sure to join us for Weaver's live demo at the First Friday Reception in North Village Arts District, July 1 6pm to 9pm.
Weaver's constructions exhibit classical embellishments through a combination of resin-finished forms and ornate stitching.
The Sager Reeves Gallery is pleased to exhibit Weavers work through July 30.
*First Fridays take place each first Friday of the month in North Village Arts District 6pm-9pm.
The 2016 Summer Exhibit opening reception, sponsored by Landmark Bank, boasted a variety of intuitive artists with unique, intrinsic form.
The 2D and 3D display features work from local artists Elise Rugolo, Cody McLouth, Joel Sager, Ken Nichols and Vicki Weaver.
Special Thanks to our exhibit sponors at Landmark Bank
Photography courtesy of Drew Piester Photography
Food sponsored by Eleven Eleven
Wine sponsored by Les Bourgeois Vineyards
Beer sponsored by N.H. Scheppers Distributing Company
Special thanks to Kyle Cook from Hitt Records and Ian Meyer as bartender.
This show is currently on display at Sager Reeves Gallery.
** Sager | Reeves Gallery is a Contemporary Fine Art gallery located in the heart of Columbia's North Village Arts District, near The Broadway Hotel.
Swing by Sager Reeves Gallery for a Moscow Mule, live DJ and virtual painting demo by exhibiting artist, Daniel Marks. Marks's artwork is featured in our Spring Exhibit, sponsored by Merrill Lynch, along with featured debut works by:
Ramin Abrahim – Washington, DC
Kevin Box – Santa Fe, NM
Scott Conary – Portland, OR
Dan Marks – Aimes, IA
Joel Sager – Columbia, MO
Ascension IV: Solving – 48 x 36 – Acrylic on Canvas  $3,500
Unfurl – 15 x 9 – Oil on Panel $1,600
Colo Barn – 40 x 40 – Acrylic on Canvas $5,000
Missouri at Dawn V – 30 x 36 – Oil, Wax and Sailboat Varnish $3,750
May 2016 Spring Exhibit First Friday, 6-9 PM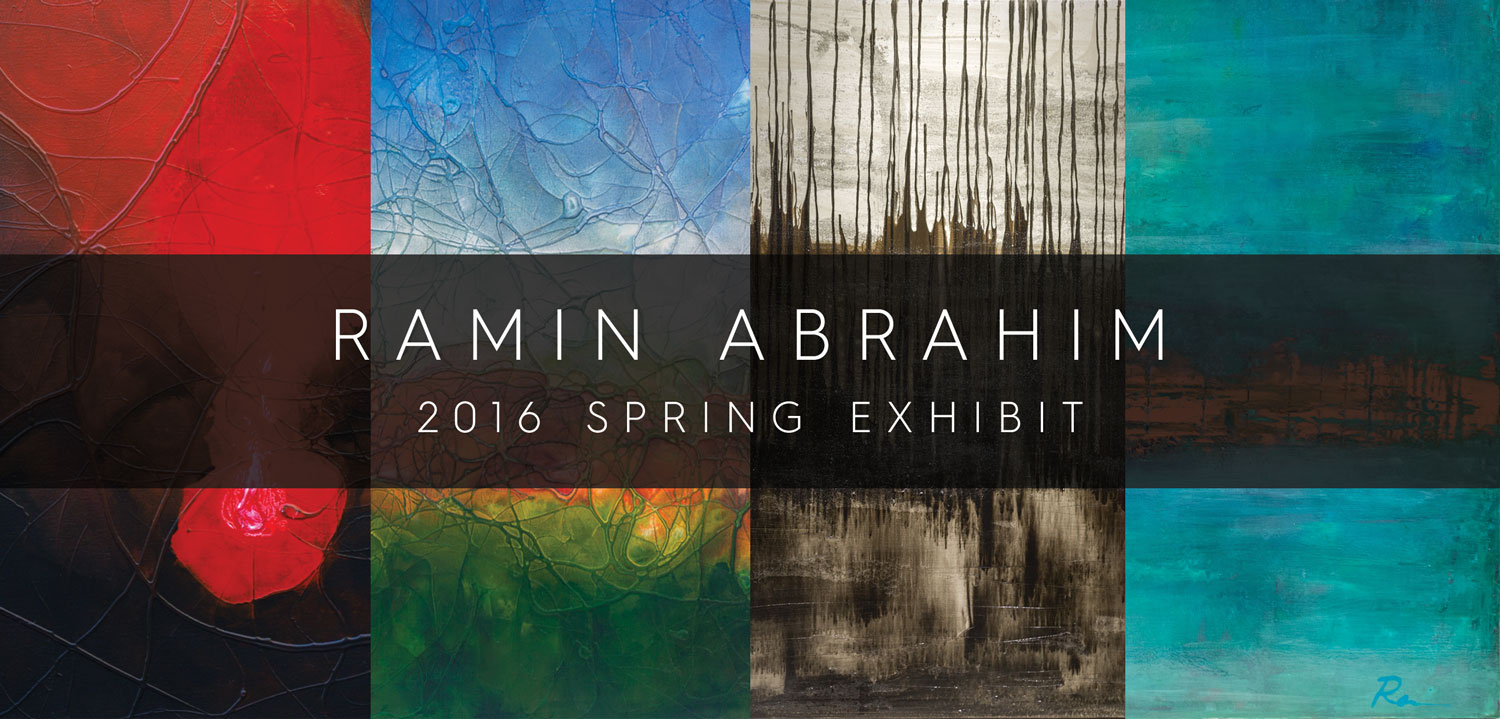 Wander through the acrylic drip paintings of Washington, DC artist, Ramin Abrahim.
Ramin Abrahim's exhilarating oeuvre is a visual exploration of the artist's spiritual and physical evolution. Smitten with the meditative nature of painting, Abrahim acquainted himself with abstract expressionism, embracing its vibrant mixed media style and application. A practicing physician, Abrahim's striking, textural improvisation leads appreciators through a universe suffused with biology of substance, color, and form.
Artist Social Media:
Twitter: @Ramin_Abrahim
Instagram: @Raminabrahim
Facebook: Ramin Abrahim Art
Website: www.raminabrahim.com
This artwork is currently exhibited at Sager Reeves Gallery.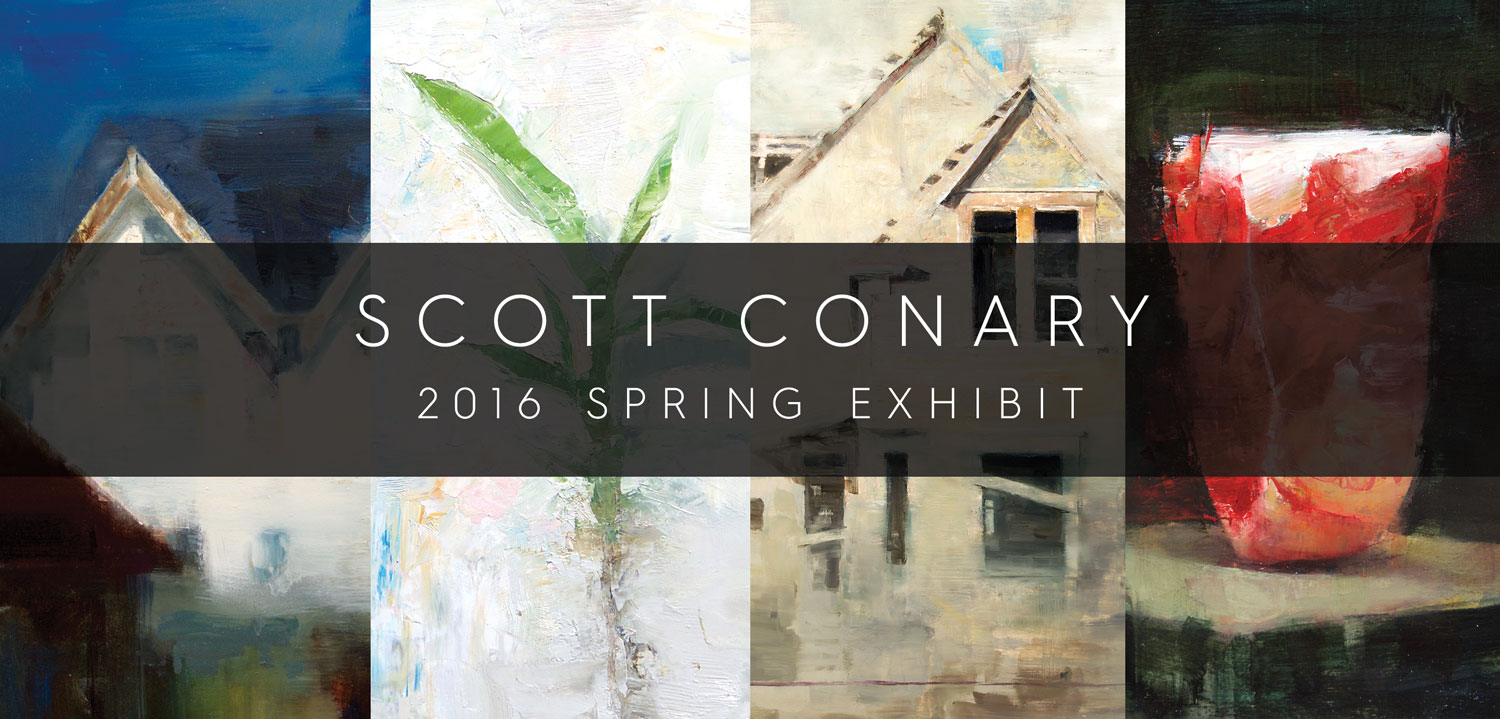 Explore ambiguity of form and depth of emotion in Portland, Oregon artist Scott Conary's artwork.
Scott Conary is a Portland, Oregon-based figurative artist whose eclectic style of painting ranges from painterly to illustrative. Conary's representations narrate stories of both places and things in the wake of human interaction. Working in the media of oil on canvas as well as ink on mylar for his Spring Exhibit series, he creates almost ghostly images anchored in deep values and subtle details. They invoke sadness, strength, and contemplation.
Artist Social Media Information:
Facebook: Scott Conary: artist
Website: http://www.scottconary.com/
This artwork is currently exhibited at Sager Reeves Gallery.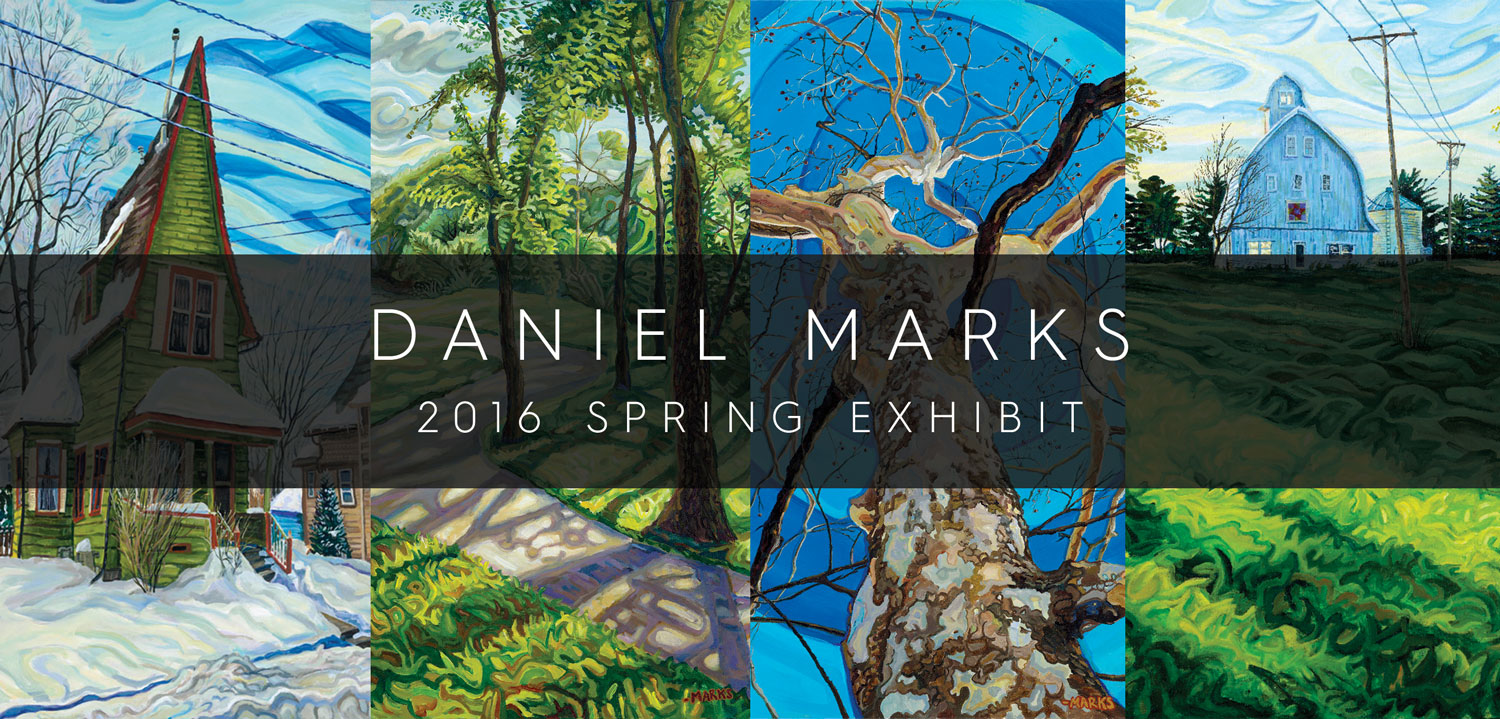 Find your computer, smartphone, or tablet for a hashtag one-on-one with our featured artist of the week, Daniel Marks.
Daniel Marks is an Ames, Iowa based artist whose work draws inspiration from the 19th century Neo – Impressionists such as Vincent Van Gogh. Marks' canvases are equally experimental, with a vibrant and an analogous color palette. The vibrancy and dimension breathe new life into Marks' portrayals of the classic, mundane scenery of the rural landscape. Adhering to the style of the 20th century regionalism movement, Marks' artwork adds the element of peculiarity into depictions of commonplace surroundings. The artist's work plays with light and space to capture a distorted perspective. A 3D artist as well, Marks portfolio of exhibited works are enhanced with depth, creating the subtle inclusion of movement.
Want to know more about Daniel? Tweet your questions using the hashtag #TalkToDaniel to @SagerBraudisArt all day until 5 pm next Tuesday, Apr. 19. Daniel will respond to user questions in our feed directly from his own twitter handle.
Artist Social Media Information:
Twitter: @DanielMarksArt
Facebook: Daniel Marks Art
Website: www.danielmarksart.com
This artwork is currently exhibited at Sager Reeves Gallery.
The First Friday Opening Receptions at Sager Reeves Gallery have evolved into a staple for exploring and celebrating Columbia, Missouri's arts culture.
To Follow the Original Story: http://comolivingmag.com/2016/04/08/first-fridays-at-sager-braudis-gallery/
Special Thanks to everyone who supported this opening reception.
Exhibit Sponsor: Merrill Lynch, Columbia, MO.
Food & Beverage Sponsors: Room 38, Les Bourgeois Vineyard and N.H. Scheppers
Photography: Drew Piester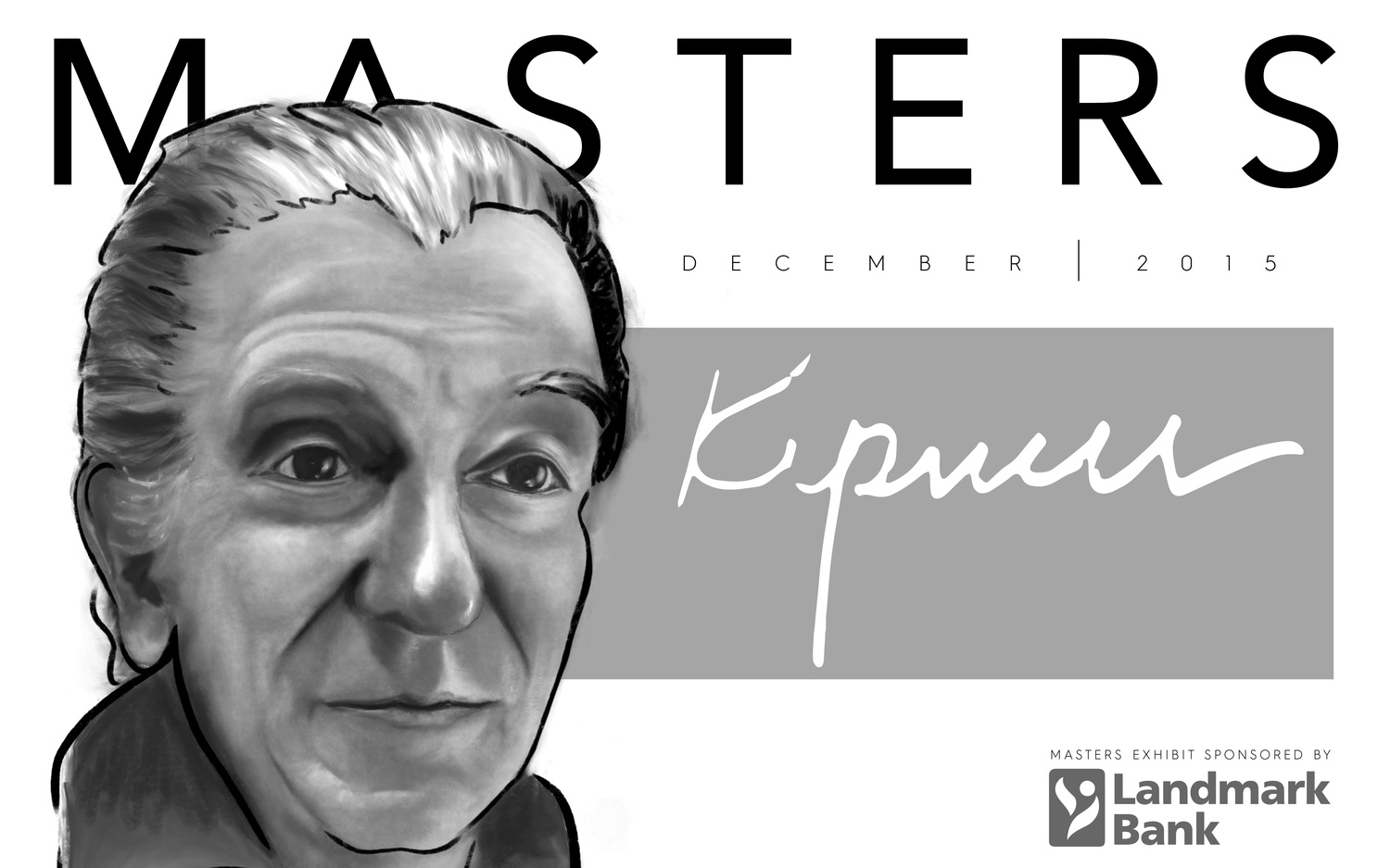 Each Monday in September (and early October), we will be announcing another artist from our upcoming Masters Exhibit and revealing one of their works that will be present in the gallery during the exhibit. The exhibit will be comprised of six artists who have greatly impacted the development of contemporary art and are collected in museums worldwide. We are pleased to announce that works from these influential artists will be viewable at Sager Reeves Gallery for the entire month of December. In addition, these works can be purchased during the December exhibit, or by private preview arranged prior to December.
The stark and moody drawings and graphic works of Robert Kipniss (b. 1931) are eagerly collected and exhibited by both public and private art enthusiasts around the world. "If someone looks at my paintings and sees only trees and houses, then they don't see what I'm doing," Kipniss has said. "I may be painting trees and houses but when I look at them, that's not what I see. I see an atmosphere, a moment, a quickly passing experience that I'm trying to capture. My art is of intensity, of delving, of exploring the soul."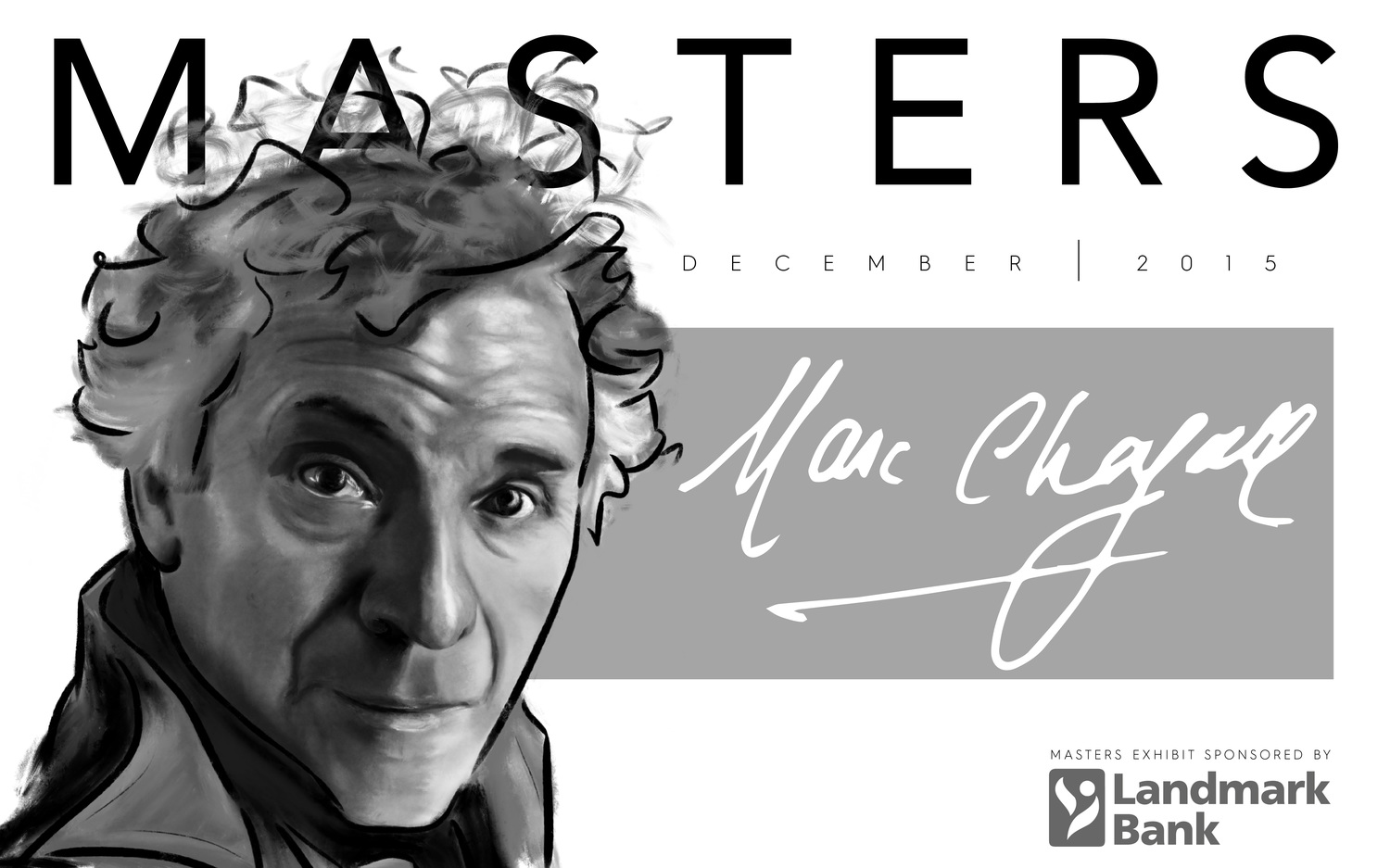 Each Monday in September, we will be announcing another artist from our upcoming Masters Exhibit and revealing one of their works that will be present in the gallery during the exhibit. The exhibit will be comprised of six artists who have greatly impacted the development of contemporary art and are collected in museums worldwide. We are pleased to announce that works from these influential artists will be viewable at Sager Reeves Gallery for the entire month of December. In addition, these works can be purchased during the December exhibit, or by private preview arranged prior to December.
Born in Belarus, Marc Chagall (1887 – 1985) was a Russian-French Jewish artist. As a painter, printmaker and designer, he synthesized elements of Cubism, Symbolism and Fauvism and created works in virtually every artistic medium, including painting, book illustrations, stained glass, stage sets, ceramic, tapestries and fine art prints. His paintings are inspired by religious themes and often have an other-worldly quality. He once said, "I am out to introduce a psychic shock into my painting, one that is always motivated by pictorial reasoning: that is to say, a fourth dimension." Chagall is noted as the world's preeminent Jewish artist.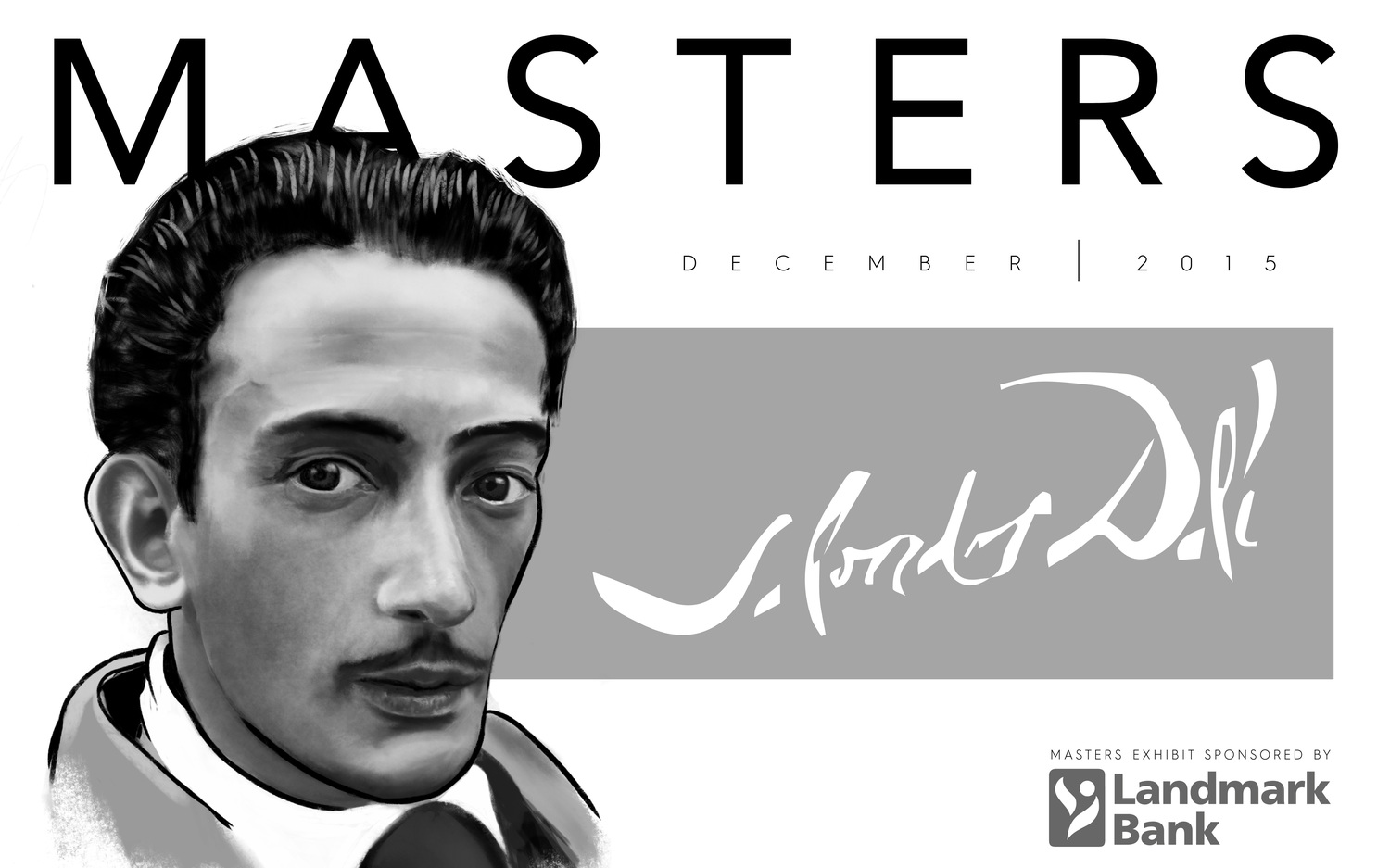 Each Monday in September, we will be announcing another artist from our upcoming Masters Exhibit and revealing one of their works that will be present in the gallery during the exhibit. The exhibit will be comprised of six artists who have greatly impacted the development of contemporary art and are collected in museums worldwide. We are pleased to announce that works from these influential artists will be viewable at Sager Reeves Gallery for the entire month of December. In addition, these works can be purchased during the December exhibit, or by private preview arranged prior to December.
Salvador Felipe Jacinto Dalí I Domenech was born in 1904 in the small agricultural town of Figueres, Spain. From an early age, Dalí was encouraged to practice his art and would eventually go on to study at an academy in Madrid. In the 1920s, he went to Paris and began interacting with artists such as Picasso, Magritte and Miró, which led to Dalí's first Surrealist phase. In 1931, Dalí painted one of his most famous works, 'The Persistence of Memory', featuring the iconic surrealistic image of a soft, melting pocket watch. His art employed a meticulous classical technique, influenced by Renaissance artists, that created a dream-like world by accessing his dreams and subconscious thoughts. An avid reader of Freud's psychoanalytic theories, Dalí created these hallucinatory images using an approach he called the "paranoiac-critical method". Though chiefly remembered for his paintings, in the course of his long career he successfully turned to sculpture, printmaking, fashion, advertising, writing, and, perhaps most famously, filmmaking in his collaborations with Luis Bunuel and Alfred Hitchcock. From his personal life to his artistic endeavors, Dalí ushered in a new generation of imaginative expression and is one of the most well-known artists of all time.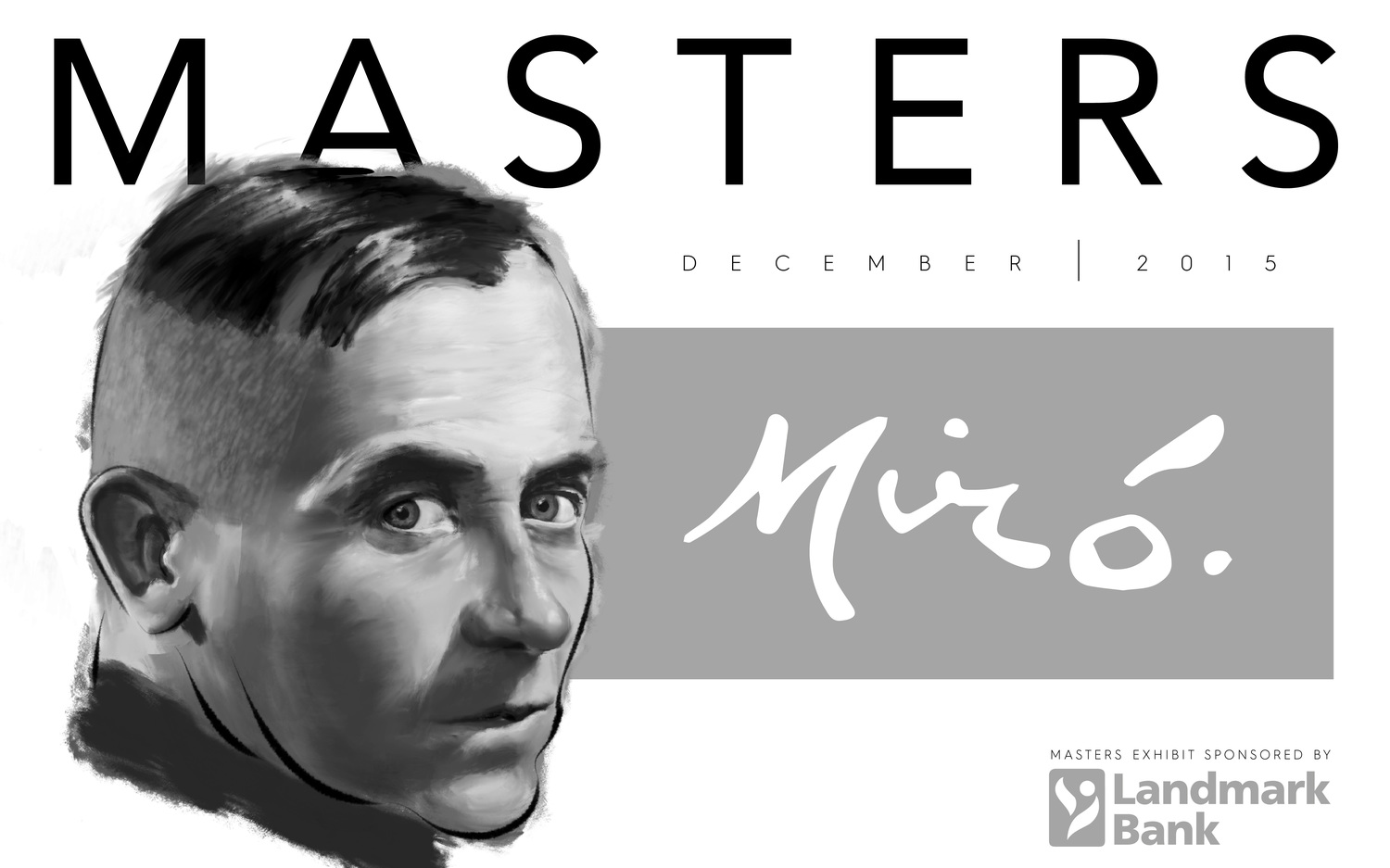 Each Monday in September, we will be announcing another artist from our upcoming Masters Exhibit and revealing one of their works that will be present in the gallery during the exhibit. The exhibit will be comprised of six artists who have greatly impacted the development of contemporary art and are collected in museums worldwide. We are pleased to announce that works from these influential artists will be viewable at Sager Reeves Gallery for the entire month of December. In addition, these works can be purchased during the December exhibit, or by private preview arranged prior to December.
Our third artist announcement is Joan Miró (1893 – 1983)
A Catalan born in Barcelona, Miró rebelled against traditional painting styles, which he felt were upholding the political interests of the wealthy, by exploring new ways of representation. After being involved in the beginnings of the Surrealist movement in the 1920's Miro's style developed into a highly personalized visual language, with hints of Cubism, Magical Realism and Dada. He was one of the first to utilize automatic drawing, a method by which the artist draws randomly across the canvas allowing the subconscious to come through. Using a limited palette, the colors he chose were often bold and expressive, and though never completely non-objective, he would often exaggerate and flatten portions of the subject. Miró works influenced many great American abstract expressionists and modern designers to come.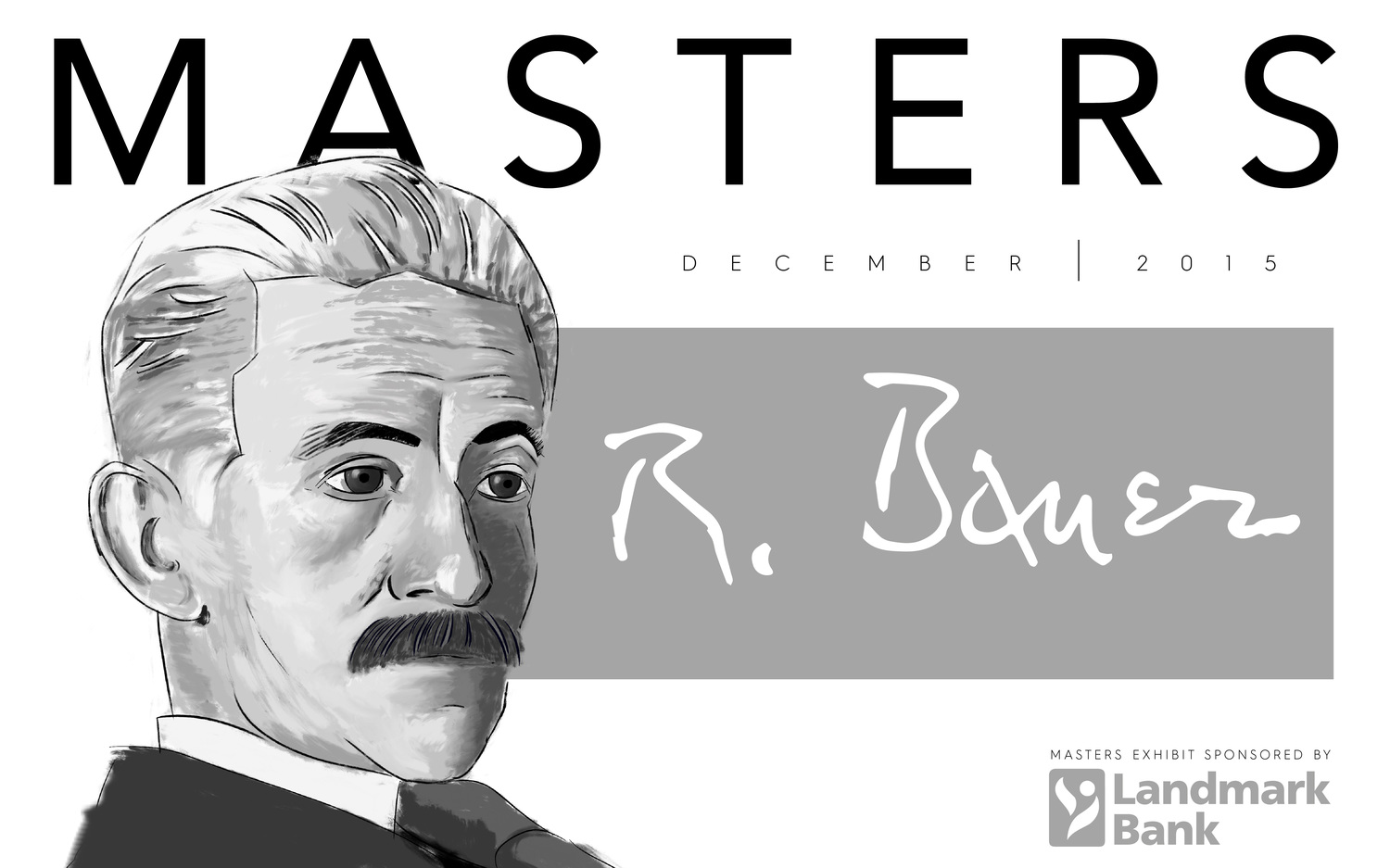 Each Monday in September, we will be announcing another artist from our upcoming Masters Exhibit and revealing one of their works that will be present in the gallery during the exhibit. The exhibit will be comprised of six artists who have greatly impacted the development of contemporary art and are collected in museums worldwide. We are pleased to announce that works from these influential artists will be viewable at Sager Reeves Gallery for the entire month of December. In addition, these works can be purchased during the December exhibit, or by private preview arranged prior to December.
---
Our second artist announcement is Rudolf Bauer.
In early 20th century Berlin, Rudolf Bauer (1889-1953) emerged as a caricaturist and political cartoonist. While these mediums paid the bills, Bauer thrived in Cubism, Futurism, and Constructivism. Although a favorite of Solomon Guggenheim in the 1930's and 1940's, Bauer's tumultuous personal life wreaked havoc on his career. Bauer died of lung cancer in 1953, his work relegated to storage rooms until a revival of his art in 2005. Bauer's life has more recently been celebrated in a documentary and off-Broadway production, both of which explore the power struggle and intrigue that caused this brilliant artist to disappear from the art world.
Each Monday in September, we will be announcing another artist from our upcoming Masters Exhibit and revealing one of their works that will be present in the gallery during the exhibit. The exhibit will be comprised of six artists who have greatly impacted the development of contemporary art and are collected in museums worldwide. We are pleased to announce that works from these influential artists will be viewable at Sager Reeves Gallery for the entire month of December. In addition, these works can be purchased during the December exhibit, or by private preview arranged prior to December.
---
Our first artist announcement is Pablo Picasso.
A Spanish expatriate painter, sculptor, printmaker, ceramicist and stage designer, Pablo Picasso (1881–1973) became one of the greatest, most influential artists of the 20th century and the creator (with Georges Braque) of Cubism. A prodigious artist at a young age, he always knew that he was an artist. "When I was a child, my mother said, 'If you become a soldier, you'll be a general. If you become a monk you'll end up as the pope,'" he recalled. "Instead, I became a painter and wound up as Picasso."
Sager Reeves Gallery is pleased to partner with Ronald McDonald House Charities of Mid-Missouri for our 2015 Late Summer Exhibit. Not only will we be sharing inspiring stories about this amazing charity in the upcoming weeks, but we will be raffling off three art credits during our August 7th Opening Reception. Here are the details:

There are three art credits up for grabs: (2) $500 and (1) $1500
Each raffle ticket is $10 with all proceeds from the sales of the tickets going directly to RMHC, made possible through the generosity of Don and Suzanne Howser
Raffle tickets may be purchased (cash/check only) at Sager Reeves Gallery at 1025 East Walnut Street, beginning July 23rd and all the way up until the drawing on August 7th.
The drawing will take place during our Late Summer Exhibit Opening Reception. The reception begins at 6pm and ends at 9pm. The drawing will take place at 8pm and you do not have to be present to win.

If you have any questions, please email info@sagerreevesgallery.com or call (573) 442-4831.

You can RSVP to the Opening Reception on Facebook–and make sure to "like" the gallery for updates.